Cox Engine of The Month
January-2018
crankbndr's
Mercedes-Benz W196 with a 350-3 .049 Engine
---
PAST WINNERS
Last edited by NEW222 on Thu Apr 20, 2017 1:37 am; edited 1 time in total
I'd stick with the bigger tank, but that is just an opinion. Neither of the links opened for me, could be due to my location...
Smaller tank makes the unit easier to move around, but the big one lets you work longer without the motor turning on all the time. Very small tanks are useful if you have to schlep the compressor around, like when using a nail gun around the house or inflating a tire across the yard or something. But if you use it in the shop for small tools or painting, a bigger tank is better.
I am not really familiar with the rating system used on these, but if I understood correctly, the HP means horsepower, and 2 HP equals roughly to 1.5 kW. I have one that size, and it needs all the tank capacity it has, and could use more. I think it has about 4 gallon tank. The compressor alone, when the tank loses pressure, cannot keep up even with a tire inflator.
Maybe check the ratings on your tools and consider how long the idle time vs actual use typically is?

Platinum Member





Posts

: 1172


Join date

: 2014-10-10


Age

: 46


Location

: Finland



You're right. Yet I asked this on another site and the links work there? I will post the specs of each here then in case I cannot get the links working.

FEATURES

Mastercraft Oil-Free Air Compressor with 2 Running HP is ideal for roofing, auto spray painting and changing tires
Features a heavy-duty, direct drive induction motor, cast iron cylinder and 7" heavy-duty semi-pneumatic wheels
6.2 CFM @ 40 PSI
5.2 CFM @ 90 PSI
135 Max PSI
Capacity size: 20 gallons (75.7 L)
Vertical tank for space saving
One port with quick coupler for easy use
Metal intake filter for durability

FEATURES

Mastercraft 26-gallon oil-less Air Compressor
2 peak HP
Max PSI: 135
Delivers 5.2 CFM @ 40 PSI and 4.2 CFM @ 90 PSI
Weight: 117 lb.
2HP motor, delivers 5.2 cfm @ 40 PSI and 4.2 cfm @ 90 PSI
Oil-free pump
Finish: Matte black
The specs in blue is the one I currently have in my possession. I know about the tank. I would prefer the extra 6 gallons, but I need something that would better run my air tools. It is funny I don't know much about this yet I use air tools for a living, well more cordless now, but... All my compressors in the shops I worked in are huge, and would take up my garage, so air is not a problem at work.

Just to touch up a bit. I am mainly after the difference between Peak HP, and Running HP
I can see now the difficulty in decision. You told the difference in tank size was 6 gal, and I did not read the link text where the tank sizes were told. 20 vs 26 gal is a tougher decision than what, for example, 4 vs 10 gal would be.

In any case I think a 2HP machine will power any high speed tools like grinders etc in short periods only, as it has to depend on the air in the tank.

Seeing the specs, the "2 running HP" would be my choice, as the output @90psi is almost 25% higher.
Platinum Member





Posts

: 1172


Join date

: 2014-10-10


Age

: 46


Location

: Finland



I would not recommend either of those two "oil less" air compressors. 1st most critical is what you want to do with it? Just fill tires? Ok.  If you want to use an impact wrench or sander, buffer, sand blaster, you'll need to know the capacity requirements of that tool. You'll be disapointed at the results of trying to remove lug nuts with only 4.5cfm at 90psi when the too, requires 25.4 cfm!   Please note the manufacturer has craftily covered the motor/compressor in sleek modern looking plastic enclosure! What's inside?  An oil less "compressor" ...our little Cox engines like castor oil, I like to feed my compressor 30 weight non detergent oil. Here's a picture of a cheepie oil less, the motor and compressor are much smaller than the cover, and it makes noise, but no pressure.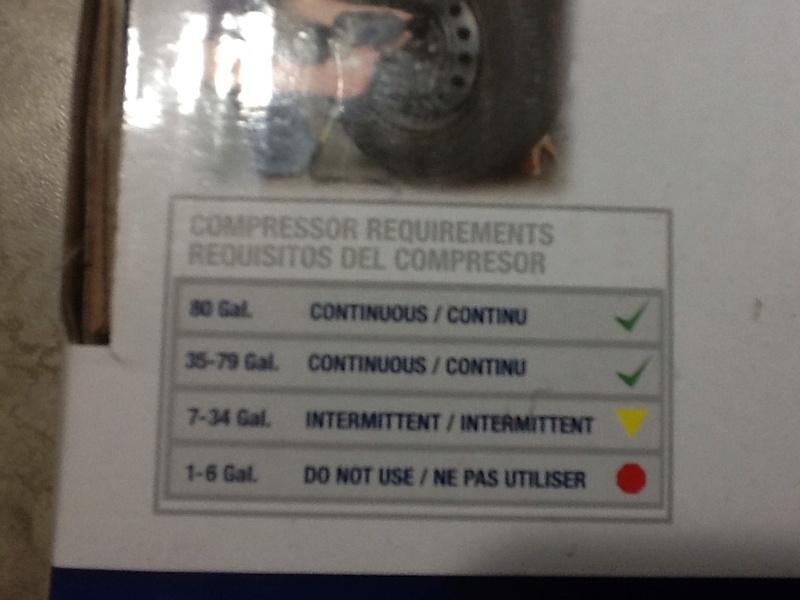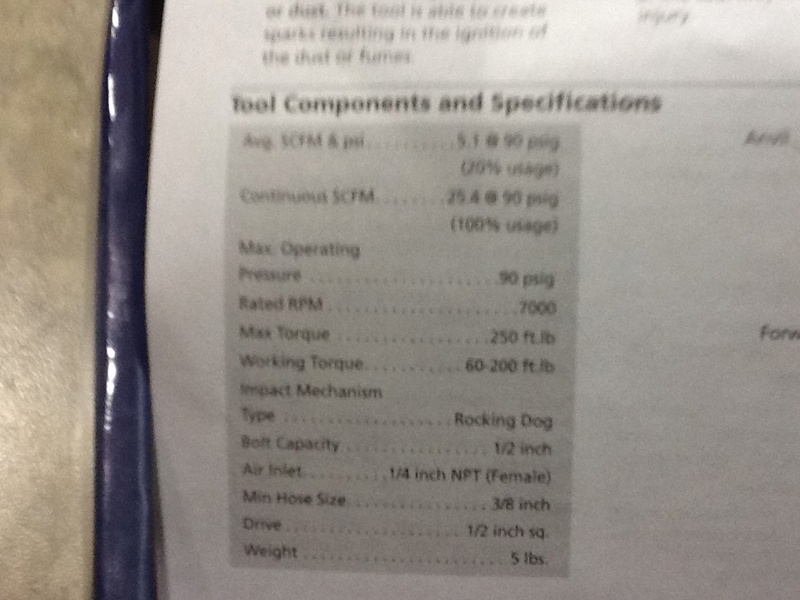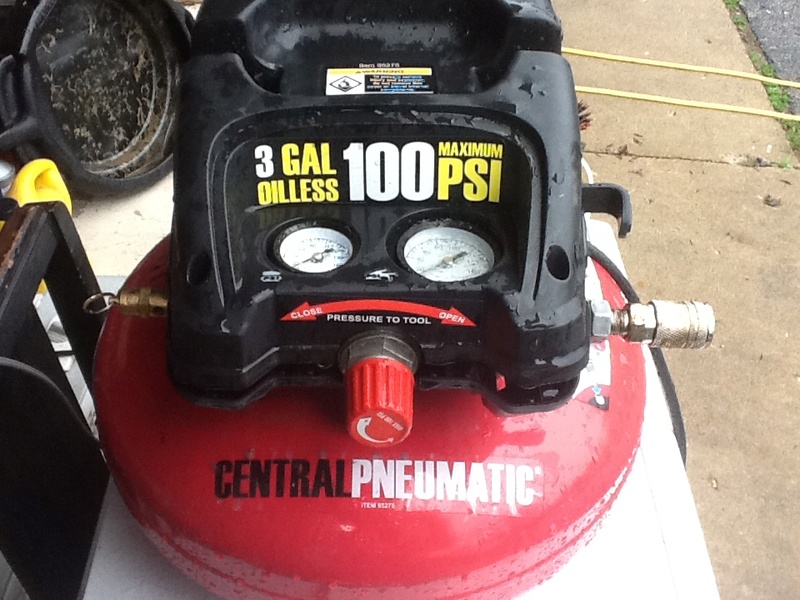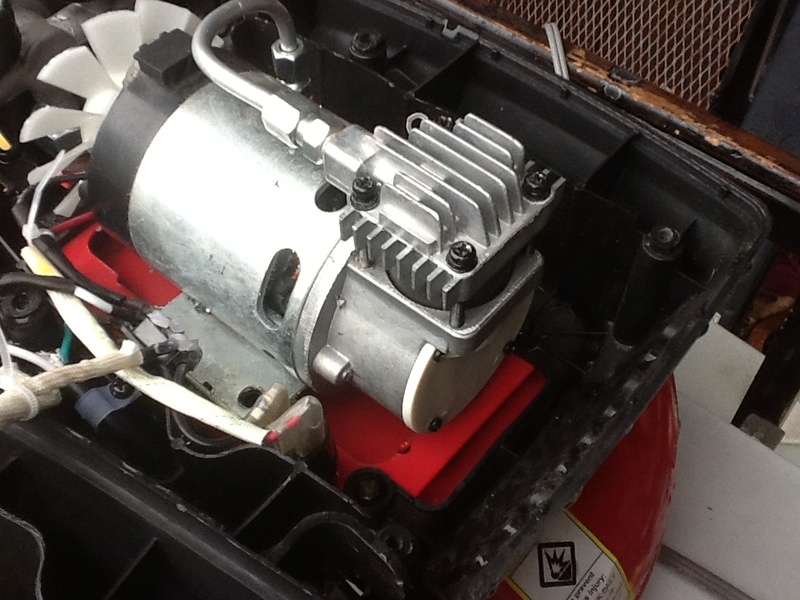 Ps: the head of that compressor is about the same as a K&B 60!  
So, there's my
Diamond Member








Posts

: 1542


Join date

: 2014-09-28


Age

: 65


Location

: Grand Rapids, MI



I got one of those 3 gallon jobs... been preventing me from fixing my big compressor. I have a vertical 60 gallon with a decent two cylinder pump on it driven by a separate motor. However I need to take it ALL APART to reseal the threads in the main bung with about a thousand layers of teflon tape since the sealants I have tried get blown out of the threads... An hour to tear the top of the machine down and reassemble ... again.

I have only needed to fix tires and not run tools for much in a couple years. The big one still will run tools but it won't stay off but for a couple minutes.

The final deal is CFM. Cubic Feet per Minute is KING with PSI being QUEEN. Both are really needed but PSI can be chosen instead of demanded... most of the time.

Oil is nice to have for most tools. It does make filters and oil traps necessary for air painting though. Oil less with hoses that have never seen oil are nicer on paint. Tires generally don't care.

Phil
Diamond Member





Posts

: 2924


Join date

: 2012-10-02


Location

: Ohio



Also consider the duty cycle of the compressor. It may be able to keep a tool running but if it has 20% duty cycle but has to run non-stop to keep a tool going then the compressor may become unexpectedly quiet at an inopportume moment. As much as I think oiled compressors are better I have to agree with Phil. I do a lot of painting and can't allow oil to get into the lines. Actually, I agree completely with Phil's last post. I think he hit the nail right on the head.

Bob
Platinum Member





Posts

: 1164


Join date

: 2011-08-11


Location

: Naples, Florida



Air compressor needs should be evaluated from a CFM perspective first with a lot of over head based on tank size

The HP rating is not too relevant; as almost every MFG will engineer the motor to suit the tank size and CFM rating.
THEY all over state the capability to some degree for marketing purposes

Quiet and cycle time are also considerations

Another hint is to look at Max PSI within a given Tank size

Example: I have a 220v 6.5HP, 125PSI 60 Gallon upright that puts out 10.2 CFM @90psi / 12.4 CFM @40psi , and 14 CFM at the max psi

I wish I had bought the $10 more model with 150 psi max and 17 CFM

I run most of my air tools at 80psi and they flow enough CFM that the compressor cycles more frequently than I like and for some of my air hog tools I actually have to wait on the compressor

Die grinders, air blower, disk sanders, Floor scraper, air chisels are air hogs;
Framing Nailers, paint guns, and tire filling are fairly low CFM hogs

The quality and setting of the pressure switch ( adj or non adj) is also important... I have 3 compressors and one had (I changed it out) a non adj pressure switch that kicked out at 125PSI but did not kick back on until 80 PSI ...the replacement pressure switch I bought had high and low adjust ability that I set to off at 123psi max, and turn on at 90psi

Main reason was when framing and setting the deck boards the PSI would dip too low and my nail gun would miss fire ....of course this was 120 feet away so my long ganged hoses caused a further reduction

If money was NOT a consideration, my shop would have a 220V Ingersol Rand two stage Scroll 80 gallon at 175 PSI and 25 CFM that will run a Pneumatic drill..... I have rented this ( with diesel engine) trailer mount puppy twice to drill fence post holes in solid rock ground

Above is a photo of the HF 3 Gal 100psi compressor I bought for $39 that is noisy--- but more than enough for my air brush and paint guns for model airplanes....but it does NOT have the over head to fill RV tires to 80 PSI but good enough for all 12~45 psi tires

I looked at and quickly pass by the purpose built small air brush offerings as ALL too expensive....only real benefit is low noise....and most do not even have a tank

Portability is another serious thing to consider... I have one portable that is so heavy that it is stranded out in a shed mostly unused.... while I move around the small HF one a lot when I need air for a car or lawn tractor tire

The Kobalt 5 gallon twin tank one I don't move around---- is not too much different from the HF slightly smaller one...but it is just enough heavier and slightly bigger, with handle in top center, that it is a royal pain to move around more than a few feet....but then, I am now 62, back when I got it , I was a bit stronger


Diamond Member







Posts

: 2260


Join date

: 2011-08-26


Age

: 62


Location

: Lampasas Texas




Similar topics
---
Permissions in this forum:
You
cannot
reply to topics in this forum