Cox Engine of The Month
December-2018
Dave P.'s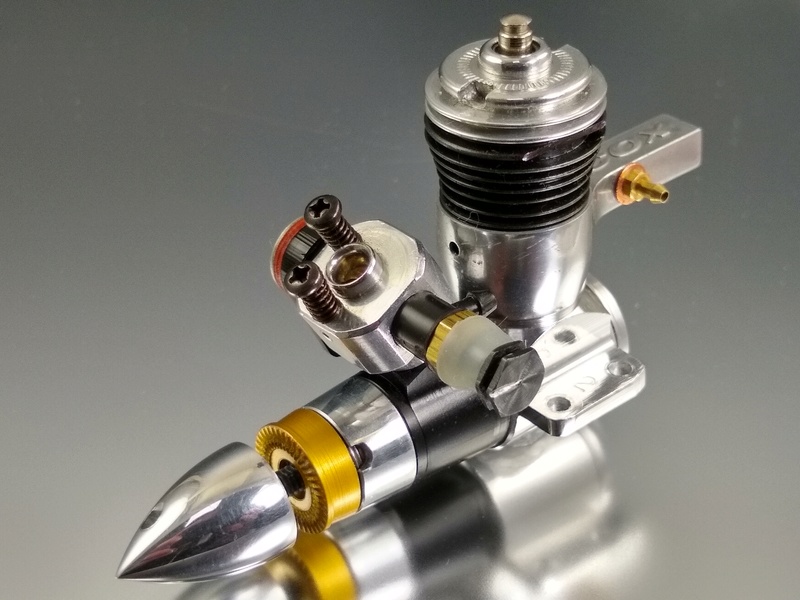 "RC Tee Dee 049"
---
PAST WINNERS

OK, so I probably shouldn't have started myself on the road to obsessive collecting which may be triggered by this purchase, but I couldn't pass this one up.  Adds to my only other RTF, my Testors P-40 Fly-em.  Wen-Mac RAF Day Fighter scored on ebay for $30.   It's reasonably local so I can go & pick it up, but haven't arranged a time yet.  Looks to be pretty much undamaged, but it's suffering the fate of pretty much every example of this model.  The canopy & pilot are missing.  (Damn ejector seat

)  I'll give it a clean up & see if I can adapt something for a canopy, unless someone here can direct me to a source.  It doesn't have to be the ejector seat type.  Happy to just glue on one that fits neat.  I know Bob did a couple of these, but I suspect he was missing the same parts.
Rod.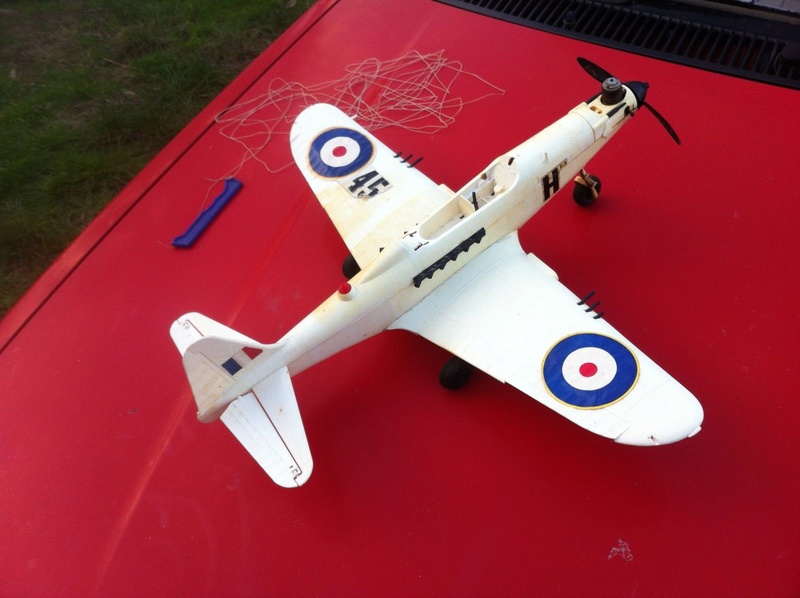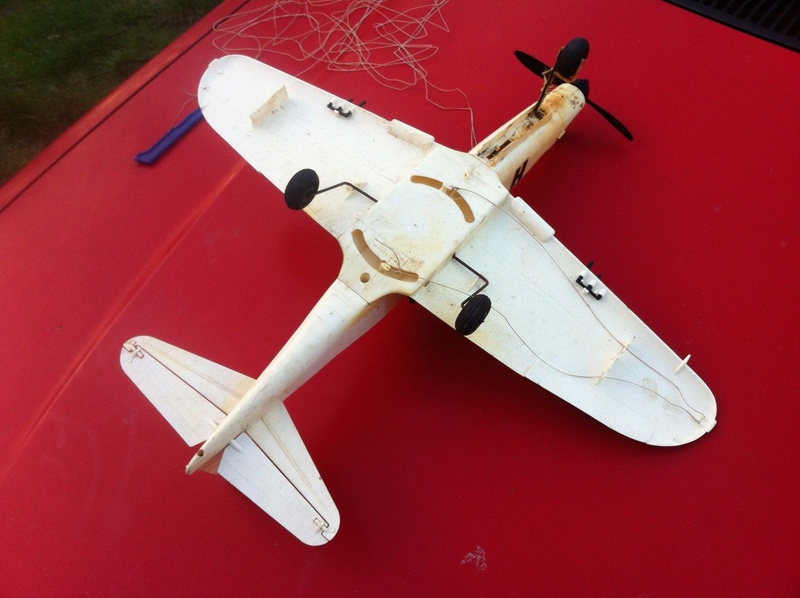 I note with interest that the ailerons are set slightly to roll the aircraft outwards.  Never seen that on a C/L model before.
Welcome to the Day Fighter/P-39/P-63 club Rod.  Except for the box they came in and different color schemes they are all identical.
Yes, off-set ailerons first thing I noticed when I got my initial example.  Surprised others did not do the same.  I have the box for the silver one, ID's it as a P-63 King Cobra. Only one is truly complete, but as the others it missing the pilot.  I would think the fields of the world arr full of them.  Some have the ejection seats others do not.  
Roger's biplane lurking in the background ready to go.
I put Testor's diminutive P-40 in for scale.  The Day Fighter is a large model.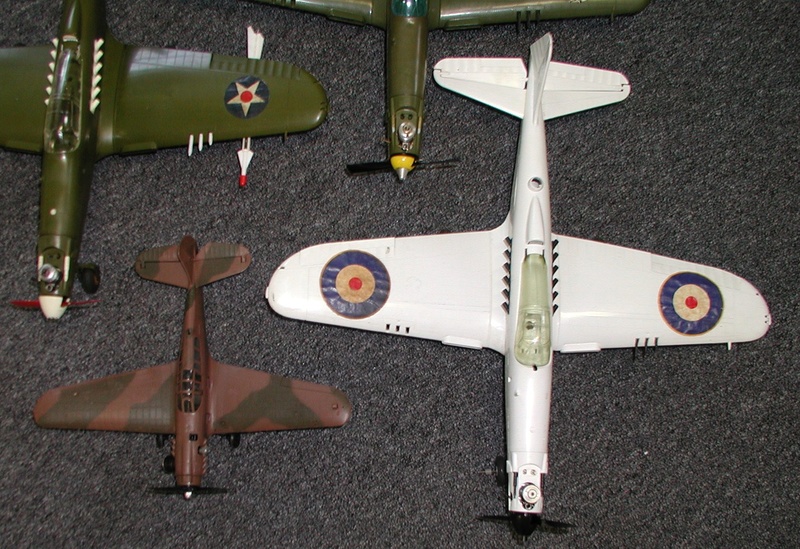 Top Poster





Posts

: 3351


Join date

: 2014-08-18


Location

: West Virginia



Wow, I never realized that they were so much bigger than my little P-40 Fly-em. I see you have one of those as well. Your restored day Fighter looks great. I'll have to go back over your original post to get some hints on cleaning mine up. I'd like to save the decals if I can. The plastic is just a littled yellowed, so do you recommend the brake fluid trick, or did you scrub yours with an abrasive cleaner? I have used those car headlight restoration kits which clean up dull acrylic headlight lenses. They have a spray that you squirt on the lens and the yellow just seems to rinse off. I might have to try that.
About to head out to give my son some driving practice and go pick the plane up.
Rod
Oldenginerod wrote:
About to head out to give my son some driving practice and go pick the plane up.
Rod
Brave, brave man....
Diamond Member





Posts

: 1601


Join date

: 2013-05-22


Age

: 55


Location

: Portland, OR, USA



batjac wrote:

Oldenginerod wrote:
About to head out to give my son some driving practice and go pick the plane up.
Rod

Brave, brave man....
He's not so bad, but does tend to put the nerves on edge a little if it has been a while since he last drove.  He's old enough to get his license, but out here they need to log 120 hours of supervised driving practice before they can get their license.  He has been a bit of a slow starter so is dragging his feet a little in clocking up the hours.  He did end up stressing a little today as we had to enter a busy suburban area (we live among farmland).  Handled things well though.  We got a little lost but I let him figure out where to go by just quietly reminding him to read the signs.  Made it home without too much diversion, plus managed to log 2 1/2 hours driving.  He's already planning a road trip as soon as he has his license.  Darn, just picked up a decent second job too, and now looks like he wants to quit that to hit the road.
Anyway, apart from the driving, we managed to pick up the plane for $30 cash.  The guy demolishes old houses & found it in a cupboard.
As mentioned, complete apart from pilot & canopy.  The trailing edges of the wings are a little warped, but otherwise undamaged apart from a very slight bend to one main gear wire leg.  I hope to actually fly it because I know that if I try to make a display of it I'll end up with no-where to display it & will gather dust anyway.  May as well try & get some fun out of it.  I think I's need a good paved surface though, as I think I'll need to build up a bit of pace before this thing will lift.
Congrads on the purchase Rod , hope you can get her in the air after a little cleaning and unwarping the wing// Goog to hear your son is getting behind the wheel safely.
Top Poster





Posts

: 5156


Join date

: 2013-01-18


Age

: 61


Location

: julian



My grandson was not/is not an enthusiastic car guy.  Kills his Dad who is.  As a teen he never wanted to learn to drive.  Motors just made the car go, not a source of inspiration.   Today he drives because he needs to.  Mark gave him his Honda Civic and tried that wipe on treatment on the headlights, found out it worked great after we struggled with the lenses on my Miata using compounds and buffers. Let us know if it works on your Day Fighter.  

The main gear is curious to me, functional but very unscale like.  Watch out for the tabs on the cowling, very thin material and subject to breakage.   I rebuilt all of the engines save that rusty one.  I hope the nipples on the gas tank are intact.  I had to repair a couple of mine.

I cleaned mine with Simple Green and warm water, might have used a scrunge pad.  

Bob
Top Poster





Posts

: 3351


Join date

: 2014-08-18


Location

: West Virginia




---
Permissions in this forum:
You
cannot
reply to topics in this forum