Cox Engine of The Month
May-2018
Kim's
"War Dog hauls the 2M B.O.T. out of Uncle Wayne's backyard"
---
PAST WINNERS

Another late afternoon expedition is in the books. Wayne put 9 flights on the Cavalier. I only got in about 4. I took the fuel tank off and raised it, as it was a bit speedy inverted, and that worked well. Still burping earlier than I like, and cold weather will present a problem. So I'll find a 4 oz. tank that fits and that'll take care of it. After fixing the leak I was hoping I'd be back to 12 laps after, but it was still showing signs of low fuel before the clover was finished. I tried it with the pressure disconnected and uniflow vent open, and it ran fine. Maybe better, maybe not, too close to call.
And after taming the flaps, my takeoffs are much easier to roll out and gradually climb for the full lap. Certainly the best ones I've ever done on every flight today. A proper by-the-book takeoff is a thing of beauty. And I am still greasing landings. I can't tell you how much that pleases me. Except on my last flight, half way through the rollout a wheel came off and it flipped over.

It was getting late, the best time to fly, but I didn't have a 1/8" wheel collar, so I called it a day and packed up, disappointed.
I'm still getting used to the less twitchy controls and almost drug the rudder on the first outside loop of the Horizontal 8. My square 8s continue to be very good with no bobbling on my 5' bottom legs, and I didn't blow any of my V8s. But I'd say the trimming is all done, the decals are all in place, and now I can go fly and concentrate on getting ready for Huntersville. Wayne's Cavalier is ready too, so Wayne, Mike and I will face off in October to see just who can bring home the Gold, Silver, and Bronze.
Here's a sight that surprised us. We ran for our cameras, so missed the closest pass, and they're blurry, but still a thrill: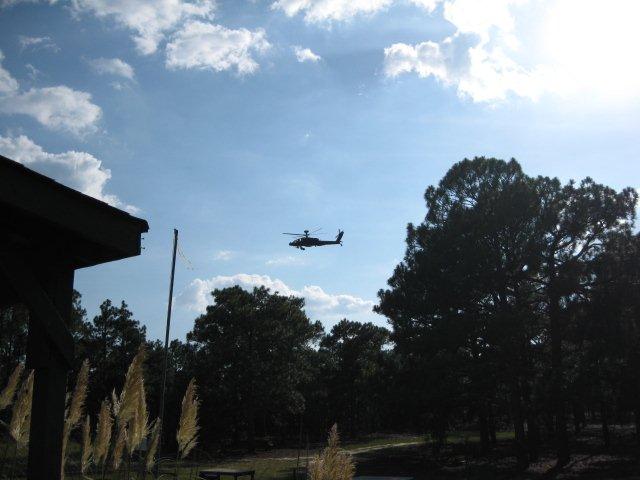 If you only need a few laps a fuel filter might be the answer.

Phil
Diamond Member





Posts

: 2954


Join date

: 2012-10-02


Location

: Ohio



pkrankow wrote:If you only need a few laps a fuel filter might be the answer.  

Phil
Really? I changed from a fat Dubro filter to a tiny aluminum Brodak filter while it was in the shop since last time.
Also, fuel keeps dribbling out of the muffler when I'm getting ready on the line and cranking. Even after I pulled the pressure line loose. I'm not sure where it's coming from. I'm giving it 7 choke flips.
I don't see the relevance between a fuel filter offering more laps. If the media isn't clear due to debris, yes it will lean the engine and offer more laps but at the sake of a runaway engine. When you fill the tank, do you have outboard tip high and nose pointed high? This will purge the last bit of air in the top corner of the tank during fill up. Be quick to immediate cap the overflow. Unfortunately, it sounds like the tank has borderline capacity. Without a tank change, you either have to choke down the venturi or add a head gasket. Both methods reduce power thus making you lean the engine further to get back the power you have now increasing fuel economy. This doesn't always come without penalty though. Less fuel through the engine = less cooling. At this point, if you place the nylon stocking material over the venturi, it will give you the ability to crudely restrict the venturi with a layer or two. Orthodontist rubber bands can hold that in place. Adding a head gasket works well with the exception of the break that takes place when you point the nose high. It usually softens this transition to the point of not even being audible or recognizable. Another option is to go to a larger diameter prop. This will keep the rpm's down but it can also load the engine causing issues a few minutes into the flight.

Fueling on the flight line like I mentioned above and having someone else start your plane while your at the handle will yield the possible needed laps you need. The problem with carrying just enough fuel is that your needle setting is so critical that one way or the other results in problems. Keep in mind that you DON"T need to do 6 level laps on takeoff. You really only need to do 5. Ken
Top Poster





Posts

: 3021


Join date

: 2012-03-27


Location

: pennsylvania



You already have a filter, so the volume added is already added. My mistake.

Phil
Diamond Member





Posts

: 2954


Join date

: 2012-10-02


Location

: Ohio



Rusty, if you put a loop in your uniflow tubing, it won't siphon like you mentioned.
Top Poster





Posts

: 3021


Join date

: 2012-03-27


Location

: pennsylvania



I've found a 4 oz. tank, so that extra 1/2 oz. should satisfy the fuel needs.

I prefer running pressure because I like the closed loop which helps keep grass seeds and dry grass chips out. I usually fill it while parked on a slab with the wings level. I never remove the syringe until the vent is capped. Heat from the sun could force fuel through the engine line, but after filling, I usually clip it shut with my plastic hemos and cover with a white rag till I'm ready to prime and go.

I didn't see a significant change when I ran open-uni on my last flight, but I limited my inverted laps to 3 and got 8 after the clover, clocking one tenth of a second leaner. This is splitting hairs, I just need the extra capacity, and the extra 1/2 oz. will luckily, barely fit, and fill the bill.

Regarding the filter, I can conceive of a case where if I block the OF and squeezed the last drops of fuel in, it would fill the feed line and filter, and if the filter was big, it would hold enough to make a lap or two difference. But that's splitting it way too close. The engine runs perfectly, with one click in either direction giving me a good wind run or calm air run at my choosing. So I'm not about to change anything about the intake air flow.

Btw, I took the Enya #3 plug out and replaced it with an RC long, and cranking was easier. No way to know if it was really the plug difference or not. The long plug has an idle bar which I usually don't use on profiles, but honestly, never have noted a difference.

This is a rerun of my experience with the Cardinal's fuel system when I first started flying it. In fact, I should probably fly it once in a while just to keep it in tune and stay familiar with its feel, in case it needs to step up and fly in a pinch.

Fun fun fun with flight trimming. I'm finally learning not to over think things, and I see some of my friends from Huntersville shooting themselves in the foot, swapping venturis, screwing with heads, etc., when all they need is more juice.

Thanks, gentlemen. Until the next report...
see y'all in the funny papers!
Rusty

---
Permissions in this forum:
You
cannot
reply to topics in this forum