Cox Engine of The Month
June-2018
Davenz13's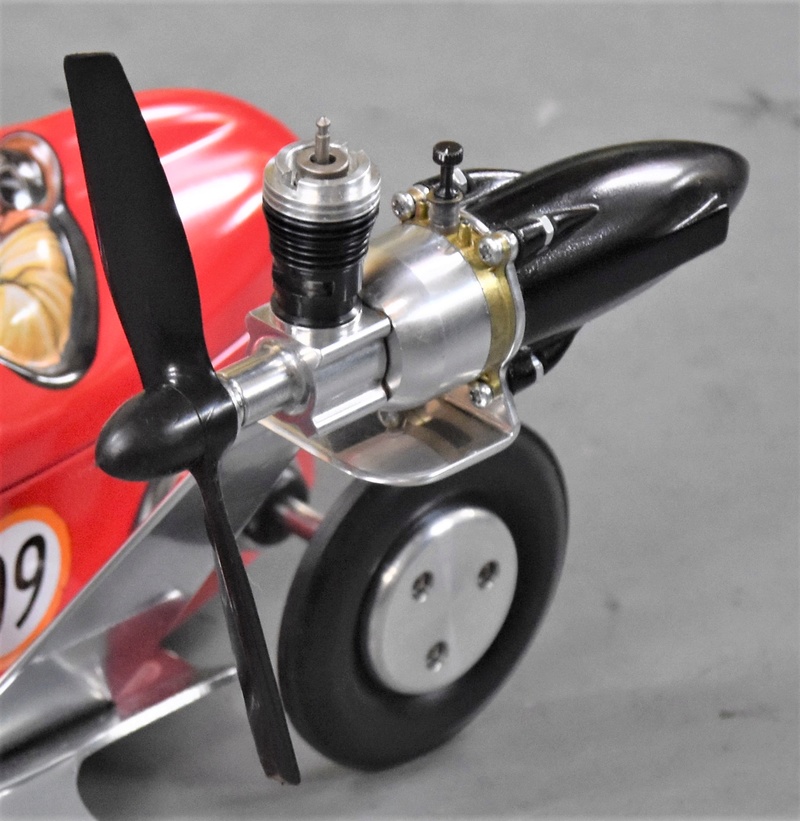 ".049 Bee"
---
PAST WINNERS

Yes. We got the good out of the day!
My last report was naively titled,
"...Final trim is all in place, and very capable."
BULL CLODS!  

Sometimes you never know just how much difference a tiny change can make. I never posted my Thursday report when I upgraded my tank to 4 ounces. At the time it was a success, and I was getting 12 laps after the clover, making me happy again. I'd solved a problem and continued flying the Twister, believing it to be trimmed out as good as it was going to get. The week before that, I had added a weighted acorn nut to the spinner, bringing the C/G forward a quarter inch, but still aft of the plans. Then on Thursday, the flap and elevator throw were finally where I think they should be, about 1:1 or slightly less flap. This plane is designed for 1:1.... and my patterns all sucked. It was also the first time it had flown in the wind, and I couldn't even do simple inside loops as well as when I graduated from Beginner. I was feeling poorly that day, but not enough to explain this level of incompetence, even though I was completing the pattern every time, but just could not make the shapes.
Since Day-1/Flight-1, I have been using an OS #762 muffler, thinned to an eggshell with the stinger removed and opened to 3/8". That little 762 muffler weighed 1.4 oz. and I thought it would cool efficiently, plus I figured it had next to no back pressure. All of that is why I was using it, but the weighted acorn nut was preventing me from using a starter, and you may recall I was having cranking issues. And so with this highly touted(by me) configuration, I had just put in a day that punched my confidence in the guts. I have to be truthful with myself. I'm not wired to be a really good stunt pilot, I know, because I see "naturals" pick it up and do some very impressive handle work in a surprisingly short time. So when my work takes a step backward, it's disappointing. I have to work at it hard, and I publicly vowed in the spring, to do so this summer. Back to the drawing board...
So, I was on the verge of swapping the .35 for a "tuned" .40 for easier cranking(an uncommon fp.35 issue.). I was told it would easily do the pattern on my 4 oz. Last night I put a spinner in the box to preserve my arm and stamina, in case I needed the spinner for the electric starter. And prepared for a possible field engine-swap. I took two .40s and about a pound of propellers out there today. I also found a heavier muffler to help make up for the reduced nose weight in case I swapped the nut for the light spinner. I went ahead and installed the muffler it so I could try a little shift forward in the C/G. And Thursday, I had noticed the engine sagging more than once upon removing the ignitor, so I figured I'd give the .35 one more shot at the job, and rummaged around and found a new Thunderbolt RC-long , the third plug I've used since this plane has been flying.
BINGO!


What a difference! I made two gigantic improvements with a couple of little changes. The fp.35 is like a completely different engine, and the airframe performs exactly like I intended with the trimming I'd done so far. I started reducing the fuel for each of the last three flights and am still getting over twenty laps after the clover, and flying dead-on 5.0 seconds from start to finish on an also new set of 60'(eye to eye) lines. Forgot to mention that change. I'd been using 61' till Thursday.
First flight. Always sucks, right? Not this one. I rolled and rolled, gently lifted off and eased it up, by the book, starting and finishing the climb from the point where the wheels leave the ground. The engine was running a higher RPM but still breaking on and off when tested before launch. So, rather than feeling like I needed to make a conservative turn into the Reverse wingover, I clobbered it and it went straight up on rails over the top, pulling all the way. Turned right, went around and clobbered it again. That's the way I was exclaiming about how it turned after posting here on the maiden flight... allbeit with ridiculous control throws and no nose weight. Then after adding a bit of tip weight, the Acorn nut spinner, and the muffler, she was up to 42.x ounces and losing that initial spunk. Not anymore. I guess the engine likes some back pressure because today the horsepower and efficiency improved remarkably. How much was the muffler... how much was the T'bolt plug? I don't know, but for now, that's my setup and I'm sticking with it.
On around from the wingover, the loops were round and concentric, the level flight grooved and pulled like a sack of potatoes and when it came time for the squares, I completely surprised Wayne and  Bob, and Myself. Now, if you watched my maiden day movie I was doing pretty good squares, particularly in the sq.8, and I think Cribbs even mentioned it. I have never, not once, ever dived into an outside square, banged turn 2, flown straight across at shoulder height with no porpoise action, then back up through turns 3 and 4... Wayne said he thought it was a fluke and was waiting for me to botch the next bottom... turn 5 and again banged turn 6, straight across and steady, shoulder high, and flat all the way to turn 7,  finishing 8 and out. It was the best outside square I flew all day, but all the rest were still better than most I've ever flown. Flat low bottoms have been a nemesis.
I got a lot of flights in. The .35 cranked easily and I did some very good things in each flight. Not without some uglies mixed in, but I have several weeks to practice with a plane I enjoy flying now. My landings continue to be 30+ pointers, and btw, I have angled the LG forward as some of y'all suggested, with no adverse effects. This is good. I don't know if I'll get good enough to take Mike down, and it's not likely I'll knock Wayne out of the top two either, but if I can put all the things I did well today into one flight in each event at Huntersville, I'll call it a personal best.
I'm making a movie, however I did not point the camera at the Twister in flight today. Sorry, but I just wanted to do nothing but fly. But I did get some video that should be worth watching.
Rusty
https://youtu.be/rzrCCiF-EZ4
Thanks Rusty , Good video and report its amazing what just a little change can do to a plane and the confidence builder . And fling is always more fun that cleaning up limbs LOL .
Top Poster





Posts

: 4839


Join date

: 2013-01-18


Age

: 60


Location

: julian



Lol, I forgot I put that in the credits. We all had a good day. I'm still happy about my sudden improvement on the low flat bottoms. I was beginning to think that would forever hold me back. Landings and takeoffs are on like a switch flipped too. Even after taking our CEF member advice and moving the LG angle forward.

Speaking of the LG, they are my in-flight visual yaw gauge, and I still see almost none while flying(and I know where the static alignment of the wheels is). I may tweak the leadouts an 8th" farther aft and see what it does. I have 2-3 degrees of thrust offset. If not for the visual indicator, I'd suspect it had plenty of yaw, because it pulls so hard. I may end up marking a leadout position for calm and another one for wind. I'm flying on 60' lines measured from eye-to-eye now, and I have another set of 58' lines in case of a heavy wind in a contest. The kind of blow I would not fly a full practice in. I hope I get a day windy enough to try them out. I feel like the engine now can run the same needle setting no matter the wind speed. The horsepower increase after the muffler change was a big surprise. Does that surprise anyone else? I may take that question over to the SH engine section.

Thanks for reading,
Rusty
Last edited by RknRusty on Mon Sep 05, 2016 6:30 pm; edited 1 time in total
I'm not familiar with your mufflers unless I go and look at all of mine. I never found ANY stock muffler to work well regardless of how I dealt with the exit. When you last had this plane out, the temps were scorching. What I see here is the temps now in the 70's. The engine is much happier when things cool down. Props work more efficiently, and the engine makes more power. I can't explain the additional laps because cooler weather would certainly cause the need for a richer setting.

        When you ask certain questions on the other forums, you will get a collage of answers. Everyone  contradicting of the other members results. Muffler back pressure can certainly increase fuel economy but it doesn't always do it in the respect of offering power to the engine. This is why you can't run a engine on the bench and expect similar results on the plane. The weight of the plane, prop pitch and diameter,  the line diameter it's flying on, the venturi size, the overall aerodynamics of the plane all contribute to how much fuel the plane is going to use.

       Once this happy spot has been achieved, the key is repeating it over and over. You mentioned the plug switching up to 3x's. Were all of these new plugs? Plugs can certainly have a positive impact on engine runs but quality plugs such as the ones you were using generally don't fail. They usually last for hundreds of flights. The T Bolt and Enya are very hot plugs and generally don't yield rpm drops unless your needle setting is too rich initially. I'm not trying to contradict your findings, I'm just saying that of those two plugs, it's pretty rare to have one fail especially the Enya. The T-bolt has a very weak wire filament and is very thin. A flooded engine can destroy a T-bolt especially if you put a starter to it.
Top Poster





Posts

: 3078


Join date

: 2012-03-27


Location

: pennsylvania



Hi Ken.
Yes, there's always more to these mysteries than is apparent. Yesterday while I was doing most of my flights it was 84-86 degrees, so 10 degrees cooler than a week ago, 20 degrees cooler than the maiden and 2nd outing. That cooler air yesterday would have had some effect on the power, and offered more air for the prop to chop too. I can't explain the extra HP along with an extreme increase in efficiency. The muffler is empty, no insert. Maybe it just found a temperate happy spot. But it runs fine now and seems to hold plenty of fuel, so until that changes, I'll stick with it.

None of the plugs was brand new. The Enya was still in this same engine since the Nobler wreck. It had no obvious problem or sag, but since I was having trouble cranking, I swapped it with an older RC-Long(from the Shoestring's early days) just as a shot in the dark. That RC Long is the one that sagged when removing the ignitor. I bought a pair of T'bolts last year for the Yak, and the Shoestring's Max-S .35, and the one I installed in the Twister was the one from the Yak's Fox, with probably 5 or 10 flights. I threw the RC-Long in the trash.

The only reason I mentioned SH is out of curiosity. I don't read their replies and run out to the shop to change things. But Randy can give insightful parcels of knowledge that never occurred to me, and I like to understand engines and theory, so sometimes I ask, just for food for thought. As far as al the other guys jockeying for position over there, if I need information, I have the ability to cherry-pick and consider the sources. You would be among the ones I pay attention to when I read an answer.

Rusty
It's amazing what a new plug will correct. I've been there...
Funny thing is it's always the last thing we go to, but it's so simple it should be the first. Even funnier I catch plug problems on other guys planes all the time and of course I get blown off. After a while they change the plug and their problems disappear!

Moderator






Posts

: 9749


Join date

: 2011-10-24


Age

: 44


Location

: Tuttle, OK




---
Permissions in this forum:
You
cannot
reply to topics in this forum