Cox Engine of The Month
June-2018
Davenz13's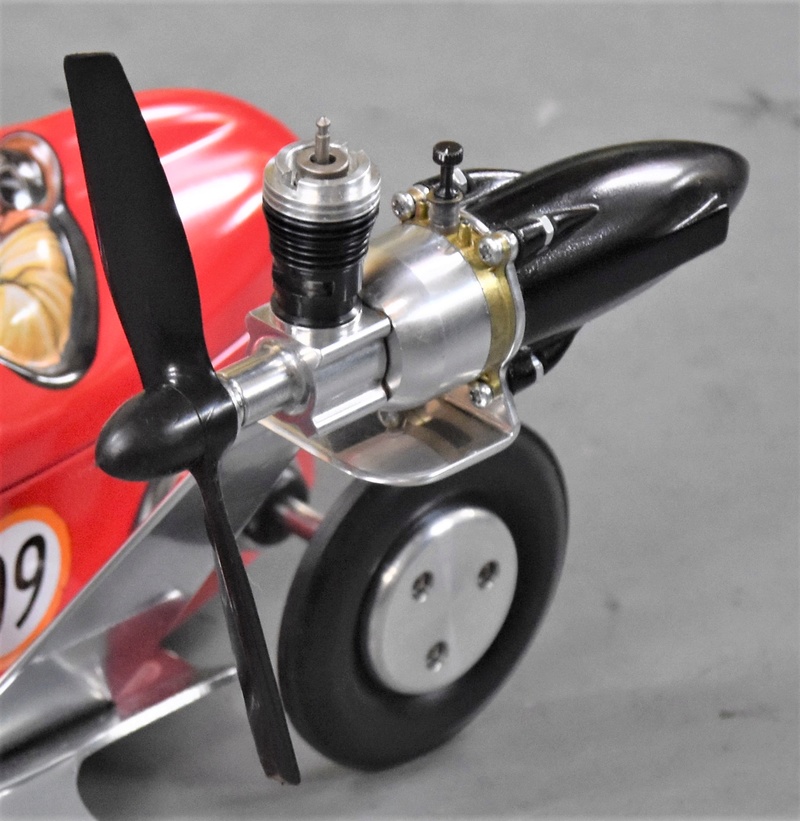 ".049 Bee"
---
PAST WINNERS

I have to admit, I haven't yet read Ken's "Blondes, brunettes or redheads?." However, the alluring title prompted me to stop in and look at the pictures. After I write my report, I'll sit back and do some reading.
I've already posted some spoilers in my Cranky Tee Dee thread. So you may know I used the same old 5.25x3 prop that's been on the plane for years now. I didn't want to mess around, I wanted to fly. And I didn't want to give Wayne the Half-A detractor any more guff to poke at us with. In my TD thread, I talked about how good it ran on Saturday after the frustrating cranking at 12:30 AM Saturday morning. But the movie betrays some sagging. Maybe I was a little too lean. The compression doesn't feel excessive while flipping the prop hot or not.
So we staged and got ready to crank. I opened the hemostats a moment to fill the fuel line and a pinhole in the line at the engine sprayed me. Back to the toolbox and returned with an inch of small line one of you guys mailed to me a long while back... too damn tight for the full-sized filter. Back and forth again, I finally got a piece of pink Brodak medium tube on it. Gave it a flip and it quickly leaned out and quit. I fumbled getting it clamped off and flooded it. Of course I did, fed more guff to the aforementioned 1/2A Nazi. But I cut his snark out of the movie right near the end.

Dried it out and the spring starter lit it right up.
Before the flight, Don Jenkins asked me if the pavement didn't scuff up the Monokote. "No," I told him, "I don't seem to have that problem." So when I heard it riching out as the bladder emptied(yes bladders rich out, not the opposite), I made tracks toward the grassy edge and just barely made it in time to float it softly into the grass. Got a standing O for that Lol. Also got the award for best flight, as well as best looking plane in the flown lineup.
https://youtu.be/EjERe3xYnVA
Next, we have TDandit Dave flying his F4F Wildcat, known as Wiley." Also powered by, guess, a Tee Dee .O49. The elevator had gotten re-broken, most likely in the car, so it got a quick pre-flight repair and off to the races we went. Wiley is outfitted with a Redcap caulking tube sealer. Those are good to have because they hold a lot of fuel and also have low enough pressure that you don't need a fine thread needle valve. I only learned about the NV requirement recently, so I'll be switching over some planes to those. That'll be good for the Kom-Bats with Medallions, which I didn't have time to prep, and they didn't make the trip. Dave and Wiley won the award for best scale model.
https://youtu.be/18oI5vNQtr0
I said I was going to fly everything I brought to the show, and so next on the agenda was my 1/2A Gladiator combat plane. Mike Londke gave me this one a couple of contests back, and I flew it the first time last October. Mike flew it too and I posted that video last October. At that time it was well balanced and other that wide handle spacing, it flew well. I flew a whole bladder out and Mike flew it until the nose weight departed. He hung on for a good while anyway before a minor pancake.
Since then I've taped the weights on the LE rather than on the engine beams and flown it at the church a couple of times, but cheated with a big prop to tame it. This time, I put a 4.25x3 Rubber ducky on the AME .061, and filled it with my last 3/4 ounce of 35% Fritz Glowplugboy fuel. I recruited the 1/2A Nazi for a hand launch on the grass RC field, and like a good Norvel should, it cranked on the first spin with its newly added spring starter. With the small prop, it was spinning up ridiculous RPMs. I would give anything for a do-over so I could have gotten someone to video it, because it was one of the wildest flights I've ever flown. As I did with the Satan flight, I forgot my sunglasses. But in the seconds it disappears through the sun, this plane will do ten of anything the Satan will do in the same amount of time.
I was losing my balance on the uneven ground and doing more reacting than acting. During one of the bright-outs I finally  turned my back to the sun and waited for it to fly around back into my view. But it didn't. I was desperately flying it with my arm straight up, doing lord knows what... I'm told by Dave, it was inside and outside loops and lazy 8s. I couldn't believe it was still going, but it stayed tight and I could sort of tell the altitude, so I pressed on, hoping it would appear in front of me so I could regain some semblance of authority over it. But it never did. Eventually, it must've started coming around to where I was watching and waiting when it got too low and skimmed on the grass and shutting off the engine. The muffler was knocked off, as designed, and the fuel line kinked so it quit pushing fuel into the engine, allowing me to see how much fuel I'd flown out. It was about half of the tank, meaning I had kept it flying for maybe 3 or 4 minutes.
These little schnuerle engines run a whole lot longer on 3/4 oz. than a Tee Dee will. I remember being surprised by that when I started flying Big Migs. The AME was really on song. I so wish I could have gotten it back and flown out the tank, but it was not to be. I later talked to Combat pilot Howard Shenton while he looked over the plane. He says my handle is still too wide and the balance where I stuck the weights was way tail heavy. So maybe there's hope I can tame it next time. I'll be trying again soon in the churchyard. The 1/2A Nazi was not impressed. His impression is that it was a complete off-balance accident from the get-go. I'd rather believe there aren't many people who could have pulled off what I did, pancake notwithstanding. And it was fun as heck.
No video of the Gladiator.
Rumor has it, an unidentified woman, maybe an R/C member, was videoing. So maybe it'll turn up. I hope so. I'd sure like to see it.
Only one plane left to fly, BFS-I. My favorite old build, and my first one documented here on CEF. I'd had enough. It was in  the mid to high 90s and I was getting pretty worn out. I asked Wayne(I'll quit calling him names now) if he wanted to fly it. I was surprised when he accepted. So we were cranking it when bandit noticed the nose was loose. An old repair from my attempts at training my neighbor to fly, he snapped the nose off. I had glued it back on, but after 3 years it was letting go. A quick job with thin CA and kicker firmed it up quite well. We got her cranked and Wayne made a rolling launch. It was flying well and the .051 was hauling it around with authority, and it appears to be in very good trim. Wings level and very steady on the controls.
I tried to video it, but could see nothing on my phone-cam screen, so my shots are a little sub-standard, and i lost a couple of minutes of flying. About half way through, wayne remembers he has my Samsung camera in his pocket. He got it out, turned it on and started videoing the flight from is perspective, and it turned out great. Not too bad for a 1/2A detractor.  
Though it flew well, the .051 with no compression just can't deal with negative Gs. The loose P/C fit allows fuel to get past the piston(probably mostly above the bypasses) and drown the glowplug during the negative G outside turns. So that limited him while he had planned to fly a standard PAMPA pattern. But he did the best 1/2A landing of the day and had a good flight. The good news is, from our first annual CEF Reed Speed contest, I still have a brand new TD .049 P/C, bought with my winning gift coupon. I'll be putting it on the BFS-I Streak's engine. Its crankcase appears to be in excellent shape. It just won't be an .051 anymore.
So last but not least is the video, taken from two cameras, two perspectives.
Watch this and tell me, can you believe this plane now weighs 9.9 ounces? For those who wonder how much weight a TD can haul, here's your answer.
https://youtu.be/5-lKMy5DgpQ
I still have to post Bandit's Cox Super Chipmunk flight. Its second ever engine-run, and never before flown. I'll get that one posted tomorrow. Sorry, but I'm outta time tonight.
And now, Other than the Chipmunk report and video, for Half-A Day 2016... That's a wrap!
Rusty
Last edited by RknRusty on Mon Sep 26, 2016 10:25 am; edited 4 times in total
Moderator




Posts

: 10548


Join date

: 2011-08-10


Age

: 62


Location

: South Carolina, USA



And they all lived to fly again! Fun stuff guys, you are making things happen!
Moderator






Posts

: 9744


Join date

: 2011-10-24


Age

: 44


Location

: Tuttle, OK



I flew the Brodak Gladiator for a few years. I still have a few new ones. Essentially the plane was a complete disaster. I really would like to know who's input went into that plane. Incredibly tail heavy, twisted like a pretzel out of the box and not just one of them all of them. They had a very short lifespan typically as they would knife edge across the circle and usually crashing on the opposing side. Keep an eye on the bellcrank, not only does the center pin like to fall out but the bell crank wears out in very short time. They took a lot of work recovering, twisting, and a lot of cg shifting to get it to fly correctly. I did achieve some very good flights but the time invested made it a deal breaker as it did for most.

Seeing how light the Norvel is compared to a ball bearing 1/2A, the easiest fix to this is in the tail. You can remove the hinge pin, get rid of all the plastic hinge parts, trim the elevator down 3/8" and cut the wood back on the trailing edge of the center rib back 1/4" and stitch the tail on. This will certainly alleviate some of your nose weight. Ken
Top Poster





Posts

: 3028


Join date

: 2012-03-27


Location

: pennsylvania



I agree with you the Baby Flite Streak being one of best flying 1/2 A planes. I think it's due to it's thick airfoil about an inch at the spar and about 150+ sq. in. of wing area and a 26 inch span. Compare all that to others and they usually fall far short and have to fly fast to make up for it.

I'm content with a .049 on the Flite Streak.

Bronze Member





Posts

: 44


Join date

: 2016-09-12


Age

: 60


Location

: WA



Thanks for the report Rusty , Looks like ya'll had a good time with some excitement to go along with it ! That's one thing about 1/2A its not predictable

Eric

Top Poster





Posts

: 4788


Join date

: 2013-01-18


Age

: 60


Location

: julian



As advertised, here is Bandit's maiden flight of the old brand new Cox Super Chipmunk. I think a bigger tank and a Killer Bee are in order for this one. How many people do you know that would maiden a collector's item like this by flying over pavement!
https://youtu.be/Qq_C4OLYo8g
Yep, they all came home to fly another day. I think someone's Baby Clown went home in a grocery bag, but the Gang from Columbia dominated the exhibition. A lot more planes just sat on the ground than flew. Will took the group pictures with all of the planes and people. He'll be sending them to me soon I think.
Ken, I have done a lot of what you told me to on the Gladiator, because we talked about it on the phone before last October when I flew it. Mike gave me tips too. It has a thick and wider 1/2A nylon bellcrank with a 4-40 bolt all the way through, and CF pushrod, trimmed elevator, etc. I have it twisted into shape and it keeps the lines tight. Otherwise I'd have never been able to fly it behind my back
You're welcome, Eric. How come you never come over to H'ville and fly with us? You'd be glad if you did. Your next chance is in 3 weeks for the Carolina Criterium. October 15th and 16th. You might get to meet lots of famous guys like Ken and Shawn Cook and Me Lol.
When I get more pics and vids, I'll post them up.
Rusty
Moderator




Posts

: 10548


Join date

: 2011-08-10


Age

: 62


Location

: South Carolina, USA





Similar topics
---
Permissions in this forum:
You
cannot
reply to topics in this forum