Cox Engine of The Month
August-2019
fredvon4's
"Tee Dee .049"
---
PAST WINNERS
Page 4 of 4 •

1, 2, 3, 4

Great idle run, Brad..I would not have expected the TD09 to idle stable with a 5,5x4,5 prop that I would typically put on a TD049.

I have a 3-bladed 6x4 on my engine. I tried to audio-tach it in the garage but the echoes falsified the measurement. I will check again with the conventional Hobby tach device.
Diamond Member





Posts

: 2370


Join date

: 2011-11-06


Age

: 60


Location

: Budapest Hungary



A 5.5x4.5 puts out some load but the mass for sure is less than a 6x4.
Garage would be an issue yep. The throttle sleeve will let you do some
nice slow passes right by the camera should make for a good vid!
Diamond Member





Posts

: 2447


Join date

: 2013-10-20


Age

: 56


Location

: Brad in Texas



Some of you may remember my Sterling Cosmic Wind vintage RC airplane build thread started  in the fall of 2016. As a heads up on this, the plane has flown many hours since then, and its maneuvering abilities are fantastic with only rudder, elevator (and throttle) control.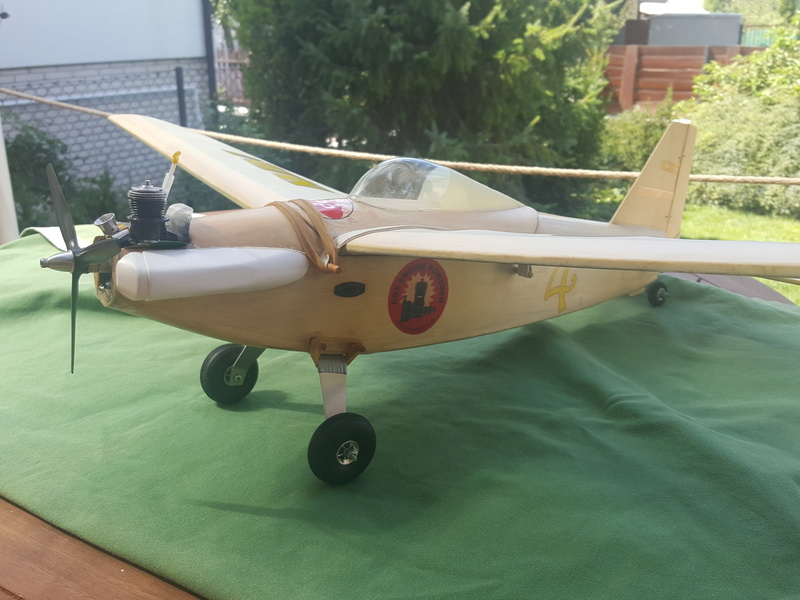 While I designed its firewall to accommodate 049 Reedies, 049 TD and 09 TD as well, I settled with the strongest engine, the TeeDee 09 for highest performance (...life is short, lets enjoy it, carpe diem...

).
For those of you who may want to build an RC plane with a relatively tight cowl surrounding an 09 engine, here is my experience:
Initially I used an RC carb and 09 muffler on the TD but its performance was compromised a bit because of the SPI design, and the engine also tended to develop varnish in the cylinder real quick. So recently I swapped the 09 muffler and the RC carb with a home made throttle ring and stock carb, and saw its performance rise sharply.
The exhaust gases now flying free from the engine started to parch the monocote and the balsa surrounding the engine so I had to improvise and add a heat shield made from a beer can. This is how it looks...
I am not particularly proud of its appearance but it really prevents the cowl from being eaten away by the hot gases.
I also wound a small and loose alu sheet shield around the fuel line next to the carb because the exhaust port of the engine sends gases here too and the silicone tube surrenders under such massive heat in no time.
Diamond Member





Posts

: 2370


Join date

: 2011-11-06


Age

: 60


Location

: Budapest Hungary



Page 4 of 4 •

1, 2, 3, 4


Similar topics
---
Permissions in this forum:
You
cannot
reply to topics in this forum