Cox Engine of The Month
May-2018
Kim's
"War Dog hauls the 2M B.O.T. out of Uncle Wayne's backyard"
---
PAST WINNERS

We all have childhood memories that are dear to our hearts. In 1971.. I was 11 years old.. and a neighborhood kid got this 6-wheeled skid-steer buggy that was like a
miniature-size
version of the ATV that some may remember from the "Banana-Splits" Saturday morning TV show of that era. Many of you remember the various "amphibious" 6 x 6 ATV's of the 70's.. but this little vehicle was for kids. It was small.. but relatively sophisticated for what it was.. and had a small-displacement 4-cycle OHV horizontal-shaft rear-engine with a "bicycle-chain size" drive system.. and belts/pulleys for the skid-steering (?) with a control/linkage not unlike the "big-boy" machines. It was not amphibious though.
I remember seeing the buggy when he first got it. The plastic-body was molded in red.. and when he started it up and drove it around his yard.. I was in awe!  

It literally could turn on a dime! It seemed to be pretty fast too.
Fast-forward to today; I tried to research it.. but there isn't much info on the internet about it. The engine is said to be a Tecumseh.. but there are reports of it being a Briggs & Stratton. The tires were apparently "plastic".. but I don't remember them being plastic. They seemed more like pneumatic tires.. but that was a LONG time ago. The manufacturer was supposedly a company called "2000 Inc." and it's size is stated to compare with today's "Power-Wheels" kid's ride-ons. Again; it seemed bigger to me when I was a kid.
Here's a vid I found on YouTube..
https://www.youtube.com/watch?v=sbpeQAxIQQ4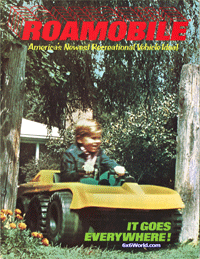 The "stock" chassis.. (I think..) shows a large sprocket/high-gear ratio adjacent to what looks like a typical small displacement side-shaft engine-mount, probably utilizing a centrifugal-clutch.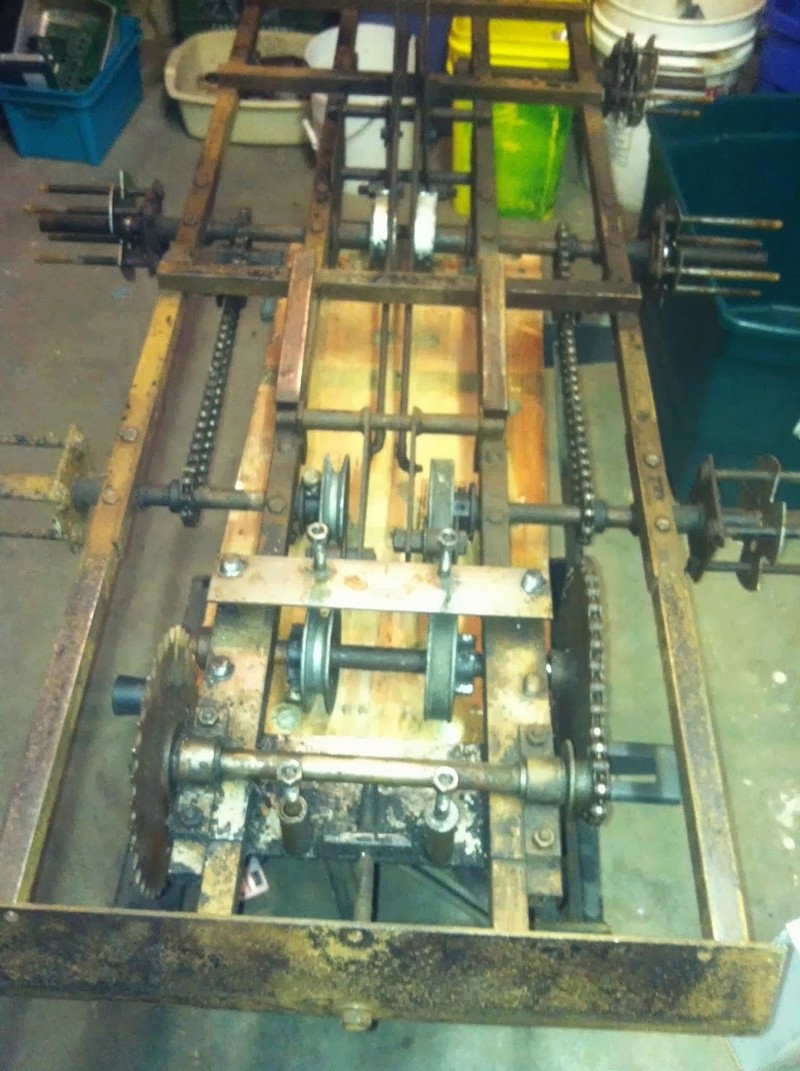 Research done today.. would suggest that the "stock-version" of the buggy powered the 4
rear
-wheels.. and the front-pair were free-wheeling for speeds between 8-10 mph. A hop-up kit was however available.. that powered all 6 wheels.. included a skid-plate and increased the speed to 18-20 mph! The "stock-engine" was stated in one thread to be between 2-3HP. I would think that the hop-up kit would have included at least a 5HP engine... but there's little info. that I could find. The kid who owned the one that I remember... I may be able to contact for more info. although I haven't seen him in 45 years... but research claims he own's a garage/repair-shop in our home-town; the same town that I work in.
That was a place in time ( the early 70's) where "mini-bikes" were the cool thing to have. I had one... a "Toyoco" bike that was very cool-looking.. but was cheaply-made. It was the type that could be bought in department-stores at the time.. and mine was second-hand. It had a Tecumseh 5HP engine/centrifugal-clutch/chain-drive that threw the chain constantly..
It looked exactly like this one..
It was EXTREMELY frustrating as a kid.. because my dad wasn't mechanically inclined.. and I didn't know how to source a new clutch-bell.. which was worn and wobbly.
My other friend up the street had a "Rupp" mini-bike that would turn circles around mine..
It looked exactly like this one..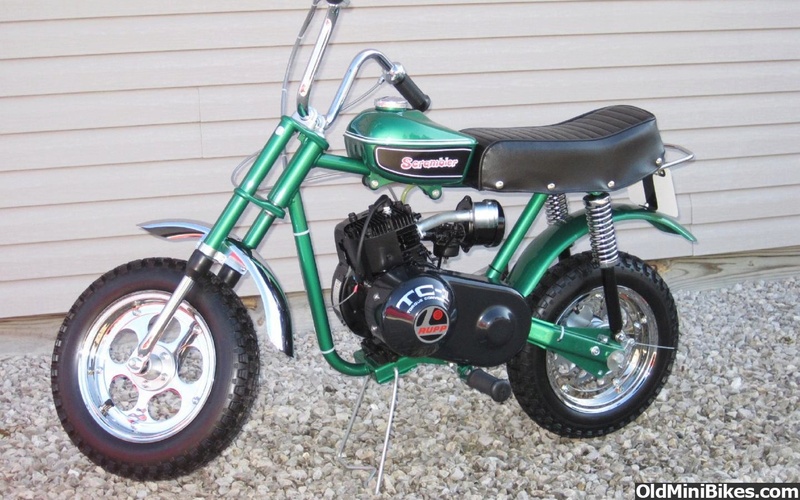 His also had a 5HP engine.. (Briggs & Stratton..) but it had a torque-converter (snow-mobile) type drive... and his was new..

One thing I've ALWAYS wanted since I was a kid.. was a go-cart. I absolutely LoVe driving them around a track.. and do so whenever I get the chance. My younger brother managed to put one together about the time I
first
got married..

and single-handedly terrorized the town of Franklin, Ma with it! It was impounded on one occasion.. where he got caught driving it through the center of town!
He put-together a nice one for my nephew a few years ago.
There's a place in Braintree, MA called "F1 Boston".. and if you like this kind of stuff.. I highly recommend that you pay a visit if you're in the area.
https://www.youtube.com/watch?v=tgalEs-GQ1Q
info
Top Poster





Posts

: 5894


Join date

: 2013-07-17


Age

: 58


Location

: N. Smithfield, Rhode Island




---
Permissions in this forum:
You
cannot
reply to topics in this forum