Cox Engine of The Month
June-2018
Davenz13's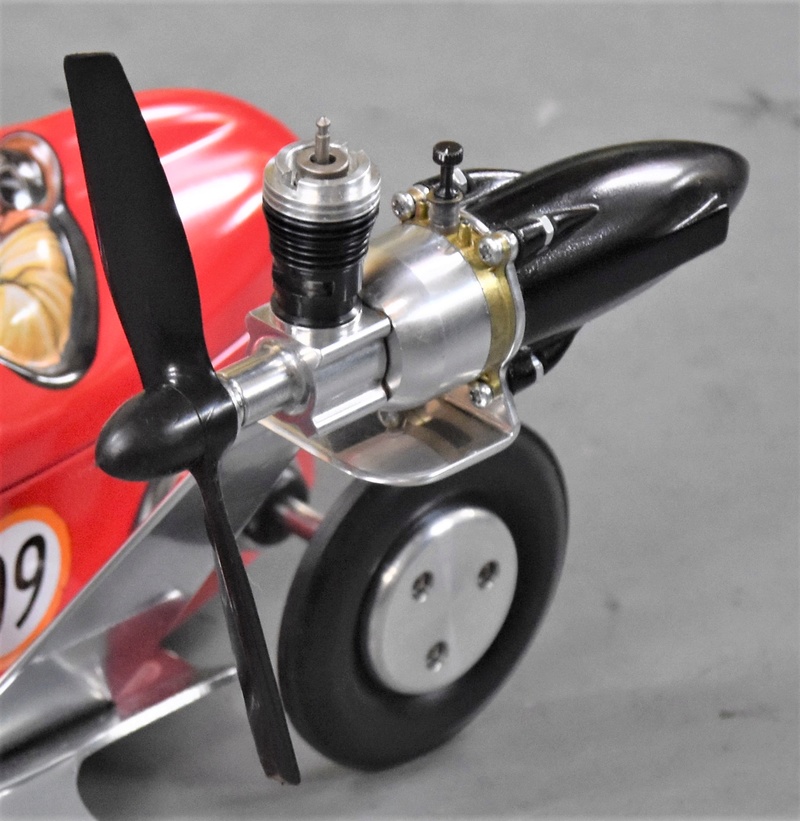 ".049 Bee"
---
PAST WINNERS

Has anyone read any info on this? We all know the dangers of electrocution when flying control-line models in the
vicinity
of overhead electrical wires. The warnings are prevalent.. and appear on kit-instructions, control-line packaging .. publications.. etc. with some warnings stating that direct-contact is not necessary to inflict a lethal electrical-shock hazard. I'd like to know without a doubt; whether using the newer synthetic-braid lines is safe. If they're in fact non-conductive; would this dispel that concern? For decades.. the standard for control-line models has been stranded-stainless steel.. which obviously is an electrical-conductor. Maybe even "Dacron" is electrically-conductive?
Naturally.. you don't want your airplane to become entangled in anything during its flight.. but it would allow much more freedom for many of us who
could possibly
fly in our own yards.. if we didn't have to worry about coming too close.. even to just the wires that connect to the house from the pole out on the street.
Kites are commonly sold.. and have no such warnings.. and I'm sure that they commonly come in contact with electrical service wires.
I want this thread to evoke awareness... rather than implying any suggestion of a "green-light" for flying in the proximity of electrical lines.
Top Poster





Posts

: 5953


Join date

: 2013-07-17


Age

: 58


Location

: N. Smithfield, Rhode Island



Roddie,
As I posted at the end of the "Spectra line for 1/2A?" thread, I'd not fly near power lines with Spectra or any other type of braided line. While the line itself may not be conductive, the line could be coated with moisture from the air as you fly, moisture from the ground as you lay out your lines before starting your plane, grease and oil absorbed in the lines from flying over time, static electricity in the air, etc. I shudder at the thought of getting lines near/tangled in power lines.

The Safety Mark
Diamond Member





Posts

: 1559


Join date

: 2013-05-22


Age

: 55


Location

: Portland, OR, USA



One time as a kid our normal flying area was occupied and we went around to the front of the school, it was tight and there were power lines to the west, but i wanted to fly...first lap around i got zapped, not enough to hurt, but was more than kinda 'concerned'...couldn't wait for the tank to run out!
Top Poster





Posts

: 3577


Join date

: 2011-09-01


Age

: 59


Location

: Rockford, Il



Electricity always takes the path of least resistance. If you think about it, you the pilot are a big insulator, unless you fly barefoot while raining in a puddle of water...

If your handle is a style that has an exposed steel cable that touches your palm it is possible to get nailed, again think least resistance... unless you have a cable in each hand it's not going to go through your body across your heart. Who will feel it in your hand and forearm if it has enough voltage it will knock you away.

It's the current that kills though,not the voltage.

So, I highly doubt Spectra is a conductor, a quick test would be to build a circuit using the Spectra as wire. Betcha it won't work, get it wet, still betcha it won't work. If you have a variable power source crank it up probably still won't work. Spectra is a polyethylene product, it acts as an insulator.

Would I fly near power lines? Heck no.

Ron



Moderator






Posts

: 9749


Join date

: 2011-10-24


Age

: 44


Location

: Tuttle, OK



  I'm not gonna lecture or sound  


just trying to sound like a rocket/scientist.  
inflated king size  


Trying to teach what I just heard  
  and  
 teach the experts how it is done now....    
) 
Ideas TMI overload  

different materials are conductive (Silver, Gold, (alumiun, alum-ini-um, Aluminum) ...
https://en.wiktionary.org/wiki/m%C3%A1s_sabe_el_diablo_por_viejo_que_por_diablo
Cribbs74  
has a good point.  
and when it comes with electricity Voltage (

Force), watts, Amps ( Charge current), , conductors, inductors
, (Iron, wire/Coil, heating elements
** Capacitive charge example:  Capacitors,
or  insulators (Glass
   Ferrous, Iron, and non conductive, yet,  and others create static charge.  even the best insulators (glass or plastic) can get charged when there is:
contact (spark) - welding: cathode / anode  , friction bad connection (short out) , or bridge the air gap at certain proximity - Arc,  lightning
I hope I don't sound like ''The Clear Eyes Commercial  and  

it all depends on so many variables .... air pressure, relative humidity, temperature, materials that carry (Conductive: how easy electrons flow/Travel -)  a current energy - (amps, watts) charge
Rub wool or rabbit hair on any piece of glass or Candles ( Wax = Paraffin ) Your skin and fir or  nylon carpet..
Propeller : Nylon, -polystyrene , polyester resin,  carbon fiber  
Carbon State properties, (Conductive conbined with other metal alloys, Capacitive (graphine graphite) Powder -  (Holds more free electrons than most)
A Diamond  --- pure carbon tightly bonded with little room for ion flow, slows and diverts light and surface extremely hard and non porous.
electricity only travels on surface, not the core....  More wire surface --- Fine stranded cables have a higher capacity to carry a current,
high gauge thicker core tolerate more heat,  
dry air and nylon propellers = static charge,
best advice I could say, stick with the Original control line specs,
Cribbs74 advice about electricity and the shortest path could be a path trough you or worse, head or hearth.
 If you must fly with the new control line requirements have a ground path from the line before it is near you.
Keep a hand on pocket or wear an anti-static grist band to your legs,  
New Member





Posts

: 4


Join date

: 2016-04-06


Age

: 36


Location

: Sacramento, Ca





Similar topics
---
Permissions in this forum:
You
cannot
reply to topics in this forum