Cox Engine of The Month
September-2023
balogh's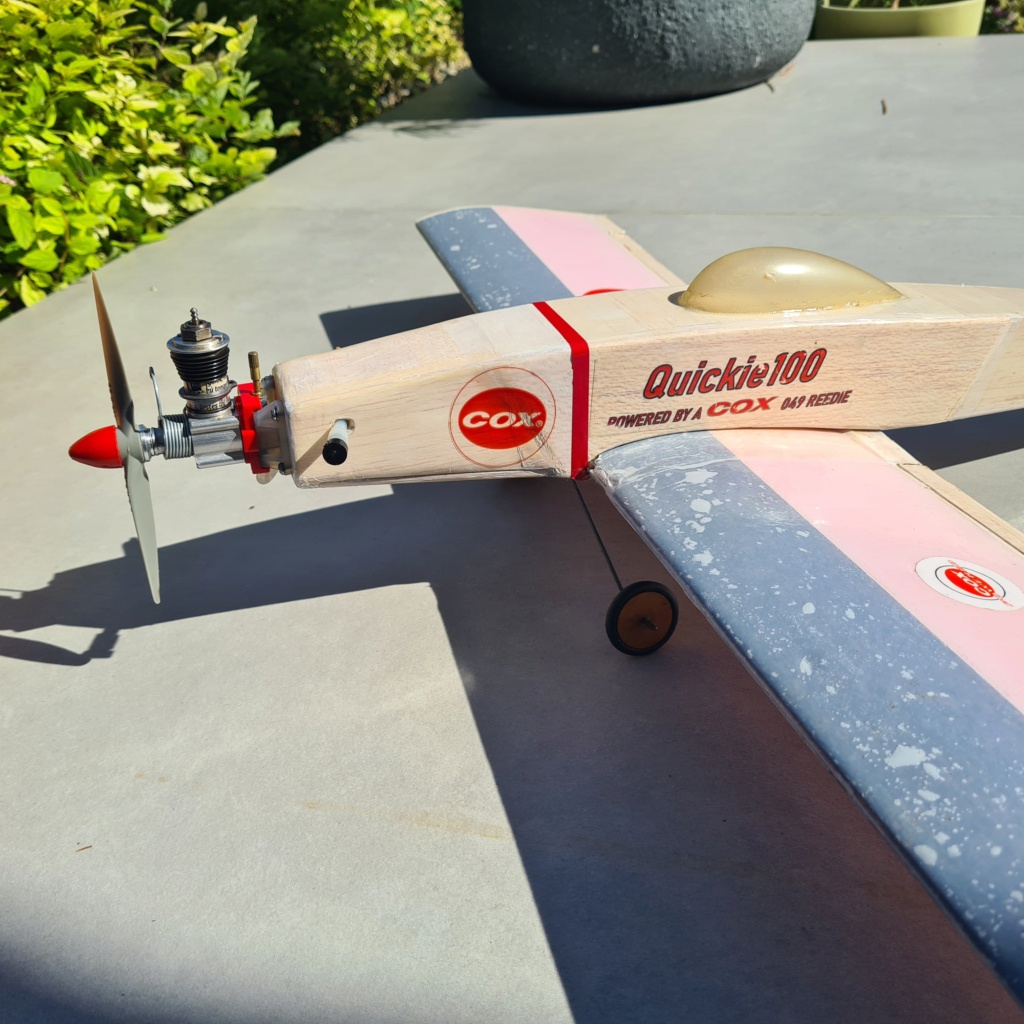 "Beefed up old stock 290 on my Quickie100 RC after plenty of airtime hours..."
---

---
PAST WINNERS
I first came across one of these a few years ago - it was passed to me because it wouldn't start and I volunteered to run it in. I was impressed with the look of it and th weight but less than impressed with the engine itself.
The piston/cylinder was very tight and I had to warm it up with a hot air gun to get it to fire. Not unusual but this persisted and I could only get brief runs - not even a full minute.
At first I thought it was the NVA and I changed it for one of mine but it made no difference. I removed the silencer so I could prime the exhaust port - after about two hours of persistence - I managed to get two minute runs out of it but even with 30% castor - it would stop abruptly.
It was as if it had seized but I could still flop the propeller around. I was running it in on an 11" propeller - maybe 11x6 - it didn't struggle at all with it but I replaced that with a 9 x 4 and managed to start the running in process. I moved this up to a 10 x 5 and completed running it in - or so I thought!
This had over an hours running by this time and I had dropped to 20% castor. I returned the motor and the chap gave me a gallon of diesel fuel.
A couple of months later I got the engine back. The chap told me that his first couple of flights were on a cold day and the engine had stopped suddenly but when he was level. As the weather warmed up it was fine and he was pleased with it but then it started to vibrate. He reckoned to have put another hour on it.
I could see that the bearings were shot - I don't know what the material was but it had worn badly. the bearings were in tight and a serrated fit so I machined the crankcase to take plain phosphor bronze. That motor has had many hours on it now.
A couple of weeks ago I was offered BNIB Brodak 40 and was more than hesitant.
I did a bit of research and found this article.
http://www.machineconcepts.co.uk/aeromodelling/b40/b40-1.htm
The chap was very keen to trade me for a restored PAW combat tuned diesel so I relented.
This is one of the later versions. I checked it with the photos at the bottom of this topic.
http://controlline.org.uk/phpBB2/viewtopic.php?t=12273&postdays=0&postorder=asc&highlight=brodak++fuel&&start=30
Anyway - here it is ,,,,,,,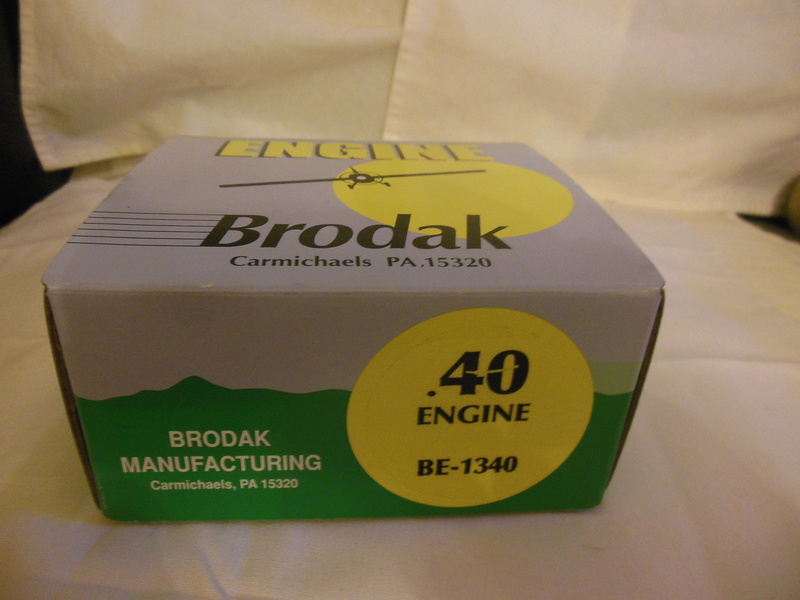 From the machining, materials and the quality oft he crankcase - I would say that this was built in the same factory as the Stalkers, Parras, Foras and Profis - not to mention the Redfins and the ...........

ian1954

Diamond Member





Posts

: 2688


Join date

: 2011-11-16


Age

: 69


Location

: England



Ian, Rusty's flying buddy Bob Zambelli was monumental in adding input to the design. Bob has and still flies Brodak .40 #1. I have also flown the very first prototype as it was made available for our entire club to try. I quickly purchased 2 of them. These are the very first models. The first batch sold out, the next batch had some minor changes due to negative input. The 3rd batch had some larger changes in terms of offering more power. They also sold out. The next problem occurred when the builder wouldn't build them anymore. They took parts of engines and began assembling them. This is where the real problems occurred. Now you had no parts support and and many engines with mix matched pistons and liners, cranks not fitting properly and the collet jamming into the nose of the case.There was also needles not fitting the spraybars properly and it would ruin the needle if you tightened it down. It was if the spraybar wasn't bottomed out properly during machining. The latest batch arrived around Memorial day. This was the first run we've seen in a few years. I bought another one. I wasn't too happy to discover that the threads on the crank are screwed up because the engine builder uses cheap dies.

         Aside from that, it's my favorite engine to run. 1 flip starts guaranteed. Great power, and It has reserve. It weighs the same as a Fox.35. I don't run the useless muffler provided. It's unfortunate that they made the holes the same as the OS Max.35, this was the engine it was designed to replace. I feel it offers as much power as a LA .40. The LA .40-.46 shares the same footprint as the Brodak.I feel it would've been a better offering with a Fox .35 footprint. It's a terrific engine and construction AAC for the price. These engines are made by Double Star in Moldavia.

            I had to machine the front of the case down on one due to the thrust washer binding into the case. They take a long time to break in. Once broken in I was quickly able to tell. I was using 4 1/2 ounces to fly the pattern and once broken in I could do it on 4. The engine will lock up in the cold temperatures if not broken in. It will do this if flooded as well. I backflip this engine and rarely flip it forward.

Ken Cook

Top Poster





Posts

: 5261


Join date

: 2012-03-27


Location

: pennsylvania



Thanks for the input Ken. I will examine this one more closely.

ian1954

Diamond Member





Posts

: 2688


Join date

: 2011-11-16


Age

: 69


Location

: England



Back in the Summer of 2013 or '14, Wayne brought the rescue Nobler to life. He used a Brodak .40 of unknown production details, and we grew to hate it because it was harder to start than a leaky Babe Bee. The warmer, the worse. Ever since then, I've cast an eye of suspicion on them, but looking back, I think our main problem was not being familiar with operating inverted engines. On more than a few occasions, I've remarked on a beautiful stunt run, only to be told it was a B40.

RknRusty

Rest In Peace





Posts

: 10869


Join date

: 2011-08-10


Age

: 67


Location

: South Carolina, USA



The New York Stunt team was using them exclusively. This of course was before the electron era and I don't believe there's many of them left using nitro. They really had these working well. My experience with them has also been very positive. I feel it's one of the few engines you can actually buy, take it out of the box and it will run as successfully as claimed. No additional parts are required ( needle valve, muffler, venturi ). These engines if not primed properly will not start. If you load it, it's going to prove problematic in clearing it generally requiring you to remove the plug and blow it out. A inverted engine unless your familiar with the starting sequence is always going to be a pain in the #@@@. So, you start it inverted . Ken

Ken Cook

Top Poster





Posts

: 5261


Join date

: 2012-03-27


Location

: pennsylvania



Always "breakin without a muffler".

Just bought a new Brodak 40 from Brodak and it hand started on the bench with just a few flips of the prop, a Xoar 10x6 wood. I have Xoar 11x4 & 5 coming.
The engine is being run on Brodak fuel 10% nitro, 23% oil 50/50. It's a very tight engine after two 4oz tanks though it will need more bench time but definitely get better with each run and runs strong. I do vary the speed and mixture throughout the run with the second tank wanting the needle turned in to keep running. So far I'm very happy with what I see outside and in.

I also have a Brodak .049 Mk II. The machine work is outstanding inside and out. Still bench breaking in for a Baby Flite Streak. It too gets better with each tank and complete cool down. Before running the first time I removed all the head gaskets except for the thinnest one.


bamboozler

Bronze Member





Posts

: 44


Join date

: 2016-09-12


Age

: 65


Location

: WA



bamboozler wrote:...I also have a Brodak .049 Mk II. The machine work is outstanding inside and out. Still bench breaking in for a Baby Flite Streak. It too gets better with each tank and complete cool down. Before running the first time I removed all the head gaskets except for the thinnest one.

Just FYI, if you're having a hard time cranking the .049 as I did for my first run, a Norvel starter spring fits, works great, and saves some frustrating flipping. Mine kept flooding, and I finally found that the head bolts were loose out of the box. Just zip tie the spring to the plane's lower beam or somewhere on the test stand. They fit lots of other engines too. Get them from nvengines.com
Rusty

RknRusty

Rest In Peace





Posts

: 10869


Join date

: 2011-08-10


Age

: 67


Location

: South Carolina, USA



This Brodak engine has been run in over quite a period of time but has over one and a half hours running. 50 minutes of this was in two minutes runs followed by complete cool downs.

I found it to be a very easy starter, a tad prone to flooding but got very, very hot very quickly and a comparitively noisy engine. I also found it difficult to restart when hot.

Anyway, it was put away for 18 months but I was considering it for a larger stunt model so out it came again but this time with the "silencer" fitted. The last run I did with it - 5 minutes - had the silencer fitted and the castor baked hard on it. No simply wiping it off.

Here it is, first run after a long lay up. 10% nitro, 15% synthetic and 15% castor. Now these videos can be boring but this one is intended to show and easy start, very quick warm up and not restarting when hot.



If it doesn't fire up quickly it tends to flood



After a complete cool down and put through its paces



When this engine runs - it is excellent but the silencer (muffler) is horrendous and makes it run even hotter and not much quieter. I don't think that this will get through the noise police at the flying field.

I will try this on 5% nitro to see if I can get it to run cooler. This is the hottest I have known an engine to get in so short a time.

I can see why Ken likes this engine - I just wish it was quieter and not reluctant to start when hot.

ian1954

Diamond Member





Posts

: 2688


Join date

: 2011-11-16


Age

: 69


Location

: England



I have many reasons for liking this engine. This engine is made by Double Star. Originally the Double Star .40 was sold by Windy and it had lugs that were the same as a Fox .35. Some feel the engine was down on power. That's because many individuals in this hobby think if they take something apart it will never work correctly again. So, they didn't play with venturi sizes. This is the current problem with the Brodak.25 is that the venturi needs to be opened up. Brodak eventually started selling the Double Star .40's and they offered in a plastic bag. Those particular engines still used the Fox lugs. The whole reason this engine was designed was to be a direct replacement for the Fox .35 offering modern technology.

True AAC engines generally start with a price tag at a minimum of $200.The Brodak .40 is a exceptional bargain. The Brodak.40 uses 22% oil fuels which is typical of stunt fuel. While some use all castor in the Fox ( Not myself) the Fox .35 in many minds can only run on 29% all castor fuel. The Brodak .40 also weighs the same weight as the Fox .35 making it a weight correct engine. The LA .40, FP.40 are nearly 2.5 oz's heavier. I feel the Brodak makes as much power as the LA.40.

The Brodak .40 is a very smooth running engine. It will do the pattern on 4 oz's of fuel when it's broken in. Breaking it in though took me a entire season and probably close to 2 gallons of fuel through it before fuel consumption was reduced. It used 4 1/2 oz's of fuel initially and in the colder weather I barely made the cloverleaf before it would hiccup. It currently does the entire pattern with 10 laps to spare after the clover.
A LA .40 needs at least 4.5 oz's and a FP .40 needs almost 5 oz's.

It does have some downsides, the stock muffler on the earlier versions had too small of a outlet and that might be some of your issues. John Brodak even posted this on his website at one time and the needed opening. Some of the heads also didn't offer enough clearance for the allen screws, opening them up a touch solved this as it relieved any binding which would distort the liner. Some engines were prematurely wearing out the rods due to the extremely tight pinch up top.
The newer versions have redesigned muffler openings. Parts can be problematic at times to get. Pistons and liners are not sold as sets but rather individual which I think can be real hit or miss.
My ten year old Brodak .40 has a exceptional amount of case wear in the nose but it has hundreds of flights on it and it still runs quite well. It served my son well and he has won numerous contests using it. I run 5% nitro in mine and never used 10% as I never had the need to do so. They're only made when Yuri the builder feels like making them.

The Brodak .40 was based on being a direct replacement for the OS Max-S .35. It's current lug pattern is based off of this engine which is also the same case length. This is also the same pattern the LA.40/.46 use. I recently purchased the latest version. I was not happy with the finish on the case, it looks terrible. It's not the shot blasted look of the earlier versions I own. It appears that the casting molds are just worn out. The prop nut wouldn't screw on due to the builder using inexpensive tooling. That issue has since been resolved. I got lucky and used a Fox prop nut which did screw on, go figure. Any other 1/4-28 nut wouldn't screw on to the shaft.

On a positive note, the very first Brodak .40 engine made is still going strong and is owned by Bob Zambelli. I have flown that engine a few times myself.



Ken Cook

Top Poster





Posts

: 5261


Join date

: 2012-03-27


Location

: pennsylvania



Similar topics
---
Permissions in this forum:
You
cannot
reply to topics in this forum