Cox Engine of The Month
September-2018
Davenz13's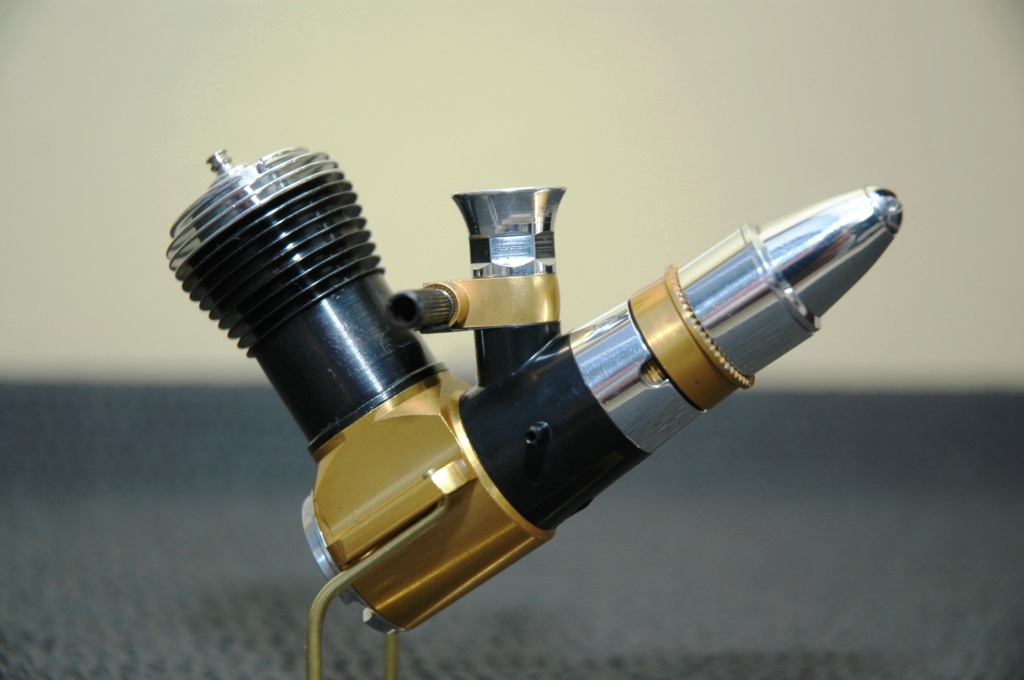 "Cox Special MKII .15"
---
PAST WINNERS

Hi again. I was just wondering about the engine runtime of a Cox engine on lower nitro fuel. I do have 20% nitro with castor oil added, but was wondering about using my 5% Omega fuel and if the runtime would improve? Seems to me that I have read somewhere online that the enginw would run longer using the lower nitro content, but cannot find it again. I have read, and am prepared to play with the finicky needle settings that will apparently accompany the fuel. Unless all this white stuff departs quickly, I will have to wait until spring to try it myself. So if anyone has experience with this, I would like to hear from you about the results.
P.S. I am not expecting a Babe Bee to run for 5 minutes, but possibly upping my flight time a little without refilling.
Thank you.
I've also heard that, but doubt you gonna gain any significant run time and would be left with a engine that wouldn't perform as well. Most small engines will run better on higher nitro fuel.
Top Poster





Posts

: 3609


Join date

: 2011-09-01


Age

: 60


Location

: Rockford, Il



It's all about the rpm if you are turning a big prop on low
nitro expect the best run time. Anything that effects lowering
the rpm other than a rich needle setting should yield the
longest run per tank. Bare in mind if you over prop and the
engine is heating up this will force a richer setting to hold
a steady needle you want to be careful in those regards
and don't over load it.
Diamond Member





Posts

: 1889


Join date

: 2013-10-20


Age

: 55


Location

: Brad in Texas



In my understanding and experience, the higher the nitro content, the shorter the runtime. It has 2 reasons to it:

1. As Brad wrote above, higher nitro content will raise the rpm and with higher rpm the unit amount of fuel burnt in a minute will be more

2. Nitro adds oxygen to the burning process and as such, will allow richer fuel/air mixture, meaning higher amount of fuel burnt in one cycle and thus in a given unit of time i.e. in a minute, even if the rpm is not allowed to rise (i.e. you add a larger prop). Adding the higher rpm effect too (i.e. the same prop size as with lower nitro), associated with the more powerful fuel due to higher nitro content, you may end up with much shorter runtime, but much higher output, if your fuel is nitro-rich.

But even on the same quality of fuel the size of the engines will not directly correlate to the run-time ratios:

I have a TD09 that runs for about 8 minutes on 2 ozs of 20% nitro fuel, turning a 3-blade Master Airscrew 6x3 prop at around 17-18k unloaded in the air.

My TD 049-s, drinking the same nitro% fuel, turning a 5x4 COX prop, at around 22-23k unloaded in the air, will run for some 10 minutes on 2 oz of fuel.

So even though the 09 is almost 2x the size of the 049, the 049 will not run 2x longer on the same amount of fuel due to its higher rpm i.e. ingnition cycle times per minute.
Diamond Member





Posts

: 1939


Join date

: 2011-11-06


Age

: 59


Location

: Budapest



I haven't tried this, but... in the engine tuning forum at Stunthanger.com, it seems to be agreeable that 2 ounces of Coleman fuel added to a gallon of glow fuel increases fuel mileage, as well as improving ease of cranking.

Randy Smith, a respected engine builder/tuner, comments: "You can use Coleman fuel, Lead-free gas, or acetone. Acetone is best, again no more than 2 ounces per gallon."

That, of course, translates to 1/2 oz. per quart.
Rusty
Moderator




Posts

: 10604


Join date

: 2011-08-10


Age

: 62


Location

: South Carolina, USA



Lowering nitro does extend run time at a loss of power. This is not entirely a bad thing. These little engines do become more finicky to operate on low nitro, but not really difficult. The lower RPM and more lean fuel/air ratio can extend engine rune time considerably. Swing a larger prop and, assuming the lower total power will be acceptable, engine run time increases due to lower RPM. A Cox bee will swing a 6 or even a 7 inch prop with no problem... from an operational standpoint.

These tricks are used in free flight and with some people lofting gliders where low thrust is acceptable.

Phil


Diamond Member





Posts

: 2965


Join date

: 2012-10-02


Location

: Ohio



Thank you all for the replies. I guess when I can get my test bench back indoors, I will have some good testing to do. The only thing I will not be able to provide here is tach readings, only runtimes, as I don't have a tach. I will probably try a Cox 5x3, 6x3 to see the results. I will buy a 7" prop to try as well, as long as someone could recommend a decent sized propeller. MAS, APC, or Windsor props are all I have available locally, so if anyone knows which would be best, I will pick it up. I will TRY to remember to do temperature readings of the engine as well to see if it is overheating.

Now, on that note, what kind of temperatures would one say is safe for a Cox engine, and where would one best read the temperature. I was thinking near the top of the cylinder?
The APC 7x3 is what I tried. It will need bushed. Fuel line does an OK job of this. The shoulder in the hub is what gets bushed, the hole is off center - drilled freehand.

There might be little plastic bushings in the package. I have also used the bushings that come with electric props on a glow engine.

Phil
Diamond Member





Posts

: 2965


Join date

: 2012-10-02


Location

: Ohio



Hi Chancey, I thought I'd throw this out there. I ran 8 X 3" or 4" woodies on Cox .049 reed-valve engines, running Cox
SuperFuel
or Sig
Champion
25. I've never ran my Cox 1/2A's on anything but Cox spec.-blend fuels. K & S metals makes the alloy tubing sizes to bush the prop-hole in the hub, down to the 5-40 prop-screw size. American-made model engine propellers can usually have their hubs bushed for a smaller American-made prop-screw. An 8" propeller may have a 3/16" hole in its' hub. A 7" propeller may have a 5/32" hole. The two sizes are telescopic.. and the ID of the 5/32" tubing is the fit for the Cox 5-40 prop-screw. Cut short sections; to fit inside your prop-hub, be sure to balance the prop.. and you'll be good to go. Look for wood-props on eBay. Seriously.. a model-engine propeller search can find you the props you need. Vintage model-engine propellers can be as valuable as the engines themselves. Try to find a 7 x 2.8 Rev-Up..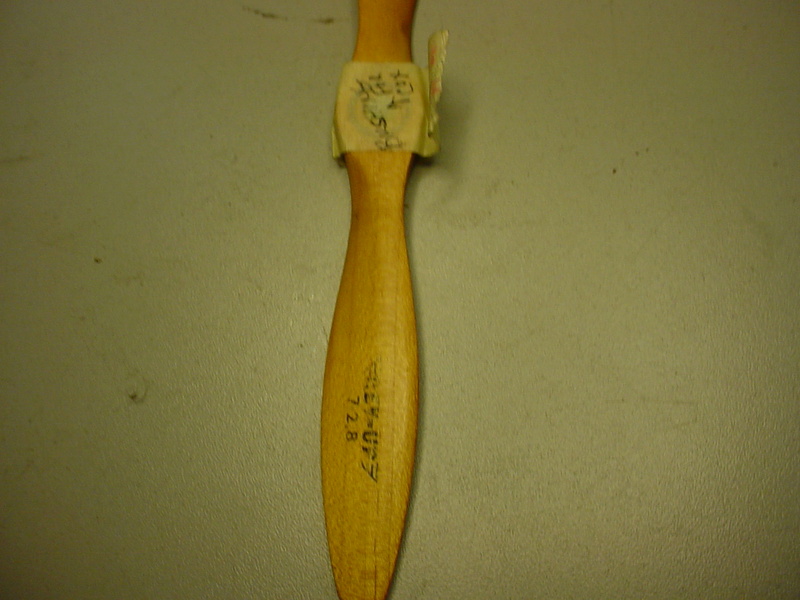 The hub I have bushed for a Cox .049 5-40 prop-screw. A strong engine will turn this prop without issue. This particular Rev-Up prop may actually have been designed for the Cox Texaco .049.. which had a boss on the prop-driver.
I used an 8 x 4 woodie set-up frequently at family-outings. I built a small profile biplane powered by a Cox .049 reed-valve engine with the horseshoe back-plate and a small wedge-tank. Probably a 6+ oz. model.. but flew many a utility-mission! The "sound" of my Cox .049 reedie with an 8" prop.. being tuned into a 2-stroke run was something that has to be heard.. to be appreciated. A very scale-like engine exhaust-note. Needling is a bit more finicky. No doubt; a fine-thread needle would dial-in the sweet-spot quick!
Some modelers would be concerned with the "lugging-effect" imposed with loading the engine beyond its' design parameters. You mentioned your concerns with engine temperature. I can't comment on that.. but I don't see the harm in slightly over-propping an open-faced/open-cowl aero-engine. Be mindful of the ball-socket piston/rod fit. You may need to reset after running a bigger prop.
Another point to ponder... throttled vs. non-throttled. My experience is; increased flywheel-mass on the crankshaft of small-displacement engines, helps keep them firing at low-rpm's. Throttle-response may be compromised.. but should be more linear when applied gradually.
Merry Christmas Chancey! Keep us informed of your modelling endeavors!
A strong engine is the best test for a prop.
Top Poster





Posts

: 6031


Join date

: 2013-07-17


Age

: 58


Location

: N. Smithfield, Rhode Island



Thank you roddie for your post and help in this matter. It is greatly appreciated. This also gives me something else to look for while searching. Thanks again.


Similar topics
---
Permissions in this forum:
You
cannot
reply to topics in this forum