Cox Engine of The Month
June-2019
robot797's
"cox 049 gasoline"
More info on this engine!
---
PAST WINNERS

Yesterday, before the sun went down, I did some flying with the giant Wing Ding after I replaced the 15g weight by a skid. The first flights were OK but I saw there was some difference. At the beginning when gaining speed, the nose went up and down a bit. Then after a few flights, the plane instead of continuing circling to the left, changed direction and went into a spiral. It did that 4 or 5 times.
I cannot explain it but I suspect a CG problem because of the skid mounting, the only thing I altered since last flights. Maybe the CG is just too far back and with a fuel tank emptying during flight that this makes the difference. When looking at the video, I can see that before it commenced the spiral dive, the nose went up and down a bit. At the moment I start recording the video below, the plane made already a full steady circle to the left.
https://www.youtube.com/watch?v=bNmrNnN7ynk
Some pictures taken yesterday.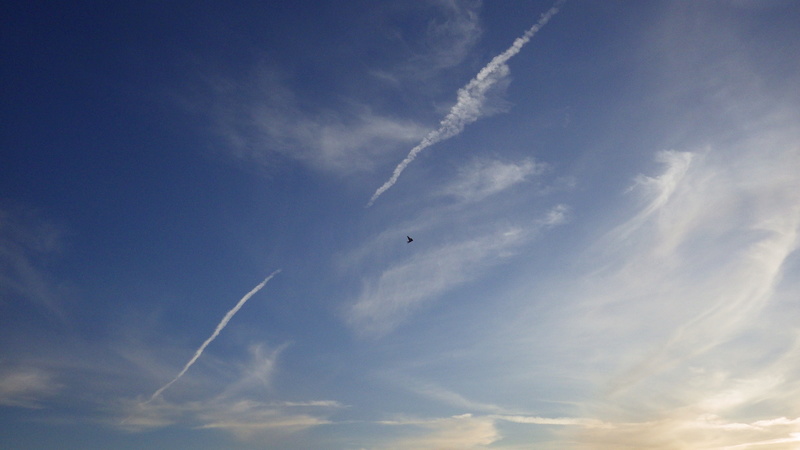 Diamond Member





Posts

: 1324


Join date

: 2013-03-19


Age

: 52


Location

: Normandy, France



Something must have shifted Lieven. No problem...you just ran out of altitude.

Bob
Top Poster





Posts

: 4127


Join date

: 2014-08-18


Location

: West Virginia



Could one of the wings have "gone soft", as in lost some of its rigidity? Or maybe bent just silghtly? In such a situation, just a small disturbance would knock the plane off course, and if a wing is misaligned due to the speed and/or flying position of the plane, it loses its ability to correct its flight by itself.

(Am I making any sense?)

Years (OK, a couple or three decades) ago I had a rubber powered plane that once came down on its wing, and apparently some of the glued joints in the wing broke. The cover was still intact and I did not notice any damage, but the plane just would not fly right afterwards. It never made as high as your plane, so it didn't do a spiral, just turned, dove and hit the field. When I was repairing the nose and other damage after a couple of fast landings I discovered that one wing was "floppy" and I suspected it either twisted or got into a flutter as the plane flew, causing it to bank heavily to one side.
Diamond Member





Posts

: 1497


Join date

: 2014-10-10


Age

: 47


Location

: Finland



If the AOA has not changed on either wing or warped best to use trim tabs.
Conditions may require spot trimming such as shift in motor mount,
prop change, torque induced spiral dives. I think if you had it tracking
well then the breeze cause it to start to turn the turning wound up to
a crash. I noticed some pitch changes in the first vid as it started to
flare off to the right. Border line rearward CG.
Diamond Member





Posts

: 2295


Join date

: 2013-10-20


Age

: 55


Location

: Brad in Texas



This looks like the classic wing tip stall and this can be emphasised in swept wings.

Lots of things can bring this on - Usually, in my case. not flying fast enough and at too steep an angle into the wind. I have been caught out flying quite happily and then taking the model over the tree line. Once the wing has dropped it is difficult to get out of unless you have a reserve of power and height.

It could have been brought on or assisted by a rearward shift in cg or an increase in weight of the plane.


Diamond Member





Posts

: 2425


Join date

: 2011-11-16


Age

: 64


Location

: England



Although I have VERY little experience with this.. I've heard that applying "washout" at the wing-tips can tame a tendency to stall. Maybe try some wing-tip trim-tabs or something of that nature, to see if you can dial-in a few flights. I'm assuming that the tips are well-ahead of the CG... so you could try removing the skid?.. and adding weight at the wing-tips via a washout-tip/tab. Something like Tin, brass or aluminum-sheet , mounted rigidly at the L/E.. with the trailing portion of the tab; free to "curl" slightly.
Top Poster





Posts

: 6488


Join date

: 2013-07-17


Age

: 59


Location

: N. Smithfield, Rhode Island



The model could also be yawing. If the verti stab is out of alignment the plane will not be flying straight ( the longitudinal axis aligned with the flight path.) The plane may fly in a straight line but it will not be pointed in the direction it is going. If the plane is close to its stall speed this will cause one wing to stall first. This is what causes spins. In flight training we intentionally enter a spin by stalling the plane while inducing yaw (stomping a rudder pedal.)
Diamond Member





Posts

: 1294


Join date

: 2011-08-11


Location

: Naples, Florida



Thanks for your coments. Before doing anything to it, I took the plane out as it was and did a glide test; what a catastrophy!!!
It went immediately nose up and then dropped again. This was totally different compared to the glide test with the weight. I should have done some testing after gluing the skid on. It would have avoided a lot of hastle.
i cut off the skid with a cutter knife and stuck on the weight again with sticky tape on exactly the same spot where it was before. I also lenghtened the fuel pick up tube which now goes to the bottom of the tank and I also replaced the cracked prop.
I bought 2 new Graupner 5x2 props at the hobby shop. The man said that a lot of props will be sold with a discount: the 5" ones, 6x3, 6x5, and 7" props. He can't sell them to anybody. He said I'm the only one that buys "such small stuff".
I read some articles about forward swept wings and yes, the wing tips tend to bend up at high speed giving wash in. The wash out on these wings is near the wing root. On swept wings, the airstream follows the wing spanwise and this determins the place where wash out is needed. A good article can be found in the Aeromodeller Anual 1956-7 that can be downloaded from Hip Pocket Aeronautics.
The weather became rather bad with icy gusts and rain coming. The plane will have to wait a few days.
Diamond Member





Posts

: 1324


Join date

: 2013-03-19


Age

: 52


Location

: Normandy, France





Similar topics
---
Permissions in this forum:
You
cannot
reply to topics in this forum