Cox Engine of The Month
March-2018
dckrsn's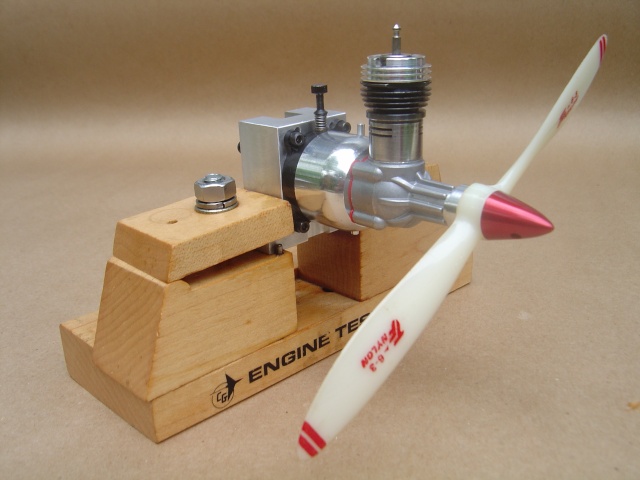 "Cast Case Diva" .049
---
PAST WINNERS

BWHs For Sale Black Widow made me sit back and wonder and ponder the back then, and today's experience , with so called Fast(er) Cox engines

Back then we tended to not be too aware of the different fuels and there proper use
We had no real concept of glow plugs, piston setting, getting rid of ALL air leaks, or any real knowledge about the different cylinder porting or SPI

None of us had a true tachometer OTHER than our ears--- and no real understanding of too rich or too lean except by direct observation...too rich would not fly...too lean.... would die in first lap (or two)

Watts this got ta do with a Black Widow...??

When I was playing, we mostly had reused the broken ARF Cox plastic airplane .049 engines and we slowly went down the build a wood plane path--- and then:
One day the 5c n dime store had a display of the Cox Black Widow and the cool advertising hype in magazines or catalogs... and a not unreasonable buy in price

Of course the purchase of a new BW surely demanded at least one pint of the "Better fuel" ...we had no real idea about Nitro or Oil contents.... go look...it is not easy to know what was in the go fast fuel

So we relied on other Label things like High performance, Racing, or Super Fuel. Also, it was more expensive, so IT MUST be bad arsed fuel with magical super secret ingredients like plutonium or micro fine pixy dust

And once home--- the magic happened...

We had no idea how many RPMs the product .049 spun but my oh my...the bad arsed BW with a 5x3 prop and Cox racing fuel was easy TWICE as fast and higher pitched and pulled harder and was LOUDER

Aw Ha ---a love affair began

And what was better?...the way cool packaging, the color, or the absolute belief you could NOW beat the friend with a JR Satan any time any where.... What more is needed to get a 11~16 year old boy to have a ....ah well you know... a longer than 4 hour experience...grin





Diamond Member







Posts

: 2345


Join date

: 2011-08-26


Age

: 62


Location

: Lampasas Texas



Good story Fred!

And another dose of the similar experiences so many of us had with these little machines.

Our poor Babe Bees, Golden Bees, and Black Widows (and bedraggled Wen Macs) got fed all kinds of potions, along with generous side-helpings of ball field dust and grit.

Looking at the standards we now keep with these tiny nitro burners, makes it somewhat amazing that we ever got them launched 'back in the day'...but we sure did!

The-Way-It-Was Kim
Top Poster








Posts

: 5878


Join date

: 2011-09-06


Location

: South East Missouri



I remember the first time I used the Racing fuel in the red can. That would have been in my second Stuka, the one I bought after I learned to fly, or maybe my P40 with the Super Bee. Both were actually strong flyers around the clay infield at my Jr. Highschool, though I never considered flying a loop. I don't know if either one would have, but round and round rollercoastering was fun enough at the time. But I do remember immediately noticing the scream of RPMs I'd never heard from the little Bees before. I never bought a blue can again.
Moderator




Posts

: 10493


Join date

: 2011-08-10


Age

: 61


Location

: South Carolina, USA



I always wondered why my favourite Cox engine is and always has been the Space Hopper and not the Bees.

I came across this recently in Model Engine News.

In the smaller displacement categories, the importation to Britain of the Cox range of 1/2 A (.049 cu. in.) glow-plug motors had begun in the late 1950's through the AA Hales organization, and people had certainly taken note of the excellent quality and performance of these little units. The major objection in Britain to the use of the Cox 1/2 A models (prior to the 1959 Space Hopper) was their adherence to radial mounting—British modellers had by then come down firmly in favour of beam mounting as the preferred standard. In addition, the fact that one was more or less forced to use the relatively bulky built-in tank was widely seen as a disadvantage—British modellers generally preferred to choose their own tank arrangements depending on the application. I can clearly recall flying field criticism of the Cox engines to this effect.


Glow engines in my younger days were much more expensive to run and so I knew nothing about Nitro Methanol based fuels. All the can simply had "Glow Fuel" on them. They were more expensive than diesel, needed glow plugs and batteries and were noisier. For smaller engines the majority stuck with diesels - the most popular glow engines were the larger sizes like the Merco 29 and 35.

So I never experience the rush of using different or more high performance fuels. Nitro methanol was still expensive in the UK in the early 60s. and not really used for sport flying only speed or short engine run events. Combat and team race were diesel; larger stunt, the few RC planes, speed and the 10 second free flighters were glow.


Diamond Member





Posts

: 2425


Join date

: 2011-11-16


Age

: 63


Location

: England





Similar topics
---
Permissions in this forum:
You
cannot
reply to topics in this forum