Cox Engine of The Month
February-2018
coxaddict's
"Another Twin Born 2-2-2018 weight 4 oz."
---
PAST WINNERS

Top Poster





Posts

: 4554


Join date

: 2013-01-18


Age

: 60


Location

: julian



Bro Eric, the one on the left is gonna cause some sleeplessness tonight.

Bob
Diamond Member





Posts

: 1836


Join date

: 2010-10-21


Age

: 65


Location

: Long Island, New York



Looks like some custom bits for Cox engines that were never finished.

The backplate looks like a stock unit that was ground flat. If you figure out a way to install a NVA to that venturi tube and drill a hole in the backplate it would make for a neat custom engine.

Last edited by Cribbs74 on Thu Feb 16, 2017 10:43 pm; edited 2 times in total
Moderator






Posts

: 9628


Join date

: 2011-10-24


Age

: 43


Location

: Tuttle, OK



yep, i'd guess and say a homemade backplate and a machined down 5cc babe bee tank.
Top Poster





Posts

: 3436


Join date

: 2011-09-01


Age

: 59


Location

: Rockford, Il



I'd say Ron and Mark are on track. It does appear that it was to be some sort of custom engine, with perhaps a custom carb / venturi, spacers between "tank" back and reed valve retainer front.
Without the designer machinist to vouch, whatever it is, got lost in the primordial twilight ether.

Also wanted to add, getback, except as a display for exceptional oddly curious engine items, these days, drilling out the venturi hole in a Sure Start back (or buying one of the high performance ready-to-use from Bernie or Ex Engines) gives a lightweight NVA reed valve unit and mount.
Thus I see no technical advantage to those parts.
Last edited by GallopingGhostler on Fri Feb 17, 2017 10:02 am; edited 1 time in total (Reason for editing : Added comment.)
Account Deactivated by Owner




Posts

: 1171


Join date

: 2013-07-13



I also received a "custom" backplate once: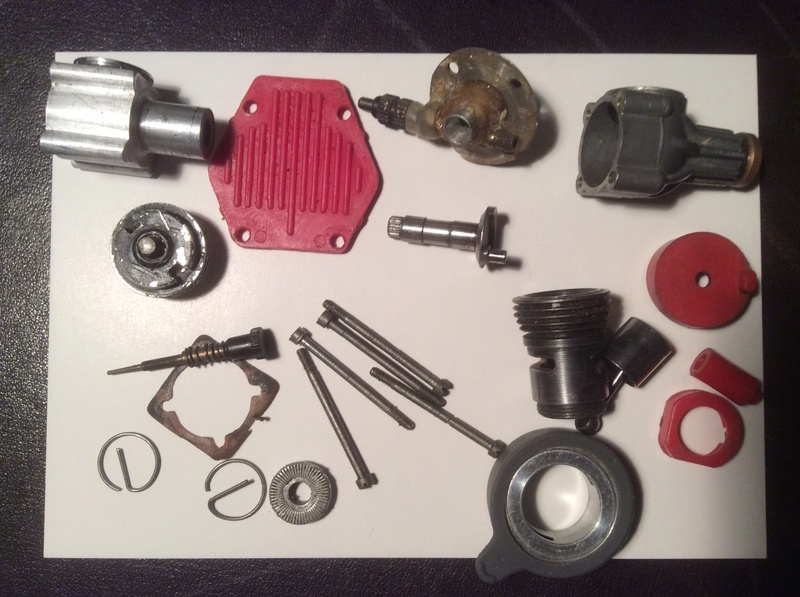 The venturi had been drilled out and a bit of a velocity stack shape could be seen too. An unknown nva was epoxied in a slot filed to the side of the venturi.
In the same pic there is an RC Bee cylinder that had had its bypasses enlarged. The guy who gave me these did not remember exactly how/if it ran, he said he did the mods in the early '80s

Platinum Member





Posts

: 1187


Join date

: 2014-10-10


Age

: 46


Location

: Finland



Some good ideas , yes i think the po was in the process of making some sort of mock up rear venture ? The back plate may work for me with setting the pilot holes for mounting the engine . I didn't think about someone turning a BB tank down

Thanks Guys, if i do try and work a NVA into it i will post results
Top Poster





Posts

: 4554


Join date

: 2013-01-18


Age

: 60


Location

: julian




---
Permissions in this forum:
You
cannot
reply to topics in this forum