Cox Engine of The Month
February-2019
balogh's
"Black Lynx .049 with a Throttle, Exhaust Deflector and Nelson-Galbreath head set"
---
PAST WINNERS

This engine is a conundrum - I was surprised that a "modern" silencer fitted it so that I could run it up.
It needs a good clean because the previous owner had left blackened polish all over it but the fins are a mess.
I can't decide if they have been turned down or the cylinder head is too big. Some are broken but that is an easy repair.
Anyway, after a bit of a kefuffle with a blocked NVA - it is a runner and a good one at that.

Diamond Member





Posts

: 2425


Join date

: 2011-11-16


Age

: 64


Location

: England



Looks turned down to me. Probably why it has a few broken fins. Cool old Enya!
Moderator






Posts

: 10187


Join date

: 2011-10-24


Age

: 44


Location

: Tuttle, OK



THat is a Cool engine but i can see fixing these fins in my little head (machinist i am not ) and i agree with Ron like it was not centered in the lathe took one side off ? Would have loved to hear it run !
Top Poster





Posts

: 5422


Join date

: 2013-01-18


Age

: 61


Location

: julian



Either that's not the correct head Ian, or the cylinder fins have been turned down (doubtful or maybe).  I keep a pretty good watch on these and have never seen another like it.  I have several including a couple NIB.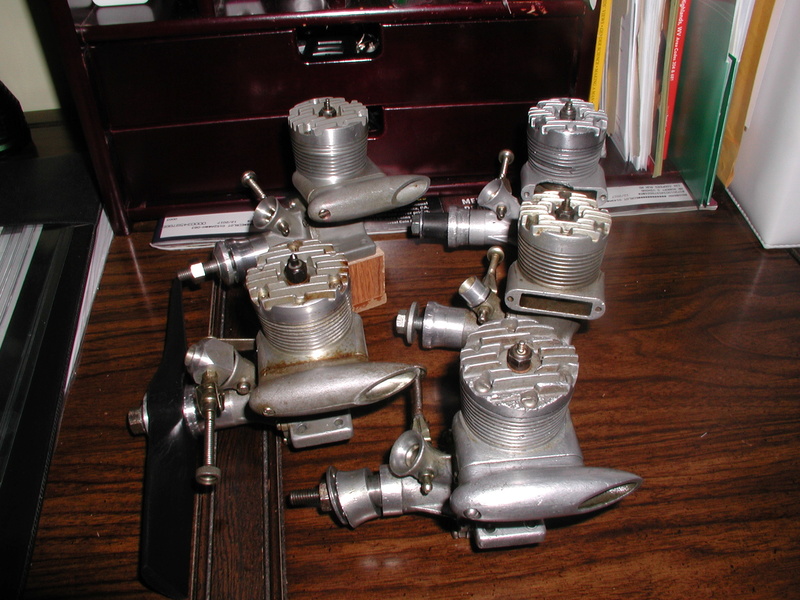 I have only cleaned up one of mine, tending to leave them "as received".  The stock mufflers are well integrated and look rather cool.
Bob
Top Poster





Posts

: 3669


Join date

: 2014-08-18


Location

: West Virginia



Comparing the pictures between Bob's and Ian's you can see how the fins extend further out over the exhaust flange on Bob's engine.

Moderator






Posts

: 10187


Join date

: 2011-10-24


Age

: 44


Location

: Tuttle, OK



I don't know what happened to the cooling fins on the cylinder/crank-case part, they do look a bit short and damaged, but the head looks odd to me as well...

It looks a bit more like a Webra engine head somehow? The screw are further in from the edge than what Enya engines usually have. On Enyas they are usually right at the edge.

Have you taken the head off, it might not be a very good fit at all...?

There shouldn't be any bolt-through muffler attachments on those engines, as a far as I know. Seems to be a bit of a "Franken" engine...?
Diamond Member





Posts

: 1527


Join date

: 2010-11-20


Location

: Sweden



This motor is still on my "to do list" but it is a runner and an easy starter.

The fins are easily repairable but they will have to wait until I have a few more crankcases to repair. (and the time!) The fins have definitely been turned down and thinned and the engine modded to take a more modern silencer.

It will be rejuvenated!
Diamond Member





Posts

: 2425


Join date

: 2011-11-16


Age

: 64


Location

: England





Similar topics
---
Permissions in this forum:
You
cannot
reply to topics in this forum