Cox Engine of The Month
June-2019
robot797's
"cox 049 gasoline"
More info on this engine!
---
PAST WINNERS

Of course, I only get to one every year, and that's the swap meet put on by the McMinnville RC club at the McMinnville fair grounds.  I always come home happy.  Like today.  I wandered around for four hours and picked up a few things.
I got this Ace Pacer that is almost complete.  I got it for $20.  I mainly bought this for the brand new Norvel .061 control line engine.
I also got this Hangar 9 plane complete with radio and engine for $45.  I wanted the Evo .45 engine on it, the rest was extra.  I might just take the engine off and put the rest for consignment at the local hobby shop.
I've been debating a wing jig for a while, and saw this N.I.B. Great Planes jig on a table.  After haggling him down to $5.00, I took it with me.
Then I wandered around searching tables and boxes and picked out assorted things I thought I could use.
On a couple of the things I found, I might have overpaid.  One was this 1-fin glow head for the Cox heat sinks.  I paid $9 for it.
The other thing was this Babe Bee engine.  For $10, I didn't need another Bee engine, especially one with a hacked up tank.  But this engine has something that I've never seen before.  It has a centrifugal clutch on it. The clutch is pressed onto the splined end of the crankshaft.  This is a new one on me.  The guy selling the engine said it came out of a tank.  Has anyone seen this before?
I even got a complete set of Evans VP-2 Volksplane plans for $20.
But the best find of the day was this box.  I got it for $5.  Inside it had a couple of mufflers, a flywheel of some kind, three Wen-Mac engines, and an Enya 29 C/L engine.  
But the thing that made it worthwhile was something that I've been looking for.  A few months ago I said I needed a crankshaft for a Thermal Hopper.  Hiding in the box was this little gem:
Now I can fix my Thermal Hopper and get it flying.
All in all, a very good day.
The Satisfied Mark
Diamond Member





Posts

: 1670


Join date

: 2013-05-22


Age

: 56


Location

: Portland, OR, USA



Bravo.
All really good gets. Why don't we have swap meets like that here?
Diamond Member





Posts

: 2526


Join date

: 2012-06-15


Age

: 56


Location

: Victoria, Australia



All those pictures Mark and none of the Enya .29....What's up with that...

Nice haul. I think the Ace Pacer with the Norvel was a steal, also the Evo equipped Hangar Nine. A head scratcher on the Babe Bee. Did one ever go into a Cox Tank? What a hack job on the fuel tank when a 1/4" drill bit would have served.
Bob
Top Poster





Posts

: 4129


Join date

: 2014-08-18


Location

: West Virginia



Never seen a centrif. clutch on a bee like that but looks cool ,, Hey Mark what would you let the RC radio go for ? and is there a receiver ? I been looking for a a good radio thats not 40 yrs. out of date  
I am sure you have BB tanks but if you need one / two let me know . O hey Nice freaking Haul!!
Last edited by getback on Sun Mar 12, 2017 10:31 am; edited 1 time in total (Reason for editing : nice haul)
Top Poster





Posts

: 5858


Join date

: 2013-01-18


Age

: 61


Location

: julian



Nice haul indeed! Wish there were such swap meets around here too. There are some planes and stuff for sale but I guess most of it gets handed down in clubs and eventually run into ground. Plus since us model plane folks are a marginal group here, there's not much stuff around to begin with.
I am glad you found the crankshaft you needed
Are you sure that clutch thing is a centrifugal one or could it be a "one way" or free-rolling system? The little discs and the hub that you can see in the back of it look similar to the ones on a pull-start engine.
Diamond Member





Posts

: 1497


Join date

: 2014-10-10


Age

: 47


Location

: Finland



Yes indeed! Some cool stuff for sure!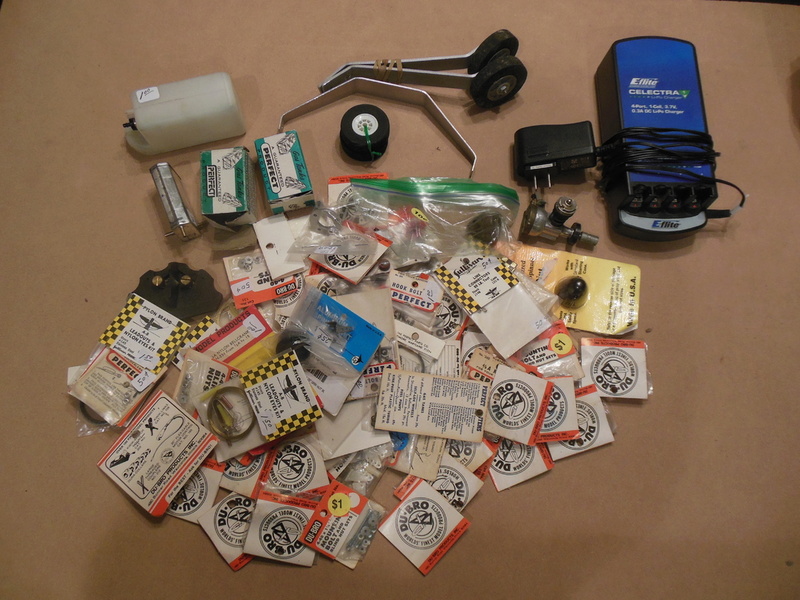 I like the "smalls".. some of those items would be pretty hard to find nowadays.. and mounting-bolt sets are always good to have on hand.. especially for someone who builds as frequently as you do!
PS.. this photo is teasing me though.. the hidden and upside-down packages..
Top Poster





Posts

: 6489


Join date

: 2013-07-17


Age

: 59


Location

: N. Smithfield, Rhode Island



Not sure about this clutch.  If the inner hub is pressed onto the crankshaft splines, then that means the outer hub must be free to spin, but it has to drive something, so how do you attach whatever is driven?  If you use the centre "prop" stud, that attaches it to the crankshaft.  There's no drive gear or pulley groove.  Beats me
I recall there was a Cox wind-back starter that was the subject of a court case with Testors/WenMac.  Cox lost, so now those engines are pretty valuable.  Not one of them is it?
Diamond Member





Posts

: 2526


Join date

: 2012-06-15


Age

: 56


Location

: Victoria, Australia



Mark Boesen gave me that same jig for Christmas a few years ago. I had not used it till now and it's got a wing on it over at Wayne's shop. All you really need are the aluminum clamps. And check the rods, they may not be straight. Carbon fiber shafts work well. You can go any length you want if you support it in the middle.
Rusty
Lol, I thought that Bee had grass still stuck in it, but it's a green zip tie.
Moderator




Posts

: 10750


Join date

: 2011-08-10


Age

: 63


Location

: South Carolina, USA





Similar topics
---
Permissions in this forum:
You
cannot
reply to topics in this forum