Cox Engine of The Month
March-2019
Jason_WI's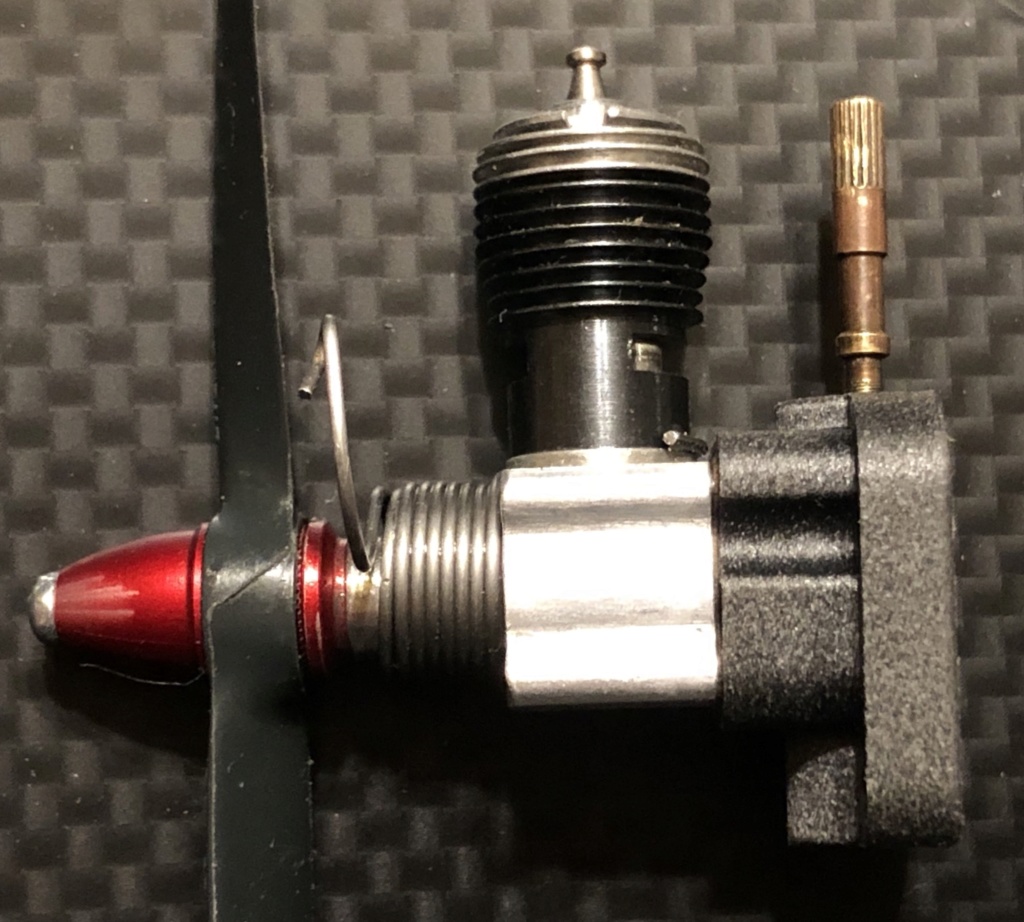 "Cox Pee Wee .020 with 3D printed horseshoe backplate"
More info on this engine!
---
PAST WINNERS

Good Afternoon and Happy Easter to ALL!
    I haven't been on this forum much but I'm looking to remedy that in the near future. I have some projects that I have been working on and need a few parts to make them complete. These will be hanger queens or models I will fly, so they need not be perfect, just good used stuff will do.
  First up is a canopy for a Wen-Mac Dauntless. I have finally found the darker blue version that is like the one my older brother Ted had as a kid. Got it at a great price off eVilBay but it was missing the canopy. I would also like to find a bomb for it, a dark blue one but any color would do and I think I could paint it to match. Just doesn't look right without the bomb!
  Next is a canopy for a Cox P-40. I picked up some other parts, went through what I had and saw that I had almost enough to put a complete one together to have one solid enough to fly. I have been flying my Stuka, and then the Super Cub like my late younger brother had, and the videos are on YouTube. I want to do the P-40 and a Skyraider next as flying examples and post the videos.
 If anyone has these parts top sell let me know price and availability, and I may have parts to trade. I would like to thin down my heard a bit to make some room and have a lot of PT-19s, and other loose parts. I am planning on finishing up what projects I have and not do any more buying of planes and parts at this time.
  Thanks again in advance for any and all help,
   Dan McEntee
  Florissant, MO
Top Poster





Posts

: 3714


Join date

: 2011-09-01


Age

: 60


Location

: Rockford, Il



Nice Pic. I am assuming, Dan and Sean?
Diamond Member





Posts

: 1915


Join date

: 2011-08-13


Age

: 40


Location

: oakbank, mb



lol, no my kid, at Oshkosh (Kid Venture) many moons ago...

Top Poster





Posts

: 3714


Join date

: 2011-09-01


Age

: 60


Location

: Rockford, Il



Hey! I resemble that guy! No, that's not Sean but as Mark has said that is at Oshkosh in the KidVenture venue. I made 16 straight trips there to work the KidVenture venue and have had about 3 to 4 thousand kids on the handle over that time. Met many, many fine people and made many friends of which one was Mark Boesen. I wish there was a way to put hour meters on those Norvel engines! They really got a work out. Once we came up with the Toughbaby airplane design, they just used the same engines on the same 5 airplanes that we took up there in 2010, an on my last trip in 2015, they had retired one airplane but were still using the same engines! Tons of fun and will have to see about a return there this year or next. Sean has made severall appearances there also over the years, and he was about that size the first year we went! Now he has a little girl of his own, my grand daughter Clara June, and they were just here last weekend. Clara turned three in February and they picked up the Golddberg Wizard I built for her to learn to fly one. Sean was three when I taught him to fly on one. The weather and my sinus infection kept us from getting first flights on it while they were here. They will get it test flown in Texas soon I'm sure.
Type at you later,
Dan McEntee
Still looking for a Wen-Mac Dauntless canopy and bomb, and a Cox P-40 canopy. Not looking for new old stock or perfect stuff, just good used pieces. I have TONS of other Cox, Testors, and Wen-MAc pieces, parts and planes to trade and or sell also. Looking to make some room and raise a few bucks.
Thanks alot,
Dan McEntee
I have a need for the front canopy for a Cox Helldiver, and the horizontal stab for the green A-25 as well.

I need a top cowling for a MacWen Silver P-63 King Cobra as well.

Also need a Canopy for a Rivets as well.

Thanks,
Jason
Moderate Poster





Posts

: 11


Join date

: 2016-03-23





Similar topics
---
Permissions in this forum:
You
cannot
reply to topics in this forum