Cox Engine of The Month
April-2019
MauricioB's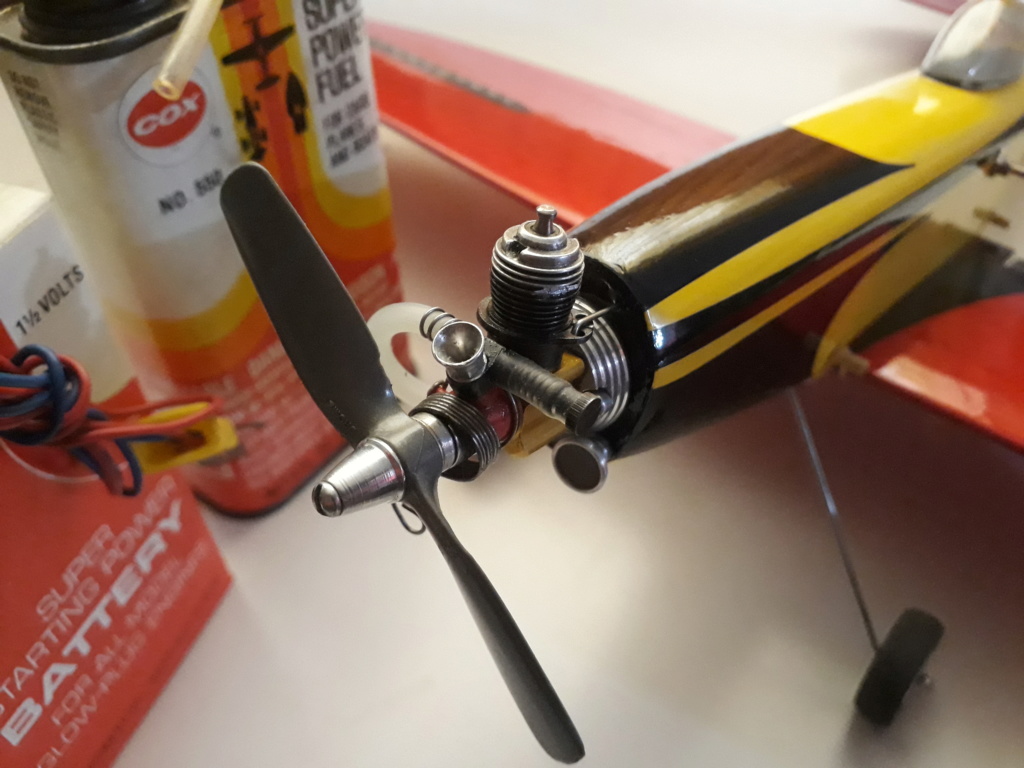 "Tee Dee .010 r/c"
---
PAST WINNERS

I'm looking around eBay and I see both Max .35 and Max-S .35. I'm wondering about the differences between the two. Maybe it's the timing, one for RC and the other for CL? I really like the Foxy 4-2 the "S" model has.
Rusty
Moderator




Posts

: 10713


Join date

: 2011-08-10


Age

: 63


Location

: South Carolina, USA



Rusty as I read it in the link below the S model is intended for stunt i.e. C/L use.
www.sceptreflight.net/Model
Engine Tests/OS Max S-35 and S-30RC.h
András
Diamond Member





Posts

: 2212


Join date

: 2011-11-06


Age

: 60


Location

: Budapest Hungary



According to:
sceptreflight.com Model Engine Tests/OS Max S-35 and S-30RC
Top of the second page of the May 1965 Model Aircraft article, top left paragraph explains a little of the "S" version engine. There was a change to the crankcase to be of one solid cast piece with molded fins and steel cylinder liner. I'm thinking that this superseded their previous steel finned cylinder liner engines. There was also an R/C "S" version.
Later "S" for OS meant stunt or venturi version. Back in the 1990's, I bought an OS Max .15FP-S. It was the control line or free flight version of the FP.
Only engines I have dating back to then are several OS Max .10R/C and an OS Max .15R/C.
Diamond Member





Posts

: 2115


Join date

: 2013-07-13


Age

: 65


Location

: Clovis, New Mexico



Rusty, I'm not certain if your looking for one on Ebay . The Max-S is legendary and it runs and performs great assuming it hasn't been abused. These engines do have a soft rod internally. There's a coating of something in the bushing area on the big end. When this wears and the rod ovals, the engine can be very problematic. Randy Smith and also Leonard from Stuka Stunt have harder rods for the .35-S. The other key factor is the venturi size. The spraybar to the Max is not available and it's specific to that engine . The FP/LA version is not the same and will not fit without drilling the case. This has cause a lot of problems for those not familiar with the correct venturi size. Something that's constantly overlooked in these engines is the o-ring under the venturi. These engines are 40 years old and the spraybar holds the venturi in under compression. In turn the o-rings are generally crushed out and tend to leak and leak even more when heated up. Doubling the o-ring can help but if it's left in this state for too long, the venturi through hole for the spraybar becomes egged out and needs replacing.This is critical to fuel delivery and changing this without knowledge can also result in a very problematic afternoon. Jim Lee could be very helpful in sizing. I would assume he offers his venturi with a Tiger clone needle and sized accordingly with the wider diameter spraybar in mind. More powerful than a Fox in my opinion and good longevity. If your looking for one, it would be very helpful to know the history of it. The Max.30 is essentially the same engine, everything on the .30 swaps back and forth from the .35. The .30 however is gutless and while it shares the same parts the running characteristics are way different.
Top Poster





Posts

: 3447


Join date

: 2012-03-27


Location

: pennsylvania



Thanks, Ken, for the useful info on the .35-S. The one I have on my Shoestring came with an RC carb. In fact it's one of the ones you looked over and tried to educate me about on the picnic table at Huntersville in 2013 when Ray Copeland gave me a bunch of engines and a Skyray.
Last year I put it on the Shoestring and Bob took an interest in it. He made me a venturi that fit an FP spraybar and directed me to install it with RTV. I do not remember if I put an o-ring in it or not, but I'm pretty good at figuring that sort of thing out. Once I flew it with the right prop, I fell in love with its old-timey stunt sound. No muffler, just a smokin' 4-2 break. I think it's a 10x6; I know it's a 6 for sure. For some reason Bob loves Master Airscrews, so that's what's still on it. I find them to be gutless for pattern flying, but the SS is just a fun flyer, so it's fine. The new Mustang I plan to build for the Max-S will be the same. And both will be light-duty planes, so hopefully the weak rod problem will not affect it.
Rusty
P.S. This video should be next to the definition of "4-2 Stunt Break" in the dictionary:
Max-S .35 on the Shoestring
https://youtu.be/sND8GnmHz2o
Moderator




Posts

: 10713


Join date

: 2011-08-10


Age

: 63


Location

: South Carolina, USA




---
Permissions in this forum:
You
cannot
reply to topics in this forum