Cox Engine of The Month
September-2021
crankbndr's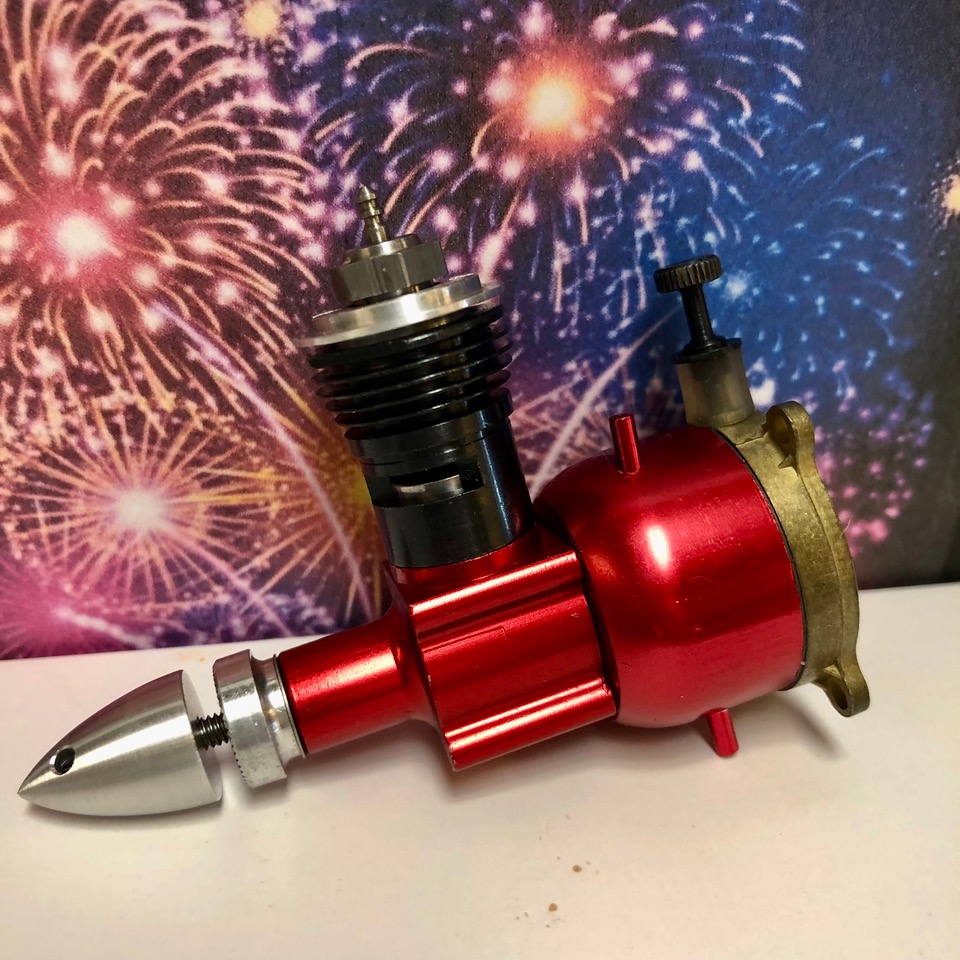 "Cherry Bomb" .051 engine
More info on this engine!
---

---
PAST WINNERS
Page 2 of 2 •
1, 2
After practically destroying a Cox carb I decided to just drill an air bleed hole in the carb of the Brodak .049. I also bumped the head gaskets up to three. Hopefully this will help with the idle and transition.

fit90

Diamond Member





Posts

: 1326


Join date

: 2011-08-11


Location

: Naples, Florida



I wouldn't drill the head of the MKII.  I feel your concerns are valid and I'm not certain if the Merlin fits the top of the sleeve properly.Clean the crank up in that engine as well. I had the engine doing 22k on 35% and a APC 5x3. The hole in that crankshaft is the limiting factor as it really is holding the engine back. It would be nice to fit a TD crank into it.The MK II is an exceptional engine for it's cost utilizing AAC construction. The MK II wasn't made in China. It's made by the same makers of Double Star engines. It's a shame that those involved with the development made it so timid. I have contact with some who were responsible for the development and the answer I received was essentially that they were introducing a engine a beginner could use. Given the circumstances and the engines available at the time, Nonetheless, I had seen a MKII with a Nelson head installed. I don't know who made the head, but it was on a plane owned by one of my club members. I'm not certain how much run time is on your MK II but it does require a bit in order to free it up a little. This is one of the reasons many couldn't start it properly and returned them. The cylinder fits are tight which isn't a bad thing and crank fits. This doesn't allow for free and easy hand flipping and electric starters are not a good idea. They would only run in bursts doing that. These are excellent engines nonetheless. Ken

Ken Cook

Top Poster





Posts

: 4485


Join date

: 2012-03-27


Location

: pennsylvania



I have less that 30 minutes on the MK II. I haven't taken it apart yet. But, from just running it, it looks like a good engine. It starts very easily with a hornet starter. I appreciate the tip on the crank. Maybe I will open that up a bit. A Nelson plug would probably wake it up quite a bit. I have some of the globee type threaded inseert Nelson plugs. I dont even know what size they are. I need to see if they will work on the 1/4" threads. That may be an easy hop up. After taking the .061 MK I and .049 MK I apart I see these as pretty well made engines. I didn't measure anything but the fit and finish on these two engines looked good. All three of these engines look to have some good potential. Both the MK I's are limited by no substantial parts support. The MK II is still available so I am more willing to risk destroying parts on it.

fit90

Diamond Member





Posts

: 1326


Join date

: 2011-08-11


Location

: Naples, Florida



The MkII have the typical AAC and ABC head that protrudes down into the liner, therefore the Inserts from Merlin and Norvel will not fit easily.
They quality is much nicer than the MkI engines, night and day difference, but the power is rather low in stock form. I had intensions of making a Turbo plug head for mine, but got distracted with other engines.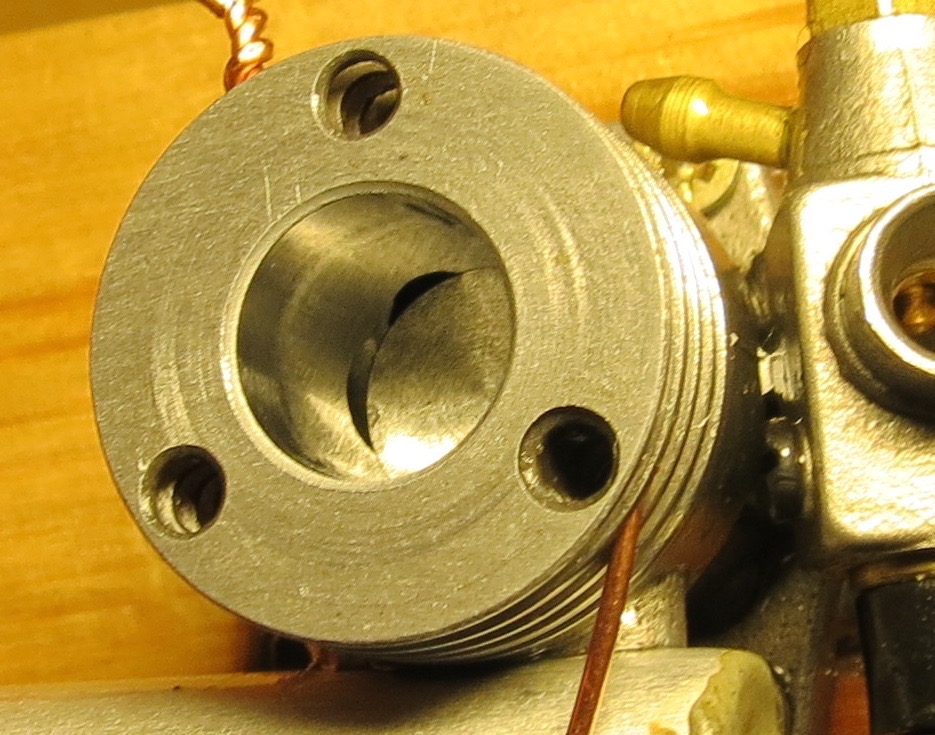 Here is a little bench run I did with the CL version (on a MAS 5.5x4 prop) at the time;

Surfer_kris

Diamond Member





Posts

: 1796


Join date

: 2010-11-20


Location

: Sweden



Hi Kris,

I remember tht head design now that you brought it up. I even looked at using an MP Jet plug which has the skirt that protrudes into the cylinder. If I remember correctly, it didn't fit. I will have to look again to make sure.

fit90

Diamond Member





Posts

: 1326


Join date

: 2011-08-11


Location

: Naples, Florida



The .061 is definitely ABC. Nothing stuck to the magnet. The pictures came out very poorly so I will try again tomorrow in the sun light. The .049 did a little better with the air bleed and extra head shims. But, idle and transition still sucked. I switched to a 6x3 MAS and the top end dropped to 13,500 but the idle was about 5300 with a vastly improved transition. I think I need to enlarge the air bleed a little bit. If I get a chance I will try that tomorrow. The MP Jet glow plug will not work on the .049 MK II. Maybe I will try to find someone who can convert the head for a Nelson plug. That will be another project for another day. Any way, it is prom weekend and I have a 17 year old daughter so the lion's share of my Saturday has been spoken for.

fit90

Diamond Member





Posts

: 1326


Join date

: 2011-08-11


Location

: Naples, Florida



None of the pictures of the .061 piston and cylinder liner came out worth a darn. But, the magnet did not stick to either the piston or cylinder.

fit90

Diamond Member





Posts

: 1326


Join date

: 2011-08-11


Location

: Naples, Florida



Page 2 of 2 •
1, 2
---
Permissions in this forum:
You
cannot
reply to topics in this forum