Cox Engine of The Month
September-2018
Davenz13's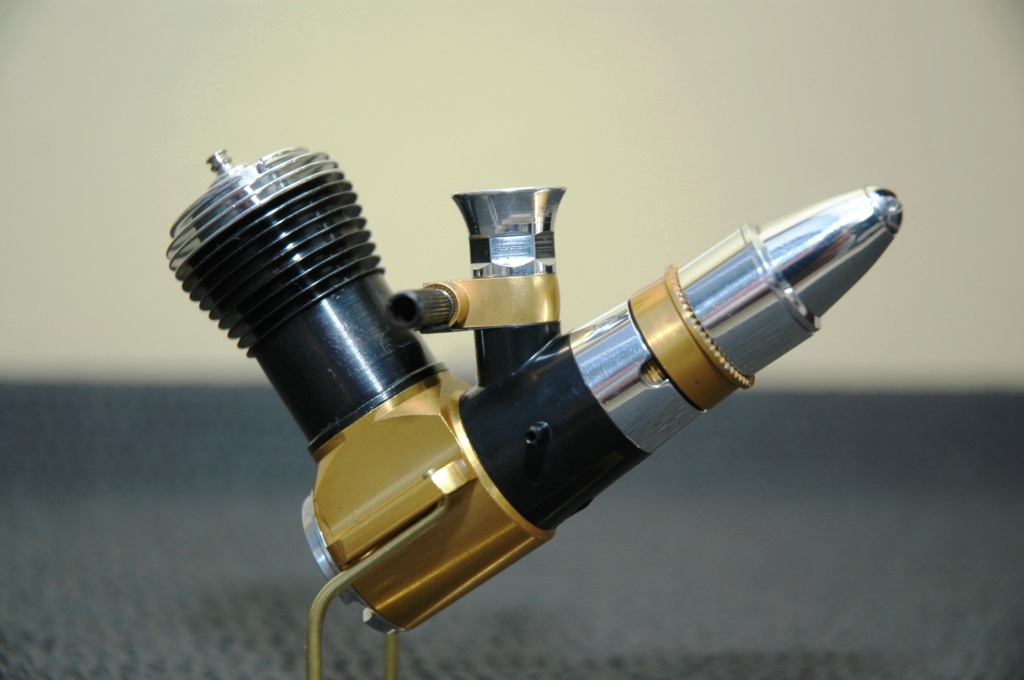 "Cox Special MKII .15"
---
PAST WINNERS

The reset tool is a great boon and one is lucky to be able to obtain it these days. So it is with trepidation that I enter this comment. On two of the tools in the .010,.020,.049,.09 set, there was a burr in the channel that might have scratched the connecting rod. While filing off the burr in the .010 tool, I saw a bit of swarf. There turned out to be a whole lot jammed into the 1/16th hole which extends up into the tool beyond the channel. When one is tapping, possibly it would be shaken loose and fall into the piston. It was possible to clean much of it out by twirling a 1/16th drill bit by hand. After I thought I had gotten it all, I found that there was some still sticking to the sides of the hole, and it was necessary to slide the drill bit back and forth while pressing it against the sides and twirling. Rolled up some paper towel and screwed it into the hole, soaked in WD40. Then I trickled in detergent and rinsed under high pressure hot water from the kitchen sink tap, several times. This chore does not bother me but it was fortunate to have noticed in time.
Moderate Poster





Posts

: 19


Join date

: 2016-07-13



The tools all need a little re-work. I have one from DDD, I think, and it needed a little rework of the spherical part in the tool. It was too flat on mine and would actually hit on the ball of the conrod itself(!) That could possibly be one reason that makes people muchroom the piston?

With a little dremel-work one can make it more conical so that it only touches the part of the piston that should be squeezed together, and not the conrod itself.

So a few things to look out for as usual with these engines...
Diamond Member





Posts

: 1485


Join date

: 2010-11-20


Location

: Sweden



The reset tools that Cox Intl. sent me work well. Have done 3 Tee Dee .049, 1 .09, 2 Pee Wee .020 with no sign of trouble. One .049 I took too far, to 0 play, but the ball is still completely free rotating in the socket. The pistons did not tighten up at all in the cylinders so far as I could tell. Maybe this means that the tool internal contour is dished enough. I have not tried a direct check using stamp pad ink to see where the points of contact may be. The holder seems well-designed, having a well-defined raised area to react the taps right under the socket.
In a way, a lot of filings was a good thing. One is likely to notice. Just a small amount of steel grit might not be. So now I know to do an initial cleaning even if there is nothing obvious.
Your detecting the subtle contour problem in DDD resetters is a valuable contribution, after all much more important than filings. Congratulations on this discovery!
Moderate Poster





Posts

: 19


Join date

: 2016-07-13



No intending to sound critical of the OP...really!

I have learned with experience----- to NOT expect any machined item to be perfect as shipped

So That means---- it is ON ME -----knowing this (IMO) truth/////

To be vigalent, inspect, and correct or--- send it back....!!

That even includes assembled engines.

I would argue with a lot of guys that swear YOU NEVER NEED TO OPEN A MOTOR...BS I say

Swarf, junk, burrs, crud, spudge, whatever -----seems to be preventable in almost every manufactured item I have bought in the last 40 years

JEST sayin
Diamond Member







Posts

: 2478


Join date

: 2011-08-26


Age

: 63


Location

: Lampasas Texas





Similar topics
---
Permissions in this forum:
You
cannot
reply to topics in this forum