Cox Engine of The Month
September-2023
balogh's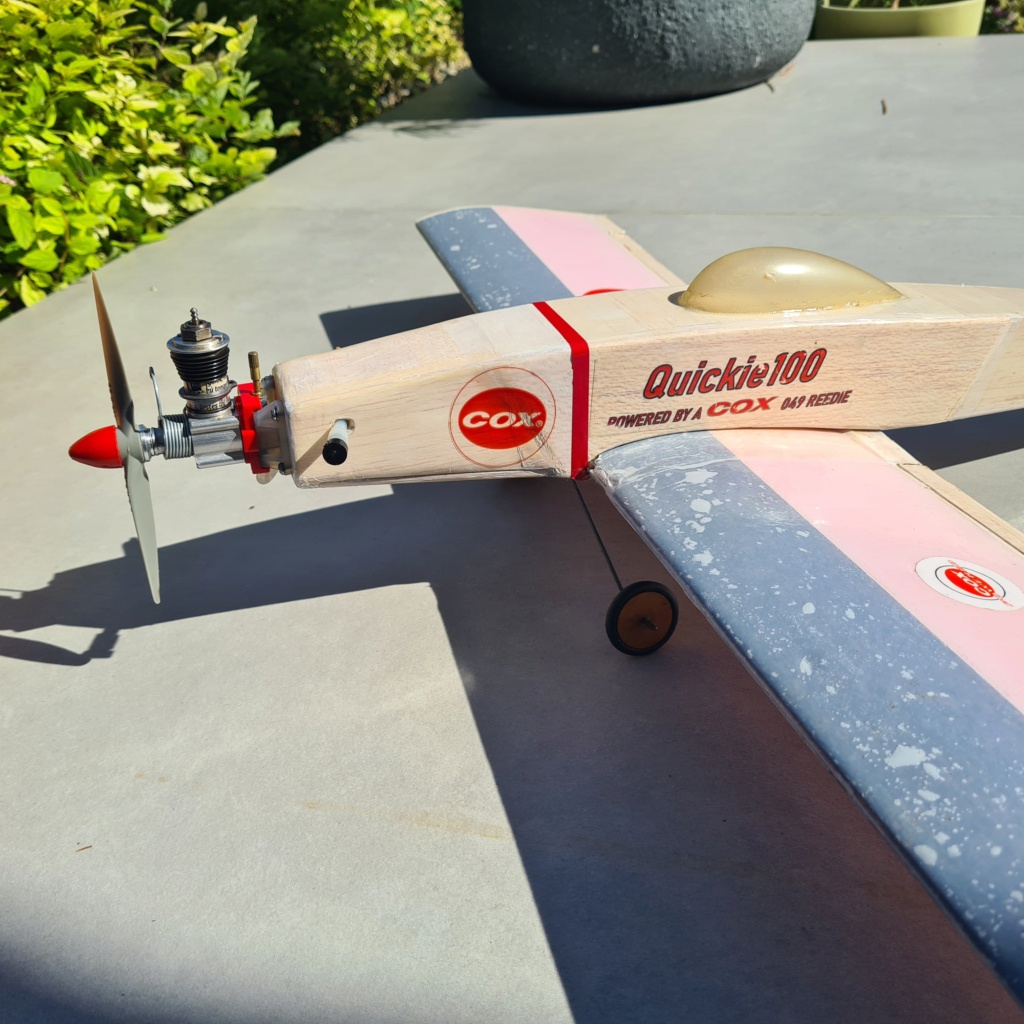 "Beefed up old stock 290 on my Quickie100 RC after plenty of airtime hours..."
---

---
PAST WINNERS
This week I combined post-flighting my Tutor from last weekend's contest and then pre-flighted it for this coming Saturday's Joe Nall contest. It's a club hand-me-down, and whoever put the muffler on it cross threaded the m-3 x.5 bolts. It was on the verge of falling off last time it flew, and that's a DQ in a contest flight.

I tried running a 4-40 tap into it, but they didn't have enough bite. I don't have the right 5-40 bolts(the perfect replacement for a stripped m-3) and 6-32 are too fat to fit through the engine holes. I'm not going to drill those since I'll hopefully be passing the plane on to another pilot someday soon. So I need bolts for my spare muffler, and a trip to the local hardware store is unlikely to help. My engine is a TT Pro .39(heli engine), and it likes the little OS-762 muffler, on which I've thinned the shell and cut the stinger off. The exhaust is now just a hole, almost 7/16" wide. It's still amazingly quiet and the engine runs cool. lucky for me, my friend, Bob, found a pair of new m-3 bolts for me and is bringing them tomorrow when we'll meet up at the Nall.

The original 2-56 control hardware that the linkages, including rotten plastic clevises, was built with was about to fail in more than one place. Bent, rusted, and cracking 1/2A hardware, go figure... So I beefed it up with new 4-40 ball links and CF tube. I didn't have any fancy end plugs like Eric Rule and Tom Morris sell, so I improvised and came up with a new way of doing it.

I cut a 1" long piece of 1/8" OD brass tube that fits snugly into the CF tube. I threaded the inside of the brass tube with a 4-40 tap. Then cut a piece of 4-40 threaded rod long enough to screw into it 1/2" deep. The threads weren't deep enough to trust alone, but they provide a lot of grip, and it's all going to be JB Welded. I dremeled small holes in the rear 1/2" of the tube and scored the front 1/2"(avoiding damaging the threads) for the glue to grab inside the CF tube. I roughed the inside of the CF tube with a needle file. Gooked the threaded rod and threads with JB, screwed the threaded rod into it; gooked the inside of the CF tube and outside of the brass tube and slid it together, bracing it so it won't push out as the JB heats up. 24 hours later I cut the 4-40 rod to length, screwed the ball link onto it and put 'er together. I think it's as strong as can be, and will get me through more flights this Saturday. I like my new method, so I thought I'd write it up. Wish I'd taken pictures, but hopefully my explanation is clear.

Tomorrow I will get some practice flights up at Triple Tree, site of the Nall. I'll also attend a Stunt Camp to learn a thing or two, then a judging clinic follows the camp. Back home again till early Saturday morning, and Holley and I will head back up there for the stunt contest. Friday is for Nostalgia, OTS, etc., and Saturday is PAMPA only. Maybe I can win another one of those pretty trophies. The WX is forecast to be gorgeous, and I bet there'll be a lot of competition for me. I actually don't stand a snowball's chance in hell of a top 3, but I'll give it a go. And in a flash, the Spring, 2017 season will be in the books. That leaves all Summer to get myself back in tune.
Rusty

P.S.: The ridiculous leg problem I had in Huntersville, which left me to scurry on all fours off the pad after launching, or squatting by my plane to work on it or fuel it, is all better now. So I hope nothing new is hindering me when I awake in the morning. You just never know from day to day, but I'm feeling pretty good and more capable this time 'round. I'm going first thing in the morning and buy some cheap flat bottomed shoes to help my stability. I think my nice New Balance athletic shoes are possibly not the best for my flying.

RknRusty

Rest In Peace





Posts

: 10869


Join date

: 2011-08-10


Age

: 67


Location

: South Carolina, USA



---
Permissions in this forum:
You
cannot
reply to topics in this forum