Cox Engine of The Month
August-2019
fredvon4's
"Tee Dee .049"
---
PAST WINNERS

I built this Skyray about 11 years ago and flew it a handful of times. After crashing, it tore the engine off and cracking the engine mount and front fuselage i put it on the healing shelf till now. I re glued the fuselage and mount back together, gave the front half a new coat of black dope. I seen a few Skyray's now with landing gear and liked it so i thought sure I'll add a pair. I bought a already bent pair from Bernie and they fit perfect just had to carve out the firewall for the gear to sit in and be clamp by the engine. I built a Silver Stunter engine from parts and added a TD cylinder to it, never ran yet but I hope it has some pull to it. With the landing gear added and the pt-19 propeller nut and spinner it balanced just slightly tail heavy at 5/8 aft of leading edge. Hope to fly it soon with good results.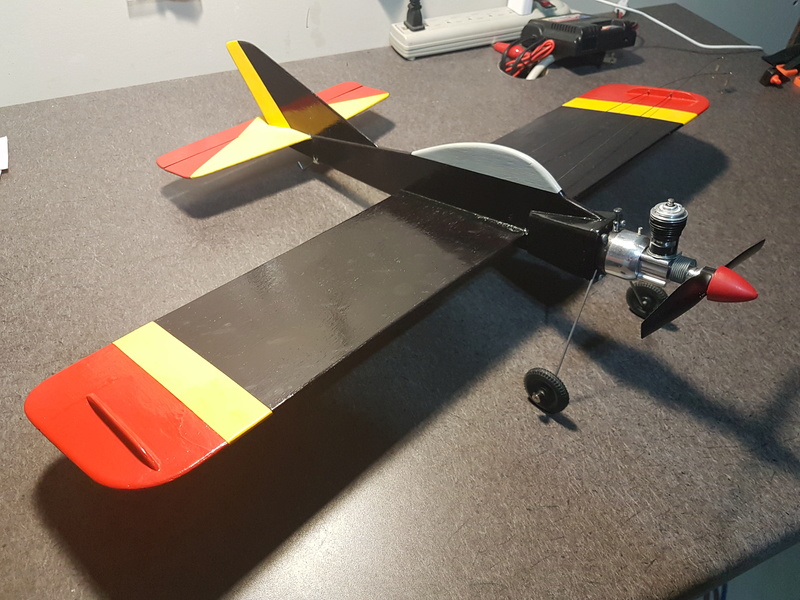 Looks Good !! keep us posted!!

Top Poster





Posts

: 6105


Join date

: 2013-01-18


Age

: 62


Location

: julian



Looks nice. I like the color scheme as well. Mine is extremely tail heavy and does not fly well, so a good sanding is in order to remove the can of paint I used on it..... I only mention this as mine is completely black so will be borrowing some of your color scheme but using different colors.
Diamond Member





Posts

: 2239


Join date

: 2011-08-13


Age

: 40


Location

: oakbank, mb



Yeah the color scheme really fit the Skyray, it's has the same scheme underneath also. Send picks when your is all shined up NEW222.

Canso07.
Will do. The reason for mine being the way it was is that i tried to fill in the woodgrain with paint. So I just layed it on thick. When it set up if i saw the grain still, I put on another coat.... younger and stupider I guess.
Diamond Member





Posts

: 2239


Join date

: 2011-08-13


Age

: 40


Location

: oakbank, mb



It's a really pretty bird.
Balance that fore-aft c/g to where the plans say before you fly it, or it'll be disappointing unless you've got a well tuned hand. If need be, you can cut off about a third of the rudder height and reshape it stylishly and lose some weight.

And all the other pre-flight bench trimming will make it safer too; confirm that it hangs a little nose-down while hanging from the neutral leadouts. And make sure you have a couple or 3 degrees of outward thrust on the engine mount. It should fly really well if all that is right. Good luck.
Rusty
Moderator




Posts

: 10786


Join date

: 2011-08-10


Age

: 63


Location

: South Carolina, USA



I like the color/trim! I also like the landing-gear. We're probably the minority there.. but "real airplanes" have wheels. You can also functionally-trim the balance with different weight wheels... rather than adding useless weight to the nose or tail.
Those wheels look nice! I like them a lot! Where did you find those? You mentioned getting the gear-wire from Cox International.. but I doubt that the wheels were included.. because I see that they're retained by set-screw-type collars. Another trick you can apply "if" the model is tail-heavy.. is to remove the gear-wire and bend the legs forward a "little bit" in a bench-vise. This will place the weight of the music-wire struts "and" wheels a little further forward. Music-wire is HEAVY... and a slight-forward-angle can make a BIG difference in weight-distribution on a model as small as this one. Your struts are currently at 90 degrees to the fuse.. and could be angled forward quite a bit. This can also help the model to "roll-out" when landing.. without nosing-over.
I also LOVE the solid lead-out wires!
Old school...

All
of my C/L models have solid-wire lead-outs. I bought a "tube" (x50 pcs..) of K & S .015" (.38mm) wire for future 1/2A C/L airplane builds. I'll probably never use it up in my lifetime.

Top Poster





Posts

: 6594


Join date

: 2013-07-17


Age

: 59


Location

: N. Smithfield, Rhode Island



Thx roddie and everyone else for the compliments and thoughts. I will definitely bend the landing gear forward for better ground control and also get the CG a little nose down. The wheels are from a Carl Goldberg Lil Wizard kit I built before probably 20 years ago, great 1/2a wheels for sure. I forgot to mention the Skyray weighs in at exactly 7oz.

Canso07.


Similar topics
---
Permissions in this forum:
You
cannot
reply to topics in this forum