Cox Engine of The Month
July-2019
Mike1484's
"Tee Dee .020 on a free-flight model"
---
PAST WINNERS

Hello, I tested in Os 40 glow two strokes, this syntetic oil made in USA (Carolina) add only 7% and engine run cold and fast
de

Here is used as racing fuel in a R/C car models.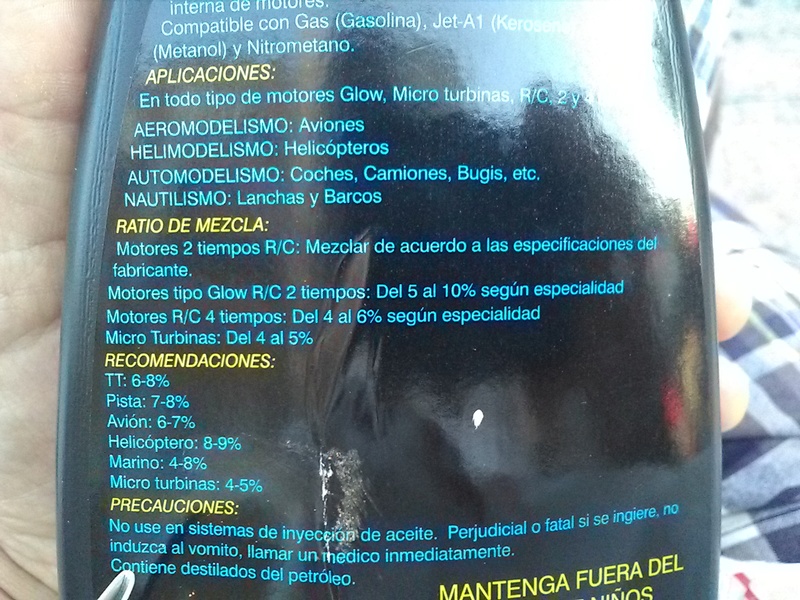 At COX engines allways add at least 10% castor but could be fine add 5% moer of this súper oil anti-friction (total oil = 15%).
What do you think?
Somobody know this Metal lube oil?
Regards
Jose
Last edited by jmcalata on Sun Jul 30, 2017 9:40 am; edited 1 time in total
One thing for certain, this is not an inexpensive product. If your in parts of the world that doesn't allow you to obtain castor oil easily, I suppose it's a solution. I personally would be cautious using it in iron piston engines vs ABC but if it works, terrific. I have been running full synthetic 30% nitro heli fuel through a Cox engine now for quite some time. I read all the time how the ball socket is going to fail if one chooses to do so. Well the entire gallon is almost through the engine and I'm waiting. I have run this engine hard on 3" props and have gone the other way using 7" . I don't thing it's going to break anytime soon.
Top Poster





Posts

: 3533


Join date

: 2012-03-27


Location

: pennsylvania



Hello Ken, Metal lube is not expensive 17$ / 1 l
And think that you need only 6%
I used klotz and motul micro 18 % and cost 22$ / 2 l

About Castor oil is available and easy to find.
I have known people to run crazy low oil loads and have excellent performance, and reasonable engine life, from speed planes.

My cousin's argument is something like :
Full size boat engines are running 50:1 to 100:1 without problems (2%, 1% oil content)

There is a difference in construction of the engines, with all needle bearings except the piston rings to cylinder instead of metal to metal journal bearings on marine outboard engines.

His experiments and competitions were with "modern", or at least in current production, model engines and to the best of my knowledge he did not blow up any engines, although he could have simply not mentioned that he did. I don't know the actual oil he used, but I know he mixed his own fuel. The engines were also in his mind "disposable" but he also races, switching between sand rails and oval track, so everything that can be bought or made is disposable.

Phil
Diamond Member





Posts

: 2987


Join date

: 2012-10-02


Location

: Ohio



This was on RC world in 2008 I think....
http://www.rcuniverse.com/forum/glow-engines-114/1193147-metal-lube-really-good-stuff.html
I dont think it is going to replace castor or make a differance in your overall runs >
Top Poster





Posts

: 5979


Join date

: 2013-01-18


Age

: 61


Location

: julian



Hi Eric, I don't want replace castor, I want replace 7% metal lube by 18% oil sinthétic like klotz ...
Or maybe use as aditive anti friction

Thank you Eric I see that it is not Magic, not miracles, it is bases in teflon, and can cause glow plug contamination.
Maybe as aditive for any purpose ???
I don't practice competition only sport fliers :-)
But I don't like cleaning toó much castor after flight :-(
Here is the undeniable proof that castor is your best oil:

Heat up a plate of steel with a torch and drop any oil on it, and they will all run away from the heat and eventually catch fire and burn off....except castor

Castor will run to the heat and eventually form a blob of tar, then turn to an ash which when cool is slick like graphite.....it don't get any better than that.

With engines getting rare and Cox engines being out of production, compromising them by experimenting with boutique snake oils is not worth the risk.
Remember, Cox warrantied these engines and recommended their fuel only, which originally was 100% pure castor with no synthetics added.
Moderate Poster





Posts

: 14


Join date

: 2017-07-18




---
Permissions in this forum:
You
cannot
reply to topics in this forum