Cox Engine of The Month
March-2019
Jason_WI's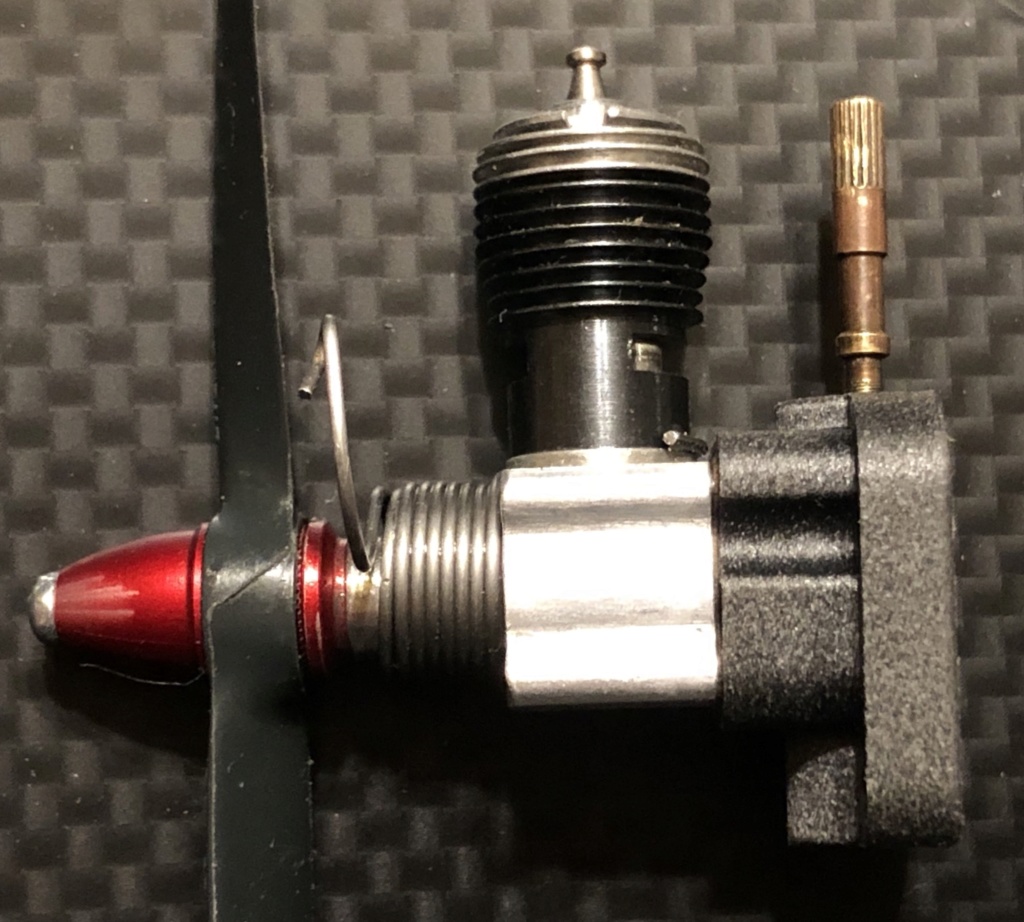 "Cox Pee Wee .020 with 3D printed horseshoe backplate"
More info on this engine!
---
PAST WINNERS

I wanted to post what I did to my Cox .049 Sure Start before flying it the PT-19.

First off I removed the engine from the firewall and backplate. Next I removed the prop, starter spring, glow-head with washer, and the piston/cylinder assembly. Then I cleaned and rinsed everything, even though it was new. Using some 600 grit wet-dry pare and 3-in-one oil, I lapped the back of the crankcase until it took on an even dull sheen all around the gasket sealing area and the burrs around the four screw holes disappeared. After that, the back of the case was wiped clean of the residue from lapping using a paper towel and a Q-tips, being careful to not let any of the grit into the case itself. A follow-up with rinse in model fuel was done to the case. The intake tube comes off by removing the needle valve, and the back of the intake tube is also lapped if it has any plastic burrs or flash; this operation insures a better seal of the intake tube to the opening of the carburetor. Re-assemble the piston and cylinder, install glow head and gasket, torque. A new crankcase gasket was fitted and the back plate was re-installed, carefully torque the screws in an X pattern, do this in 3 stages, to avoid warping. You can balance the prop at this time as well, and all mine took was a one inch strip of clear Scotch tape on the light blade. Mount the prop so it will dead stick horizontal. Once you put the needle valve back in , set it to 3 turns open.

Rotate the fuel tank so the pick-up in the bottom is towards the outside of the circle, it will increase the run time.

After the engine is back in the plane and ready to start, there is no need to prime it through the exhaust ports. Simply place you finger over the intake tube and flip the engine over one time by hand, don't use the spring starter or you will flood it. Next, connect the glow head clip and it should start right up with a flip or two on the spring starter.

This whole procedure insures your engine has proper crankcase sealing and is clean and free of any debris inside which will cause trouble. Be sure to use fuel which is 20% oil, and it should be castor oil. I use a blend of 80%castor, 20% synthetic, as it is readily available (Maxima 927, sold in motorcycle shops). 15 to 25% nitro works great.
Moderate Poster





Posts

: 14


Join date

: 2017-07-18




---
Permissions in this forum:
You
cannot
reply to topics in this forum