Cox Engine of The Month
February-2019
balogh's
"Black Lynx .049 with a Throttle, Exhaust Deflector and Nelson-Galbreath head set"
---
PAST WINNERS

Not sure where I got this handle. I've never had a Guillows kit where it may have been supplied.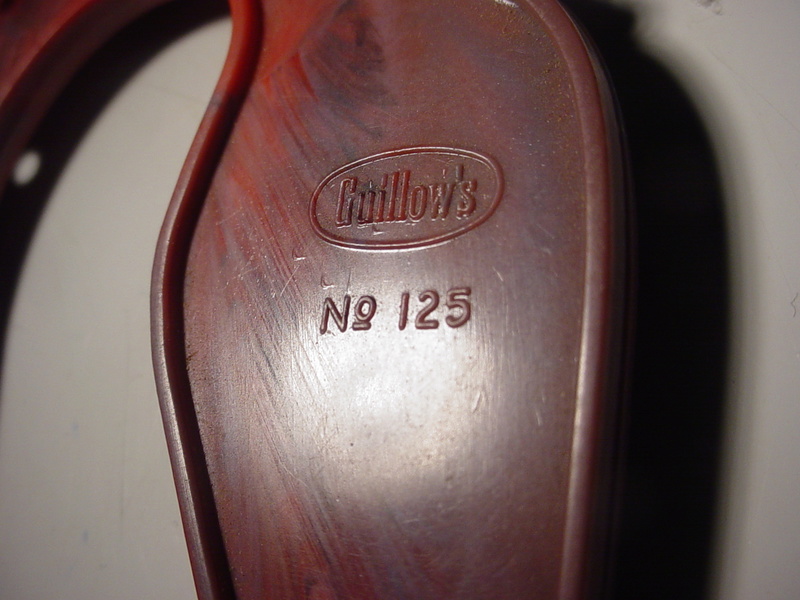 Notice the "swirls" of color, indicative of injection-mold color-changes between different parts production runs such as engine-cowlings.
Ergonomically it's a comfortable little handle.. but rather thin/fragile when compared to the Cox handles.. and has no provision for locking a neutral-adjustment.
I wouldn't be inclined to use it on a high-powered 1/2A model. It does have a variety of line-spacing options though. Some sort of post or "stand-off" would be beneficial for locking neutral. I may try drilling a small hole for a sleeved machine-screw and flat-washer to wrap the line around so it won't slip and retain with a small rubber-band.
I haven't tried this yet.. but a little 10 min. modification might give this handle a chance at being used someday. I drilled a hole (#45 .082" drill) for a 2-56 machine-screw and installed one that's 1/2" long with a piece of alloy tubing for a sleeve. Two #2 flat-washers and 2-56 double-nuts secures it.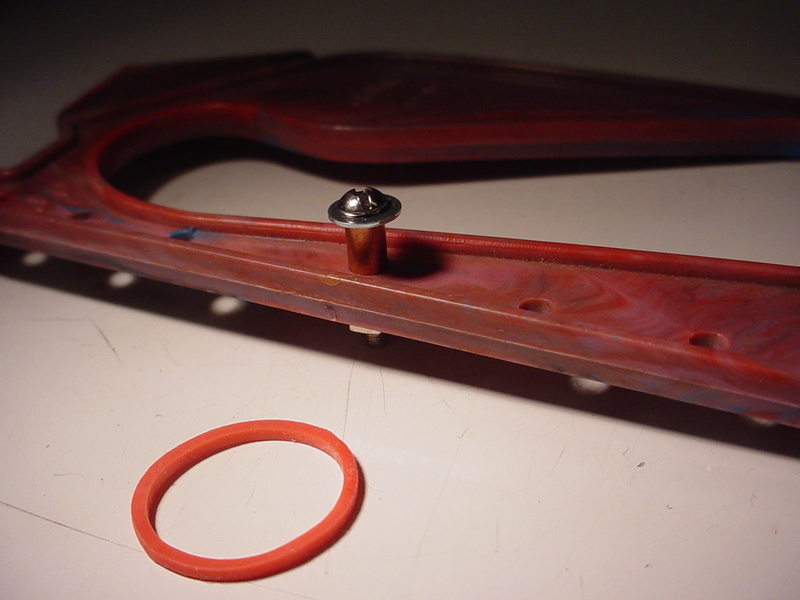 Wrapping the line
alternately
a few turns-around the post will fine-tune and should hold a neutral elevator-setting. The rubber-band will hold the line against the handle-frame and keep it from un-spooling from the post, once neutral is set. This may help with "springy" synthetic-braid lines.. and should not be omitted in the assembly.
I am a collector of several Guillows kits so I have a bunch of these handles. I.m going to have to try the the Roddie Mod on them. Thanks for the tip
Platinum Member





Posts

: 810


Join date

: 2014-12-28


Age

: 59


Location

: Milan Indiana



Good Mod. Roddie ! I have a few handles that are without this feature , i really should have handles and lines for each model but do like the convenience of only one after getting the lines adjusted !??

Top Poster





Posts

: 5422


Join date

: 2013-01-18


Age

: 61


Location

: julian



Joe and Eric, My Cox handles come with a center-post having a small hole drilled through it for the line to thread-through. This helps to keep the line from slipping. My retrofit-post doesn't employ that.. therefor the "up" and "down" sides of the line should be alternately-wrapped over each other.. "each-turn" around the post.. and a few times before setting neutral. Tug on both lines afterward to be sure it doesn't slip around the post. I used 2-56 threaded hardware.. but 4-40 screws/nuts are much easier to source.. and could be used.
It's important to include some type of sleeve for the screw. It should completely cover the screw-threads that would otherwise abrade any type of line used. I happened to have metal tubing of the ideal size.. but one "could" alternately
trap
the screw in the handle-frame using nuts on either side of the frame to establish a "post".. and use a piece of fuel-line between the
inside-nut
and flat-washer.
Here's an example of that type of screw-post..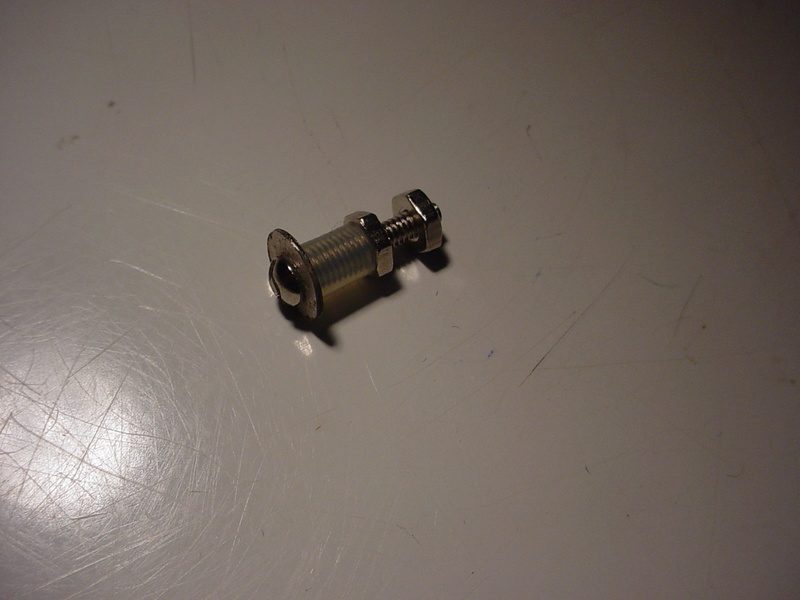 The "outside" nut should still be secured by either
double-nutting
.. (3rd nut not shown) or by applying a drop of glue to keep it from loosening. The fuel-line sleeve may actually provide more anti-slip qualities to the line, than a hard-tube sleeve would.
Again.. check for any "slippage" of the line
before
using the handle. Without a post of some kind; I can't see how the Guillows handle could be used without the line slipping.


Similar topics
---
Permissions in this forum:
You
cannot
reply to topics in this forum