Cox Engine of The Month
June-2019
robot797's
"cox 049 gasoline"
More info on this engine!
---
PAST WINNERS

Several of these came out of a big computer chassis at work.. and were too cool to throw into the recycle-box, so I saved a couple. They "were" ducted-fans in their intended use.. and I also have the plastic end-rings that surround the blades. The rings have a 2.600" ID and the fan's OD is 2.550"
The blades are cast-aluminum.. and so was the "housing" which I didn't bother with because it was pretty heavy to mount into a model airplane. The motors I'm not sure about.. but they may be high-powered brushless. No markings on them whatsoever. Would the 3-wire harness be any indication? Voltage is likely 12VDC. These type of fans usually move quite a bit of air. It would be cool if they could actually be used to power a model.. but I have my doubts..
Top Poster





Posts

: 6489


Join date

: 2013-07-17


Age

: 59


Location

: N. Smithfield, Rhode Island



Scrap the electric motor and mount the fan on a Norvel.
Diamond Member





Posts

: 1962


Join date

: 2011-12-02


Age

: 51


Location

: Phoenix



Top Poster





Posts

: 4129


Join date

: 2014-08-18


Location

: West Virginia



Before scrapping the motors, I'd hook them up to a 30 or 40 amp speed controller with a modeling watt meter between the esc and the battery and see how many watts they pull. If they put out a decent power for their weight, you could use them on a model with a short nose, maybe like a model of a radial powered airplane.

The Hoarder Mark


Diamond Member





Posts

: 1670


Join date

: 2013-05-22


Age

: 56


Location

: Portland, OR, USA



Make note of the motor speed as well if you can. The blades may not handle engine speeds (10k+ RPM).
_________________
-Jacob
Rules
|
FAQ
|
Contact the Admin
|
Donate
|
Suggest a Feature

Administrator




Posts

: 4919


Join date

: 2010-07-27


Location

: Roseville, Minnesota



Thanks for the reply's fella's. I really just thought that they had a cool look to them. Too cool to just toss.. Jim, I "do" have a Norvel.. and Bob; I love that jet-boat! Mark, I should test the motors to see what they draw. Jacob, very good point. I don't see an obvious way to remove the fan from the motor if I wanted to use either separately. It looks to be a press-fit.. and I can't pull it off by hand. The motor-casing steps-down in diameter from 1.135" to approx. .700" and extends into the fan-hub. The fan-hub has holes that reveal a large ball-bearing supporting the motor-shaft. The front-face of the motor has vent-slots around the outer-circumference of the "step".. but there are no vents in the "can" like there are in brushed motors.
These actually look like something out of the "Rocketeer" movie.. (one of my favorites..) Have any of you seen it?
https://www.youtube.com/watch?v=mBJkeQunyzg
Top Poster





Posts

: 6489


Join date

: 2013-07-17


Age

: 59


Location

: N. Smithfield, Rhode Island



Seen it? Seen it?!?  That movie reflects my greatest regret in life...

Bill Turner, the man who built the yellow and black Gee Bee Z in the beginning of the trailer, as well as the red Miss Los Angelas replica at 1:05 in the trailer, owned a company down in Riverside, Ca called Repeat Aircraft, working out of a hangar at FlaBob airport.  He specialized in building replicas of 30's race planes.  Or, if you had the remains of a 30's race plane, he'd restore it.  The last time I was at his hangar, he was restoring Benny Howard's* Pete, and building replicas of a Hall Bulldog, and the Laird-Turner Special (no relation) for the owner of a national security company.  He was showing me his drawing board with his Caudron racer plans on it as I was leaving.  My Dad worked with Bill back in the 70's and early 80's.

The regret?  Bill Turner asked me, not once, but three times to go to work for him at Repeat Aircraft building his replicas.  Can you imagine a more perfect dream job for an airplane guy?  If it had only paid a wage that I could justify leaving my good paying job to move down there...

The Forlorn Mark


* Benny Howard also designed and built the race planes Ike and Mike.  So there, Bob!
Diamond Member





Posts

: 1670


Join date

: 2013-05-22


Age

: 56


Location

: Portland, OR, USA



Hate to hijack the thread, but Bobs picture of Blue Bird reminded me of this.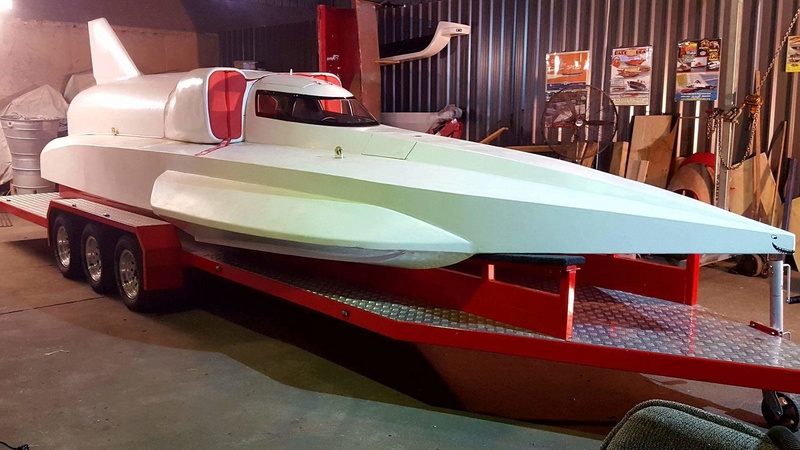 http://warbymotorsport.com/Spirit_of_Australia_II.php
A couple of weeks ago my youngest son Fletch was on a road trip and stopped for lunch at a park, wondering what all the commotion was about.
If you look real close you'll see his Hiace van right in the top left of the shot as they're dropping the boat in the water with the crane.
Didn't do any really quick runs as this was first time in the water.  Boat is all plywood built in this guy's back yard workshop.  The story of his original record runs are fascinating.
Rod.
Diamond Member





Posts

: 2526


Join date

: 2012-06-15


Age

: 56


Location

: Victoria, Australia



Diamond Member





Posts

: 2526


Join date

: 2012-06-15


Age

: 56


Location

: Victoria, Australia




---
Permissions in this forum:
You
cannot
reply to topics in this forum