Cox Engine of The Month
August-2017
balogh's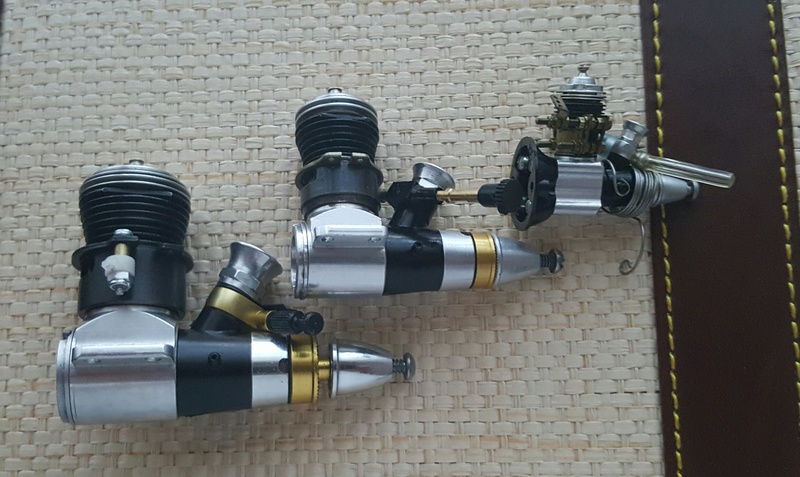 Throttle-Dees
---
PAST WINNERS
Rusty, Ken, and I have gone way afar---- about a lot of Brodak ARF discussion in Rusty's Big Box arrived thread, where a friend of his gifted him a new Brodak P-40 ARF

Earlier this year I got a TF Nobler ARF and while searching for all the fixes. I found a lot of threads that one of the better ARFs ever sold was the Brodak Flying Tiger P40 so ..... noting the Brodak "out of stock" ** BUT call us ****cuz we really do have them... only to get frustrated with the phone tag at Brodak.

In conversation on the phone with Randy Smith, I related my frustration, and he said he had several-- what color?... SO, $189 later I got a Grey version sent to me by Randy at PA

I am well behind Rusty on my adapting, build, assembly and I have decided to try to photo document my meager efforts to set one of these ARFs up

Steve Helmick, on Stunt hanger, has a well documented thread about adding diheaderal to the wing.
Since I am NOT a PAMPA stunt pattern flyier, I am NOT taking his good advice.... but his reasoning is sound for this plane to be a top finisher in true competition

I hate (really I do) to keep bashing Brodak

BUT the $9.99 Vacuum formed canopy*, I ordered is a true POS that I will NOT be using...yes it is the right part and sizes
But it is thick, heavy, no way at all to effectively paint the canopy support structure molded inside the clear plastic, and it is not very clear at all. Terrible part

* if you followed Rusty"s thread I mentioned that I liked the Box art (with clear canopy) better than the current Balsa canopy version I got.

Any how... I will spend the rest of today clearing a build/assy area and start photo documenting the process tomorrow






Diamond Member







Posts

: 2020


Join date

: 2011-08-26


Age

: 62


Location

: Lampasas Texas



I'm sure you'll do a great job Phred! Maybe you could alternately paint (spray or brush) the
inside
of the canopy a silver/blue? That'd probably look "dope".. (a young kid I work with uses that term for "really good"!

)
Top Poster





Posts

: 4999


Join date

: 2013-07-17


Age

: 57


Location

: N. Smithfield, Rhode Island



Fred, if your not getting the satisfaction demand to speak to John. Brodak's especially within 2 months prior to the Fly In is not going to work real well for you. The hobby shop for John is a hobby. This is not something he does for a living. He's into dozens of things, real estate, grocery stores, food establishments, etc. It's nice to know we have a terrific resource there. The ARF's were a huge problem. They sat for months in Sea boxes waiting to come here. There were times that he couldn't answer as to when they were going to be delivered due to tariff issues. The run around as you mentioned could've certainly been a part of this issue. Randy just could've had old stock while Brodak sold out early on. I was a Brodak dealer at one time and I can attest to the way these were delivered around the states. I was purchasing sometimes up to $2000 at a time of specific ARF's. There were limits at times as to how many one dealer could purchase because they were spread thin.
Diamond Member





Posts

: 2708


Join date

: 2012-03-27


Location

: pennsylvania



This ARF P-40b while it did come from Randy Smiths stock, I know Brodak is the real source.

I would say side by side with the TF Nobler ARF---

The Brodak P-40b ARF is well done and most of the common ARF complaints have been addressed very well

1. The nose on mine is solid, relatively strong hard wood beams that look to be well glued and keyed
2. The Bell Crank is suspended, and the lead outs have good, properly swaged terminations
3. Critical looking at the covering it is a better job than I could do, has adequate overlaps, and the effort needed to seal potential problem areas is not that bad.

The Tower sourced Top Flite Nobler has basically is NOT usable until each of these areas is fixed

Ken's observation about the Over seas production WOEs--- seems to be repeating... the current run of a lot of ARC/ARFs are not going to make the predicted/expected June/Jul/Aug arrival ----and it seems maybe until the end of the year before we can get a new version of these models... I am on a list for the new version SV-11

Things in the political realm frustrate me because if I mention my thoughts we can rapidly devolve into a crap debate that wander afar from the problem

BUT here goes any way

I wonder to myself is there is any true problems with the American company order as relates to product completions, sources of supply, and shipping....

OR are there currently a bunch of BS political crapolla happening because of Trade agreements being confused By our Administration and the Saber rattling with N. Korea

Way above my pay grade (currently E-0)
Diamond Member







Posts

: 2020


Join date

: 2011-08-26


Age

: 62


Location

: Lampasas Texas




Similar topics
---
Permissions in this forum:
You
cannot
reply to topics in this forum