Cox Engine of The Month
May-2019
Tee Bee's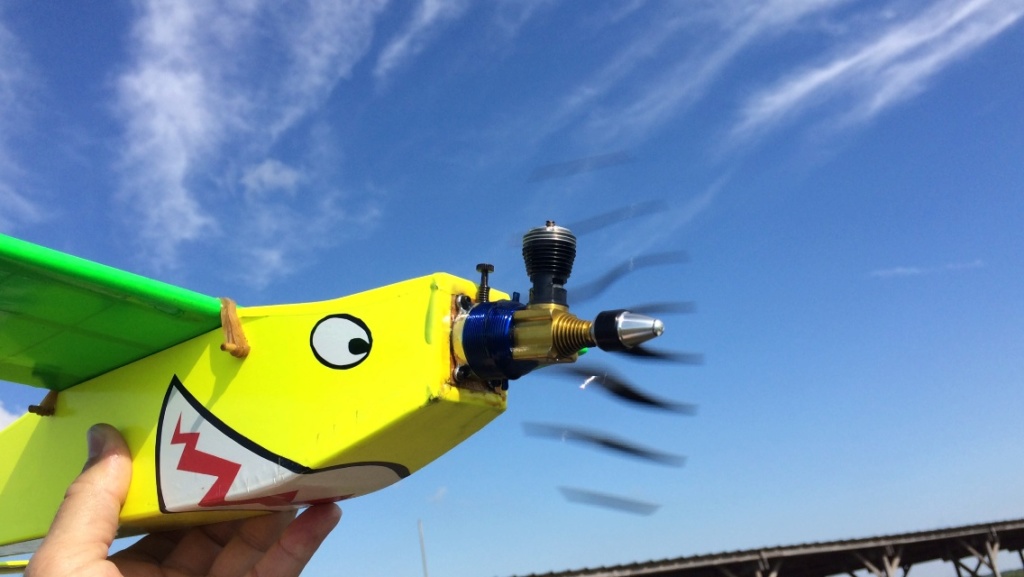 "This RR1 was restored for all the right reasons"
---
PAST WINNERS

Later Roddie, sent me a PM that was very good
MY very harsh and grumpy thoughts
https://stunthanger.com/smf/building-techniques/brodak-uniflow-proper-internals/
This is my post on Stunt hanger (revised for brevity) I would like to expound on a bit more
-----------------------------------------------------------------------------------------
I know this is just my opinion...
I tried to heed the advice of so many on these sites ---that always recommended ---OPENING every new tank to fix and secure...or even replace brass tube with copper
I got a few tanks from Brodak and some from RSM, the GRW brand, and a few Hayes or Sullivan type plastic clunk tanks...this post is about all hard tanks
On the advice I shook the hell out of the hard tanks and the RSM GRW brand did NOT rattle....so I used them as delivered....so far zero problems
Both the Brodak Tanks rattled... trying to relearn, I mangled one of them, learned from my mistakes, so the second Brodak tank repair, went OK, and is in use without problem
I really hate to bad mouth Brodak and all John does, but some few of the products are inferior and I find myself always looking for alternative sources.  In each case there is basically no price difference...but quite a bit of product quality difference
IMO if I were a serious about this,  I would get the metal bending gear from Lee or MBS and good material from dozens of places and make my own tanks
One reason for this seemingly negative post is....
We are well over 75 years away from the pioneers of model airplane flight with fuel engines
I would like to think the STATE of the ART for fuel tank design, and best practices for construction, was achieved sometime in the 40's ~ 50's and perhaps some leap in thinking (like Uniflo) a bit later
Basically, it seems to me---- I SHOULD be able to (for a fair price) to BUY a Perfect (PUN) tank ----that does not require me to rebuild from the get go
This post is just because Ken warned me
And for a fact the NIP Brodak 577 with tabs is useless to me... for $15 it leaks like a sieve from 3 of the four corners....grrrrr
Fred, when I custom build a tank, it takes me nearly 2 hours of cutting, filing , cleaning, and fitting and soldering. That doesn't even count the time to bend the metal. So the reality of it is your given more than a fair share for $15. My time alone is worth that. If your not satisfied, John Brodak will replace ANYTHING you purchased from him. He's very fair and understanding about that. I automatically assume all is bad and go from there. I won't say that I haven't had successful tanks from there, it's just when you look at how many I own vs how many have failed, the bad outweighs the good. The bottom line is these aren't available from every supplier and most suppliers stock his tanks.

What surprises me here is your mention that this is the recommended tank for this plane. That makes little sense to me due to the fact that if one was to use a Brodak.40, it would never complete the pattern on that plane using 4 oz. Now true not everyone flies the pattern, but the plane was designed to be flown in profile stunt events. The other side is that that particular wedge is tall but it's not long. The ARF P-40 has more real estate on it's nose than almost any other profile out there to the point that a 6 oz standard wedge fits between leading edge and back of engine easily. I would opt for a uniflow tank and if you didn't want to use it as a uniflow you could run it as standard vent. A uniflow tank offers you 4 options of running it, why would one recommend a tank with lesser choices to use?

This is no surprise to me. Inmates running the asylum once again. if your tank is leaking, it's an easy fix assuming you don't have one of the tanks that's been lacquered. This is something I've also had to deal with in repairing. This totally contaminates the joint and can be quite difficult to remove. The first step is to use a clean soft wire wheel followed by using a acid brush and acetone cleaning prior to soldering.
Phred.. the sad truth is; our hobby has always catered to a very small segment of people.. even in its heyday.. which is now long past. The products that were produced or are still being produced.. in quantity.. were/are being made/assembled mostly by people who will never be the end-users of those products.. and could care less if a tank leaks, the kit-wood sucks or whether the iron-on covering blows-off an ARF after a few flights.

An aero-modeler has always needed to discern whether the components making-up the model will be satisfactory for a given application.. and hold-up over the course of time. This in itself has spawned the small (and ever-shrinking) cottage-industries of model-engineers who produce quality parts for our models.. and guys like Windy Urtnowski who shared his knowledge in the way of "how-to" videos.. for building competition-level airplanes, whether you actually competed.. or just wanted a better-flying sport-plane.

Luckily there's still a large-enough community of glow-engine aero-modelers to keep the cottage-industry suppliers in business for now.. but you can certainly see the effects that the electric-powered models have had on the industry. Lustre-Kote paint has gone away.. and it's already difficult to source the ideal propeller for your glow-ignition engines. Propellers are a component to be concerned about.. with glow-plugs running a close 2nd. Most other components of a model-airplane can be home-brewed.. and we all know the importance of taking care of our engines so that they last.

I'm with ya' Phred... it sucks when you buy things that don't work.. or don't work for very long before they fail. Failure with an airplane is never a good thing.




Top Poster





Posts

: 6435


Join date

: 2013-07-17


Age

: 59


Location

: N. Smithfield, Rhode Island



I wish I had did my various rants --simply about the item ---and not the source

I am solidly in the camp of supporting John Brodak's hobby store and some little contribution to the Museum

I hope my grumpy, and a tad mean, musings only served to make other modelers aware of issues I had with some items

But---- I can see where my angry ranting might have caused some potential customer to think Brodak stuff was all junk ----and it most certainly is NOT!

99% of my many purchases from Brodak have been very good quality for the price. In many cases exceeding my expectations.

Ken mentioned all the tedious work to build a tank and related to the relatively low cost ($9~$18) of a Brodak production tank, and he is correct

I wish I had a link but there is a video (I think from Brodak's Fly In 2015 or 2016) with a long interview with the guy who makes the tanks for John.  In the video he gathers all the parts needed and demonstrates all the steps he goes through making one kit tank----- all the while--- answering questions and discussing how he get a lot of requests for costume sized or specialty tanks

I truly suspect after seeing the video that my one or two duds were anomalous.

I guess in retrospect, when you consider ALL the sizes and variations, we are damned lucky to even have someone still producing fuel tanks for model airplanes

Eric Rule RSM has the GRW brand 7 types in most capacity sizes
There are other sources but a lot of the big players bail out long ago (Hayes as an example)

In contrast Brodak has over 150 different fuel tanks and has an employee who will build a custom tank just for the asking (and waiting)

While I have never done it, I do know what Ken sez is 100% correct, John Brodak will eat the cost of a defective item every time, and fix or replace any item a customer is dissatisfied with.

I choose not to pester him with my minor, and low cost problems.... however I do occasionally send a note to the "contact us" at Brodak relating my experience... not looking for any relief.... but just as a head up or product improvement recommendation.


Bottom line:

PLEASE do not interpret my rants as any thought--- that YOU ----should not buy what you need or desire from Brodak....
John Brodak's store is one of the few places to get a lot of the toys, or other bits of kit, to make us grin ear to ear
Fred, you invested more energy in telling us about it. CALL HIM UP and it will be replaced. This of course doesn't mean the next one you will receive is any better than the first one. Do you think I make things up in regards to what happens with these tanks? I have thrown out more tanks than most ever have seen in this hobby. I have BOXES of screwed up tanks from crash damage to corrosion to just being too old to use. One thing that I will say is that a plastic clunk tank works better than a hard metal tank in these applications. You can see in them to determine if there's a problem, the fact that they're soft isolates profile vibrations. If you've never used them, you better learn if you want to successfully run the engines your using. They rarely leak, they're lighter, cheaper and more readily available without the problems your mentioning.
Kind sir Ken
I am very slow learning things that are so obvious some times

In this case hard tanks -that I know how to use- vs Clunk tanks that frustrated the hell out of me in RC

So currently I have 5 flying and only one with plastic clunk...the OS 20 (BBTU)

I prefer short flights and if you watched me with a stunt plane , I never even attempt some pre orchestrated PAMPA pattern... just zoom all over the sky scaring myself sometimes with a stupid up wind maneuver

BUT always with the grin that is the reason for me to play airplane

I have said it a lot...I am a guy of one-- too beat up to play combat anymore... (My True CL passion)

So I bailed out of playing with 3 to 4 second lap planes for the more sedate 5 to 6 second lap stunt planes

Short tanking a plastic clunk works

NOTE to self... stop fussing with tin tanks


There's nothing wrong with a tin tank if it's made properly. This means, correct solder, correct piping, correct orientation and height of pipes. I must sound like a broken record to everyone who reads these posts. I put the info out there and it goes unrecognized. Years back when most were sport flying just like you mentioned, the engines used ( iron piston ) variants generally are not as demanding the above situations. Therefore, a slight tank leak may offer a slightly lean run or an occasional hiccup. They also weren't as tank sensitive to designs. Newer engines though want to run fast, if these engines don't have a tank that's feeding properly, your 6 second laps are going to be cut in half and it will do this for 10 minutes or more. This is why all the mention of mufflers, venturi sizes, prop sizes are all relevant to this topic. I have seen FP .25's run nearly 20 minutes straight on 3 oz's of fuel if something goes wrong.

              When your following the advice you read on the other forums based on prop recommendations and tanks, mufflers, etc. There basing this data on a orchestrated pattern. If you just want to punch holes in the air, put anything on there. The other side of this is that those offering the advice your seeking are not in your climate like myself. It gets pretty damn hot here but my elevation is a lot lower than yours critically affecting many other factors. I never thought that this was an issue, but as I started into stunt it became quickly apparent how the needle is affected from a cool morning to a hot afternoon. As far as plastic tanks, Sparky did a excellent tutorial about a month ago which I'm sure is archived.

                 I will extend the olive branch and if you want that tank repaired, I could do that for you and return it quickly. I have done that for others on here and I would readily get it back to you in the mail. Ken
Thanks for the kind offer Ken

No need though

Too easy to just assemble/build this ARF

I do have something like 5 different tanks ---Sullivan, Hays, GRW, Brodak in 4 to 6 oz that will certainly work... tis a profile, so not like I have to do surgery to change one out

Just so you know.... 60% of the year down here is above 50 degrees and my summer flying is confined to morning (less wind slightly cooler 76F to 82F air)

My house is 465 Feet above sea level and I fly down near town, elevation 238'

One LA 25 powered RST did go seriously lean on me one day.
It only took about 6 fast laps for me to decide to slide it in busting prop and flipping it... not much damage...with that long stiff short Ply vert stab/rudder

I did however learn (hard way) something you mentioned years ago about a ply plate on front of tin tank....as mine did slide forward and poke a hole in the end cap....


Similar topics
---
Permissions in this forum:
You
cannot
reply to topics in this forum