Cox Engine of The Month
November-2023
1/2A Nut's
"TD .020 RC"
More info on this engine!
---

---
PAST WINNERS
I just love batteries... as long as they can still deliverer their rated capacity. Can't have enough of them..
As some of you know; my previous employer (as of this past week) contracts the recycling of obsolete electric waste... and took-in some high-end battery back-up chassis' which
singly
supplied power to an entire rack of computer-servers. These chassis contained six 6v cells wired in
series
(36VDC) into an inverter-circuit to output 220VAC for short-term uninterrupted emergency-power.. providing time to properly shut-down the rack and prevent the loss of data.
The units were "freshly-charged".. and primarily disconnecting the battery-circuit was imperative to prevent having an episode with getting "jolted" or inadvertently "arc-welding"......
All batteries contained in various equipment are typically separated by type and sent to an R2-compliant recycling facility.. along with other materials that have been broken-down and separated into "commodities" of different metals/alloys, PC-boards, Copper-wire, Data-cable.. etc. There are at least 15 different materials that can be separated from obsolete/decommissioned IT systems for responsible (proper) recycling. It's a very good system.. and I felt proud to be working for a company that was helping to keep contaminants out of land-fills. The average life of these systems is currently 3-5 years.. at which point, most companies upgrade to newer/faster and more compact technology. It's a serious thing that needs to be acknowledged for a cleaner earth in years to come.
............. back on topic.. I scavenged six 6V sealed lead-acid batteries from one of the aforementioned chassis a few weeks ago.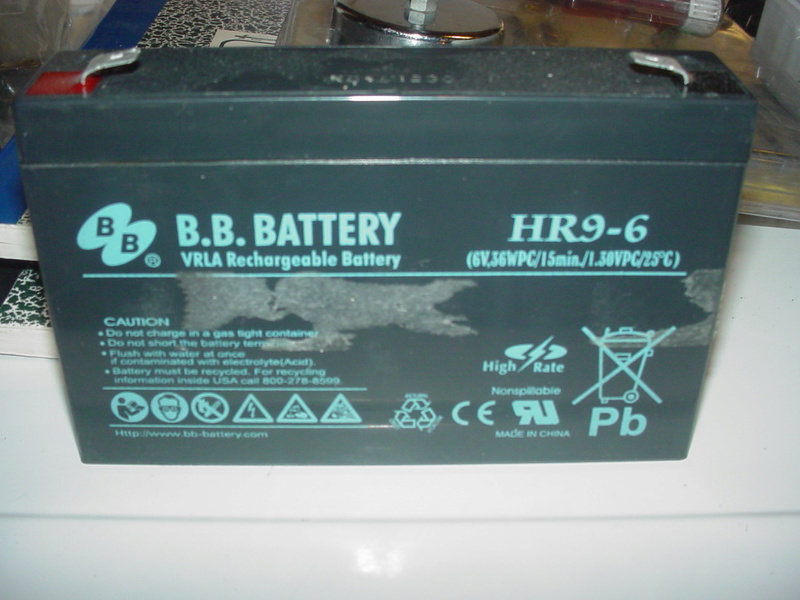 They're much smaller than the 12V cells that I'd brought home a few months ago. I plan on putting them on a trickle-charge to keep them topped-off while in storage. I'll have to see whether my 6/12V trickle-charger will accomplish this with all of them wired together with a "parallel"-connection harness. It might work.. we'll see.
My future use for these batteries will be for connecting two in "series" to provide 12VDC power for my field-box panel primarily.. but also for testing.. and running small-load DC/AC inverters for certain applications in the event of a grid power-loss.
Roddie as You know from other posts ---I am OUT in the sticks and have a Lot of weather related power outages. Over the last 23 years I now have about 9 uninterruptible power supplies that usually come with 12Vdc 7Ah sealed lead acid batts

every 3 years or so I find the best price and free shipping and replace all of them...just this year $13 per 12vdc 9Ah batt

before serious model building I recycled all of them

Now I tend to hoard ( after cutting off the contacts) them as Building weights

And yes I first send each one to my very good charging station and pick the best to swap into my flight box

and I do get lucky on a few... BTW... all with a date bought, and date in service note on the side

and a last note... I have one or more here, over 6 years old, and so far no noticeable cracking or bulging...BUT! I do watch them cuz I never want to fubar a model with leaking acid





fredvon4

Top Poster










Posts

: 3997


Join date

: 2011-08-26


Age

: 68


Location

: Lampasas Texas



Similar topics
---
Permissions in this forum:
You
cannot
reply to topics in this forum