Cox Engine of The Month
March-2019
Jason_WI's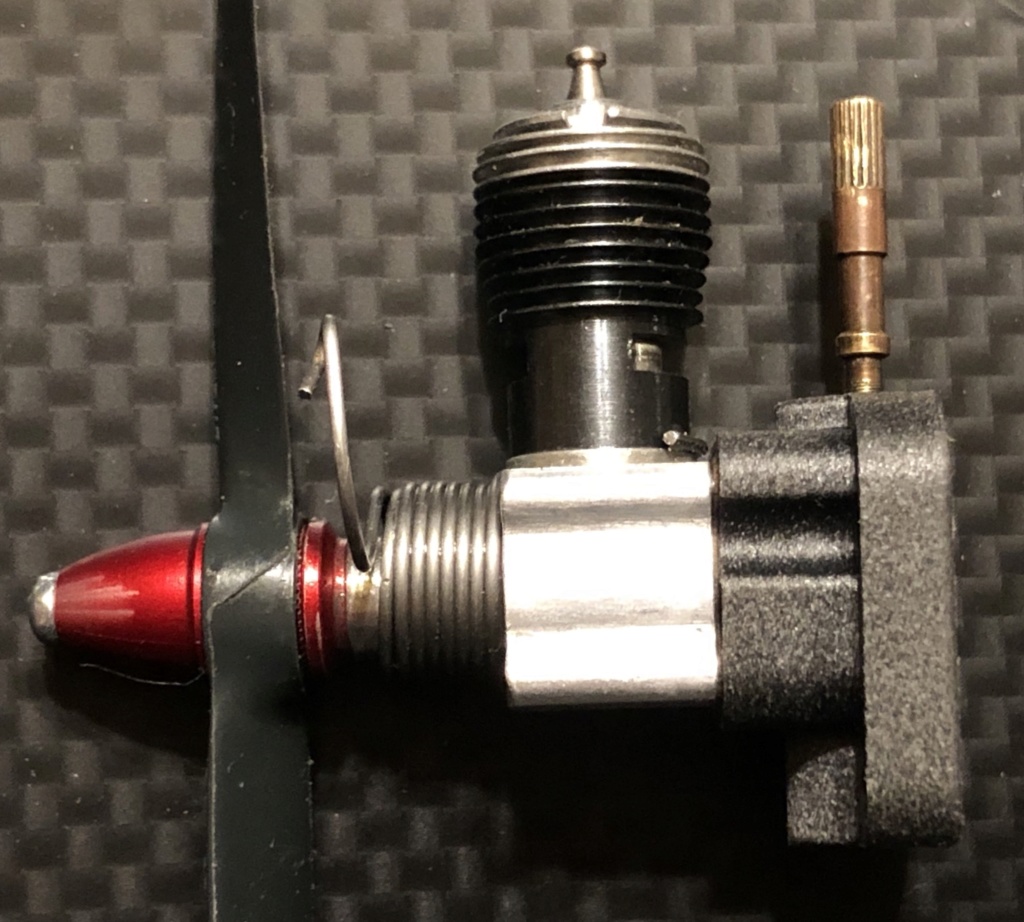 "Cox Pee Wee .020 with 3D printed horseshoe backplate"
More info on this engine!
---
PAST WINNERS

Spring finally came this week without the never ending wind that's been pestering us for so long now. Wayne and I headed out to our Congaree club Tuesday. He brought his IDS a.k.a. the Intermediate Death Star for me to fly. I wanted to test my stagnant skills at some light pattern flying without risking bashing up one of my two contest planes. The IDS is built to take a licking and keep on ticking... perfect for me right now. I brought the P-40 for him to fly and check our previous trim adjustment from test flying on October 14th last fall, the weekend before the Huntersville contest.
Older picture of the Intermediate Death Star with a .46 on it.
See how it resembles my smaller Ukey .35
B
uuuut
the field was weedy with woody stalks and wildflowers all over our CL area. Bleah, that's no good. But he played with his 12+ meter sailplane while I basked in the glorious sun and enjoyed the afternoon. And we were treated to a 3D show by a member with a big smoky helicopter. I always open my car door and stand behind it watching through the open window, Lol. No way I'll turn my back on one of those machines. And we called it a day at dusk and packed out.
Today, Thursday, was about 80F and crystal clear, we got an email that the field had been mowed, so we had another go at it. I hadn't even unloaded the car since Tuesday. We rolled in at 3:00 and I rigged up the P-40, but Wayne didn't bring the IDS this time, just a sailplane. In the fall, the P-40 was getting slack on the lines up top, and I'd adjusted the leadouts. Seemed like all else was solved as trimming goes. And when Wayne flew it, Bingo, she was perfect.
I got some video but it's too late now to make a movie, so I'll try to do it over this weekend. I was walking okay today without the cane, so I short tanked it and gave it a go too. This plane is the best I've ever flown on takeoffs, I can lift off and hold it down with the obligatory steady 1-lap climb to 5 feet. I flew some laps and loops, inverted and lazy 8s. And chipped away at a wingover till I was getting it overhead with no balance trouble. It's the hardest pulling plane I have ever flown, aside from the Magnum, and killing my elbow on every inside pullout. I need to regain a lot of strength lost over this miserable winter. I started flying a PAMPA 8, my numb and mostly paralyzed fingers could not feel the handle slipping when it came out of my hand. Still on the lanyard, I grabbed it with my left hand, but not before it planted straight vertically into the ground. The cheap white Sullivan ball link on the elevator horn broke. The prop broke and some Monokote split, but apparently not one piece of wood broke. The bellcrank works fine and the engine and mount is fine too. Could've been worse. But even so, this plane is too much for me to have flown in a contest. The Twister will do fine if I decide to enter, but I may just spectate and maybe judge. Sorry, folks, I ain't ready yet. At least my plane isn't really broken either. The nose dive was not from very high, thank goodness.
Not what I had hoped, but coulda' been worse.
Rusty
Moderator




Posts

: 10690


Join date

: 2011-08-10


Age

: 62


Location

: South Carolina, USA



It's better to fly and lose then to not fly at all. You did good, keep on perservering and things will come together. Besides, you can't get better without practice.
Moderator






Posts

: 10240


Join date

: 2011-10-24


Age

: 45


Location

: Tuttle, OK



Rusty, is this a P-40 ARF? The plane shouldn't be pulling that hard. Are you sweeping the leadouts back to compensate for the light line tension? That would create all the pull as you describe. Seeing that the flap on the outboard wing doesn't go all the way out to the wingtip, the small section of fixed flap can be sliced off and adjusted to be used as a trim tab. The majority of P-40 ARF's would fly outboard wing low when upright. This would result in positive line tension upright. However, if yours is doing slightly the opposite, it wouldn't take much to lift that large wing and cause light tension if the wing was twisted slightly. Ken
Top Poster





Posts

: 3423


Join date

: 2012-03-27


Location

: pennsylvania



Ken, thanks, but I think the plane is fine. My hands are nearly paralyzed with no feeling in most of my fingers. I can neither close them into a fist, nor straighten my fingers. It took 10 minutes just to type this paragraph error free.
Moderator




Posts

: 10690


Join date

: 2011-08-10


Age

: 62


Location

: South Carolina, USA





Similar topics
---
Permissions in this forum:
You
cannot
reply to topics in this forum