Cox Engine of The Month
August-2019
fredvon4's
"Tee Dee .049"
---
PAST WINNERS

I took a big chance on this one recently on the bay. The initial price was too high for my budget but when it was lowered a bit on the next listing, I took the plunge and spent some of my overtime cash on it. I then waited nervously to see how it would work out. It arrived unscathed today, having traveled all the way from Greece to Texas, USA! It was meticulously packaged by the builder/seller and looked even better in person than in the ad pics. This guy builds nice model airplanes! I am very excited to get this bird set up and flying. With the recent additional purchase of the little JMG .010 Micro Shark, I've got my hands full of tiny hotrod airplanes!(P.S. The little Micro Shark has flown once and survived. More to come on that project later!). The following is a description copied from the sales ad:
This is a TD .010 micro replica of a famous 1/2A pylon racer designed in the 70,s called the Cam Racer… original construction article appeared in the February 1977 issue of Model Airplane News magazine and was created by inspired designer/builder Greg Doe.
Equally inspired by its beauty I have opted to recreate the 1/2A Cam Racer in a smaller scale version using the TD .010… the model was meticulously hand built from the original plans photo reduced to a size that is best suited to the power output of the TD .010.
Model uses only selected contest grade balsa with 2mm lite ply formers for the built up fuselage, I chose a very light foam core precisely hot wire cut using 1mm contest balsa sheeting to produce a feather weight wing that is also very stiff… greatly retaining accuracy in both planform and symmetrical airfoil section, LE/TE and ailerons are sheet balsa.
Featherweight sheet balsa is also used for the tail surfaces, no nose weight is required to balance the model… weight is kept down by using Solarfilm covering which is also quite durable, model is one piece and ready to fly except for the receiver and battery which are the personal choice/ additional items provided by the buyer.
Model is equipped with two Dymond D47 for aileron and elevator servos, custom made eyedropper external tank and custom switch harness, I have used a GP NIMH 160Mah 4.8v for a flight pack (17gr) and 4ch FM micro RX (5gr) mounted in the space between the rear of the tank and aileron servo.
Rudder is mechanically coupled to the aileron servo, this is a desirable feature that produces a tighter turn radius, it can be easily removed if desired by disengaging the rudder pushrod from the aileron servo arm.
The buyer can use equivalent or lighter equipment providing that he accurately balances the model at 35mm measured from the LE and at the wing root station… model was used for 12 successful flights and then stored, the engine was run with a slight rich needle valve setting and is in excellent condition as is the functionality of the servos and switch harness.
Equipment and model is in as new condition!
The model is very fast and groovy in flight with a respectable dead stick glide… but a warning is warranted… this model requires an expert modeler both as a pilot/Cox engine user and equipment installer to successfully prepare and fly it!!!
A truly special model for the expert providing him with exciting TD .010 fast flights, or for the collector who wishes to acquire a one of a kind Cox powered vintage pylon replica of the 70's era.
Specifications:
- Wingspan: 460mm/18.11inch
- Fuselage length: 394mm/15.51inch
- Weight: 82gr/2.9oz (excluding Rx and Battery)
- Weight ready to fly: 104 gr (depending on Rx and Battery)
- Item is part of my private collection gathered through 40+ years of aeromodelling career and not bought second hand for the sole purpose of commercial profit, as I am just a private seller, therefore I can personally attest for the quality of each item.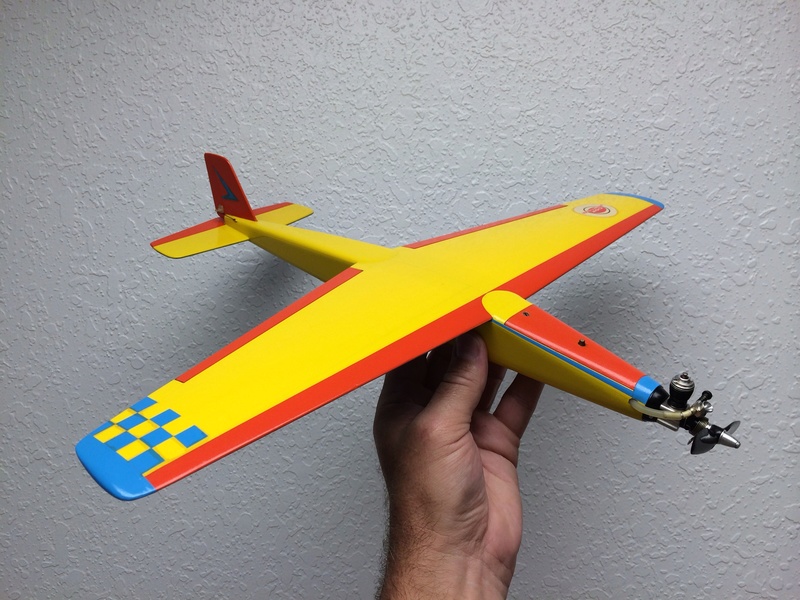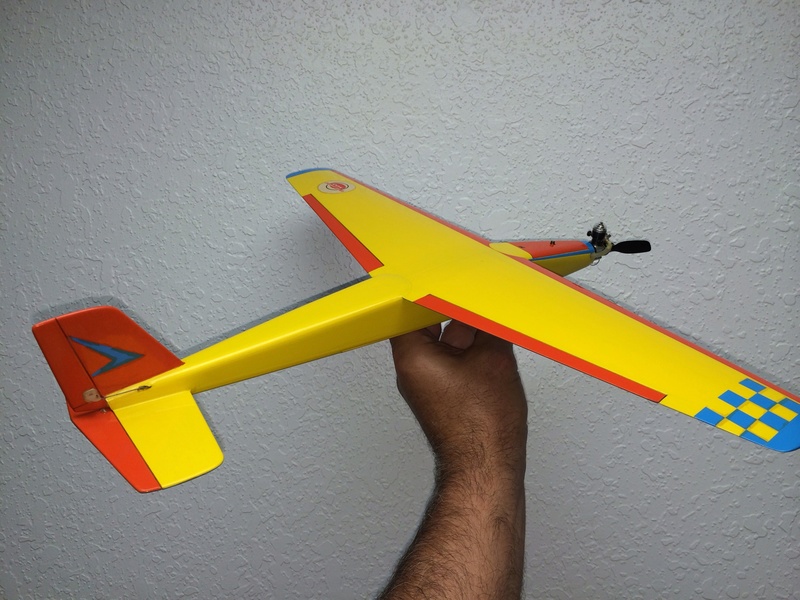 Platinum Member





Posts

: 516


Join date

: 2011-08-25


Location

: Angleton, TX



Nice Tee Bee !! That should bee a very interesting racer to fly there ...
Rudder is mechanically coupled to the aileron servo, this is a desirable feature that produces a tighter turn radius, it can be easily removed if desired by disengaging the rudder pushrod from the aileron servo arm. wrote:
Are you going to leave this as is ? I have never heard of coupling the rudder with the aileron servo before .
Top Poster





Posts

: 6105


Join date

: 2013-01-18


Age

: 62


Location

: julian



That's a handsome little fella!
Moderator






Posts

: 10490


Join date

: 2011-10-24


Age

: 45


Location

: Tuttle, OK



That thing is beautiful. Glad it showed up in such nice condition.
Diamond Member





Posts

: 1299


Join date

: 2011-08-11


Location

: Naples, Florida



Glad your purchase made it too you in 1 piece. Beautiful plane and very well built!
Gold Member





Posts

: 111


Join date

: 2014-10-22


Location

: Webb City, Mo



Wow, lucky winner! I saw that, tried justifying it to myself and failed. I hope you get some good fun out of it! In fact, I decided to build my own (.049 version) from the plans on the official website. A super simple and light weight design!
Bronze Member





Posts

: 30


Join date

: 2017-11-05


Age

: 39


Location

: Lake Ariel, PA



Thanks everyone! I've been working on it a bit to get it ready for flight. It's a very special little machine with a lot of thought and creativity put into it by the builder. It's lean and mean, much like the NANO series that 1/2A Nut has created.

Rhyslegge, keep us posted on your 1/2A version. I may be interested in doing that myself.
Platinum Member





Posts

: 516


Join date

: 2011-08-25


Location

: Angleton, TX





Similar topics
---
Permissions in this forum:
You
cannot
reply to topics in this forum