Cox Engine of The Month
February-2019
balogh's
"Black Lynx .049 with a Throttle, Exhaust Deflector and Nelson-Galbreath head set"
---
PAST WINNERS

I am interested in restoring/reconfiguring paint schemes on a couple of RTF projects and would like to know just what kind of somewhat fuel proof paints Cox and Wen Mac used on certain models-- e.g. camouflaged Cox P-40 and Spitfire, camouflaged Wen-Mac P-63 and orange trim on AT-6 Texan, Dauntless etc.

What will work for getting this done that's easily available and won't ruin the plane and still be at least as fuel proof as the old factory stuff?


Gold Member





Posts

: 465


Join date

: 2013-10-03


Location

: NC



it was probably a quick drying lacquer and it definitely wasn't fuel proof. I think i lost half the paint on my Miss America after a half dozen flights.
I would try paints meant for plastic models, you know, the static type that Revell, Monogram and such make or made. There is about gazillion different colours, gloss, satin and matt, clearcoats and so on. They come in little cans about 1oz, can be thinned and sprayed with a small paint gun. Spray cans are also available, not so many shades though.
The plastic of the RTFs seems to be the same (polystyrene) as is used for the static models, and those paints can stand fuel (well at least castor residues) at least somewhat. They definitely won't damage the plastic, and they should also stick pretty well on clean plastic. Do stay away from the water-based model paints though. At least my experience on them is not positive.
And as usual YMMV, and do let us know how it goes
Diamond Member





Posts

: 1425


Join date

: 2014-10-10


Age

: 47


Location

: Finland



I have found Krylon Paints to be Fuel Proof and also stick well to plastics
Last edited by akjgardner on Sun May 13, 2018 1:57 pm; edited 1 time in total
Platinum Member





Posts

: 811


Join date

: 2014-12-28


Age

: 59


Location

: Milan Indiana



Mark,
That is some restoration job! What glue did you use?
Could the plane fly again? I'm reasonably sure it was rebuilt as a static model...

AKJ (and/or other Krylon users),
Is there any particular Krylon that I need to find? How long until it cures fuel-proof?
I thought it was the Rustoleums that were fuel-proof.
I ask because my dope stash is drying up.

Thanks in advance!


Gold Member





Posts

: 358


Join date

: 2017-02-08



i think krylon and rustoleum are pretty close, rustoleum might be more fuel proof, i've use rustoleum on some basla stuff, canopies, etc. I use both a liquid plastic glue to soften edges and Testors plastic glue, which has some gap filling i'm sure epoxy would work as well. Use popsicle sticks and small plastic clamps to keep wing straight while curing, sand and paint, automotive filler putty helps too. I'f its never gonna fly again use CA, its a lot quicker.

I'd go with this, as i haven't run a glow engine on a painted plane in 15+ years, i remember years ago Rustoleum was the ticket.
Any way to use carbon fiber tape to fix a busted plastic wing and make it smooth enough to be almost indiscernible?
Gold Member





Posts

: 465


Join date

: 2013-10-03


Location

: NC



ticomareado wrote:Any way to use carbon fiber tape to fix a busted plastic wing and make it smooth enough to be almost indiscernible?
I can see how you could pull off this repair with carbon fiber tape by careful feathering with filler products. I've done such dent repairs in autos and motorcycles.
2013 Yamaha V-Star 1300 front fender, after dent rough out and Bondo (light pink), sand, fill imperfections with spot putty (orange):
Prime, sand away futher touch up with spot putty:
Final result with 2 coats Dupont Ful-Thane 2 part auto paint: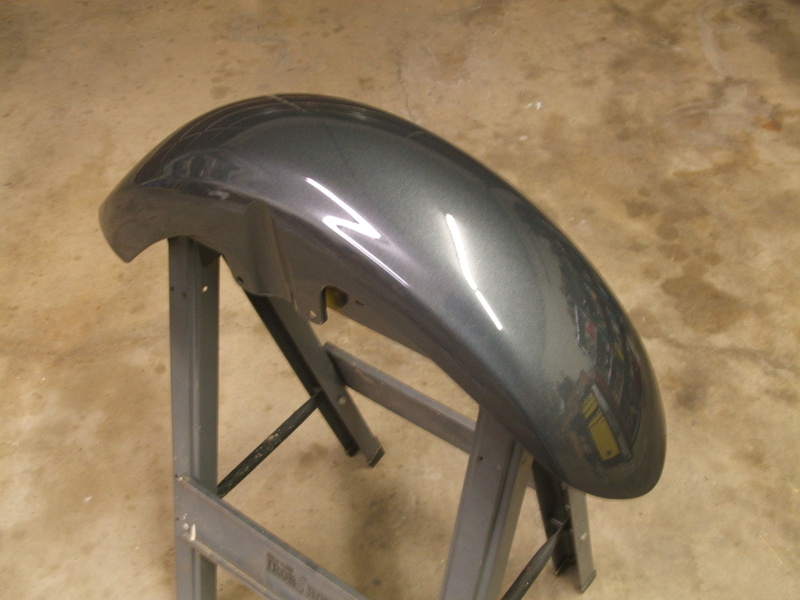 Depending on where the break is, a light coat of Bondo plastic body filler touched up with spot putty carefully block sanded (you might have to make your own curved sanding block) and feathered away sufficiently, may be up to a couple inches would do it. Under-surface would be easiest. Top surface, you may run into difficulties such as filling and sanding away rivet and panel line details, which would have to be added back for an OEM look.
Spot putty has solvents that may soften the plastic if applied too thick, so would have to exercise caution. However, others have managed to use it with startling results.
Anyway, YMMV (you mileage may vary).
Diamond Member





Posts

: 2054


Join date

: 2013-07-13


Age

: 64


Location

: Clovis, New Mexico



Try Top Flite Lustrekote as long as your not spraying foam models.
Gold Member





Posts

: 111


Join date

: 2014-10-22


Location

: Webb City, Mo




---
Permissions in this forum:
You
cannot
reply to topics in this forum