Cox Engine of The Month
September-2023
balogh's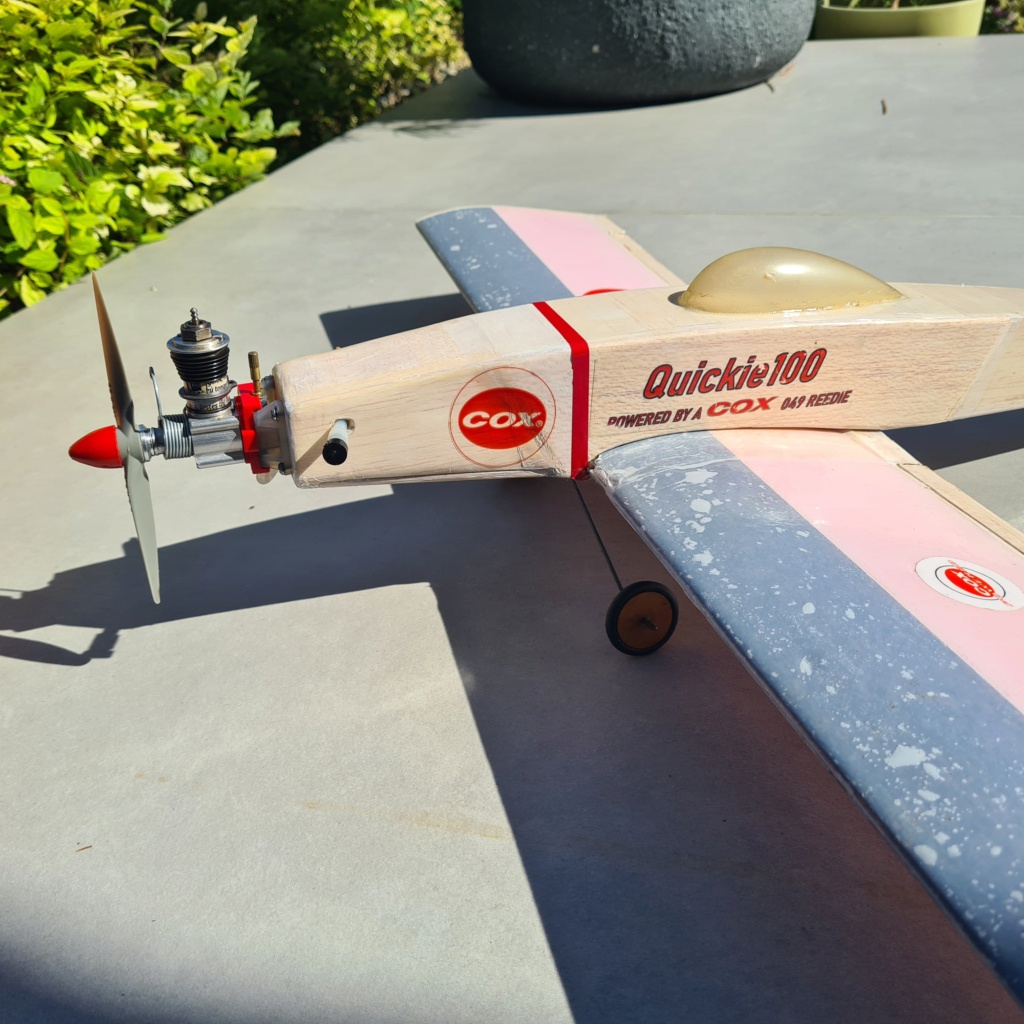 "Beefed up old stock 290 on my Quickie100 RC after plenty of airtime hours..."
---

---
PAST WINNERS
Is there a successful way to machine a few thousandths off of a low compression head to make it a higher compression head?
Thanks

Darz

New Member





Posts

: 4


Join date

: 2018-05-26



I use 400 grit paper on a piece of glass and carefully position the plug. Rotating the plug on top of the glass to prevent the flat surface from rolling. A little oil on the sand paper will prevent the paper from getting clogged with aluminum. Many times the surface of the plug isn't flat and this will also help the plug seal. New head shims are a must as this will also seal the best. It also insures that the plug will stay tight. Your not going to raise the bar to high compression head standards as the squish band of a low compression plug is much broader than the 1702 head. If your in search of higher compression and the Cox high comp head isn't suitable, you have 2 options. You can purchase the Merlin 1/2A kit which comes with 3 drop in inserts and a head clamp or a Nelson Galbreath setup. The Nelson setup will cost $5 a plug and the Galbreath adapter is around $12. The Merlin kit is about $14.

          Merlin plugs can be purchased from various sources but this search reveals a Buy It Now on Ebay   Merlin Glow Plugs 2019 Hot Cox .049 Norvel .061 Glow Plug Clamp Ring Combo 2019A

      Doug Galbreath is a renowned free flight specialist and doing a search for Galbreath head adapter should find it if your interested. Either of the two setups are going to require you to decompress the engine usually requiring 3-5 head shims on a stock Cox .049. Keeping in mind that the higher your nitro, the less compression the engine is going to require.

Ken Cook

Top Poster





Posts

: 5246


Join date

: 2012-03-27


Location

: pennsylvania



I often remove about 0.15mm in a lathe, it doesn't make it a TD-head but they do run a little better on 10% nitro that way. The same trick works well on the TD.020 engine too.

Surfer_kris

Diamond Member





Posts

: 1877


Join date

: 2010-11-20


Location

: Sweden



I can attest to lapping heads on sandpaper with oil. I will not call it fun. It is not difficult, just mildly tedious.

I recommend blackening the mating surface with a Sharpie or other felt tip marker, thread it in without a gasket (unless it wont bottom, then use gaskets) tighten a little and take off. The high point on the rim will have the black ink mussed up. It gives a chance to straighten it out by applying slightly more pressure to that side for a couple swipes.

More than 3/4 contact is probably just fine, gaskets exist for a reason. Unaltered heads I have blackened and checked have been less than perfect too.

If you rotate the head some every couple swipes on the lap then the chances it will grind down evenly are improved.

Phil

pkrankow

Top Poster





Posts

: 3025


Join date

: 2012-10-02


Location

: Ohio



Do a figure 8 with head on sandpaper to even out pressure minimizing sanding on only one side

coxaddict

Gold Member





Posts

: 428


Join date

: 2013-01-27


Location

: north shore oahu, Hawaii



I had some info from Dale Kirn on how much to machine off the low compression head to make it close to the stock high compression trumpet head. It was successful in getting them up to within about 100 rpm of the HC head. He had a bunch of the low compression heads at his home from the ready to smash plastic planes that were returned. I think he sold them to me for 25 cents back in the day. I also got a BUNCH of black 5-3 props that the 3 had come out of the die. Those were about 25 cents each as well. The 5-3 was what I used for 1/2A combat back then. He was a very nice man!

faif2d

Bronze Member





Posts

: 30


Join date

: 2014-09-08


Location

: texas



Do you remember if the bottom cooling fin of the head was removed to keep from it bottoming out against the top of the cylinder? I have done some experimenting to increase the compression on the stock glow heads. I didn't have a Tach at that time

coxaddict

Gold Member





Posts

: 428


Join date

: 2013-01-27


Location

: north shore oahu, Hawaii



For me it has been enough to just thin out the lowest fin a little, there is no need to remove it completely.

Did Kim change the head shape itself or just set it lower in the cylinder?

Surfer_kris

Diamond Member





Posts

: 1877


Join date

: 2010-11-20


Location

: Sweden



I seem to remember that the lowest fin was removed. The head was just lowered into the cylinder a fair amount. It was a cheap way to do practise flights without risking a high compression head. This was before the advent of the nelson plug heads which almost never blew a plug. All of the ones that I had left were sent to a very nice man in Uruguay that is teaching youngsters. Google JV-44 on YOUtube to see some of the boys. He has already generated 2 pilots and 2 ground people (A&P types) for their airforce and an engineer.

faif2d

Bronze Member





Posts

: 30


Join date

: 2014-09-08


Location

: texas



Similar topics
---
Permissions in this forum:
You
cannot
reply to topics in this forum