Cox Engine of The Month
June-2019
robot797's
"cox 049 gasoline"
More info on this engine!
---
PAST WINNERS

Here is what I have in the 2 cheese boxes. It looks like parts for 6 complete engines with 1 still assembled.
Not sure of all the models designations but some.
Tee Dee .010, Pee Wee .020, Medallion .049, Tee Dee .049 (maybe .051), Baby Bee .049? and another Tee Dee .049 although I think maybe 1 of them is an .051. I haven't checked bore diameter yet. I don't know if that brass needle housing assembly or venturi by the right TD is for that engine or even a Cox item.
I didn't know Cox has so many different combustion chambers for their glow heads. Looks like a couple have a squish band around the circumference. The one on the left uses a standard short I assume glow plug. I'm thinking those heads were not made by Cox, but maybe.
That's my home made fuel tank on the edge of the boxes. I made that for a Quickie 200 (fun fly) I had one of the TD's in.
It even has a klunk that sounds like it's still attached to the internal fuel fuel line.
Jeff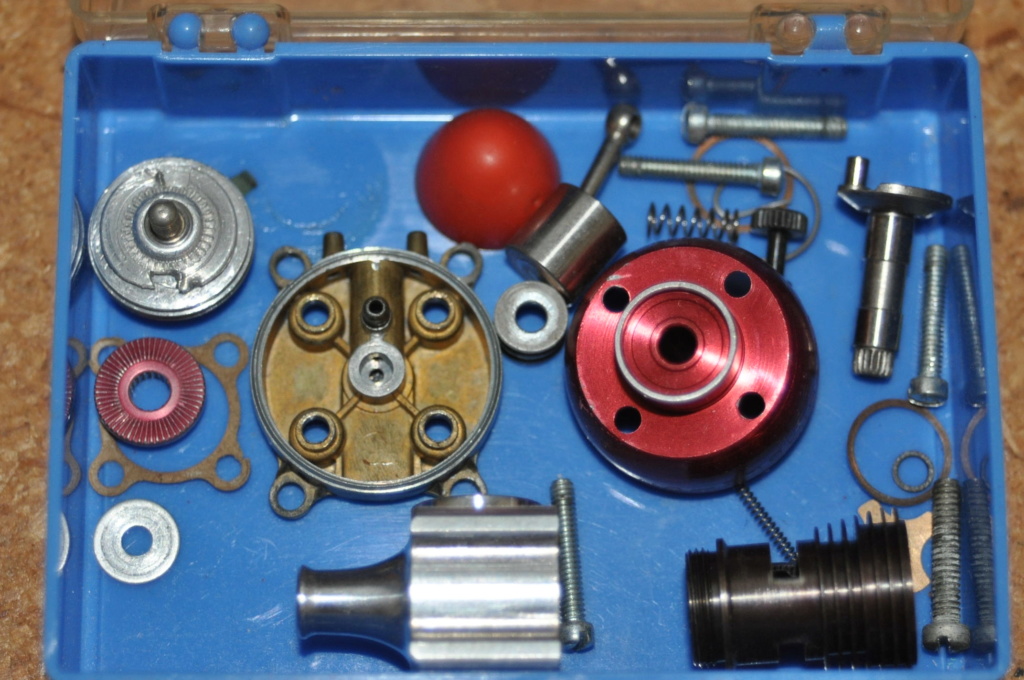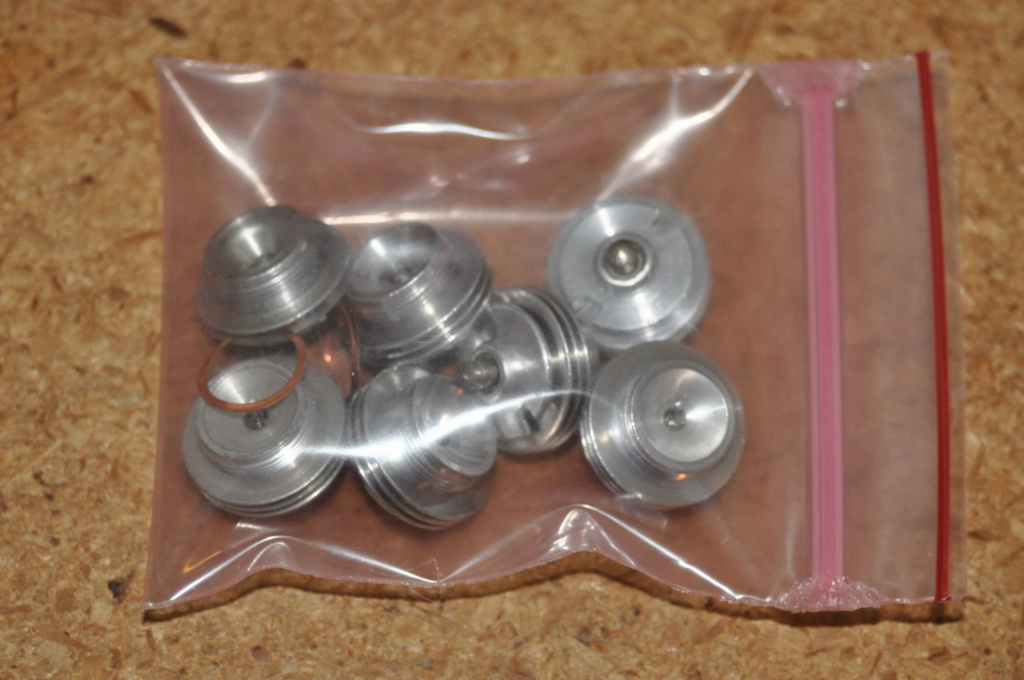 Last edited by FlipStart on Thu Sep 06, 2018 8:36 pm; edited 2 times in total (Reason for editing : Pictures didn't go, Oh, I forgot to hit Send I think.)
Welcome aboard! The small stuff is getting pretty hard to get the big/hard parts for (cylinders/pistons).
All of them can be rebuilt with current vender parts (read that "not everything must come from eBay").
Small is fun...a little bigger is more fun!

PS, I like your hard "klunk" tank.
Gold Member





Posts

: 463


Join date

: 2017-02-08



Nice collection of engines. Looks like you have most if not all the parts to to reassemble each one. Luckily your Pee Wee backplate still has all its mounting lugs. Be careful not the break them off, those backplates are getting rare and expensive. Tee Dee .010 parts, especially the piston and cylinder sets are also fetching crazy prices.
Some parts, like carb bodies and tanks are still being made and are available from
Cox International
and
Ex Model Engines
. These guys are currently the largest suppliers of these parts, they bought out most of the remaining stock when Estes (known for their rockets) shut down that part of their business (continuing to use the Cox name for a few electric models). Many will say the old Cox company that you all knew growing up died in 1996 when Estes bought them. Estes kept the core engine line available and a number of .049 models for several years into the 2000s, but as parts eventually ran out, specific engines were dropped. The Sure Start .049 was marked down to a ridiculous discount of $6.99 which lasted a few years before the big buyout by a group of buyers.
_________________
-Jacob
Rules
|
FAQ
|
Contact the Admin
|
Donate
|
Suggest a Feature

Administrator




Posts

: 4919


Join date

: 2010-07-27


Location

: Roseville, Minnesota



Thanks Jim, I had fun making the tank. I used the red back cover with the pressure tap for crankcase pressure to the tank in the Radio Controlled Quickie 200 and it usually ran great right-side-up or up-side-down. I don't remember the flight times I was getting but since "no carburetor" it was wide open for the whole flight and it was long enough that I was usually brain dead and ready for a rest by the end.

Jeff
Thanks for the information Jacob.

As I remember the the crank bushing is a little wobbly in the .020. The .010 I think may only have been bench run a couple of times. I would like to polish up some of the ugly aluminum parts for the TD.
I'll just half to clean them up and put back together. I need to find out which heads are considered stock for which engines.
Or maybe different heads for different nitro content in the fuel, prop size, altitude maybe.

It Looks like I'm in for some fun.

Jeff
Check out the links under the "INFO" heading on the left side of the page. Here's one for the Wikipedia Cox page.
https://www.coxengineforum.com/h31-cox-history
Go to the bottom page to get a good description on the different heads.
Rod.
Diamond Member





Posts

: 2526


Join date

: 2012-06-15


Age

: 56


Location

: Victoria, Australia



Oldenginerod wrote:Check out the links under the "INFO" heading on the left side of the page. Here's one for the Wikipedia Cox page.

https://www.coxengineforum.com/h31-cox-history

Go to the bottom page to get a good description on the different heads.

Rod.
Thank you Rod!...  
 What a great page! That's just what I needed.
Now I can figure out which one goes on which engine, stock anyway.
It looks like I have one of those special W element heads also.
Jeff
I have been working on the TD .051 and got it pretty well cleaned up. The crank case, back cover & carburetor venture all had those gray parches/spots that these engines get when neglected. The manifold locking nut was pretty much all gray. I currently have a satin finish on that nut that I do with an old tooth brush, a little water & old school power Comet Cleanser. Depending on how much you scrub, how stiff the bristles & how wet the mixture you can get a nice satin finish on aluminum & some other metals.
I used one of those small brass or bronze wire brushes on most everything to remove the gray patches, on the aluminum parts
& surface rust on the outer cylinder & fins. There was some light surface rust on the cylinder walls with only 2 spots of any consequence (if even that) below one exhaust port. I used a .22 cal. barrel brush and just worked the surface rust off with that and it came out quite nice with no actual rust damage to the metal.
I just lightly put everything together for a photo shoot. The manifold isn't seated all the way and just have the prop driver barley on the splines. That spot on the piston which happened to show up in the photo isn't nearly as bad as it looks. I still gotta decide if to go satin or polish the nut and carb venture.
Jeff
Good job on the clean up , she looks Nice This address has some good info while your reading > go to BACK TO HOME PAGE at the mid point of page >
http://www.mh-aerotools.de/airfoils/index_centerframe.htm
Top Poster





Posts

: 5858


Join date

: 2013-01-18


Age

: 61


Location

: julian





Similar topics
---
Permissions in this forum:
You
cannot
reply to topics in this forum