Cox Engine of The Month
April-2019
MauricioB's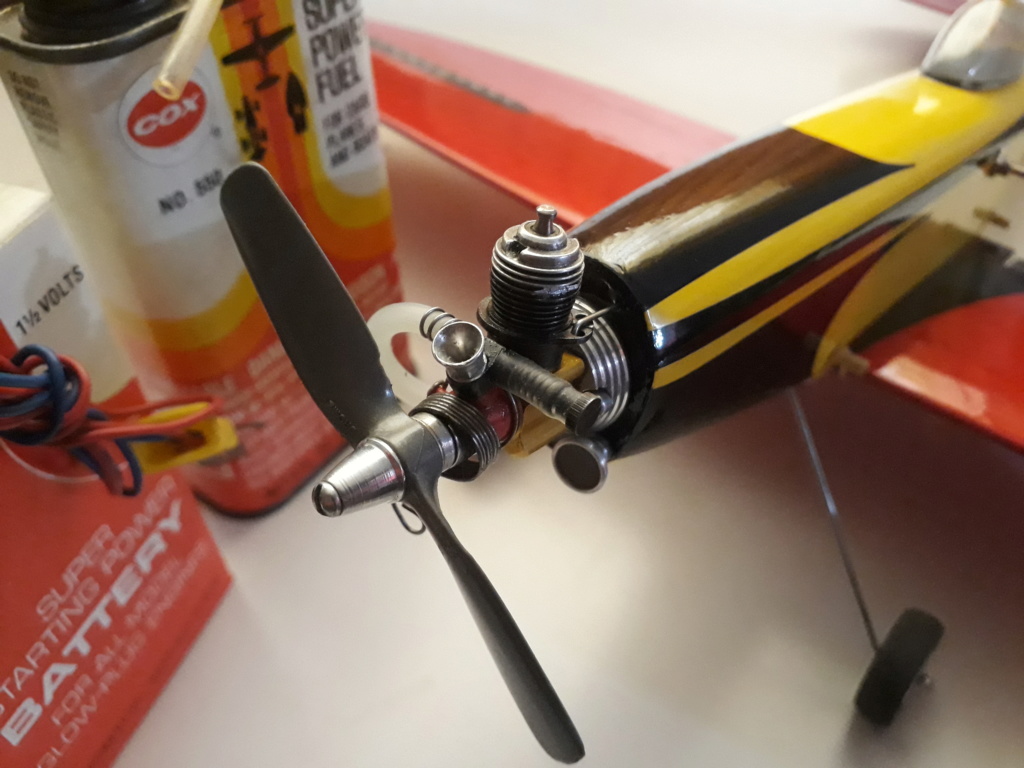 "Tee Dee .010 r/c"
---
PAST WINNERS

Short story is the non-running Corsair of
PT fly if you got them day
runs.  Finally.
I mentioned in a previous thread that I intended to clean the Corsairs engine mostly assembled in Simple Green and a water rinse like I did the F-15 engine.
Mark and I tried to get this engine running even resorting to using an electric starter.  It would run off the prime then stop despite a wide range of needle settings.  Thinking the reed castor locked or the fuel tank contaminated we just quit.  
So this morning I removed it and soaked it in Simple Green but this time I used a hot water (painful) rinse.  Lot's of crank shaft rotation in both the SG and the hot water but this time without the glow head attached.  I worried about water left in the crankcase so I removed the cylinder.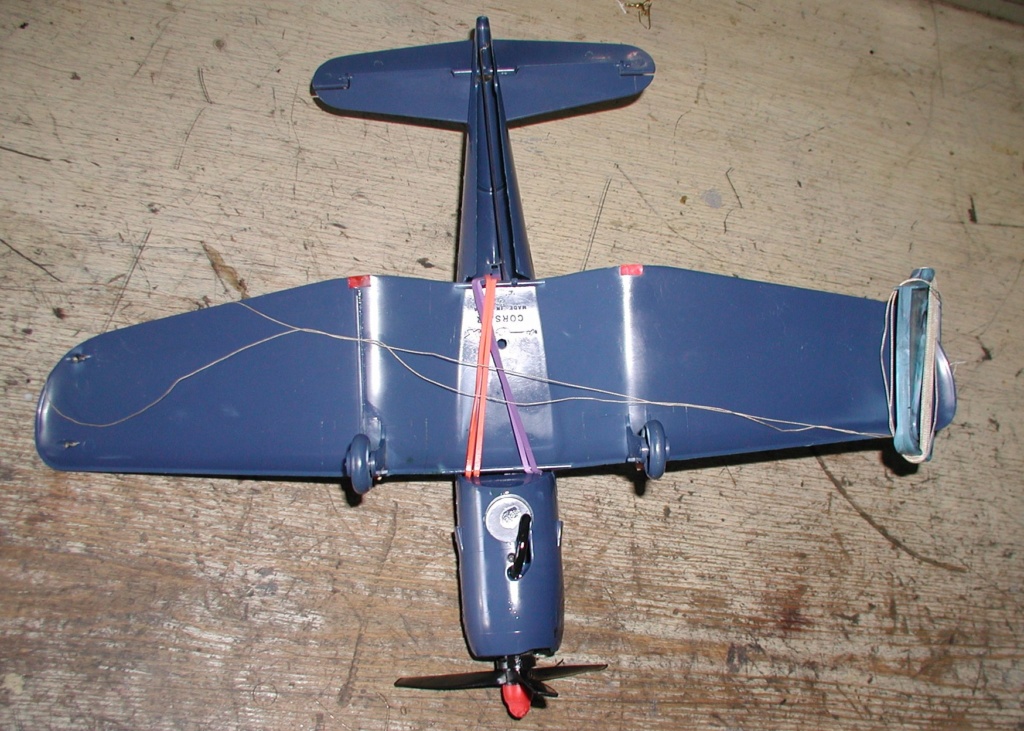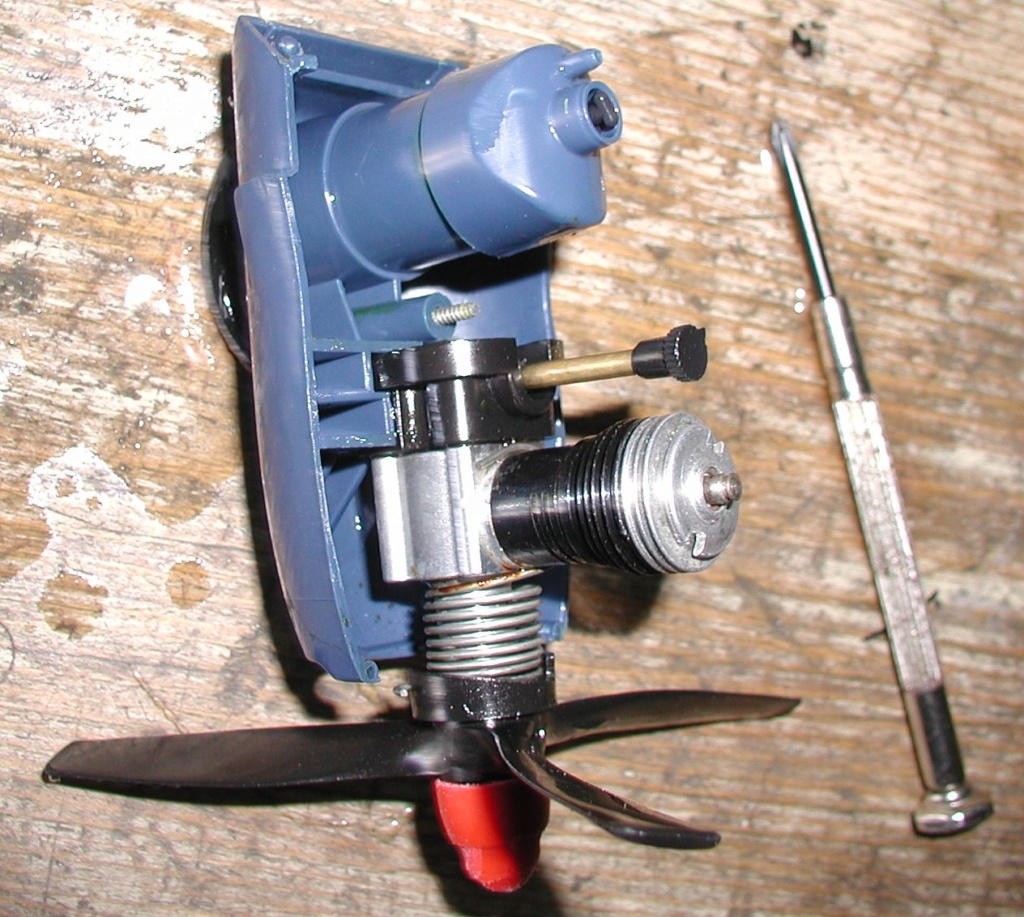 Low pressure compressed (40 psi) air blow out of the fuel tank removes any remaining liquids.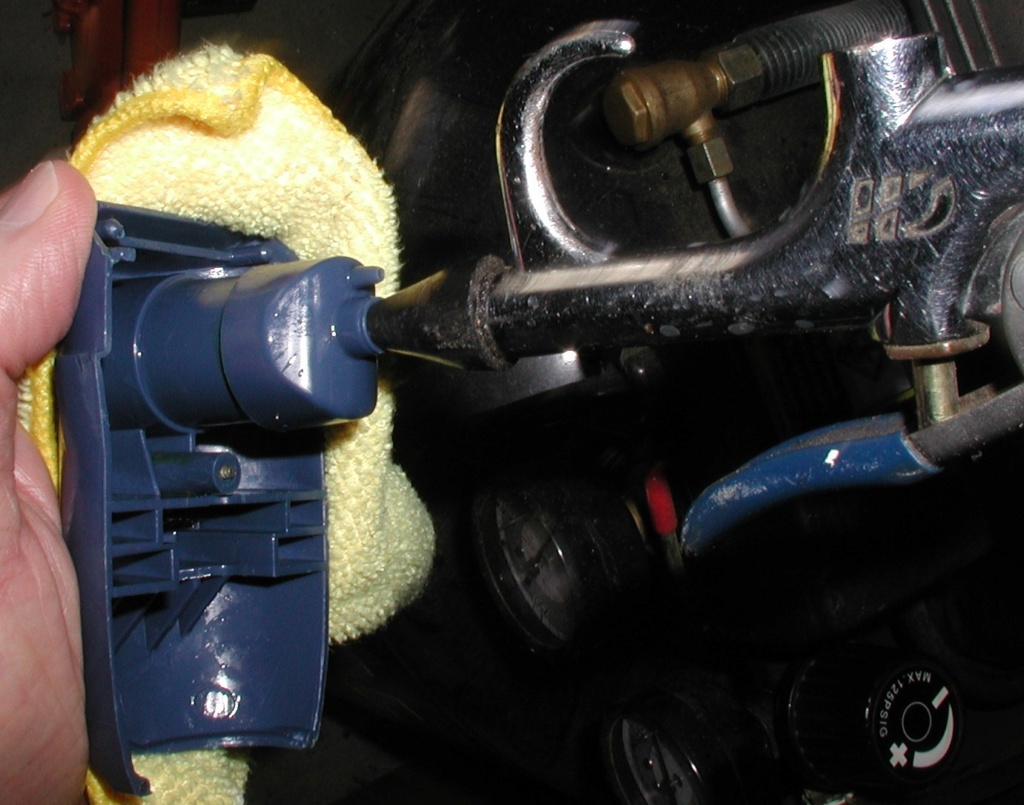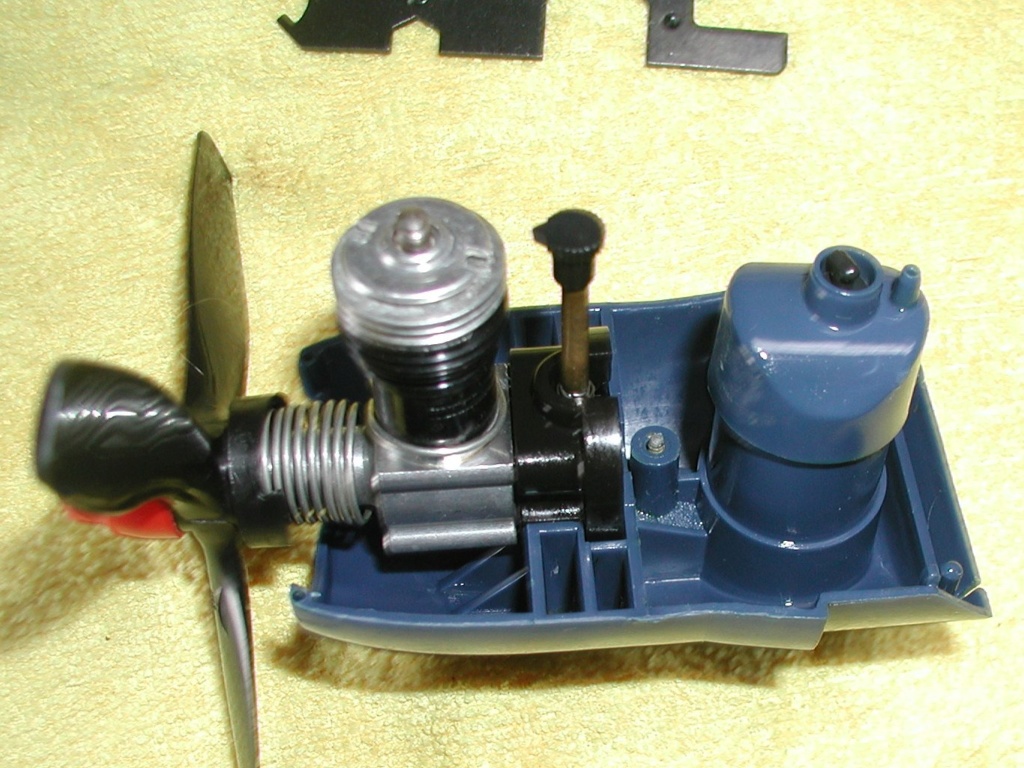 Blew everything out with compressed air and finished with Remoil and lot's of crank shaft rotation, blew excess out.
Determined this time to use the spring starter only and with high hopes I turned the NV out 3 turns, primed, and flipped.  Ran off the prime.  I varied the NV setting a turn or two in both directions occasionally getting a five second run over a 15/20 minute period.
Frustrated, I opened the NV 5 or 6 turns and flooded it.  %$##@@@** engine.  Closed the NV and flipped several times.  Opened 3 turns again, prime only.  4 turns, a short burst.  4 1/2 turns - HOPE, sputters, runs, leaned, died.  Opened to 5 turns, runs!!! Adjusted NV to a nice even chant.  Victory.  
Took it outside and had thoughts of just letting it go.  Did this once and lost a balsa hollow log as it slowly circled away.  Never found it.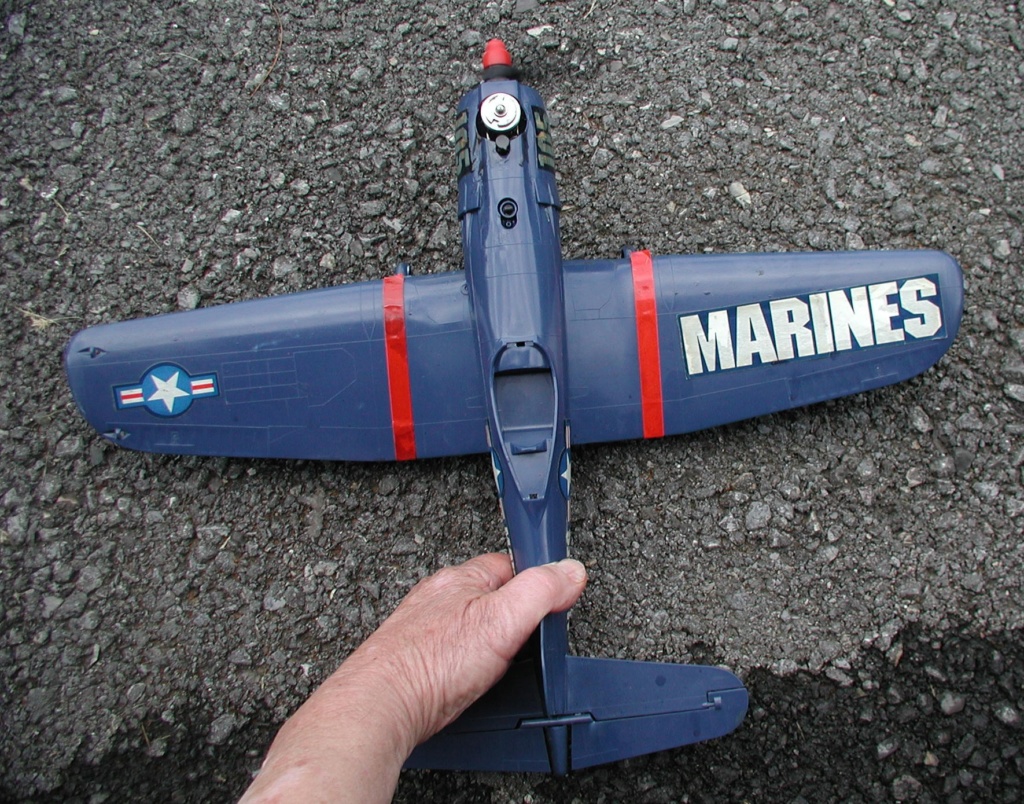 Drops oil just like my MG.  
Good job, friend, it looks great!
Diamond Member





Posts

: 2003


Join date

: 2016-02-16


Age

: 48



Good job Bob you got more patient than me , I usually take the reed out and clean if needs replacement there not hard to make and inexpensive . Just bee sure and get the Mylar ones they are the best in my option.

Top Poster





Posts

: 5661


Join date

: 2013-01-18


Age

: 61


Location

: julian



MauricioB wrote:Good job, friend, it looks great!
Thanks Mauricio but.....................
While I have little doubt that many of you could get this engine running in no time, this one has like no other engine car, boat, or model has beaten me.
I took me most of an hour to get it running on PT-19 day but when I finally did get it to run it ran great.
No Mark this time, so I got out the rinky stooge and set everything up on 19 foot lines. Not much space but enough to avoid a maple tree, house, and shed. If I'm careful. Nice runway to take-off from though.
It previously ran great on 4 1/2 turns so I opened the NV 5 turns primed and flipped. Sputtered and stopped. Went to 4 1/2 turns. Same result. Over the next 15 minutes I tried several prime/no prime NV variations.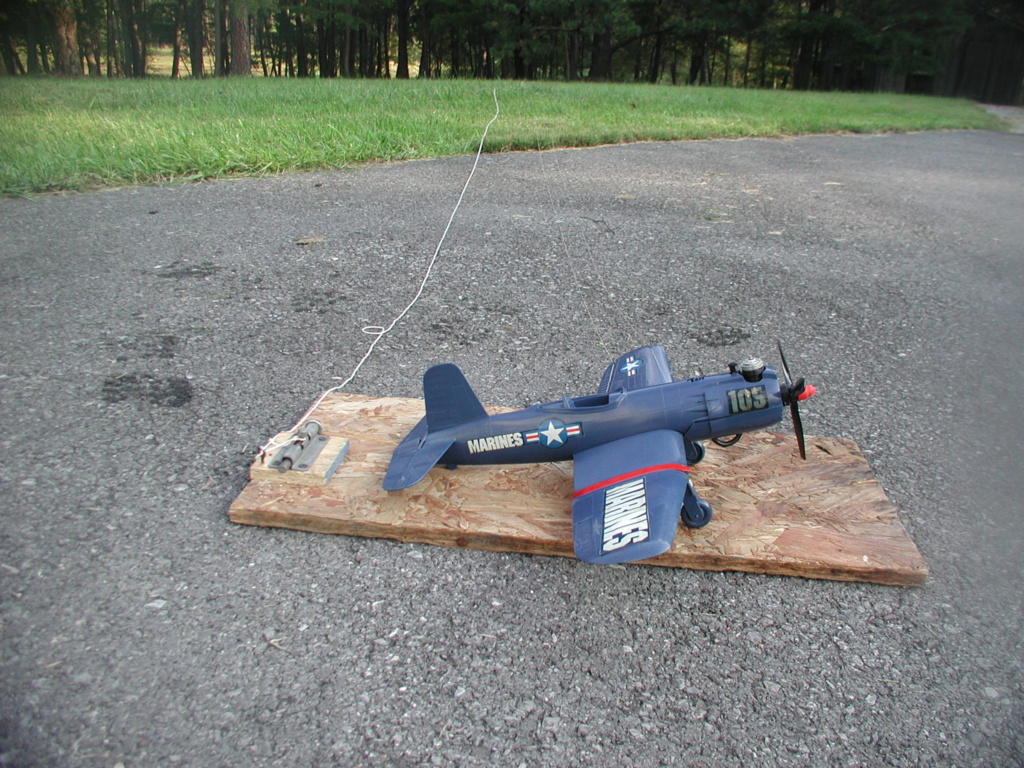 Glow head maybe. Substituted the glow head off the easy start Cox F-15 we flew on PT-19 day. Same result. After another half hour with sweat dripping into my shoes I gave up. I have things to do, places to go, and lawn to mow.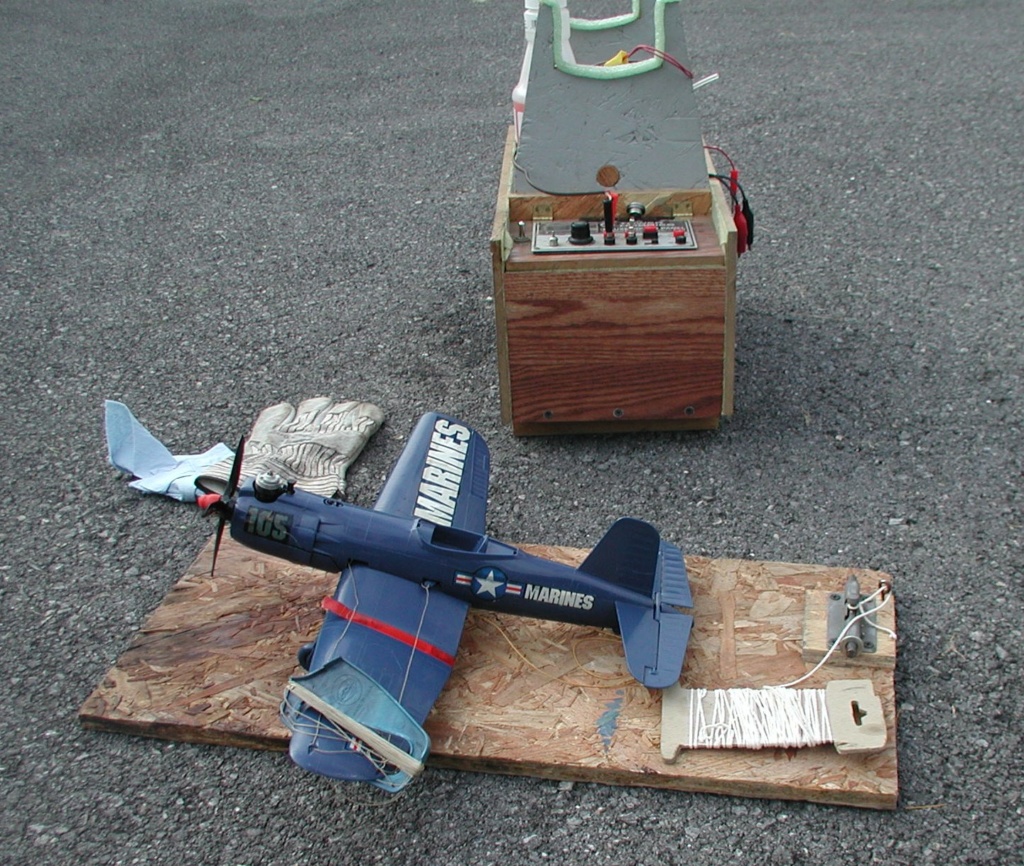 Some day when I cool off I will replace the offender with a known good engine and fly it.
Frost blue Gatorade time.
getback wrote:Good job Bob you got more patient than me , I usually take the reed out and clean if needs replacement there not hard to make and inexpensive . Just bee sure and get the Mylar ones they are the best in my option.

 
What I would normally do also Eric.  But my goal here was to get a non-running engine to run without removing the back plate and cleaning the gummed up reed by flushing it assembled with Simple Green and water, which I did (after many attempts) and it ran great.
But this second attempt just didn't happen, curious considering that it had run just 24 hours earlier.  
I have been having fun with Cox engines for over forty years now, never encountered one like this.  
Bob
I once got a Cox Shrike car that looked new and apparently never started but stored away for 10 years or so with a full tank of fuel.
Soaking in alcohol made the Bee look like new but it still wouldn't start.
Upon disassembly I found that the engine had been assembled at the factory with TWO mylar reeds!!
In the spring I got an English DC Sabre .09 engine from a buddy that looked like something metal wrapped in dirty smelly diesel goo.
A shot of carb cleaner got it recognizable as an engine of sort, then a two hour soak in 91% alcohol made it come at nice.
New clean alcohol in the jar for another hour and a hit with WD40 and soft brush got it like new again. Easy with no work..
Haven't mounted or started yet but no doubt it will start.
Steve...………..
Gold Member





Posts

: 344


Join date

: 2012-02-28


Location

: Georgia



Hi Robert, I too have had my share of Cox engines that caused me to scratch my head..
I realize that it's a pain to completely disassemble an engine for cleaning.. but the reed
"is"
the heart of these little mills. The trouble is.. we can't see it or check it without removing the "back-end" from the crankcase. Be careful with compressed-air. I'm not saying that you did this; but blowing through the rear air-intake could have forced a piece of "grit" through the mesh-screen, heading straight for the reed. A tiny speck of grit/sand getting lodged could cause the reed to "stick".
The reed could be damaged.. and still allow the engine to run intermittently. I've made it a habit to inspect the reed, seat and retainer for any abnormalities. A magnifying-glass or loupe is a great tool for this.. along with good lightning. I use a cotton-swab ("Q-Tip") soaked in solvent to clean the reed-seat and area where the retainer contacts. If the reed doesn't look damaged, don't be afraid to reuse it. Clean it with the cotton-swab/solvent too.. and make sure that there's no foreign debris on it when you reinstall it.
There are different retainer-styles for holding the reed in place.. but regardless of the type; you can..
and definitely should
check the function of the reed with its retainer in place BEFORE reassembling to the crankcase. This is done by simply and gently (with your mouth/lips) blowing and sucking on the front-side of the carb or tank-assembly before inserting it into the rear of the crankcase. You should be able to feel the reed "seal/closed" when blowing (pressurizing) and feel it "open" (air-flowing) when sucking (applying vacuum). If the reed doesn't seal/close when blowing; the engine will not run properly.. if it runs at all. Make sure that the reed is not creased.. or cracked.
Don't forget to consider the
"silicone fuel-tubing seal over the needle-valve stem"
remedy. The numerous "back-end" air-leaks that can occur with these engines will cause you a world of grief.. if left to chance.
Top Poster





Posts

: 6384


Join date

: 2013-07-17


Age

: 59


Location

: N. Smithfield, Rhode Island



Thanks roddie,  

I will do my usual disassembly, inspect, and clean this engine. Sometime.  I was just seeing if I could clean what I thought to be a gummy reed without removing the mount.  I am curious now as to what the reed looks like.  I have found, as mentioned above two mylar reeds stuck together before.  

I know this engine had been ran, I just don't remember if it was me that did so.  Can't even remember how I came by this Corsair ebay sale probably.  

Bob
Last edited by rsv1cox on Sat Sep 22, 2018 3:28 pm; edited 1 time in total (Reason for editing : Changed "postage stamp" to mount......Senior moment.........again. :))
roddies response stimulated me to disassemble the thing and I can find no fault.
The mylar reed is good as is the retainer, the engine is clean and low pressure air through the fuel tube comes out where it's supposed to. The needle is in good shape and everything appears normal. Even checked the venturi with a flashlight.
I'm going to replace the reed and reed retainer and try again.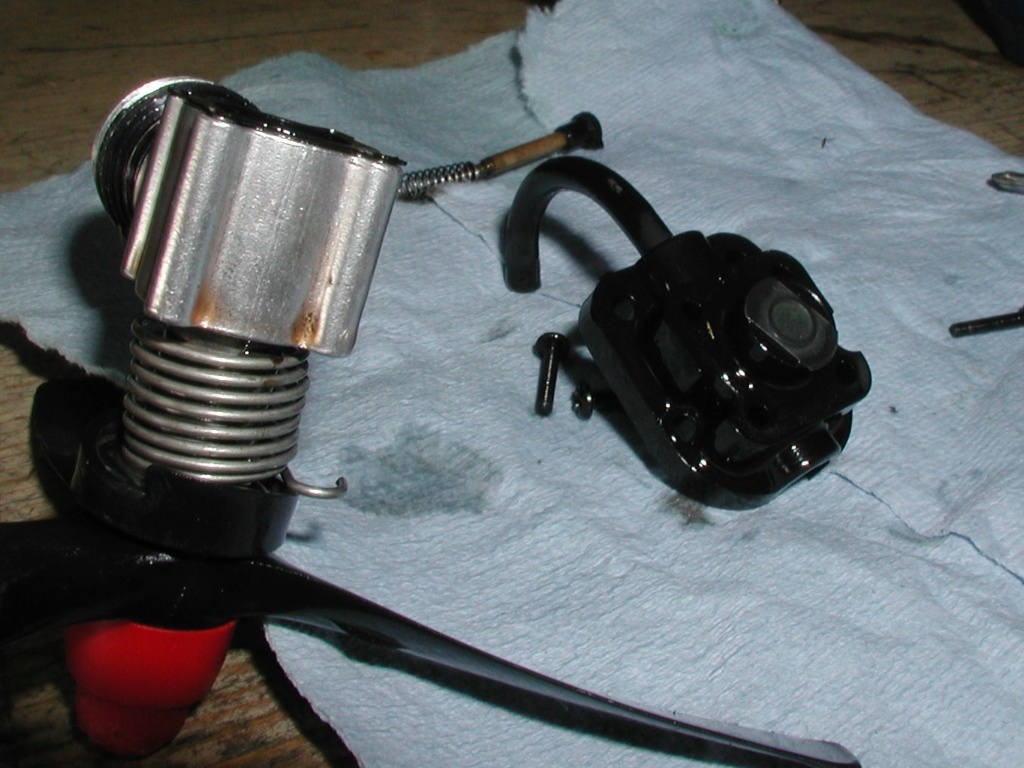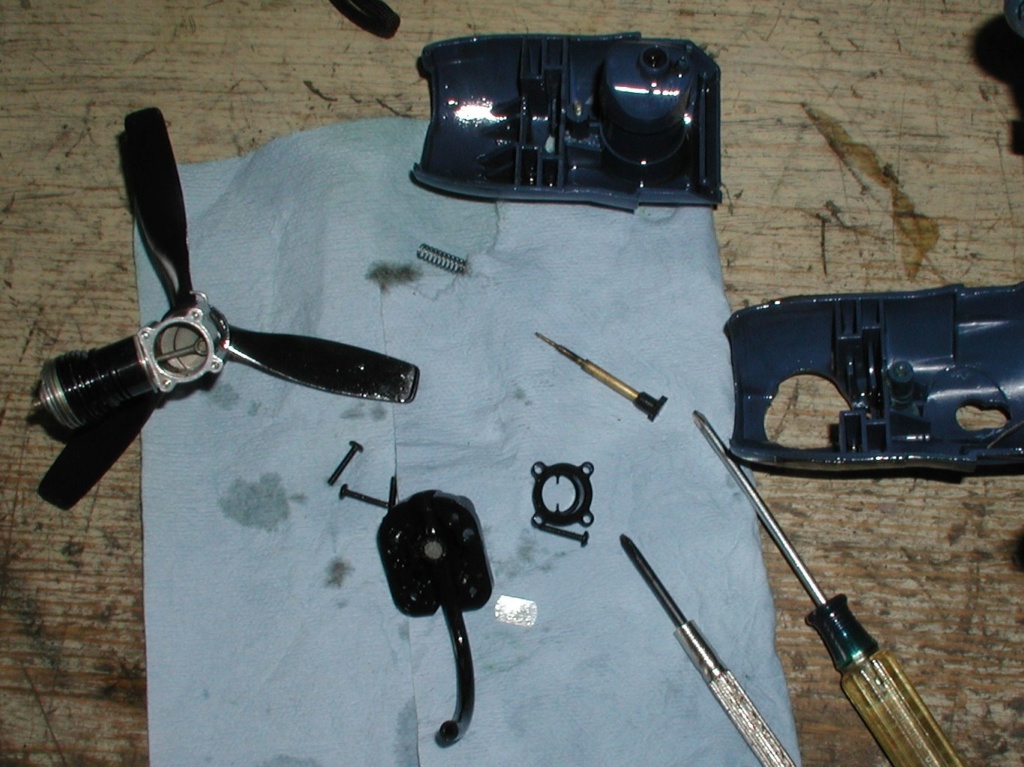 Similar topics
---
Permissions in this forum:
You
cannot
reply to topics in this forum