Cox Engine of The Month
September-2023
balogh's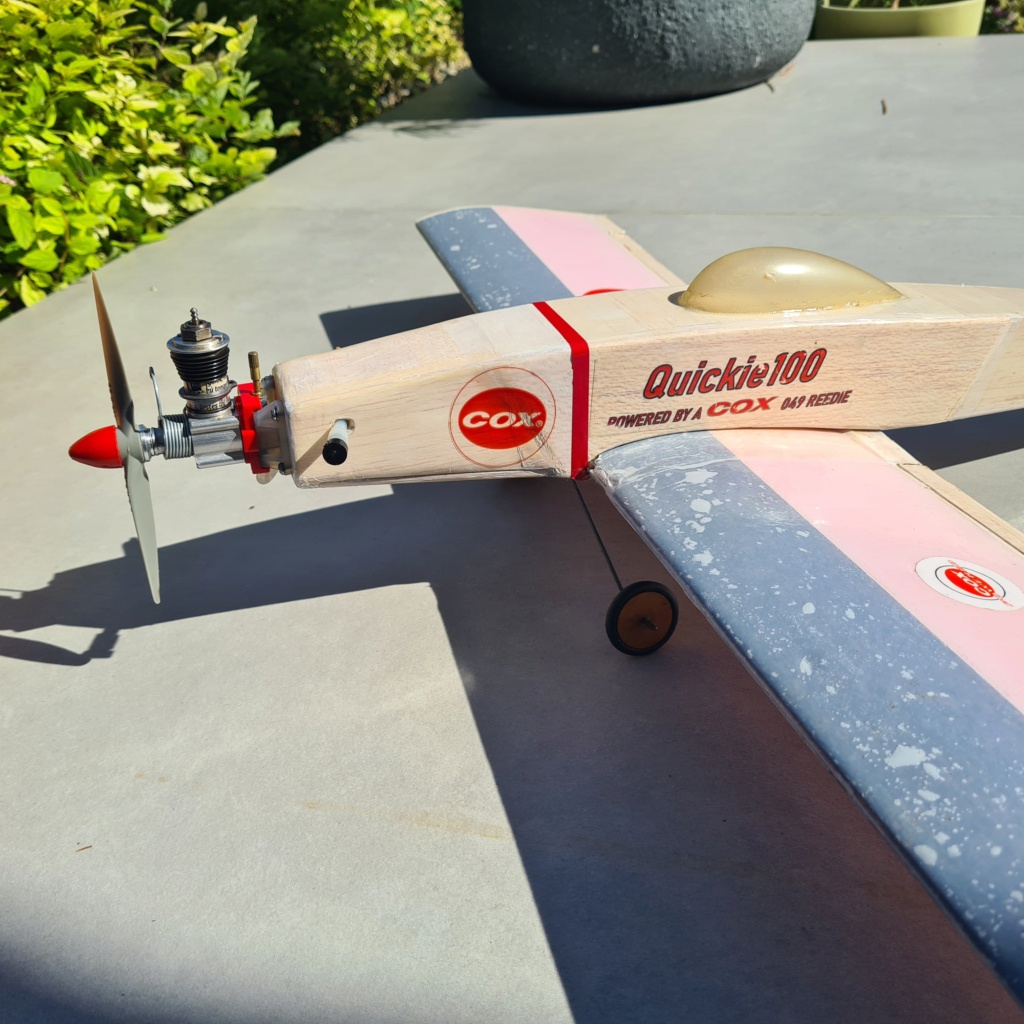 "Beefed up old stock 290 on my Quickie100 RC after plenty of airtime hours..."
---

---
PAST WINNERS
I recently found an Apache helicopter NOS. I put it together and took it out last weekend to try it out. The engine was started and I ran 4-5 tanks through it on the ground, very rich. I tuned it to just a "4 stroke", allowed the rotors to start generating lift and let it go. The thing would go up, start leaning out, and climb rapidly in a good 2 cycle, the just quit. When retrieved, the fuel tank would 1/2 full. It would do this for all 10-12 flights I made. I kept thinking it was leaning out too much, so I kept backing off the needle. I did this until it didnt have enough power to climb, and just hovered. Holding it in my hand, it will run the fuel dry at any needle setting.

Is the centrifugal action forcing the fuel to the side of the tank and starving the engine? Do i have a pick up to adjust?

Any suggestions would be appreciated.

I was pretty fun with just half an engine run, but would be a lot better with another hundred feet of altitude.



flying poodle

Moderate Poster





Posts

: 29


Join date

: 2013-08-09



Yes, you are right about centrifugal action. Fuel line must be at opposite side. Open tank and change the direction of fuel pick up line to side.

Levent Suberk

Diamond Member





Posts

: 2097


Join date

: 2017-12-24


Location

: Türkiye



Which helicopter is it? I thought the Apache was a control line version, with the engine on the front. The free flight ones came in both .049 or .020, both with a special fuel tank specifically for the copter. I wouldn't think the tanks had a pick-up line that could be adjusted. Do you have any pictures?

Oldenginerod

Top Poster





Posts

: 3869


Join date

: 2012-06-15


Age

: 60


Location

: Drouin, Victoria



It may not be the Apache. It is free flight .049 sure start. An attack heli at any rate. I'm at work and don't have any pics.

flying poodle

Moderate Poster





Posts

: 29


Join date

: 2013-08-09



Its the Cobra, not the Apache.

flying poodle

Moderate Poster





Posts

: 29


Join date

: 2013-08-09



Aww, I thought it'd be cool to see a video of the CL Apache being let loose as a free flight Copter!   Anyway the little plastic tank on the 049 Copter engine is tapered and the pickup tube is at the bottom so you should have a "full" tank run to empty. Remove the NV and flush the tank if you think there might be some crud in the fuel line. Be careful if trying to remove the tank, although it just slip fits onto the tube, I have had them break do to age and brittleness of the tank neck.   No worry Bernie has replacements:
Last edited by Marleysky on Thu Oct 18, 2018 9:27 am; edited 3 times in total (Reason for editing : Correction)

Marleysky

Top Poster










Posts

: 3617


Join date

: 2014-09-28


Age

: 70


Location

: Grand Rapids, MI



Similar topics
---
Permissions in this forum:
You
cannot
reply to topics in this forum