Cox Engine of The Month
September-2019
Levent Suberk's
CEF Magazine cover featuring the Ex Model Engines Harpy Eagle .049
---
PAST WINNERS

Over on the MG Midget forum there is a thread titled "The perfect road to drive a Midget" that acts as a catch-all thread similar to the Off Topic here.  It runs about 6400 posts over several years.  
Johnny, a prolific poster and I got into a discussion about airplanes and I chided him about not knowing about the PBY which he referred to as a Sutherland.  
From that thread:
---------------------------------------
And Robert never noticed honestly,
Come on I'm British only know the B17 and Dakota



Johnny
Johnny me boy.......

We are both British under the skin. My son has traced the Vining name back to 1505 in England. Recently he had a DNA test (Ancestry) that revealed we are about 92% British and that we once owned and operated the White Horse Inn in Wincanton, Somerset. After a great fire in Wincanton in 1707 the original White Horse Inn was rebuilt and exists to this day.
The first White Horse Inn was operated by Robert Vining and passed down to his son John in 1655. According to Ancestry, the last Vining known to own the Inn was James Vining in 1725. I can't explain why the business card with a phone number shows Robert Vining as the current? proprietor.
Big world.

Robert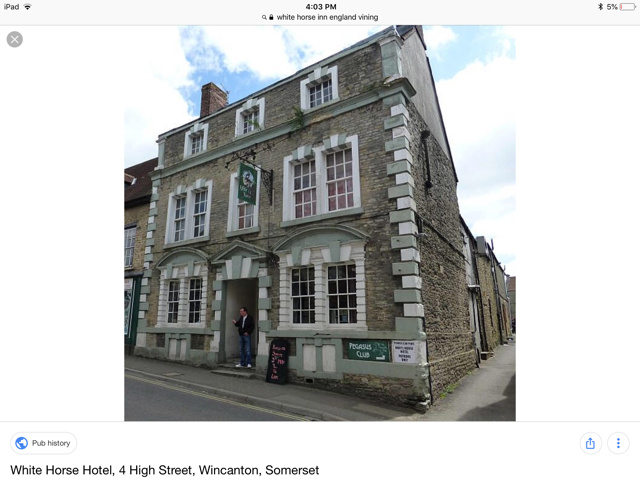 -------------------------------
Just wondering if anyone on the CEF has had their Ancestry explored through DNA?
By the way......Johnny flew C/L as a kid and most of the responders there are well versed in all things aeronautical.  
Bob
Top Poster





Posts

: 4566


Join date

: 2014-08-18


Location

: West Virginia



We have a unique name and the history is hard to nail down due to ancestors changes for various reasons

I am born and confirmed ( a Catholic thing) Frederick Carl Timothy Allen von Gortler IV

Not sure how to do it but the Gortler...the O is umlauted ( two dots over the O)

Funny thing is ---in the 1300s to 1600s the Gortler's in south east- some times Germany- some times Austria -some time something else were all butchers or cobblers...

FUN facts---0400 to 1800 central Europe swapped regional boarders, and political boarders, and religions and/or monarchy leaders every 3 to 6 hundred years,,,a concept we Americans can not really wrap around with our scant 242+/-year history

MY first assignment to Germany in 1975 was Bamberg...in 1976 they celebrated the 1000th year founding of the township
damned big deal and one hell of a party...for a US soldier way better than Fashing.... grin ....few will get that ref....

Later (mid 80s) assigned to Mainz near Weisbaden...wife and I got into visiting the various DOMs in the region...DOM= Giant ...and I do mean GIANT assed Cathedral ...basically the Central Church for the City ( there are of course many others ) but this monstrosity is usually built back near 100 to 300 AD...some we visited took over 400 years to build...thunk on that 242 year America.... 400 damned years to build a giant church...sorry Virginia that is the definition of dedication right there.....no seriously ponder that stuff for a short second....

The Dom in Mainz..has stained glass windows all around the perimeter with an effigy in each of the Cardinals starting at 475-AD to present

do the math....1985AD - 475AD ====1,510 years of history...astounding...our USA historical society today, right now, only has sites from the 1600s registered...SO --only 418 years more or less

IN German heraldry the von sort of signifies royalty of high court standing...my ancestry in the hundreds of European years was simply ---Gortler....no preceding von

My Paternal Grand Father was a shyster, scoff law, rancher, and chrome works owner (polluter) in Puget sound Washington state...in the early 1920s he got sideways with the new IRS and got a shyster Judge in Seattle to let him legally name change to Frederick Carl von Gortler...a Name IRS did not have in their records....

Diamond Member







Posts

: 2878


Join date

: 2011-08-26


Age

: 64


Location

: Lampasas Texas



That's quite a handle Fred.  Honoring past and present relatives I suspect.  Interesting, I enjoyed every word.  

History began some 14 billion years ago.  And before that?  

Time is a circle, never beginning, never ending.  Singularity be dammed.

Bob
Top Poster





Posts

: 4566


Join date

: 2014-08-18


Location

: West Virginia




---
Permissions in this forum:
You
cannot
reply to topics in this forum