Cox Engine of The Month
December-2018
Dave P.'s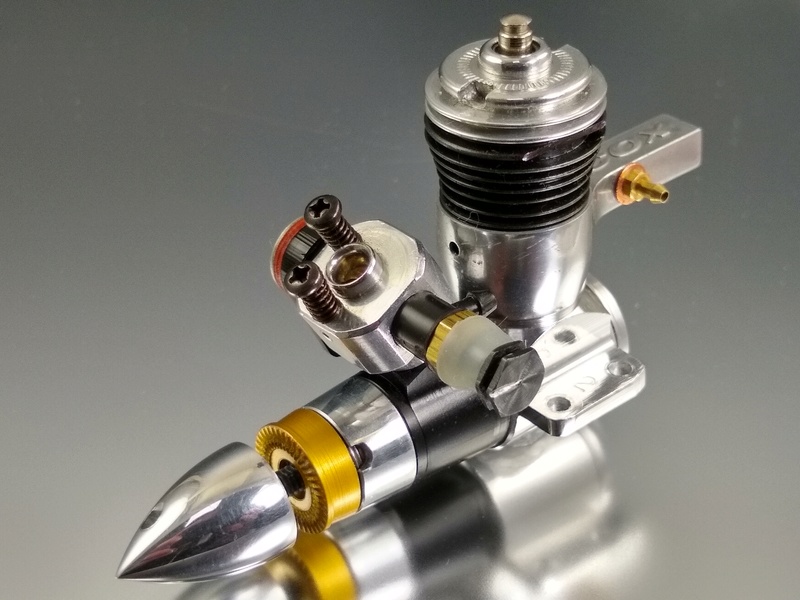 "RC Tee Dee 049"
---
PAST WINNERS

I've had the urge to design another simple 1/2A C/L sheet-wing/profile model for Cox .049 reed-valve power. My last few designs in this class have been smaller models (overall).. than most others, that I designed in my early years. I want to continue that "smaller trend". It started with the 1st CEF Speed Contest conceived in 2013.. when I scaled-down a Grumman F8F-2 to meet the contest criteria. That turned-out to be a fairly small model.. but it was heavy for its size. No big deal for a Speed-model. Next came the T33, P38 and tiny "Flying-Blind". Although finished; (for the most part..) none of those four have flown. None were built to be static-models.. I just really like the designing/building-aspect. My designs usually balance close-to where they should when RTF.

This next design will be a monoplane with futuristic lines.. some being an "illusion" created in the finishing-process.

I'm envisioning something in the same class as the Goldberg "Stuntman 23" or Sig "Skyray".. but more modernized.. a tad smaller.. with a smaller 20-21" wingspan.. but a larger chord. The tail-moment may also be shorter than either of those two designs.

I will create a B.O.M. and check stock on the materials before drawing-out some contours of components. The construction is a planned balsawood one.. with some hardwood/plywood components in key areas of construction.

I'll post more progress as it happens.. but I plan on naming this design; "Fulcrum"..




Top Poster





Posts

: 6112


Join date

: 2013-07-17


Age

: 58


Location

: N. Smithfield, Rhode Island



Sounds good, and like a neat looking model. Just trying to envision something here.
Diamond Member





Posts

: 1599


Join date

: 2011-08-13


Age

: 40


Location

: oakbank, mb



NEW222 wrote:Sounds good, and like a neat looking model. Just trying to envision something here.
I'll work-up some sketches.. and post a photo soon, when I come up with something I like.
Top Poster





Posts

: 6112


Join date

: 2013-07-17


Age

: 58


Location

: N. Smithfield, Rhode Island




---
Permissions in this forum:
You
cannot
reply to topics in this forum