Cox Engine of The Month
March-2023
rdw777's
"Cox .020 w/Homemade Throttle - Pageboy"
---

---
PAST WINNERS
.. are not all the same; as I found out yesterday while out shopping. I saw some pads at Walmart and considered stocking-up, seeing that I use the graph-ruled sheets for drawing-out my model-designs.
The graph-ruling (squares) looked "smaller" than what I have at home. Sure-enough; this paper had 5 squares/inch.. whereas what I have at home is 4 squares/inch.  
wiki graph-paper
I prefer 4 squares/inch because it's easier for me to measure/lay-out a design with "each square" equaling 1/4 inch.
The pad that I've been using doesn't indicate the ruling-size, anywhere on its' cover.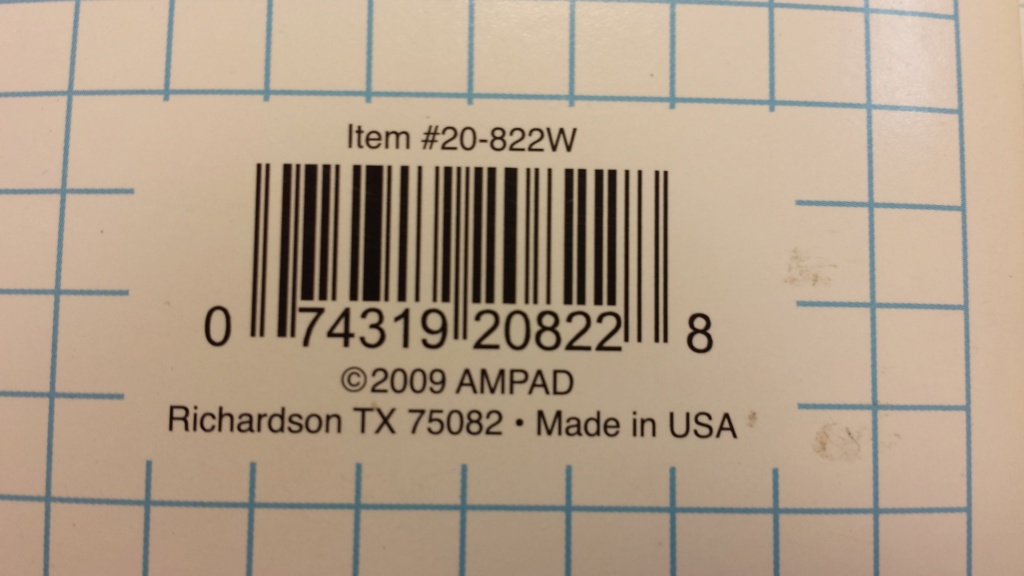 As you can see in the photo below; the squares are 1/4" ruled.
Here are four sheets taped-together (on the backsides) so that I can draw-out my latest design
uncluttered
. The individual sheet "
borders
" may have partial-ruling.. and need trimming to the line. I do this with a metal straight-edge and a
sharp
razor-knife.
Here in the metric world we have two main types of Graph paper, with 5mm and 7mm grids. Most schoolwork is done with the 7mm, as it suits the size of typical handwriting, so it's easier to do math and such. 7mm is approximately 9/32 inches, so it's a bit bigger grid than the 1/4" you had.
I like to use the 5mm grid for sketching, since our "base unit" is one centimeter, Or 10 millimeters. That way I can just use a ruler for long lines instead of counting the little squares
Your 5 grid per inch paper is very close to 5mm.
"Professionals" use paper with tiny 1x1mm grid where the small grid is printed with a lighter colour, and every 10th line is printed heavier so that it is easier to use. That's what I used in the beginning of my engineering studies, along with pens with different tip widths according to DIN standard ("Deutsche Industrial Normen" or something)
 I am definitely old-school, did a lot of hand-drafting, although basic 2D CAD systems were coming already by then. I think I still have a block of that 1mm paper somewhere.
I still like to do my sketching and drafting with a pencil on a 5mm grid paper, causing some amusement among my colleagues

KariFS

Diamond Member





Posts

: 1945


Join date

: 2014-10-10


Age

: 51



That's very interesting Kari. It was the 5 grid per inch paper that I saw at the store yesterday. I use a scale/ruler for drawing-out my designs rather than the actual grid.. but I like having the 1/4" grid-pattern as a reference. Half of a square is 1/8" and one quarter of a square is 1/16th. Any smaller than that.. and I make a notation of the actual measurement on the drawing.
If I were to source another pad of paper.. I would feel compelled to
physically
measure the squares.. than to
blindly
buy it by its' description alone. I had read that "engineering-ruled" is 5-squares/inch.. and that "quad-ruled" is 4-squares/inch.. but then there's info. that contradicts those statements.
There's also "printable" graph-paper links on the web. I should look-into having my wife laser-print a few copies at work.. and see how they look.
I have a book from Mead that's 4/" on one side and 5/" on the other. Might be old. These just sit in a drawer as I sketch in CAD.

gkamysz

Gold Member





Posts

: 299


Join date

: 2018-02-22


Location

: Chicagoland



"FRACTIONS"?  
 Why do people still use fractions?  Get with the decimal system.  You know it makes sense.

Oldenginerod

Top Poster





Posts

: 3771


Join date

: 2012-06-15


Age

: 60


Location

: Drouin, Victoria



Let me see, in 2011 the Australian dollar was worth 1.09 American. Now worth .71 thats decimals and that makes cents.

crankbndr

Diamond Member





Posts

: 2973


Join date

: 2011-12-10


Location

: Homestead FL



crankbndr wrote:Let me see, in 2011 the Australian dollar was worth 1.09 American. Now worth .71 thats decimals and that makes cents.
... oh geez.. what have I started here.. Checkout CEF member Marleysky's (Rene) current
STATUS
when you get a chance..
crankbndr wrote:Let me see, in 2011 the Australian dollar was worth 1.09 American. Now worth .71 thats decimals and that makes cents.
It doesn't just make cents, but lots of dollars as well.
People (including me) can complain that buying stuff from overseas is too expensive when the AUD is low like this. 2011 was when I would have bought most of my collection.  Now I need to be really careful what I pay, but the flip-side is that any export commodity is now cheaper for the purchaser and better for our economy. Dollar down, exports up, so there are tradeoffs.
The biggest problem I have with your non-metric talk is not fractions.  As a Commonwealth country we're used to the imperial system.  I just don't understand the screw-thread system you have over there, Gauge X TPI.  When you get to 1/4" you revert to fractions??  Why is that?  It seems that some of your common size screws do match our imperial ones, but boy it's hard to figure out.  Right down to the smallest imperial screw we still use fractions, plus there are generally only 2 thread pitches, UNF & UNC.  A good thread conversion chart is needed to work out what we need to source for our American engines.

Oldenginerod

Top Poster





Posts

: 3771


Join date

: 2012-06-15


Age

: 60


Location

: Drouin, Victoria



---
Permissions in this forum:
You
cannot
reply to topics in this forum