Cox Engine of The Month
August-2019
fredvon4's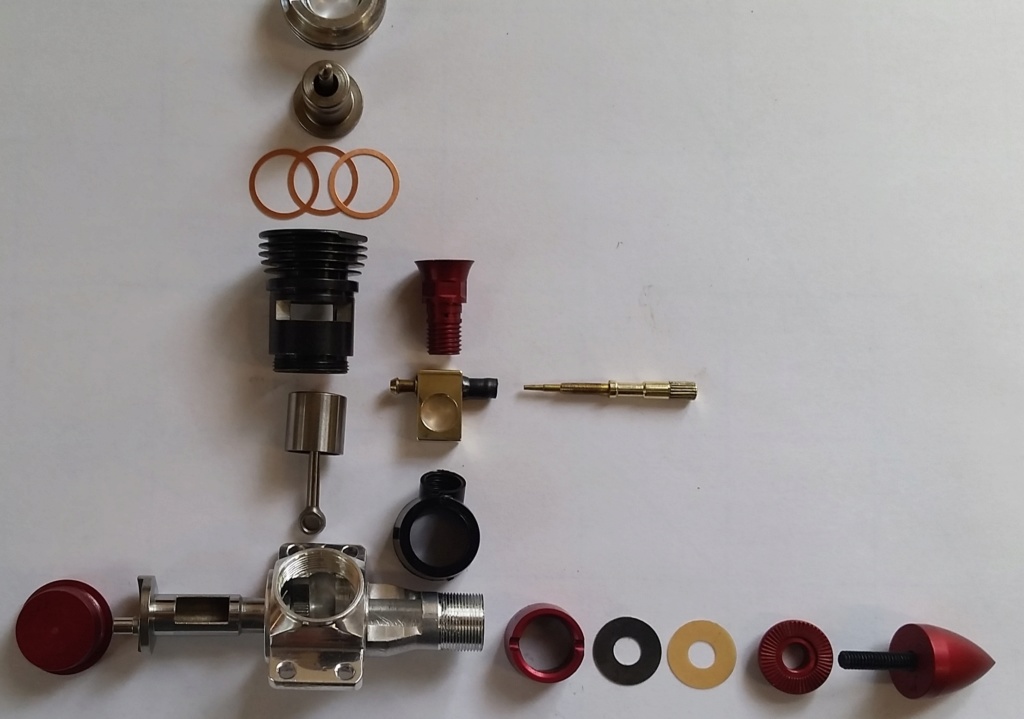 "Tee Dee .049"
---
PAST WINNERS

Want to buy servicable Carl Vogt or similar exhaust restrictor for .010 engine
Moderate Poster





Posts

: 22


Join date

: 2016-04-19



Good luck you will never buy one, no one will give up their micro
throttle ring unless they are 6ft under and a family member does
not throw it away along with most of their old hobby gear. Must
make the effort to give the gear away or sale it on ebay etc.
Want throttle bad enough this is what it takes:
Pull the cylinder off your engine under bright lights with a bench grinder
slowly grind off the footing close to flush to the cylinder. With a fine file  
hone down to flush to complete the process. If you have a lathe it would
be a piece of cake. Manual effort will give good results with care.
Now you can slip a DIY steel or aluminum throttle ring over the cylinder.
When you drill a centering hole on each side of the ring. The hole must must
be slightly less dia. then the height of the exhaust ports. Scratch out the
slot pattern in the exhaust ring. Must be less then the width / height of the
exhaust port do not attempt to match the port, if you do when the
throttle is rotated to idle it will not be able to there simply is not enough
real estate between the two exhaust ports to close off and seal enough to
drop the throttle down well enough. The ring but be a tight fit to function.
Diameter is only enough with a oiled surface to rotate around the cylinder
any more and you loose restriction. The TD .010 is a screamer and wants
to continue to scream.
Performance vids:
Published on Feb 1, 2016
Cox TD.010 with throttle sleeve
20% nitro and oil / Static Max 28,082 rpm.
Best reads 11.7k idle
Cox .010 prop modified
Flight reward:
Published on Feb 15, 2016
Lil Speedy TD .010 / Test Flight 3x2E Green Drone Prop
Best pass cross wind 32,792 rpm / 62 mph / per prop calc.
4.7oz RTF solid pull better loops and faster turns great prop with a throttle.
Prop was flown stock has a nice narrow blade proportioned to the engine.
Best down wind pass: 33,941rpm / 64 mph - per 2in pitch prop speed.
Atributes:
- longest flying duration of any TD .010 RC engine on youtube 0:33 to 11:24
- highest thrust to weight ratio of any TD .010 3ch plane
- fast and throttled to slow speeds
- floats in on landings
- acro performance does a wing tip tumble maneuver at 8:30 mins. into the vid.
 adjust playback speed to 0.25 to see the trick more clearly.
 loops up close and rolls great and handles windy weather.
Diamond Member





Posts

: 2442


Join date

: 2013-10-20


Age

: 56


Location

: Brad in Texas





Similar topics
---
Permissions in this forum:
You
cannot
reply to topics in this forum