Cox Engine of The Month
September-2019
Levent Suberk's
CEF Magazine cover featuring the Ex Model Engines Harpy Eagle .049
---
PAST WINNERS

I just aquired a box of cool old stuff that includes some Cox engines and parts. These props were included and I've never come across any of these before. 6x6. What engine were these intended for? Note the large hole on the driver side of the hub. It doesn't fit the .09 or .15 driver and the screw hole is too large for even the .15 prop screw. Is it possible that it was intended for the Conquest .15? Any other ideas?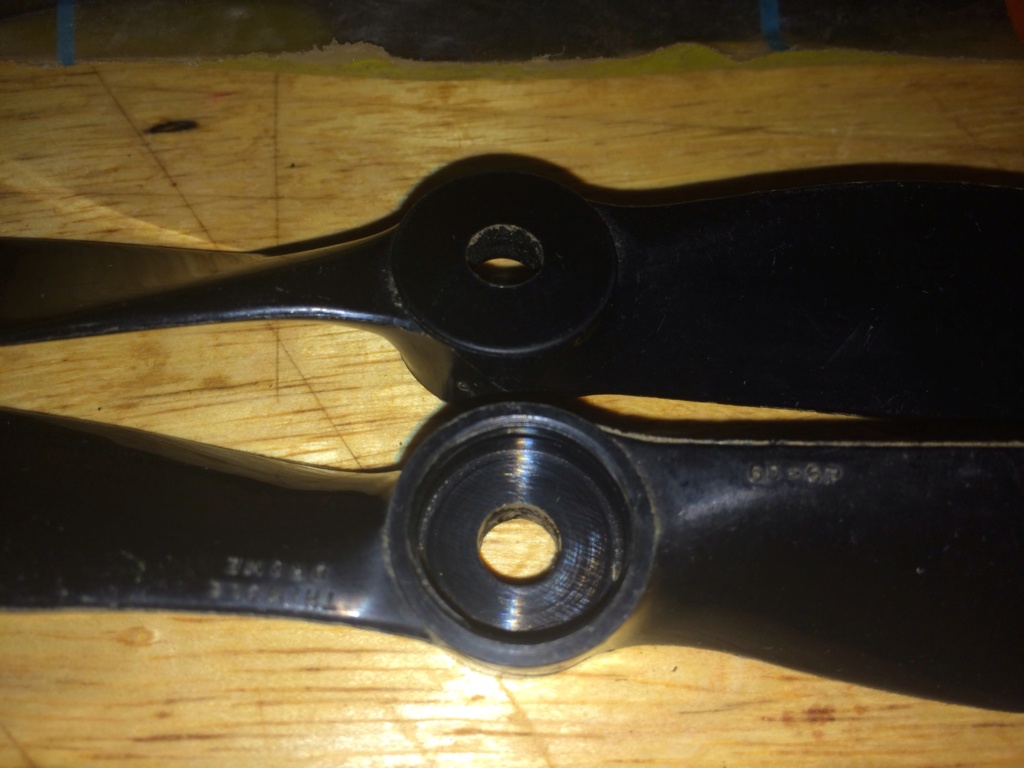 Platinum Member





Posts

: 522


Join date

: 2011-08-25


Location

: Angleton, TX



Hi Troy, its a 6x6 prop for their Sportsman .15 CL plane, the Comanche.
Diamond Member





Posts

: 2505


Join date

: 2013-10-20


Age

: 56


Location

: Brad in Texas



Well I'll be! I think that's it! I had noted how the recessed hub didn't fit on any of my .15 drivers but I was trying to mount the prop backwards! My aging eyes missed that. With the prop oriented properly, it does fit the Sportsman. The only issue at that point is that the stock .15 spinners, Sportsman or otherwise, don't fit the recess in the hub. Evidently, the Commanche spinner had a smaller ID, allowing it to work and making this a "special" prop just for that application. A custom spinner could be fabbed to make this prop work with any of the commonly found .15s, but would it be worthwhile for RC use? I sure enjoy this hobby and resources here. Thanks, Brad!
Platinum Member





Posts

: 522


Join date

: 2011-08-25


Location

: Angleton, TX



That prop is fine for RC use, on the right engine OFC. A carb on that Cox motor would be nice, but I'd almost be willing to bet you could mount it to a 0.12-0.15cid car engine. Those typically turn in the 25-45k RPM range in car use so a typical 10-20 size prop would bog them down, but a 6x6 might just be the ticket. And they'd be an absolute screamer too, especially since they're designed around low oil content fuels(5-6% full synthetic oil is acceptable in them if you're really on top of the carb and they live long, happy lives on just 9-12% oil!).

That prop on an Associated AE15 would make a small pattern ship absolutely scream.

Interestingly, you'd also end up with far far better midrange and idle than a typical plane engine would have, due to the car carb on such an engine having two mixture needles.
Bronze Member





Posts

: 46


Join date

: 2019-03-04


Location

: Mid TN





Similar topics
---
Permissions in this forum:
You
cannot
reply to topics in this forum