Cox Engine of The Month
September-2019
Levent Suberk's
CEF Magazine cover featuring the Ex Model Engines Harpy Eagle .049
---
PAST WINNERS
Page 2 of 2 •

1, 2

I haven't seen much drop in power with the muffler on.
The drop in power that you see might be from overheating and you could try with a lower compression ratio. You can make shims from sheet aluminium or brass, even soda cans but the material is quite thin. The head shims for the Cox .09 engines also fits and are readily available here:
coxinternational.ca
Here is a run with a Turbo plug (OS P6) and a 6x3 prop giving about 17900rpm, it was before I did the carb mod so the low end is too rich:
I just remembered another thing to check for. On my engine the barrel could move past wide open throttle, which will be very confusing for rpm checks. Especially if one has the intake screen on it and cannot see what is full throttle and what is past full throttle.

So I simply put some JB weld into one side of the groove of the carb barrel (the side that should stop against the screw at full throttle). Once it has cured properly one can trim that back with a needle file until the barrel stops just right at full throttle.


Here is some data I have on hand.
Queen Bee .074 with a HQ Prop 5x4.5
New engine broken in with 2oz of fuel thus far here are the results
with the stock cox supplied glow plug and adapter. I do have a Merlin
flat coil plug I want to try as it will increase compression.
Static: 18,195 rpm / 9.5oz / .122hp / 91w / 78 mph
I think there is another 1k rpm after some more tweaking
Throttles well and should unload to 22.2k / 95 mph
Couldn't help myself slapped a Profi pipe on to test a cut down MA 6x4 to 5x4
Static 19,379 rpm / .133hp / 99.22w / 10.7oz thrust / 74 mph
Not bad for a Queen Bee 1.2cc / .074 cu. in. Have not checked the timing
I imagine it is typical around 140 deg exhaust timing could do with a bump
to 160. I did not install this pressure tap the previous owner did it but never
ran the engine.
Diamond Member





Posts

: 2504


Join date

: 2013-10-20


Age

: 56


Location

: Brad in Texas



I see that you guys are getting real good performance out of the Queen Bee.I ran mine again today but went up in nitro to 25% With 20% all castor and 55%methanol. Running the 6 x 3 cox grey prop I was able to get over 18,400 rpm no muffler with the muffler I got 17,900 rpm . I tried to take a pic with the engine running and holding the tach and camera I went to adjust the needle and my hand brushed the prop so no action shots from me. I washed my hand and used some medium CA to cover the cuts and continued doing engine runs. I will be careful and continue to take my pics of the tach when the engine is off.
                                                                                                                          Juan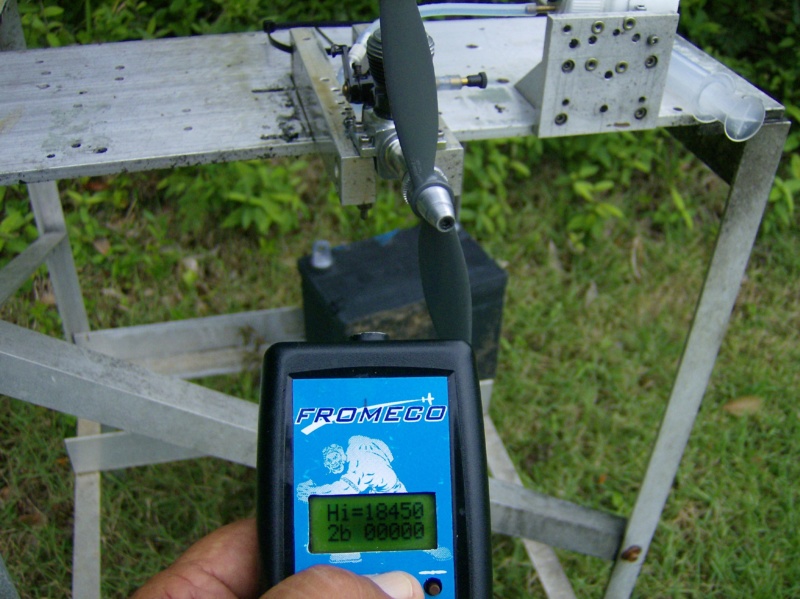 Bronze Member





Posts

: 39


Join date

: 2019-04-09



Much better
A bit of nitro helps to cool the engine too.
I like using a phone app called "RPM Gauge" to keep my
hands free. Some folks use a stand to hold the tach another
good option.
Diamond Member





Posts

: 2504


Join date

: 2013-10-20


Age

: 56


Location

: Brad in Texas



Ouch! Lucky the injury doesn't look too bad, and we have all been there...
It is good to have a certain routine around a running engine, like always standing behind the engine etc. That way there is less risk of trying to reach through the prop arc and other bad things.

Those are good numbers, I would still recommend to try a few different head shims in order to see what happens to the needle position and max rpm. Once you find were it peaks (for a specific fuel) then add one more head shim to stay on the safe side. Squeezing every last of bit rpm out on the bench doesn't always work the best in practice, you want to have a well behaving engine that is easy to start and insensitive to the precise needle setting etc.
I converted a Queen Bee .074 to a Queen Bee .09 by swapping cylinders and pistons and learned something in the process.  First I learned that threading is the same for both engines.  Next I learned that the crankpin on the .074 is smaller than the Tee Dee .09's so I made a bushing for the connecting rod.  Then I learned that the combustion chamber in the head of the .074 is much smaller than the one in the .09 head.  My new Queen Bee .09 ran only on the larger chamber.  .09 heads can be used to experiment with Nelson plugs or with Turbo plugs including making buttons of various chamber shapes.  The newly created Queen Bee .09 ran almost identically to the .074 but with the larger props (7x3) it moved much more air
New Member





Posts

: 3


Join date

: 2017-01-14


Age

: 77


Location

: St Joseph Missouri



I washed my hand and used some medium CA to cover the cuts and continued doing engine runs. wrote:


OLd school skin repair , bee careful out there ,, Garym , that's pretty interesting parts exchange /upgrade . I would think the crank pin bushing would bee a pain to make without a lathe ?! Got a .74 but never have ran it may just have to get it out and see if it even runs .

Top Poster





Posts

: 6187


Join date

: 2013-01-18


Age

: 62


Location

: julian



gee guys i wished i had half your knowlage an tooling...i have two queen bee's one is with out a head because its build from spare sparts...i would love a moderfyed version

Gold Member





Posts

: 335


Join date

: 2011-08-09



Page 2 of 2 •

1, 2


Similar topics
---
Permissions in this forum:
You
cannot
reply to topics in this forum