Cox Engine of The Month
August-2019
fredvon4's
"Tee Dee .049"
---
PAST WINNERS

Last edited by Mark Diedrichs on Fri Jun 14, 2019 6:53 pm; edited 3 times in total (Reason for editing : old age)
Gold Member





Posts

: 205


Join date

: 2017-11-11


Age

: 67


Location

: fairfield ohio



Thanks for the "Father's Day" happy-wishes Mark! That' a
cool
kit!

probably 1:24/1:25 scale? I was born in "60".. and from a  very young age, I could name the make/model of just about any American car/truck on the road. Not so easy to do that these days.. although I still try.
Remembering my "Grandfather" (my Mom's dad) and the car that he owned back in the early 1960's.
Gramps
was a "Mercury Man"..
1957 Turnpike Cruiser.. (not a photo of his car.. but exactly the same)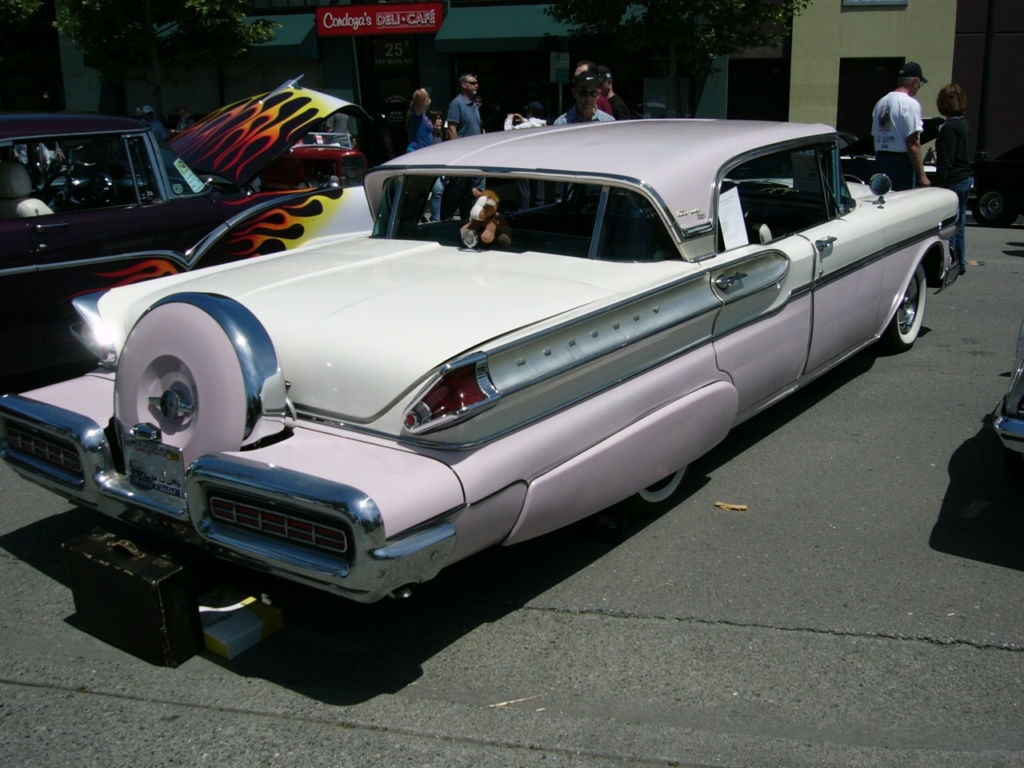 Top Poster





Posts

: 6593


Join date

: 2013-07-17


Age

: 59


Location

: N. Smithfield, Rhode Island



Top Poster





Posts

: 6095


Join date

: 2013-01-18


Age

: 62


Location

: julian



getback wrote:Thats a nice un Mark , Roddie that there is a Pig

When i was 2 or so my Dad had one these baby's

Wish i had it .
Ah...  a 57 Chevy.. Very Nice Eric. (I'll disregard your comment about the Mercury.. ) Gramps replaced that 57 Turnpike Cruiser with a white 62 Monterey "ragtop". Then came a 65 Montclair
Marauder
 (390 V8) He used to tow a 27 foot
Franklin
travel-trailer (seasonally) back and forth to/from "King's Campground" on Lake Manchaug in Sutton, MA. Gramps would brag how that "390" would pull that trailer up a steep highway-grade at 65mph+.. without skipping a beat. It was equipped with an electronic trailer-brake controller.. and an "Automatic-Radio" brand 8-track tape-player!
Top Poster





Posts

: 6593


Join date

: 2013-07-17


Age

: 59


Location

: N. Smithfield, Rhode Island



Top Poster





Posts

: 4373


Join date

: 2014-08-18


Location

: West Virginia



No disrespect to your Dads Car Likes Or your Family at all Roddie , Just saying , did you have to take the spare off to get in the trunk?? Yes the Muscle the old engines had when running right was amazing what they could do !! My Dad rest in a box at this time in his bedroom and i do truly miss and love him ..... I will probably take him over to see his mother at the graveyard today , they would like that since they got along better than his Dad >< Anyway he had a Rambler Mod?? with a V8 that would run 106 in second gear (automatic) Always reminds me of the time i washed it while he was at work and had to call him to say it had a flat tire >> everything was OK till he got home and found i had spun the tire and caught something in the dirt that flattened the tire . But whipping coming up / and the time i filled up the tank for him with water ((( heck i didn't know no better ))) Do NOW !!! LOL Happy Fathers Dad Friends !!
Top Poster





Posts

: 6095


Join date

: 2013-01-18


Age

: 62


Location

: julian





Similar topics
---
Permissions in this forum:
You
cannot
reply to topics in this forum