Cox Engine of The Month
July-2019
Mike1484's
"Tee Dee .020 on a free-flight model"
---
PAST WINNERS

I have a dedicated Wen Mac clip, but rather than spending 15 minutes digging through all my stuff I spent a half hour building my own Wen Mac glow plug lead.
Tried to start this Wen Mac engine this morning using a Cox clip, a losing proposition as it would either short out or fall off.  So I found a compression test lead and cut up an old Cox lead already having banana plugs.  Works great and stays put.  Attached the new lead to the glow plug and it started right off running great but no way was I going to stick my fingers in there to adjust the needle.  No need to anyway as it was running fine.
Second problem was my present set-up.  Impossible to adjust the needle.  A couple of cut 2X4's and new mounts solved the problem.  Gets the needle where I can adjust it and puts the fuel tank on the same level as the NVA.  
I want to run these two engines together, so I have some Y connectors that I will use.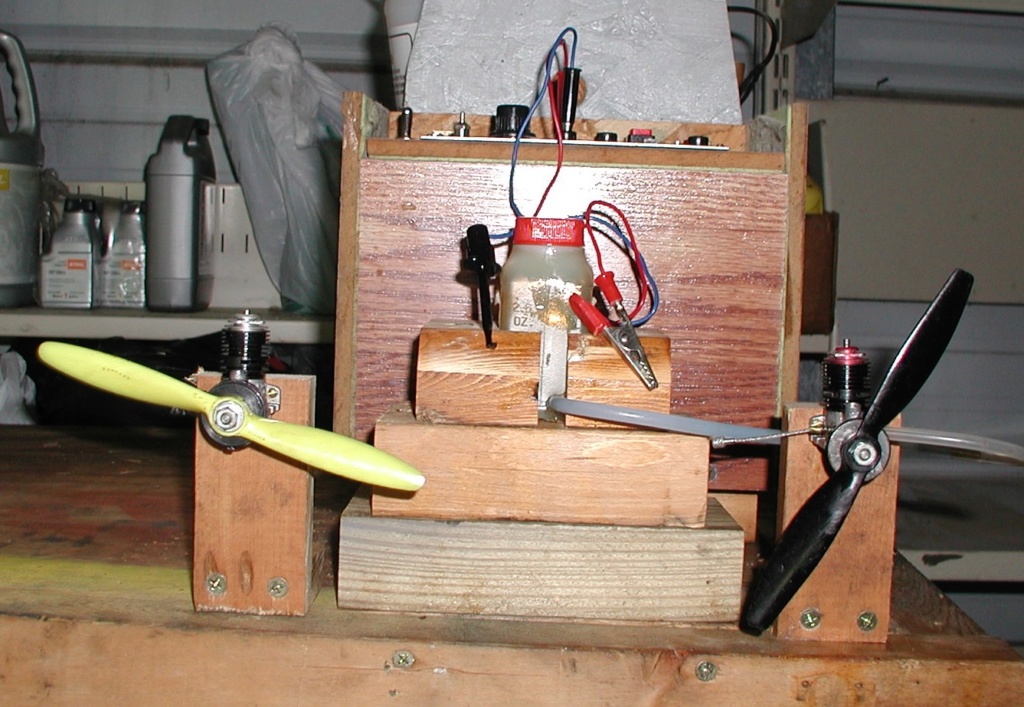 OK Rube, that yellow L/H prop is gonna have to go.
ticomareado wrote:OK Rube, that yellow L/H prop is gonna have to go.
I'm bettin' that one slipped in of a Gilbert engine. Used as a pusher on the "Wing Thing".
Diamond Member





Posts

: 2572


Join date

: 2012-06-15


Age

: 56


Location

: Victoria, Australia



You do what you gotta do.  My first gas engine was a Wasp in a Wen Mac Aeromite.  I was 8 or 9 years old; about 1951.  Can you imagine an 8 year old kid trying to get wires connected to the Wasp clip.  It was essentially identical to the Anderson glow clip.  The terminals were very tiny and close together.  I don't remember anyone around me having a solder iron or gun small enough to do the job.  I bent and twisted wires through the holes, but it was pretty easy for the wires to short.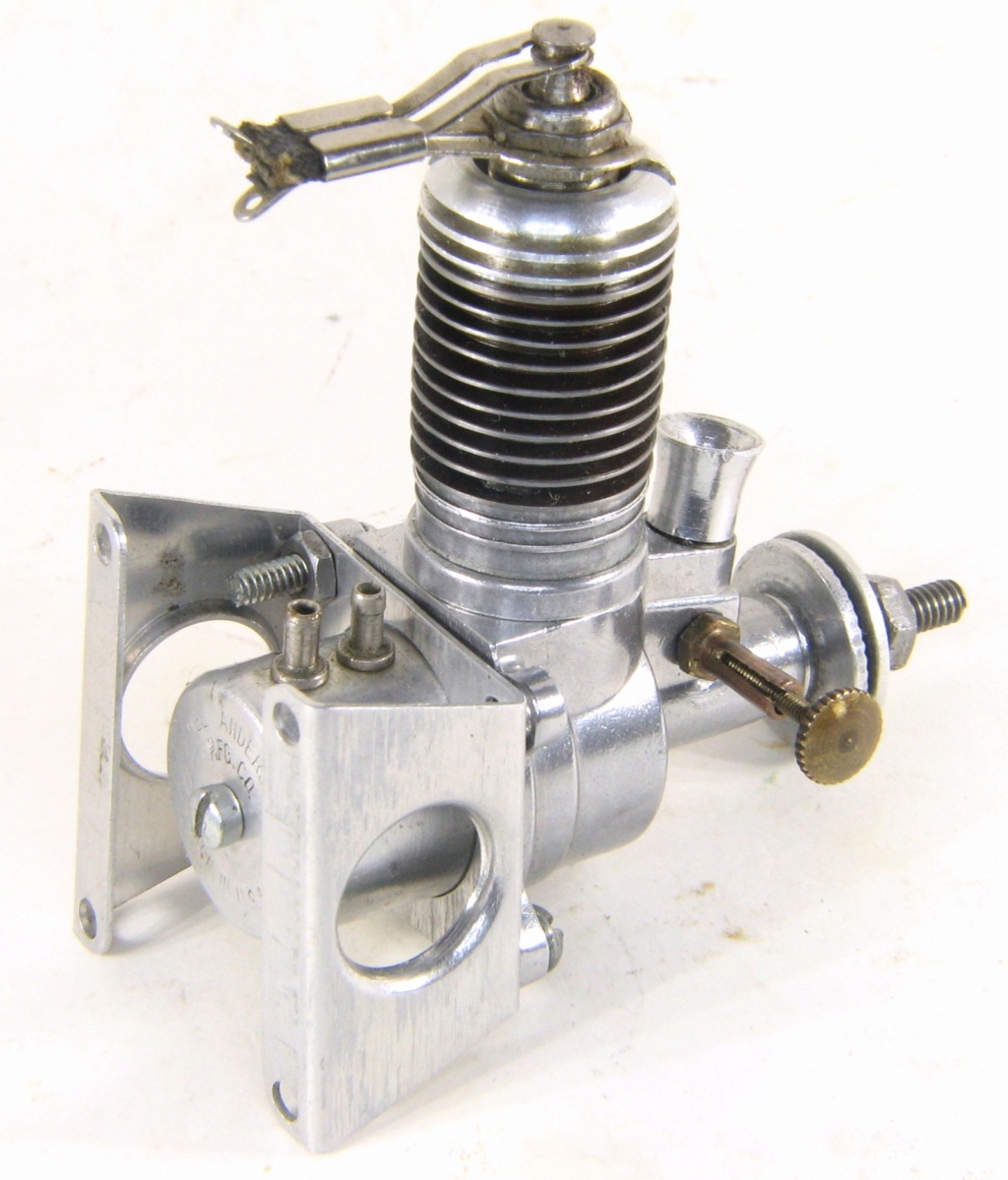 Sure had to do a lot of learning to become a wise old man.
Gold Member





Posts

: 292


Join date

: 2014-12-23


Location

: Beaver Falls, PA



Thanks Bill, necessity is the mother of invention. As I recall, my Wen Mac clip looks similar to the one you show.
I started around 1948 ordering a diesel engine, probably out of Mechanics Illustrated. I never did get it to run. About the same time I built my first Quillows Spad.
I set those engines (pictured) up to use on a scratch built P-38 I am considering. Nothing fancy, just a profile with SIG airfoil wings. Stuff that I have on hand. Too easy to slip a a couple of Cox Bee engines on it so I though two Wens one with a counter rotating prop like My Cox P-38 and the full scale. Then it dawned on me, FRV engines won't run backwards. Mostly.
So, anyway I'm testing the left engine with that prop as a pusher, it won't care.
Gathering up a few Cox three blades I have 3 of each. LH's are 5/3.5P. Mixture of open hubs and flat or rounded tips.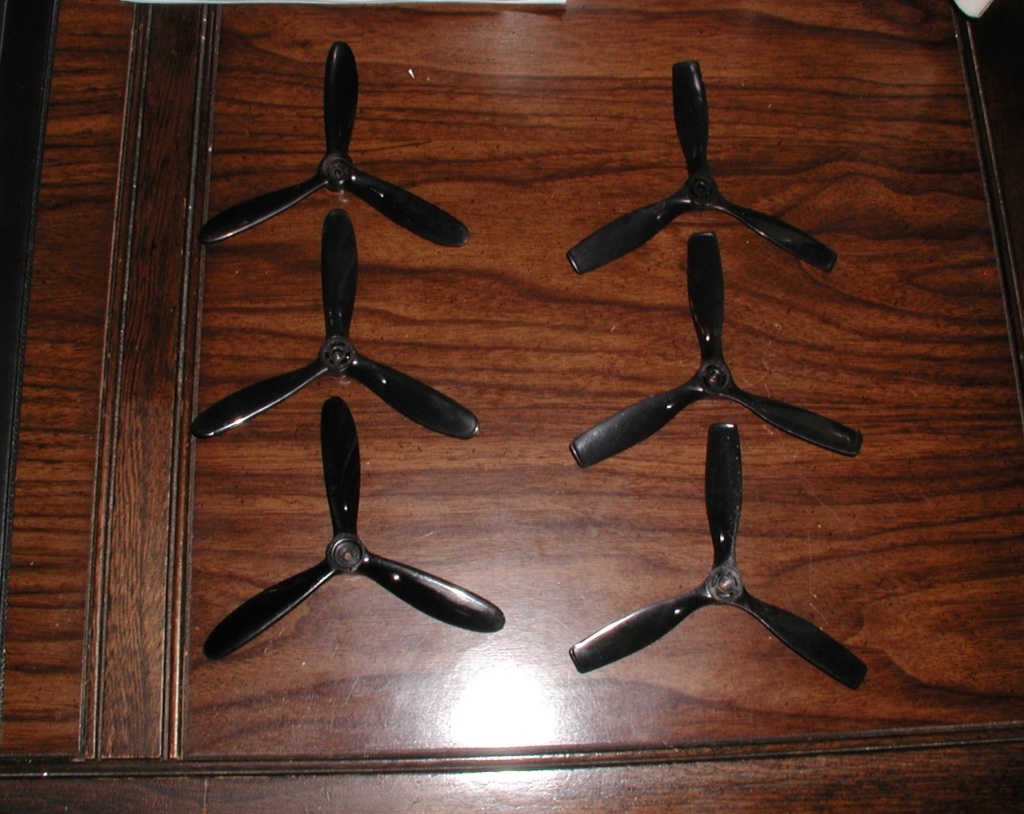 Bob
Solution to get a Wen Mac to run backwards. (requires lathe and skills) Get a Fly Em' pipe bomb engine with a solid crankshaft. (you could find anything inside of one, but most likely a solid crankshaft). Then do the appropriate geometric calculations and machine out the solid crankshaft to L/H rotation.
Testing the engine with pusher prop may get you some overheating issues.
wen Mac's with a glow head can be started with large engine glow drivers, the ones that lock on not the twist on ones. TJ
Bronze Member





Posts

: 44


Join date

: 2011-09-06





Similar topics
---
Permissions in this forum:
You
cannot
reply to topics in this forum