Cox Engine of The Month
March-2020
Dave P.'s
"Tee Dee .051"
---
PAST WINNERS

I clouded Roddie's glowplug thread enough with my rambling. I started this plane 2 weeks ago, given my daily schedule, this is good. I finished covering yesterday morning. This was a fun plane to build, not the typical construction of most as this wing went in from the top. A couple of things I have mentioned in the past that many don't readily recognize until it's too late. Building from a kit has one committed to the kit. Seeing that this kit was over 40 years old, the plywood parts were questionable. Sterling used a birch and poplar core plywood in the early years followed by the luan ply in the later years. Both species are just horrible for the intended purpose. When new, they serve a purpose well but degrade rather quickly. From a manufacturing standpoint, cheap is better.
Not to turn this into a kit bashing post, most kits make the F-1-F-3 formers a standard width. The problem is that they're generally not wide enough.This equates to jamming in your tank. The end caps don't fit within the doublers, this also doesn't allow any room for canting the tank if needed which can cause engine run issues prior to shutoff. Make your formers WIDER. All I had was a Brodak tank. Not my choice due to many manufacturing flaws and quality issues. The vents were in the wrong spot, it was full of flux which was causing internal corrosion even though it was never used . The tank itself was so twisted from end cap to end cap it deserved to be thrown in the
trash. I was able to rebend and remedy the twist and I replaced some of the pipes. I air tested and then discovered when I placed it in the model, the overflow pipe was too close to the edge which wouldn't allow the tank to go clear the engine beam. I moved the overflow pipe and all is good now.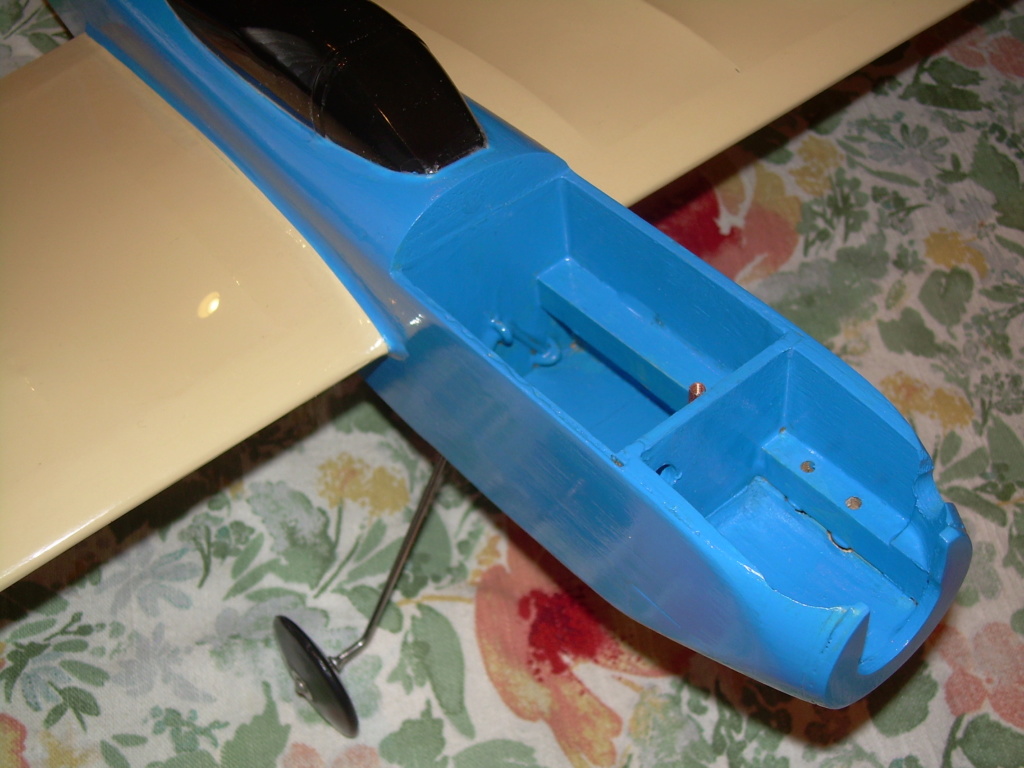 The top block is designed to be installed all the way to the front of F-2 gluing the tank in. NEVER build your tank into the model. At some point it will be an issue due to leaking or in need of height adjustment.
I cut the top block and capped both ends with 1/64 ply providing a screw and tabs to lock it down
I'm not a fan of wheel collars as they look bulky, add weight and fall off. I use a tight fitting washer and solder as it looks clean.
Another flaw is the bottom sheeting. Sterling offered one piece with the grain running from nose block to rudder. This is very poor as it offers no side to side strength, it doesn't follow curves well due to fighting the grain as it's bending to the curves. I cut 2" crossgrain pieces and tape them together to form a long piece. With tape holding, I open each piece like a book and put small dots of yellow glue on the edge and weigh it down. When dry, sand and it follows the curves perfectly.

Ken Cook

Top Poster





Posts

: 3770


Join date

: 2012-03-27


Location

: pennsylvania



Looking real good Ken . I like my wheels done up like yours , soldered on with washers . The removable hatch is a good idea , I hate cutting into a plane to fix a fuel tank .

Mike1484

Mike1484

Gold Member





Posts

: 189


Join date

: 2011-10-28


Age

: 71


Location

: Northern Ohio




DrCox

Gold Member








Posts

: 199


Join date

: 2018-07-18


Location

: Wisconsin




---
Permissions in this forum:
You
cannot
reply to topics in this forum