Cox Engine of The Month
September-2022
fredvon4's
Hot Tee Dee .049 featuring a Turbo Head and exhaust collector
---

---
PAST WINNERS
I have some triangular Baltic-Birch-Ply sticks.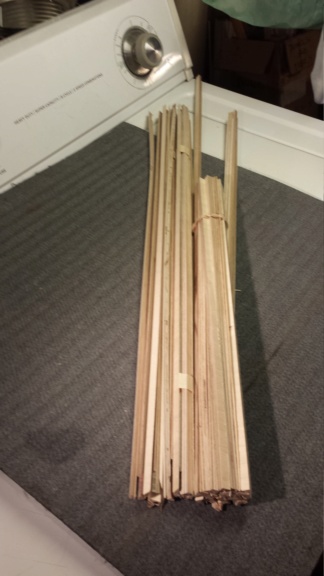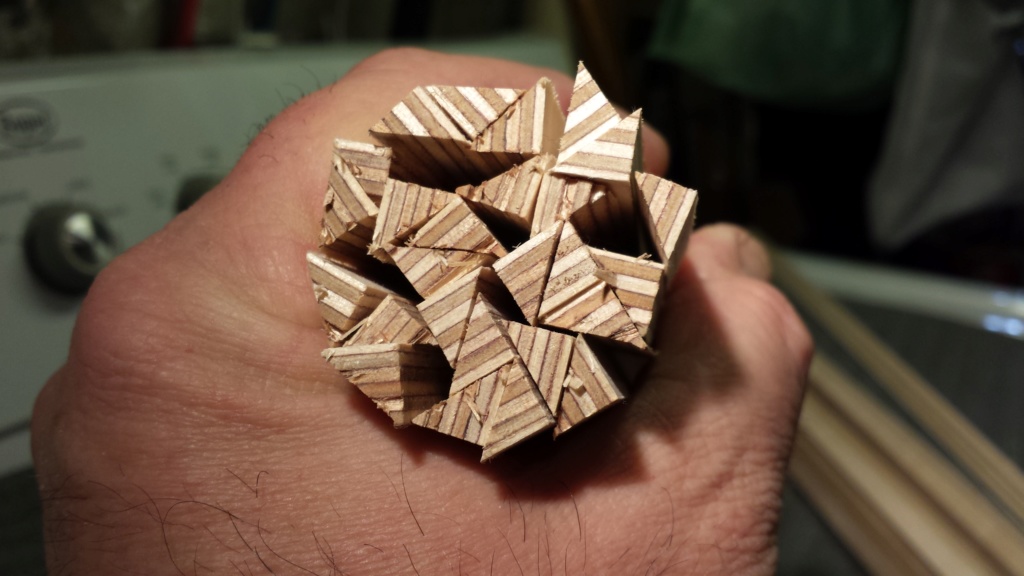 A by-product (scrap) that I have continued access to at work. I mailed some to a fellow-CEF modeler, who is currently using "pieces" for gussetting a wing re-build.
I don't have any "weight" #'s for the stock.. but there are a few different configurations/# of plys; depending on the O/A thickness of the material. I could attempt to explain more in a PM/private message.
Thanks in advance,
P.S. Two lengths glued-together to form "square-stock" (I have 24+ inch lengths) would make an incredibly strong wing-spar.. just sayin'
Last edited by roddie on Thu Apr 23, 2020 7:11 pm; edited 2 times in total (Reason for editing : P.S.)
Well roddie, allow me to be the first to answer your question. What you have pictured there is honestly 'priceless'! They work absolutely perfect and were a very BIG help in the reconstruction phase of my Ultra Stick rebuild, both in reinforcing the wing, and many places in the fuselage. Also recently used them in my Mini Ultra Stick repairs too with great success.

I will though offer this. I was honestly skeptical at first using these over hand cut balsa traingle strips based on the material it is. I cannot say I officially know the weight difference, if any, but feel that these are much better as they are more of a 'hardwood', as well are laminated allowing me to feel better with a stronger reinforcement! Overall, even though I used them without worry, I do not personally think weight is an issue using them at all. Just smeared 2 of 3 sides with whatever glue I was using, clamp in place and allow to dry! Thanks!

NEW222

Top Poster





Posts

: 3711


Join date

: 2011-08-13


Age

: 44


Location

: oakbank, mb



Ok, so after posting, I thought I should back up what my big mouth said earlier. And to say I was shocked at the results is an understatement! I did not think it would have been such a big difference! With that said, I will still stand behind them over their balsa counterparts.
6 1/2" pieces of each, close as possible to each other in cross section. Pictures show the proof. The pieces shown above of the Baltic Birch are definately more consistant. With that said the results are the following:
Baltic Birch is 2.7g per 6 1/2" length
Balsa is .3g per 6 1/2" length. So lets call it .4g per length due to the inconsistancy of cutting by hand and there is a small bit.
Combined, as seen on my scale shows correct.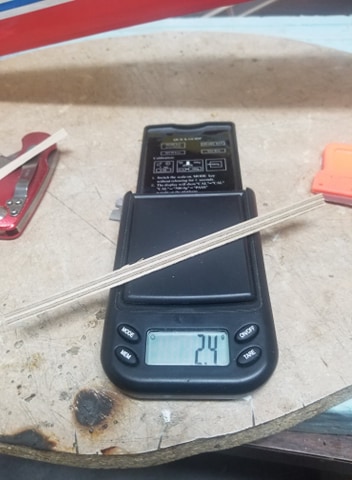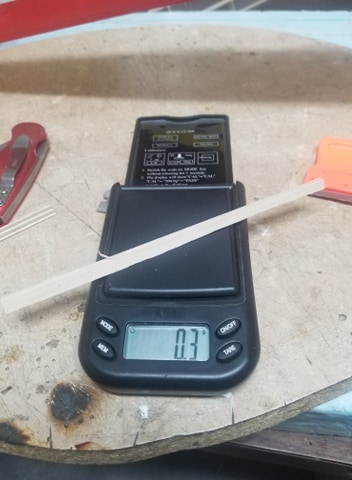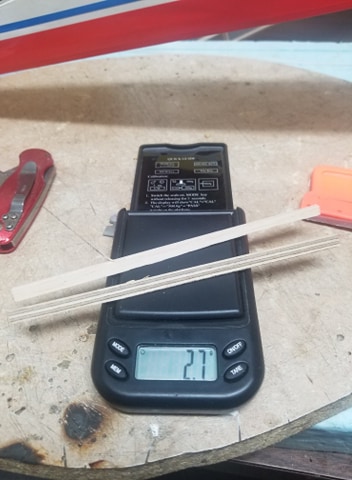 NEW222

Top Poster





Posts

: 3711


Join date

: 2011-08-13


Age

: 44


Location

: oakbank, mb



Thanks for the replies Chancey! I'm not surprised with your results on the weight comparison with balsa-wood. The laminated Birch isn't something that you'd want to use
extensively
for air-frame reinforcement.. but its' strength-to-weight ratio in a triangular configuration make it ideal for the type of repair-work that you're doing. I'm glad that you've chosen to use some.. and hope that you get your models back in the air soon!
What I
could
do, is laminate two lengths together to form square-stock (essentially for a wing-spar type of application) and perform some sort of "break-test"???
I should have waited to post about this material, until I figured out how to "present it" in a way that might be more useful. I forget that many modelers aren't into scratch-building.. and the few who
are
; don't tend to experiment with uncommon materials.
Similar topics
---
Permissions in this forum:
You
cannot
reply to topics in this forum