Cox Engine of The Month
September-2020
sosam117's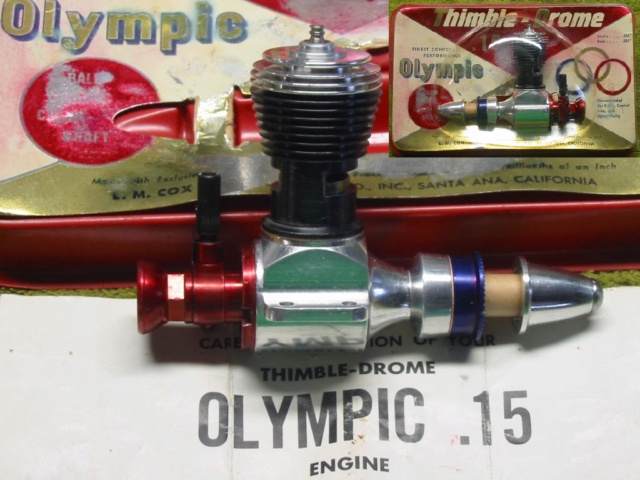 "Traded an electric charger for this "Complete" (original) Cox Thimble Drome Olympic .15 engine. Right corner is photo as received."
---
PAST WINNERS
Page 2 of 2 •
1, 2
I have been waiting for some of the components to arrive, so in the meantime I have been making a fuel tank.
I want to use a plastic clunk tank, but the smallest commercial one I could find is 20ml and I only want 10ml.
So, I made one .
The clunk pickup is the end of a ball point pen. I have tested it for leaks using pressurised mentholated spirits.
The piece of 6mm Carbon tube is to support the filler tube.
I shall cut the 3 pipes to length when I have sorted the model.
Most of the components I need have arrived:
Carbon tubes, bearings, epoxy, etc. The universal joint coupling has not arrived which is surprising as it is only coming from the UK.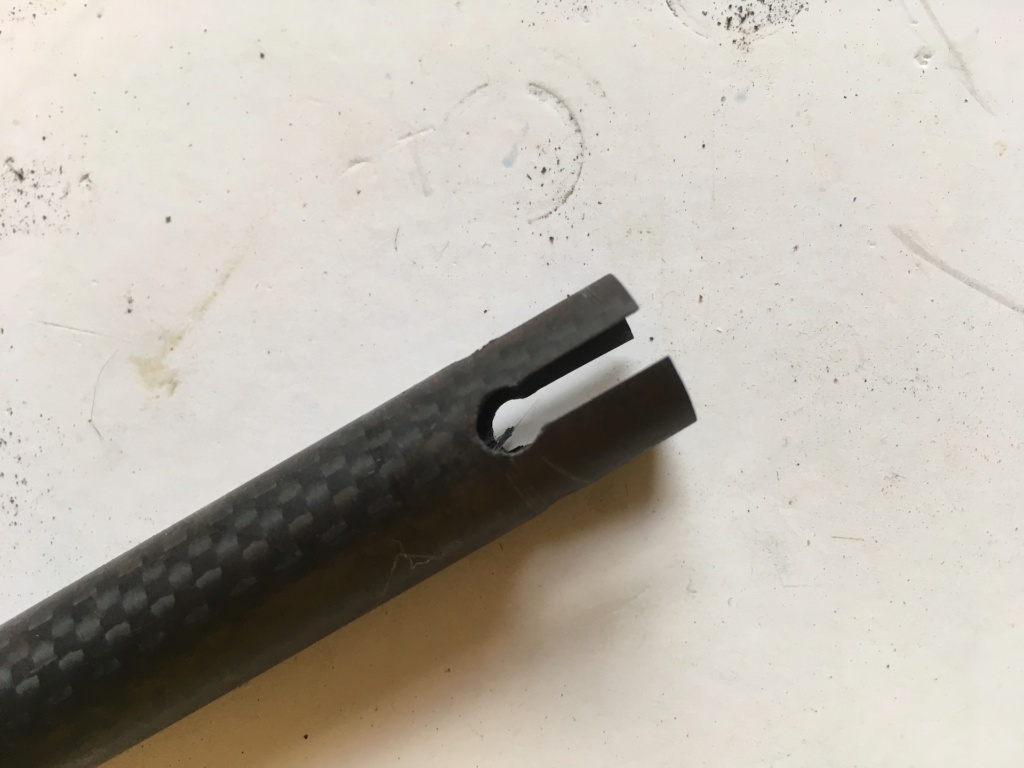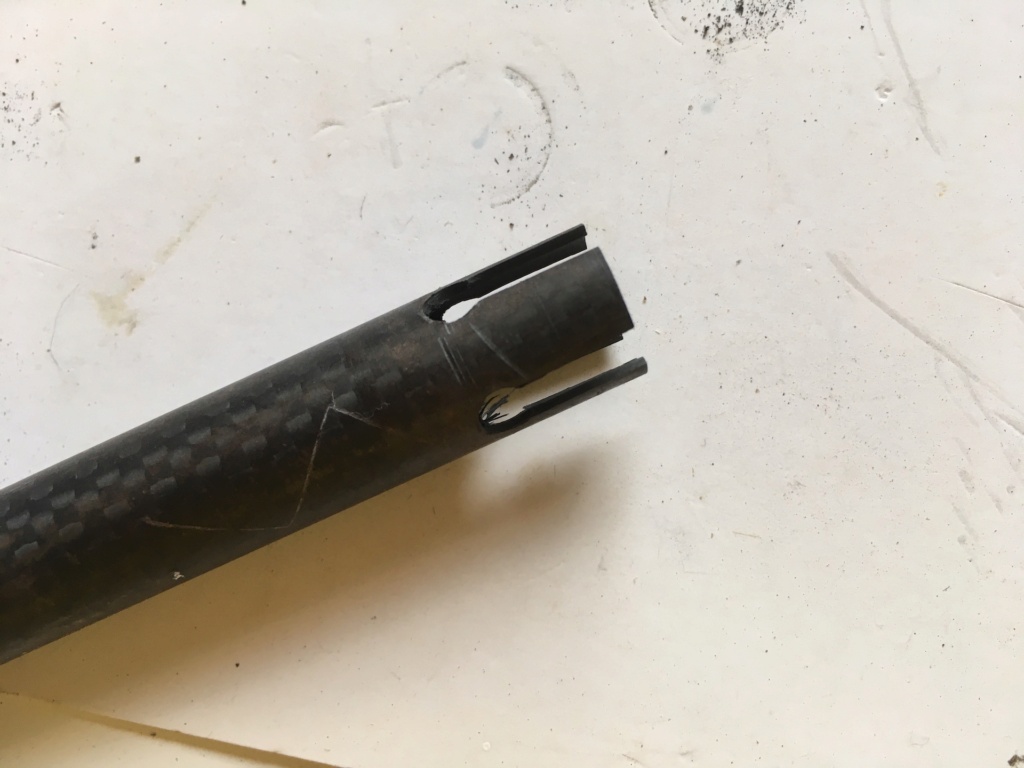 The biggest problem I have is how to attach the main tube to the backplate holes close to the cylinder. There is very little space available. Certainly not enough to use full M2.5 nuts.
My first idea was to use a piece of 6mm Carbon tube cut and carved to fit. In the tube a a pair of M2.5 cap screws, silver soldered together. were to be fitted and the assembly glued to the 14mm main tube with epoxy.
It sort of works, but I am concerned about the epoxy joint being strong enough!?
The latest idea is to carve a bracket from alloy square rod.
I have begun this task, but there is still quite a bit of filing to do to bring it down the a smaller profile.
I shall tap the end M2.5, and where it is 'blued' drill through for a M2 screw.
Hopefully epoxy and the screw will give me confidence .
For the other two mounting hole I shall make a bracket from 2mm alloy plate cut, carved and bent to fit.
Again, epoxy and a small screw will be used.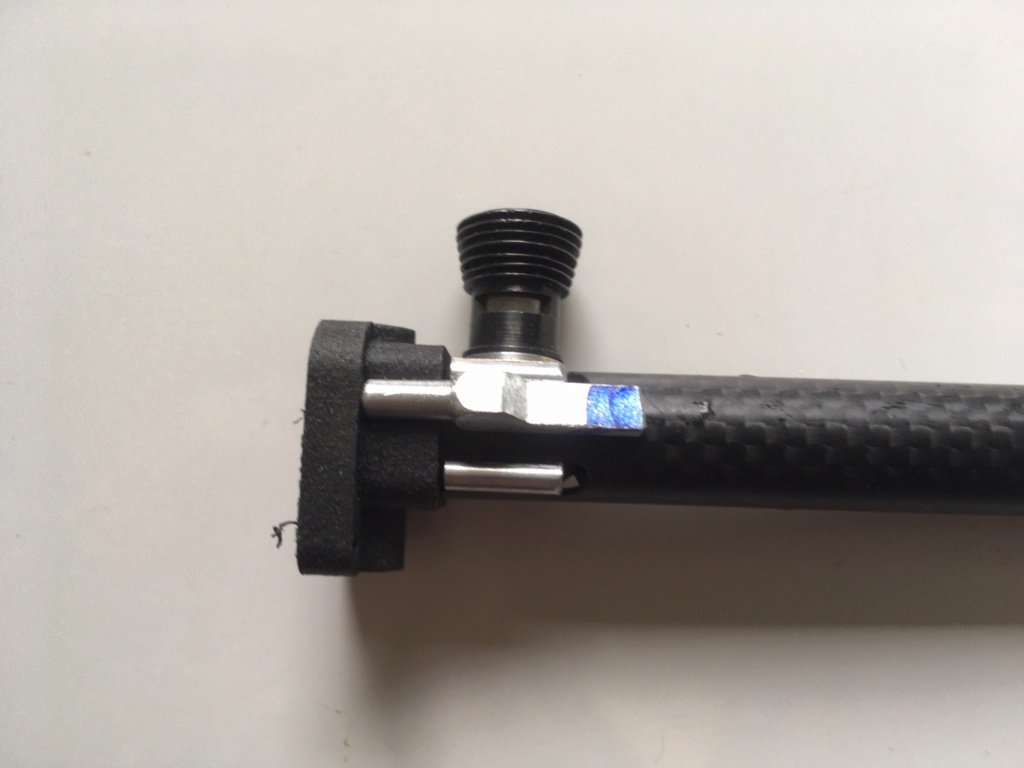 Daligh

Silver Member





Posts

: 95


Join date

: 2020-06-28


Age

: 71


Location

: Sligo - Ireland




Levent Suberk

Platinum Member





Posts

: 984


Join date

: 2017-12-24


Location

: Turkey



Thanks Levent.
I have thought a lot about mounting the main tube to the engine and decided to use simple alloy brackets.
The couplings arrived at last! For some reason they were sent from the UK via New Zealand!!!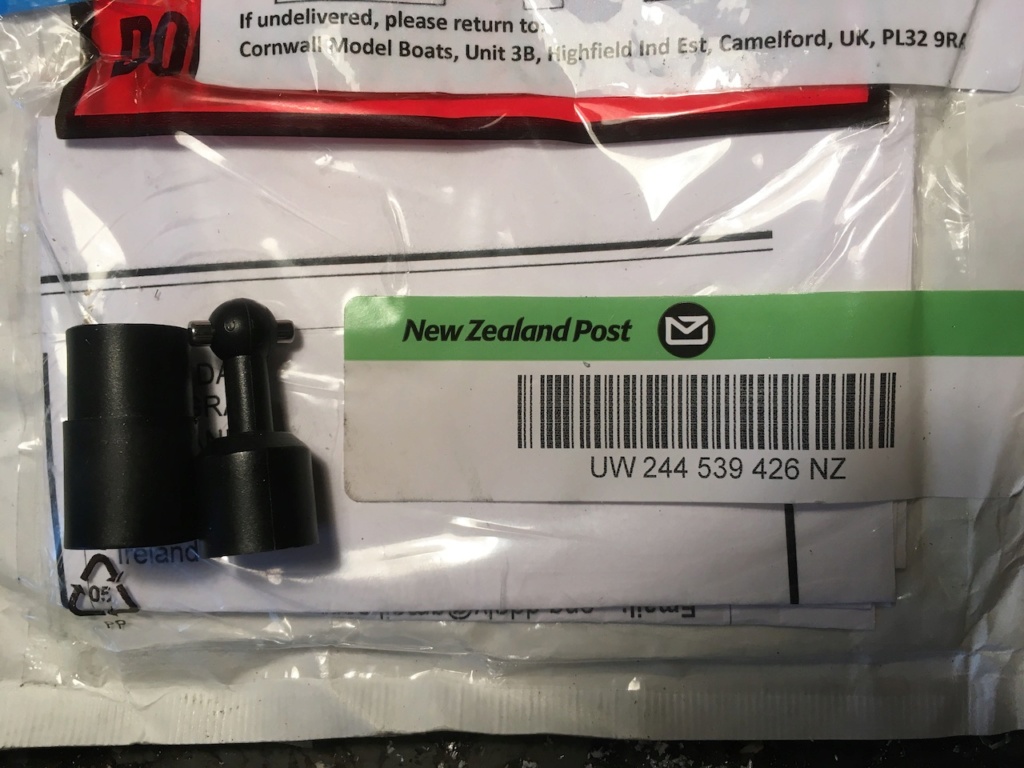 I modified them to suit using a split bush to hold the drive part in the drill to reduce it.
I drilled the end and fitted a prop screw.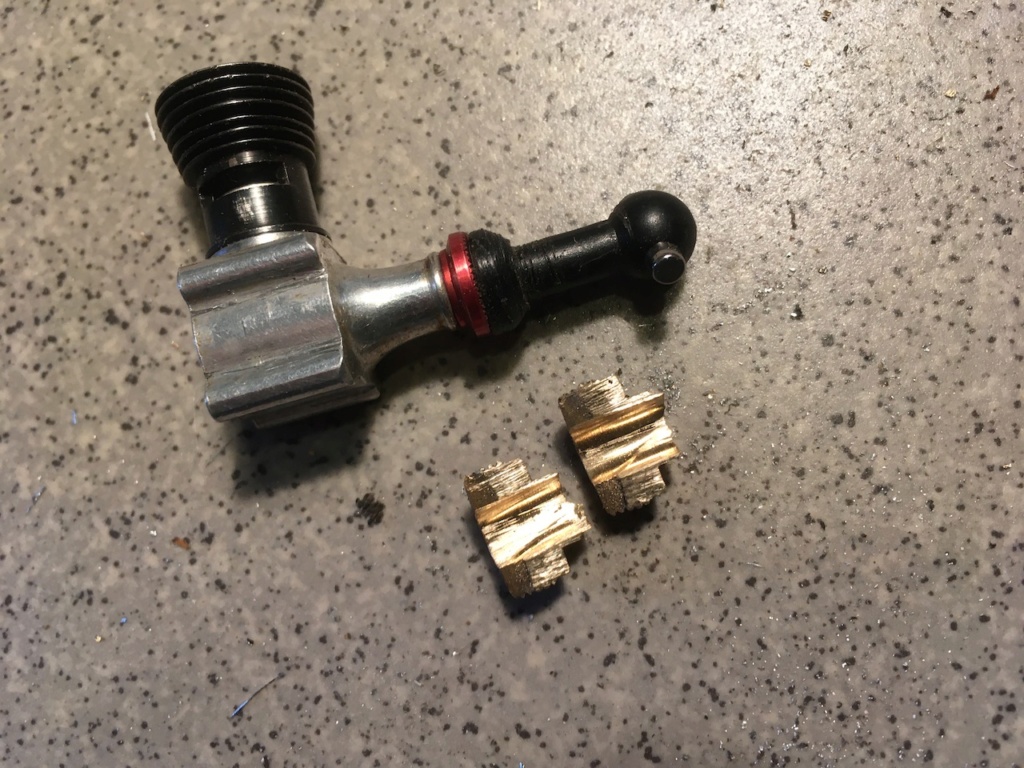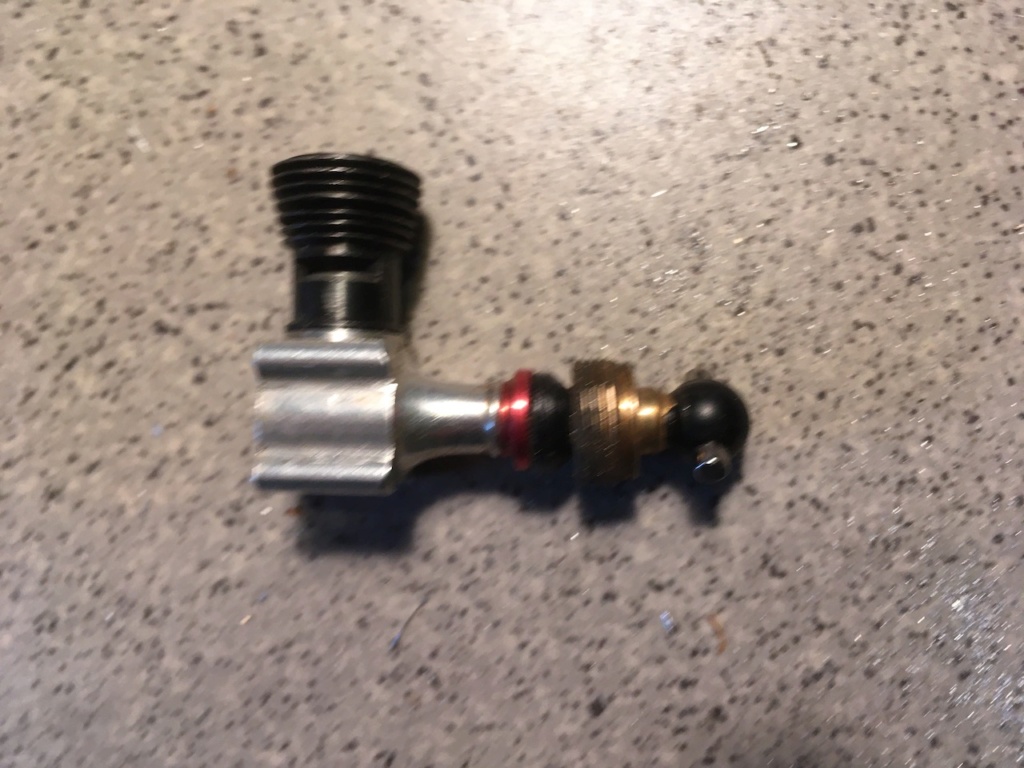 I did a similar job with the driven half, using a piece of alloy tube to fit to the drive tube.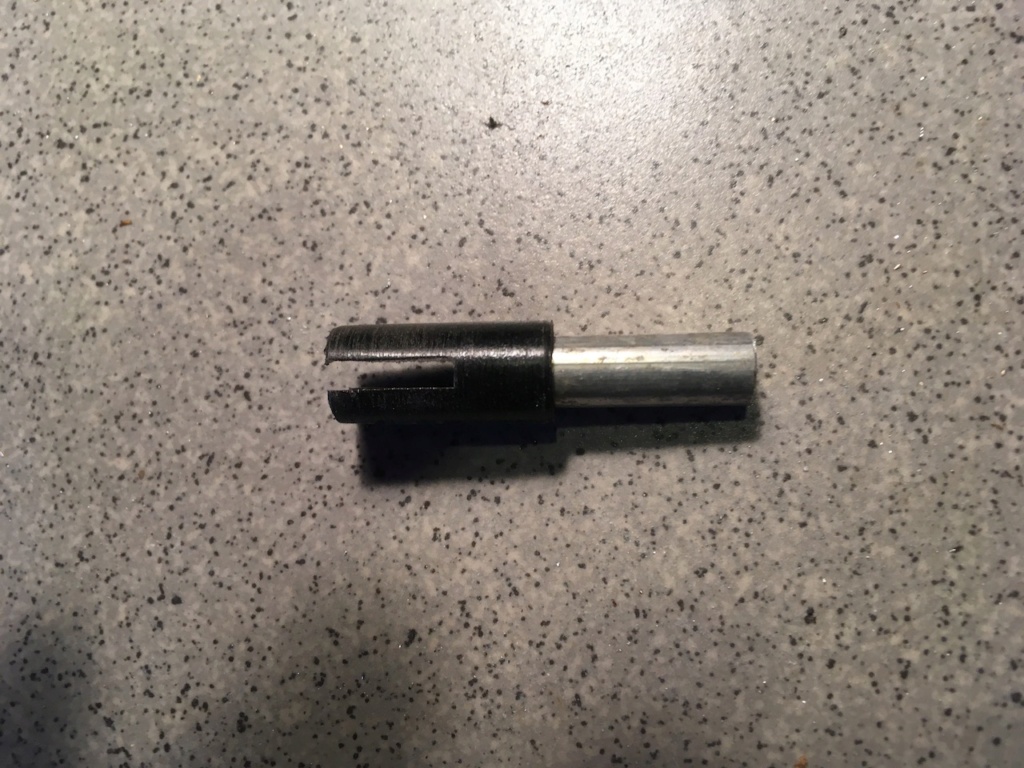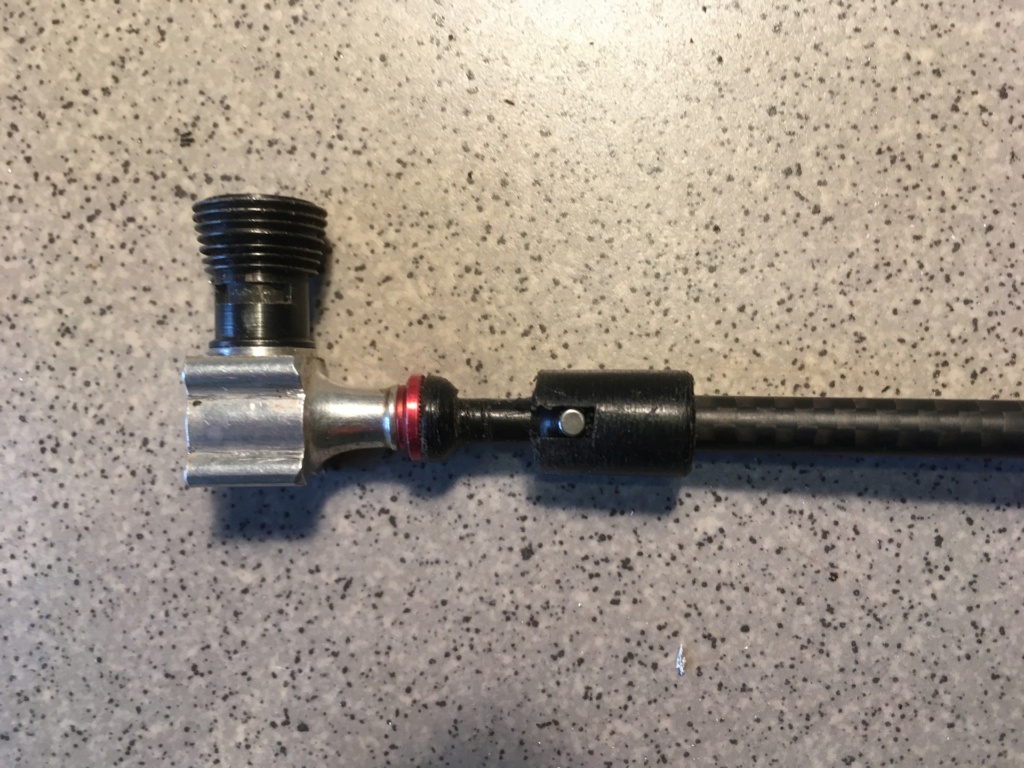 THEN . I changed my mind!
I reasoned that the system of concentric tubes was accurate enough that the coupling was unnecessary.
So I made the 6mm prop tube as a solid drive.
The engine end uses a prop screw fitted with Loctited nuts. The nuts were reduced to circular to fit in the tube and glued in with Sealfix.
A 1.2mm hole was drilled through the tube and screw head and a piece of steel wire riveted in.
A piece of alloy tube acts as a spacer between the engine crank flange and the bearing.
I performed a similar job at the prop end using an M4 screw which was drilled through and tapped M2.5.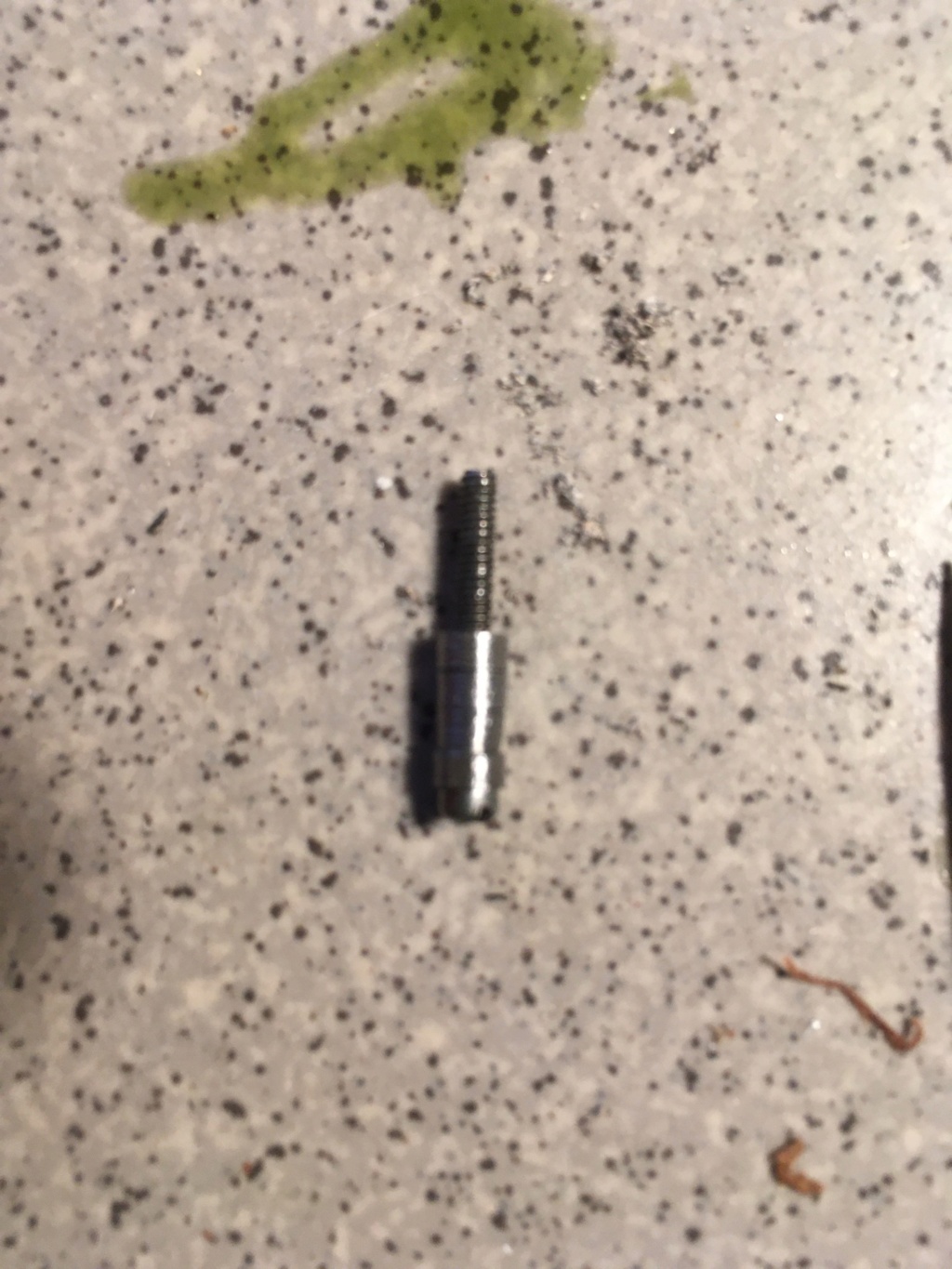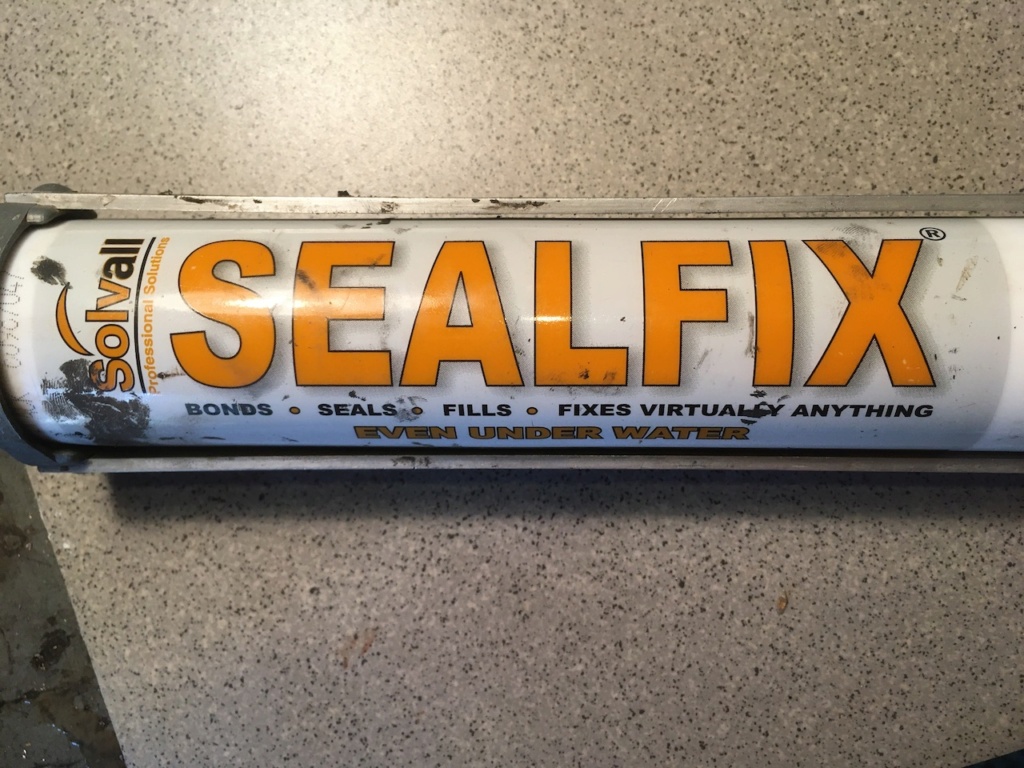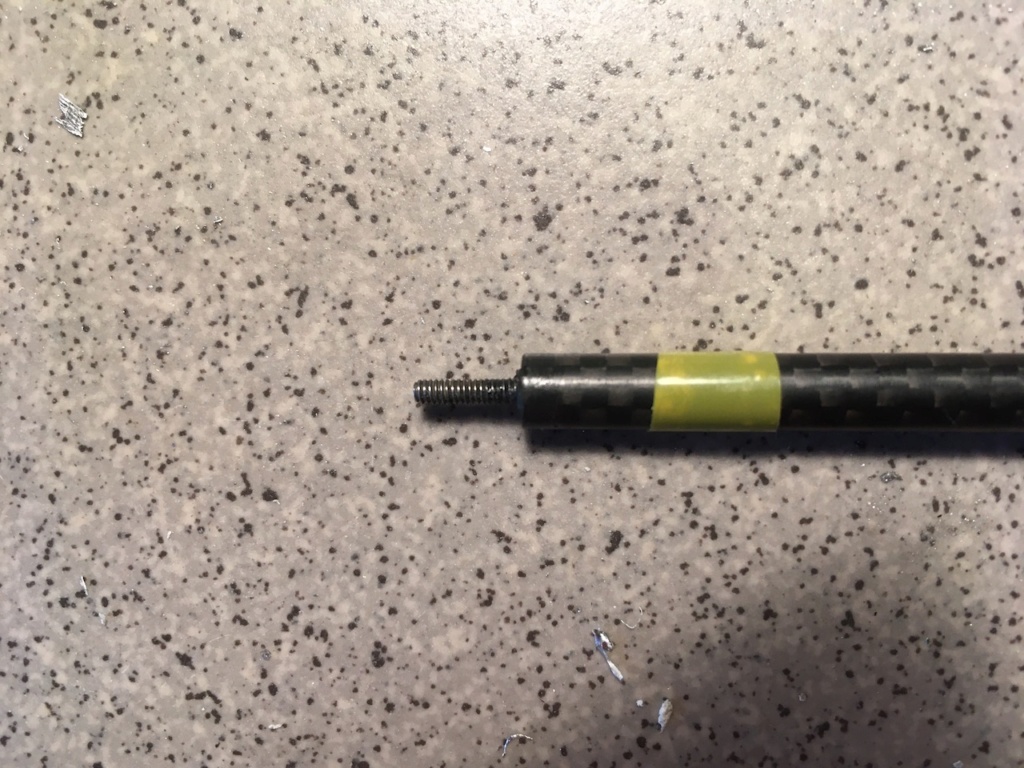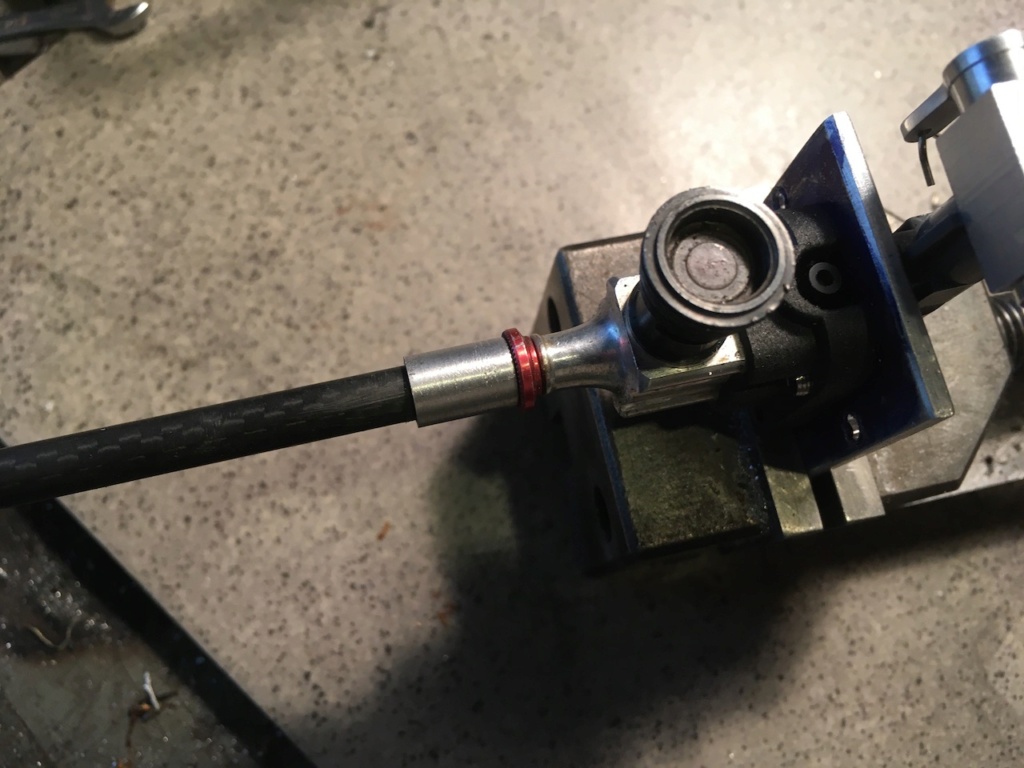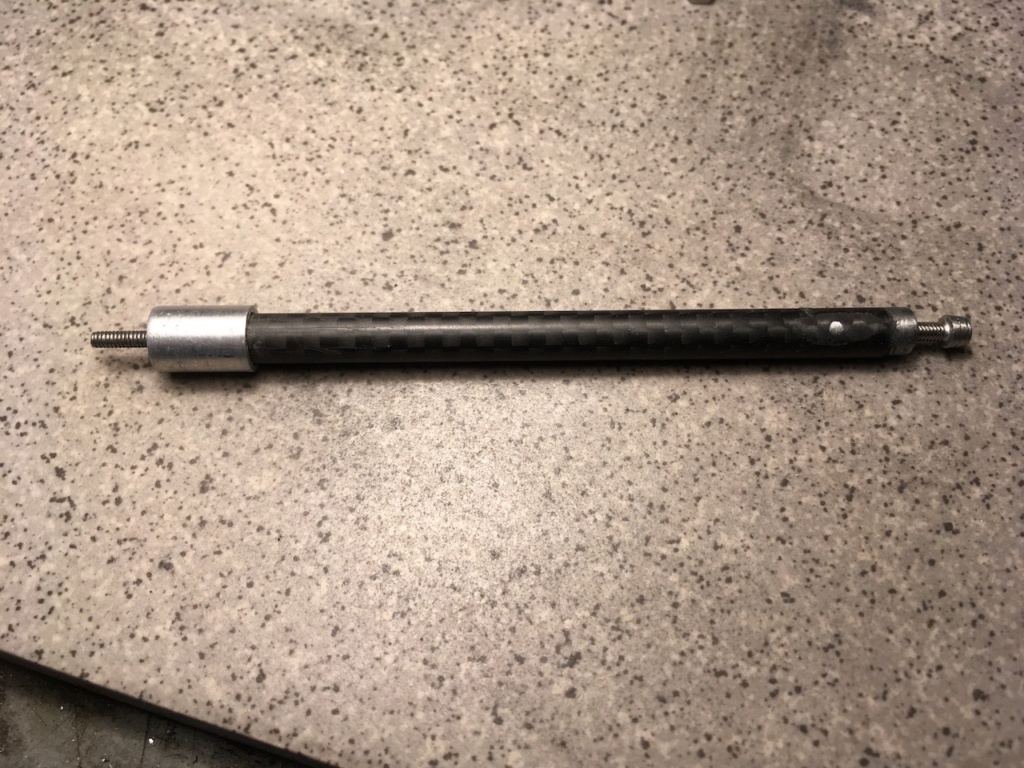 Here's how it all goes together.
The brackets are fixed with Sealfix and a self tapping screw. Where the self tappers are there is a piece of 12mm tube inserted and glued to provide extra thickness.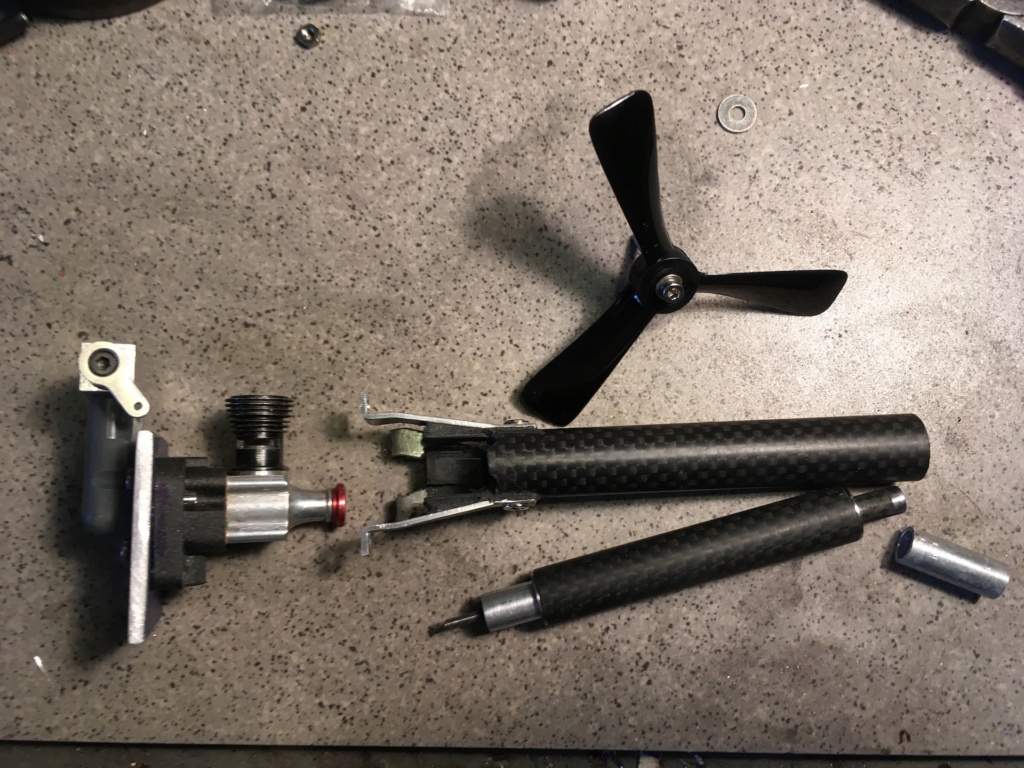 NOW.
It looks like I need to reduce the height of the throttle tube to gat the assembly into the fuselage!?
I shall contact Bernie to find out how the throttle body is fitted to the plastic tube.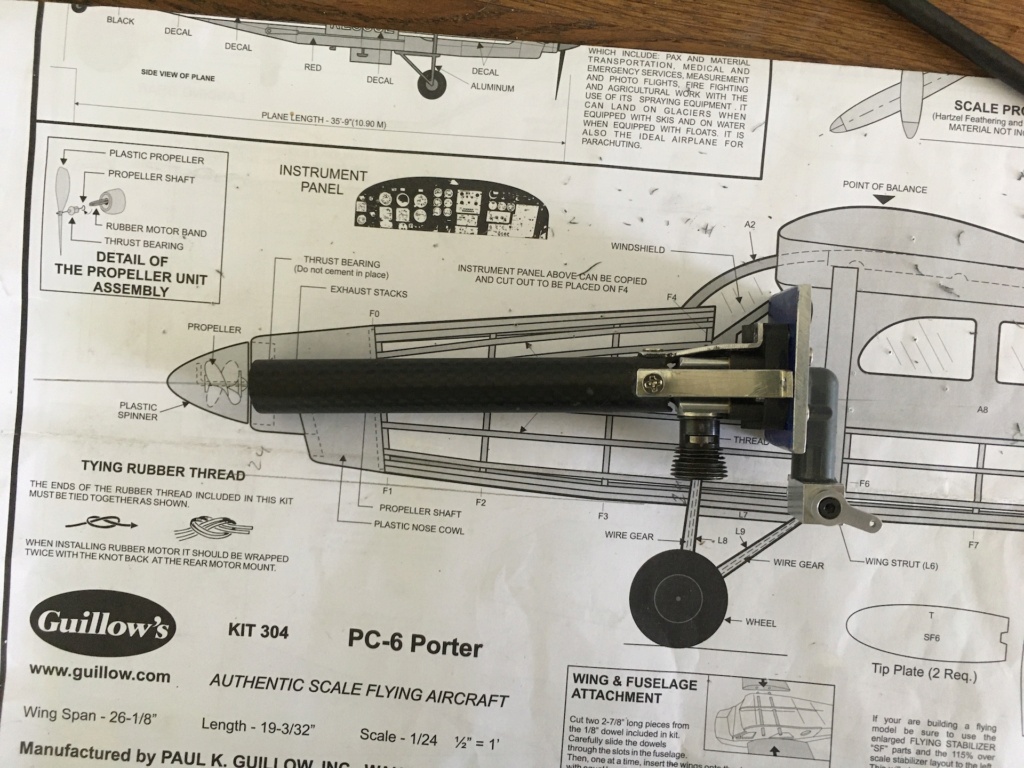 Daligh

Silver Member





Posts

: 95


Join date

: 2020-06-28


Age

: 71


Location

: Sligo - Ireland



Nice part like the carbon fiber direct drive Good work

davidll1984

Gold Member





Posts

: 412


Join date

: 2020-02-12


Age

: 35


Location

: shawinigan



Perfect!
Engineering masterpiece
I have no doubt about performance, it will work with no hassle

Levent Suberk

Platinum Member





Posts

: 984


Join date

: 2017-12-24


Location

: Turkey



Bit of a problem!
As I was tightening the assembly, the prop shaft spun in the engine crank threads.
I had used an old screw which it turns out had corroded threads and was thus undersize.
I had to strip the shaft assembly.
I made a punch and removed the pins.
Because the adhesive is of a 'rubber' type I was able to remove the inserts by heating it.
Turns out that it may not have been such a bad thing to happen, as I had missed the screw head and drilled through the shank!
It came out in two parts!
For the replacement I used a piece of M4 screw and drilled and tapped it M2.5 as the UNC screw turns in loosely but holds.
I predrilled the head this time and drilled just one side of the tube.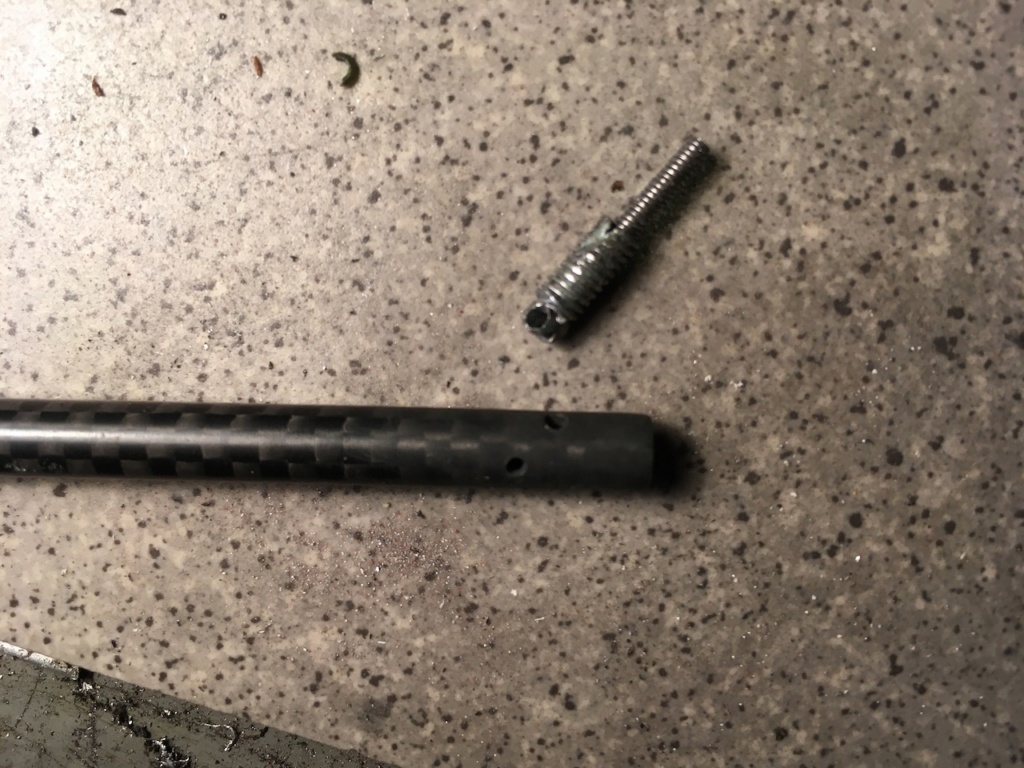 The shaft was assembled with new adhesive and aligned with wire 'till it sets.
I shall drill right through and peen some new pins.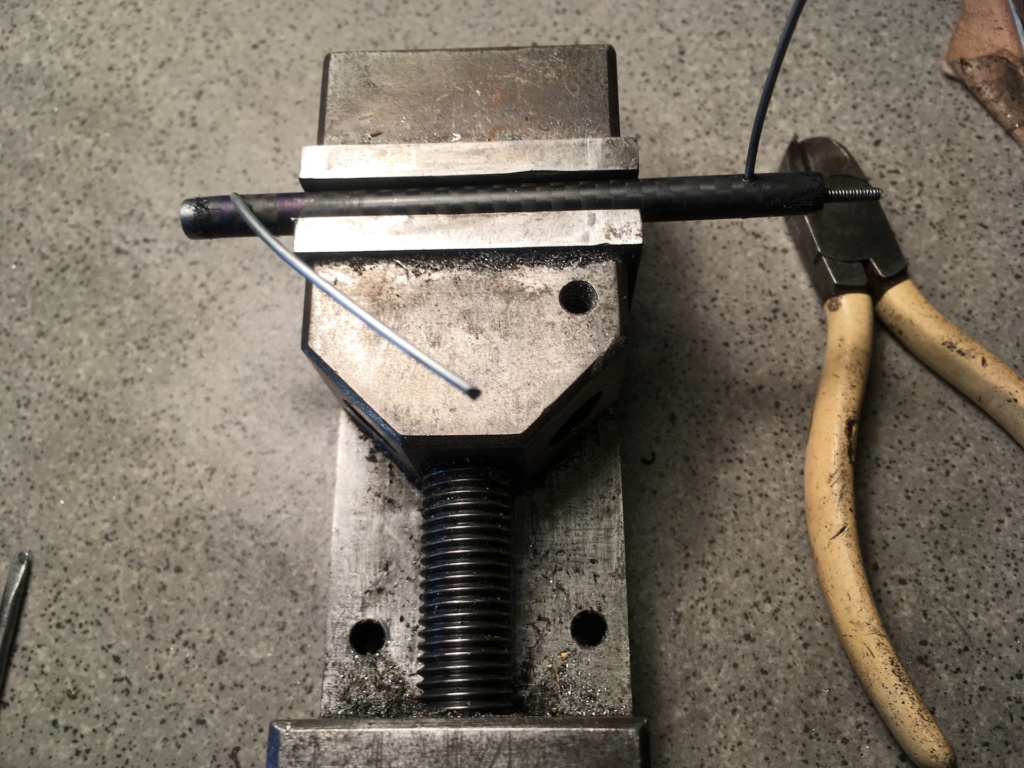 Daligh

Silver Member





Posts

: 95


Join date

: 2020-06-28


Age

: 71


Location

: Sligo - Ireland



It does not appear feasible to reduce the height of the throttle tube from the pre-assembled unit.
I shall have to see if Bernie can supply the parts loose!?
So, I decided to make a 20mm stand-off tube and bolt spacers to locate the throttle into the cabin.
I also drilled and tapped extra mounting holes to allow the throttle to be mounted at 45 deg.
The spacers are from two alloy tubes pushed together.
The stand-off is a piece of 6mm carbon tube with alloy end pieces epoxied on.
The throttle end is reduced to fit and overhangs to locate an o-ring.
The engine plate end is flat.
This is sort of what I intend to do.
The alloy engine plate will be reduced considerably before installation.
Still not a lot of head room for the throttle!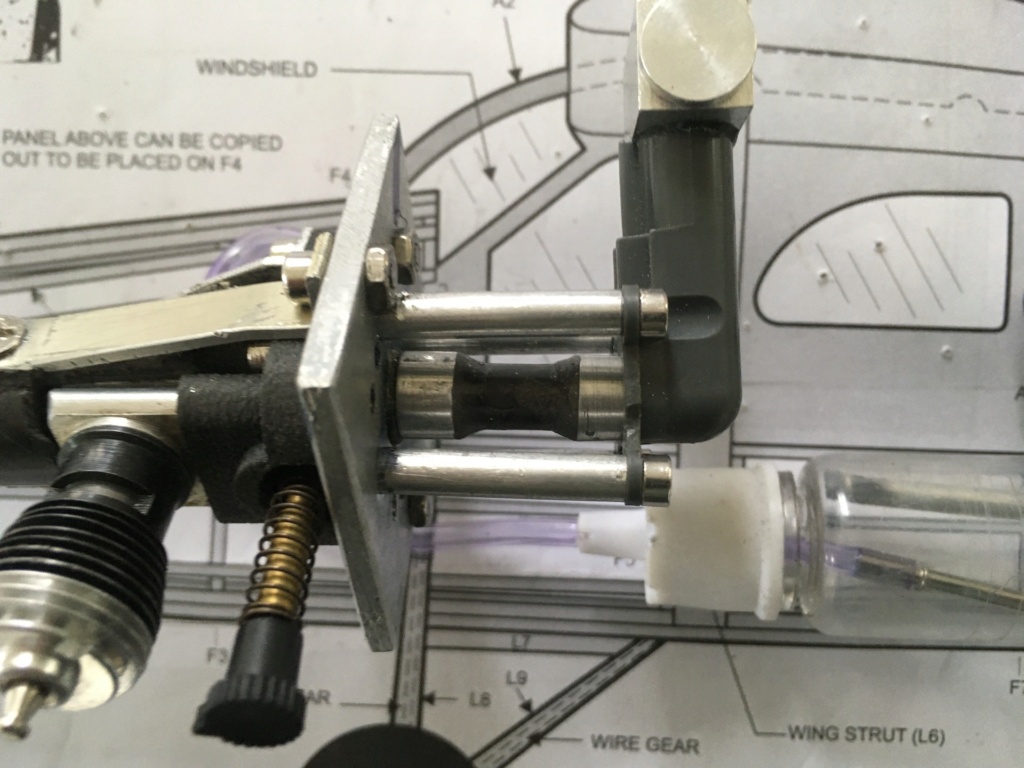 Flipping heck!!!!!!!!
I managed to destroy one of the bearings when disassembling!
It went on as a light push fit but wouldn't slide off. I stupidly use a 12mm tube of the flange to force it off. The flange and shield came off OK.
It will take a week or so for new bearings to arrived.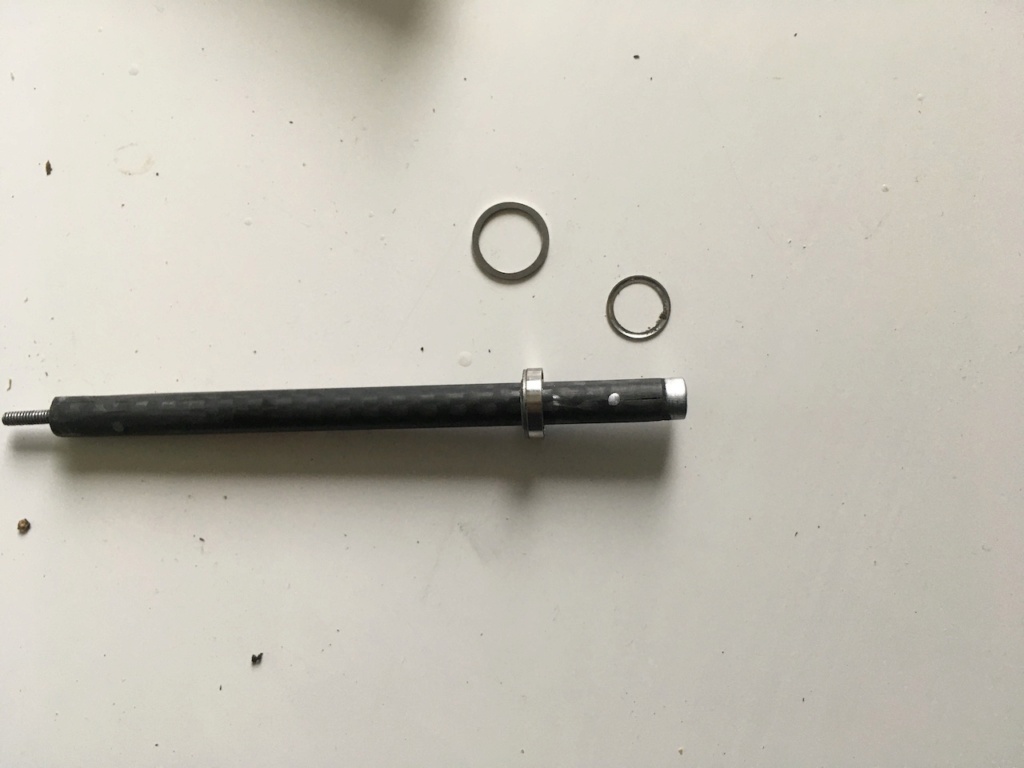 Daligh

Silver Member





Posts

: 95


Join date

: 2020-06-28


Age

: 71


Location

: Sligo - Ireland




Ada99

Moderate Poster





Posts

: 11


Join date

: 2018-07-18




Daligh

Silver Member





Posts

: 95


Join date

: 2020-06-28


Age

: 71


Location

: Sligo - Ireland



Shame about the bearing / but the rest is coming together nicely
Will there bee enough air in the fuse to run the engine good ?

getback

Top Poster










Posts

: 7171


Join date

: 2013-01-18


Age

: 63


Location

: julian , NC



Page 2 of 2 •
1, 2
---
Permissions in this forum:
You
cannot
reply to topics in this forum