Cox Engine of The Month
March-2023
rdw777's
"Cox .020 w/Homemade Throttle - Pageboy"
---

---
PAST WINNERS

Davenz13

Platinum Member





Posts

: 587


Join date

: 2013-11-28


Age

: 67


Location

: Palmerston North, New Zealand



The rules for New Zealand are different than the SAM rules in the USA:
New Zealand rules for 1/2A Texaco
5.1 RC Vintage 1/2A Texaco Purpose:
To enjoy IC -powered RC flying with Power Model designs from the Vintage period through using a specified engine and fuel tank to achieve maximum flight time.
5.1.1 Eligible models are from the Vintage period (see Rule 2.1.2).
They are Power Model free flight designs and IC-powered designs originally intended for RC without aileron control.
5.1.2 All Radio Control General Rules (see Section 2) apply.
5.1.3 Engine is a stock Cox reed valve 0.049 cu in that may be modified only as follows:
a. Fuel pick-up moved to bottom of tank. b. Tank vents changed or replaced. c. Improved needle valve assembly. d. Addition of muffler.
5.1.4 Fuel tank is a Cox Babe Bee or Texaco Jnr.
5.1.5 Fuel mixture may include only oil, methanol and nitromethane
5.1.6 Age bonus applies (see Rule 2.3.4).
5.1.7 Landing bonus applies (see Rule 2.3.5).
5.1.8 Score is the aggregate of 3 flights, each scored at one point per second up to 480 (8 minutes) with both age bonus and landing bonus added up to a maximum of 500.
5.1.9 If scores are tied, fly-off has no maximum and both age and landing bonus apply. (See Rule 2.3.10 for NDC fly-offs.)
U.S.A. rules for 1/2A Texaco
1/2 A Texaco entries shall be Old Timer designs having a minimum
8 ounces per square foot of plan-form wing area
; and powered by a .049 cubic inch Cox reed valve engine with a 5.1 cc integral fuel tank and a propeller limited to 8 inches maximum diameter.
Use of standard glow fuel - no gas as an additive.
The engine shall be a stock Cox Texaco Jr. or Babe Bee.
Original needle valve assemble and Cox glow plug must be used.
Other Cox reed valve engines, such as the Black Widow and the Golden Bee, are acceptable with a 5.1 cc capacity tank installed using a conversion kit such as the Cox #1596.
The following modifications are allowed:
moving the fuel pickup to the bottom of the tank, adding a muffler, adding a needle valve extension, and adding head gaskets.
An RC engine cut-off is not required.
The fuel tank may be filled by the contestant and topped off with the engine running.
The models may be hand launched or ROG.
The score is the sum of the best two of three 15-minute max flights.
I have flown the 1/2A Texaco event in the U.S. for years starting back in 1994 until 2007.
Started off with the Baby Bee with a 8cc tank. Then the Cox Texaco 049 with the 8cc tank. Then the Texaco Jr. with the 5cc tank.
Played around with different back plates, SPI timing, reed thicknesses, needle valve assemblies, mufflers, glow heads and glow plugs (with head adapters), head shims, larger props up to 9 inches in dia., No Nitro in the fuel, White gas (Coleman lantern fuel -5%).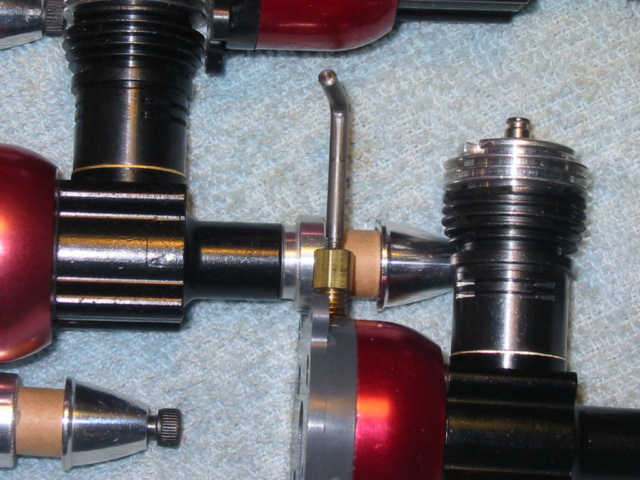 I was a consistent trophy winner. Problem I had was every two years (rules cycle) the would change the rules to try to reduce my chance at the trophy.
My winning engine consists of a back plate with a .063 venturi hole, the plastic removed from the inside of the back plate, the Kern Kraft needle valve assembly (which is now illegal) and a thin walled aluminum tubing.
Prop I use was a APC 8x3.8 Slowfly prop
Used the 3 fin glow plug with one or two head shims.
I did not use the "Texaco" glow head because it wouldn't keep the head warm enough to run the full tank out.
I have included photos of the inside of the back plates mods. Not visible from the outside (for a few more seconds of fuel).
If they knew, they would modify the rules (again) to stop these mods?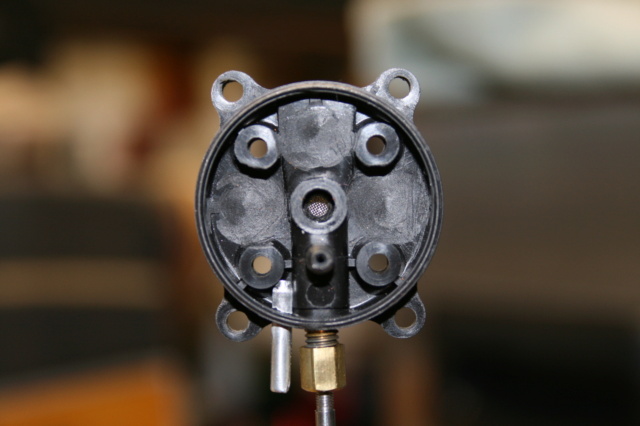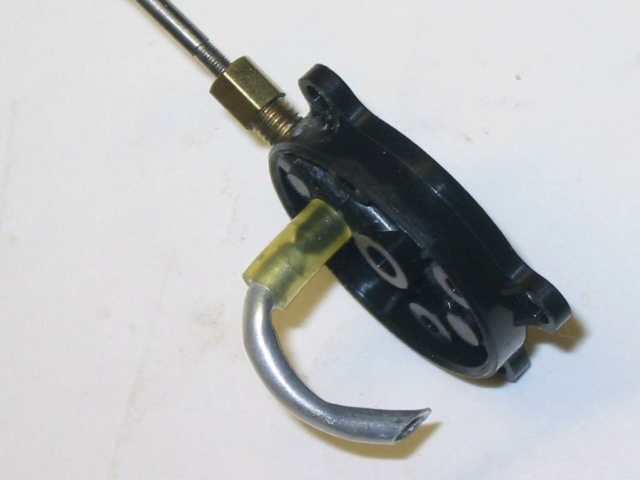 When they had the 8cc tanks, the planes were around 325 to 375sq.in. wing area.
Then the tanks were changed to 5cc and the planes then shrunk to 225 to 250 sq.in.
Also what happened with this change was the decrease in entries in this event. As the Speed 400 electric event increased.
I too later on stopped flying 1/2A Texaco and flew A Texaco until they changes the rules there as well (squeezing me out there).
In "A" Texaco engines were allowed from .051 to .20 and fuel was allotted to 14cc. and flight times were the same as 1/2A Texaco (3 flight for 15min. --- two best flights scored)
I used a PAW 09 "Texaco" engine. I tweaked and tinkered on the PAW until I was getting 16 minute motor runs.
The next rule cycle came and they reduce the diesel engine fuel to 8cc.
I then switched to my old 1/2A plane and modified a Cox "Texaco" (.049) engine with a 8cc tank.
Modified the engine by changing out the 049 sleeve/piston assembly to a .051 sleeve/assembly.
Bolted between the 8cc tank and the back plate, a Kavan tank extender. I made special (longer length) screws than that was available with the Kavan kit.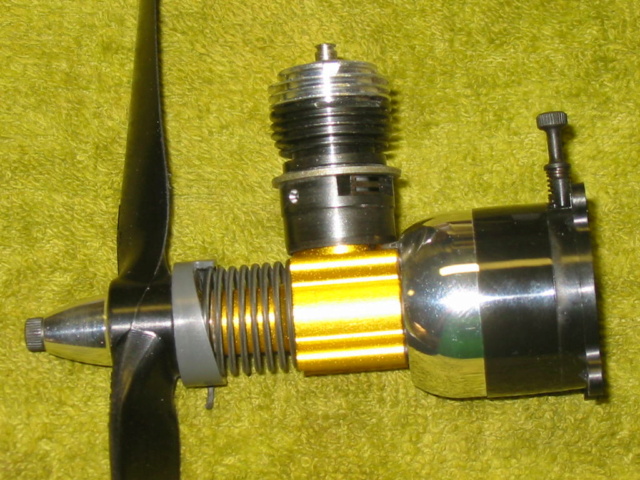 So, I had a 8cc Texaco tank plus the Kavan tank extender to get me 13cc of fuel for the tank (I'm allowed 14cc -- dang short!)
Tested the engine and tweaked it to where I was getting 15 to 16 minutes on a tank.
Won "A" Texaco for two years (next rules cycle)
New rule for "A" Texaco, plane has to have a wing loading
10 ounces per square foot of plan-form wing area.
That did my 1/2A airplane in at 8 ounces per square foot of plan-form wing area.
Now I'm looking at running an Enya .11 glow (14ccof fuel) in a Commando (oldtimer) plane?

sosam117

Platinum Member





Posts

: 989


Join date

: 2016-03-23


Location

: Suburb of Chicago, Illinois



---
Permissions in this forum:
You
cannot
reply to topics in this forum