Cox Engine of The Month
August-2022
MauricioB's
"Cox Tee Dee .010 r/c"
---

---
PAST WINNERS
Hip Pocket Aeronautics recently posted the Aeromodeller January 1948 issue in PDF. I downloaded it, it was very informative, could understand how it would captivate the modelling minds of the youth and younger men back then.
No wonder why I enjoyed it so much to build model airplanes, there is something about the aroma of glue and the British have hit the nail on the head.  
Here's the British observation on why the US never truly adopted diesel engines, capitalizing on gas and glow: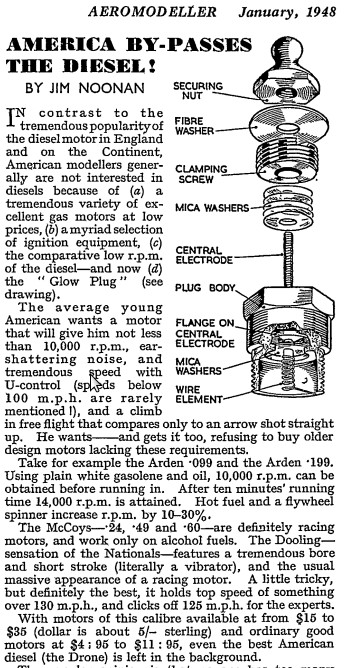 And, I love how they write in such an entertaining manner with guest from other places, writing about stuff one absolutely had to read about. Seems we have all lost the joy of simply reading, and about stuff interesting read instead of the drab, depressing stuff we see in print and on the boob toob: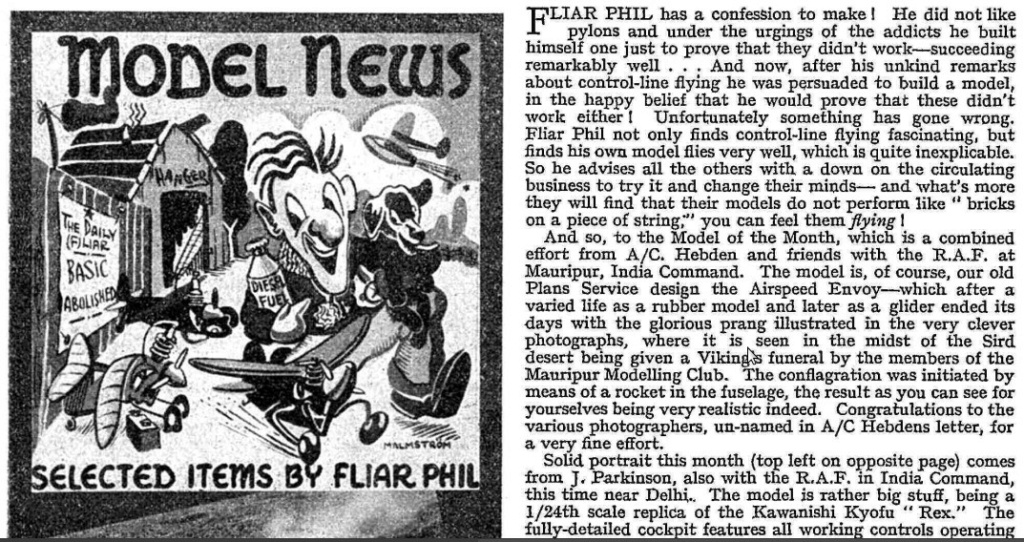 GallopingGhostler

Top Poster





Posts

: 3256


Join date

: 2013-07-14


Location

: Clovis, NM



Ha lol y like the Drawing of the old spark engines look tired y starter in hobby after m'y uncle give me couple cox engine and unfinish model wit couple parts y was not capable To read the revue y stil have its like bible To me lots of informations like how To mount fuel tank modeling stuf cars just the picturs literaly hook me To the hobby y was 8 years old y remember m'y friend felt on the ground after let the plane go he did stay right there looking at the plane runing circle wel couple befor y crached
It was m'y first atempt wit control line felt so dizy now y cant doo control Line it made me sik after m'y brain comotion y never atempt To try just do flight rc now y stil have m'y first buy cox control line plane is in pice here an there in the garage balsa plane used for its balsa it was e nice biplane powered wit bea bee .049 engines stil used in 2020 like 26 years of abuse and it run Not the Most powerful engine but it work y love cox engine the worlds best smal engines is cox

davidll1984

Diamond Member





Posts

: 1993


Join date

: 2020-02-12


Age

: 37


Location

: shawinigan



I have some of the Arden plugs shown with parts to rebuild them. I use them only in my vintage engines and when they're done they're done. I don't consider myself a collector but I find it rewarding to own a few of them. They're excellent quality and work rather well at least better than I anticipated. Very interesting how they were rebuildable and all that changed to disposable items.

Ken Cook

Top Poster





Posts

: 4837


Join date

: 2012-03-28


Location

: pennsylvania



There used to be small ad's in Mechanic's Illustrated magazine.  One prompted me to send for a diesel model airplane engine in my pre-teens.  Talking 1940's here. Also war surplus knapsacks filled with canteens, mess kits, compasses, pup tents, etc.

rsv1cox

Top Poster












Posts

: 8143


Join date

: 2014-08-18


Location

: West Virginia



---
Permissions in this forum:
You
cannot
reply to topics in this forum