Cox Engine of The Month
November-2023
1/2A Nut's
"TD .020 RC"
More info on this engine!
---

---
PAST WINNERS
Warning: Long, potentially boring.
I like silk.  It's beautiful and works well, but is it feasible for Half-A?  Too heavy?  Too expensive? Too much trouble?  Let's find out.  The nice feature of our hobby is the opportunity to take varied approaches to reach the same end – having fun.

Habotai silk is what modelers use for covering and is classified by weight, i.e., how much a bolt 45" x 100 yards will weigh – the measurement is in momme's.  5 momme (mm) silk will weigh 5 pounds/bolt; 8 momme silk weighs 8 pounds/bolt.  A bolt is equivalent to 125 yd2.

So, what are comparative weights of popular covering materials?
Monokote (opaque) --- 59 gr/yd2  (average)
Silkspan (GM) ---  14.8 gr/yd2
5mm silk --- 18.14 gr/yd2
8mm silk --- 29.03 gr/yd2
28.35 gr = 1 oz

I am not Ken Cook (Ken says, "You got that right, Bubba!").  Ken flies competitively and each gram is important.  I'm a duffer and if I come home with my planes in big pieces or fly out a tank without getting dizzy and falling down, it's been a good day.  

Let's put these weights in perspective. I've estimated a Baby Ringmaster wing area to be about 110 in2.  To cover requires 220 in2.

For covering the Baby Ringmaster wing, here are the weights:
Monokote: 10.02 grams
Silkspan:  2.51 grams
5mm Silk:  3.08 grams
8mm Silk:  4.93 grams
Silk and silkspan will require dope (clear and maybe, color) which reduces the weight differential with Monokote.

However, silkspan and 5mm silk come in white only, so if you want color, you'll have to paint, which adds weight.  8mm silk is already dyed (30+ colors available from Dharma Trading).  5mm is almost gauze like and will require more dope to fill the weave.  5mm and silkspan:  2 coats clear, 2 coats color, 1 coat clear.  8mm: 2 coats clear, maybe 3 for a better finish.

With clear dope only, the difference (5mm vs 8mm) in weight for the wing is around 1.8 grams.  Unless you're a drug dealer, most of us don't have a good feel for weight in grams.  Take a piece of typing or copy paper and cut a 4.25" strip off the bottom – that strip weighs between 1.8 and 1.9 grams. The weight difference lessens when you paint the 5mm silk.

Why not just dye the lighter silk?  For me, dyeing silk is like making my own biscuits --  the results aren't that good and it's not worth cleaning up the mess.  Besides, the dyeing process removes some of the shrinkage from the silk.  However, there are excellent silk dyes available and in a myriad of colors.

Silk is too expensive!!  

Cost to cover 220 in2 + 15% (oversize and screwup) ~ .20 yd2:
Exam table paper (silkspan substitute) --- $0.02 (needs dope and color)
5mm silk --- $0.93 (needs dope and color)
Silkspan --- $0.96 (Brodak, needs dope and color)
8mm silk --- $1.74 (clear dope only)
Monokote --- $2.07

With Monokote, you're one and done.  With the other coverings, you'll need clear and/or colored dope.   Compared to Monokote, the 8mm colored silk is lighter and cost effective dollar wise.  

But, there's always a "BUT".   Many folks don't like the odor of dope (or divorce).  Butyrate dope has become extremely expensive, particularly in hobby amounts.  I buy Randolph clear (tautening and non-tautening) from Aircraft Spruce and have simple color schemes. Consequently, to use silk, you'll have to go all in. Brushing, spraying and clean-up – another topic; another day.

Is it feasible for Half-A – the big question?  From my perspective, yes.  It's more work and will require a greater initial investment, but the cost/weight factors are well within Half-A limits.  Secondly, the majority of my flying involves larger RC planes, many scratch built, so I'm not stuck with enough material for an additional 185 Half-A controlliners.
Andrew, there was a thread in another forum in regards to using Monokote for 1/2A's in that it was too heavy. I have used Monokote for every 1/2A I ever built and I've used it on rubber band models equally. Now, I see you posted the weights and it has Monokote high up on the heavy side but silkspan has to be doped so much and in the end, I've found the Monokote to be lighter in comparison. The problem with silk is it's shrinkage. In addition, it's the aftermath when it keeps shrinking. Therefore, your attachment coats and install has the ability to pretzel the wing and when it dries out over the next few weeks it will continue to twist. That would be my only concern. When a wing shrinks chord wise, the ribs buckle and bow. I have combat models done in silk that have totally crushed 3/32" ribs and buckled 3/8" thick trailing edges. I suppose Lite Coat would be the optimal choice but I know it doesn't fair well in pulling the covering tight.

Ken Cook

Top Poster





Posts

: 5323


Join date

: 2012-03-27


Location

: pennsylvania



Ken Cook wrote:......The problem with silk is it's shrinkage. In addition, it's the aftermath when it keeps shrinking......
That's true --- it's a fine dance between having a decent covering and a ruined airframe. As I understand it, butyrate will continue to shrink over its lifetime. Years back in high school I had built a free flight biplane then proceeded to destroy it when it warped badly from colored dope.
One of the reasons I switched to dyed silk, aside from being lazy, was to avoid having to use colored dope and the associated weight and shrinkage. Usually, I'll set up a test frame to see how much the silk is going to shrink by itself. If it gets too tight, then I'll wet it out and let it dry at least once before using it. Secondly, I'll use tautening butyrate for a single coat over the open bays and then non-tautening for following coats. Non-tautening is also used for adhering and doping over all the solid surfaces.
In my early years (around the Wright brothers), we would add a drop or two of castor oil as a plasticizer to slow the shrinkage of the available dope at the time.
Since the demise of silkspan, I mean that in regards to K&S version. I've used up what I had of it and the Sig GM silkspan as well. I switched to Polyspan and I have to say this stuff is very nice to use. It took a little different approach in which one has to resist sanding the Polyspan until you have a few coats on it. I just really briefly knocked it down with 400. It shrinks by iron after doped on and once tight it stays pretty tight. A couple of top coats of Sig Lite-Coat and you have a very nice covering which isn't expensive.

Ken Cook

Top Poster





Posts

: 5323


Join date

: 2012-03-27


Location

: pennsylvania



I believe that it is possible to find a kind of very thin monokote the transparant color I only use the monokote to avoid odors because I build in the house, the paint is another chemical, it is outside But interesting to see it's difference I still believe that the monokote is more advantageous This for several reasons I especially find it easier to place once we have the right technique Less risk of bending the wing

davidll1984

Diamond Member





Posts

: 2106


Join date

: 2020-02-12


Age

: 38


Location

: shawinigan



No one included the "old" Micafilm from 21st century. That is good stuff (if you still have some --- which I do!)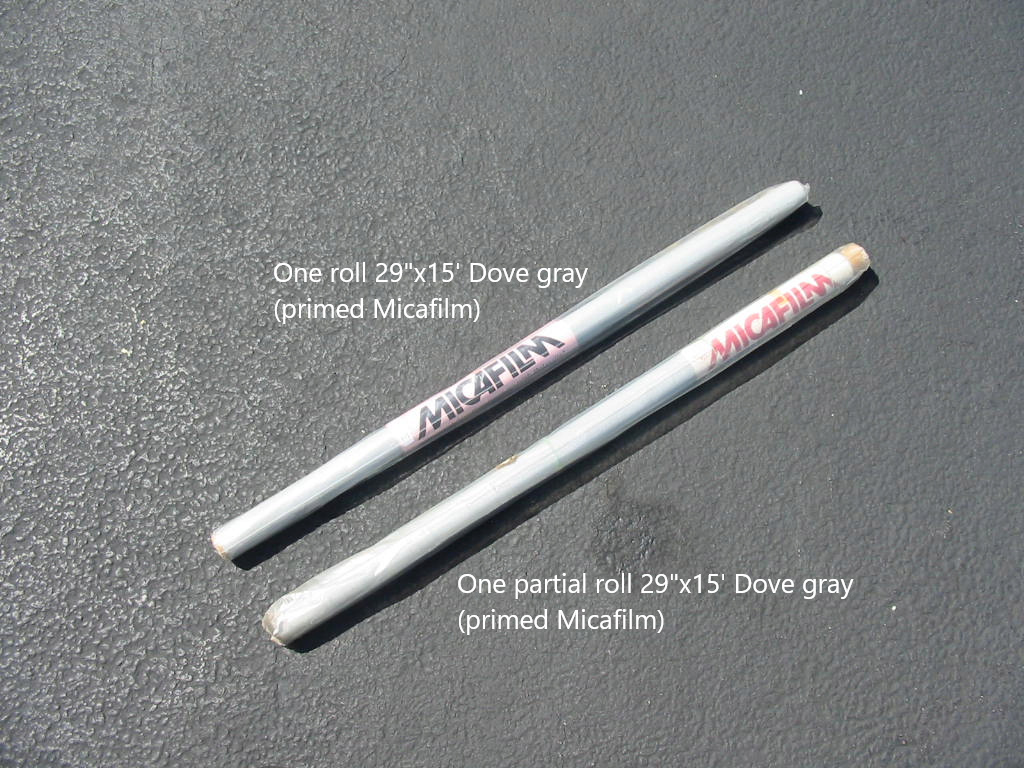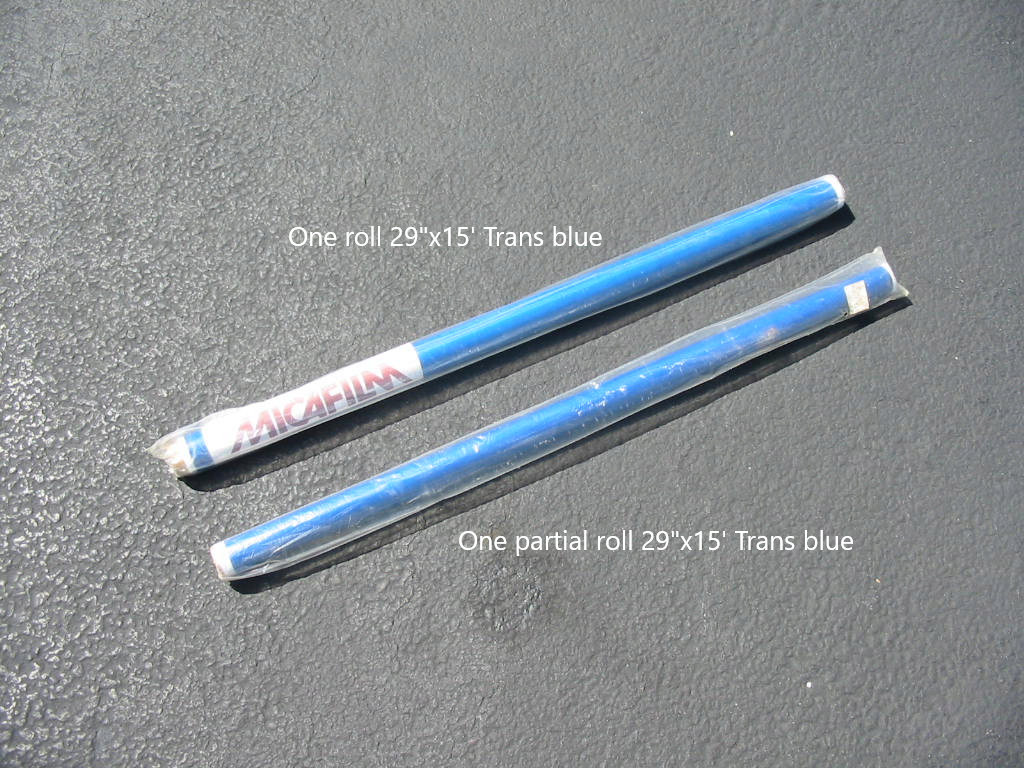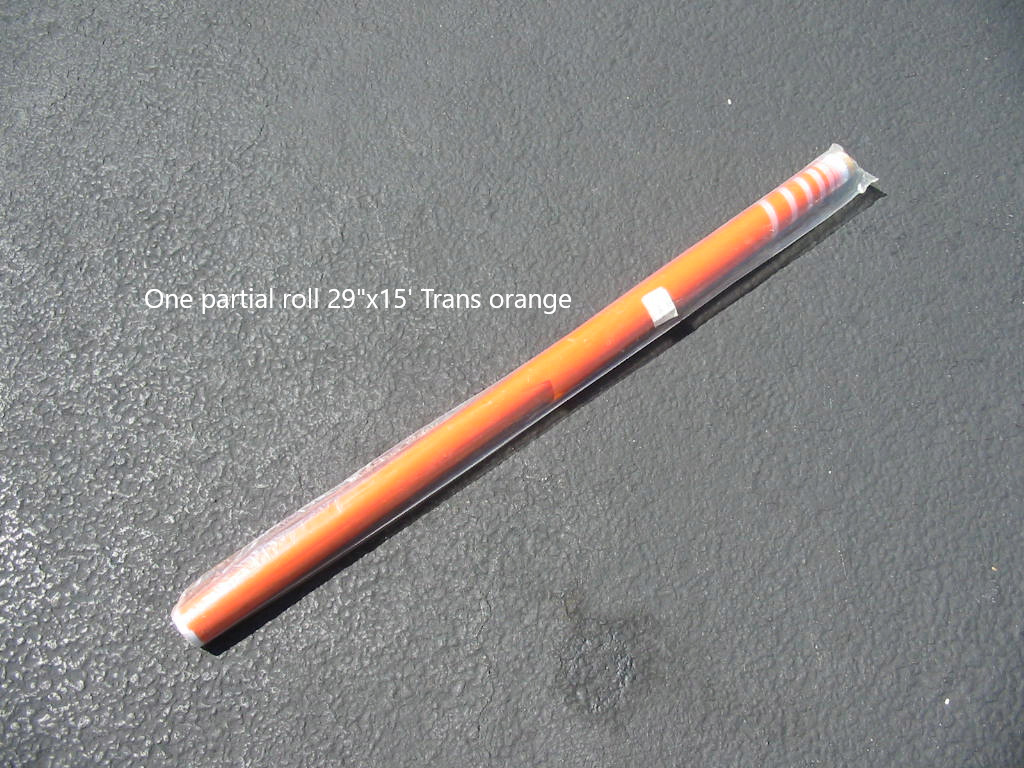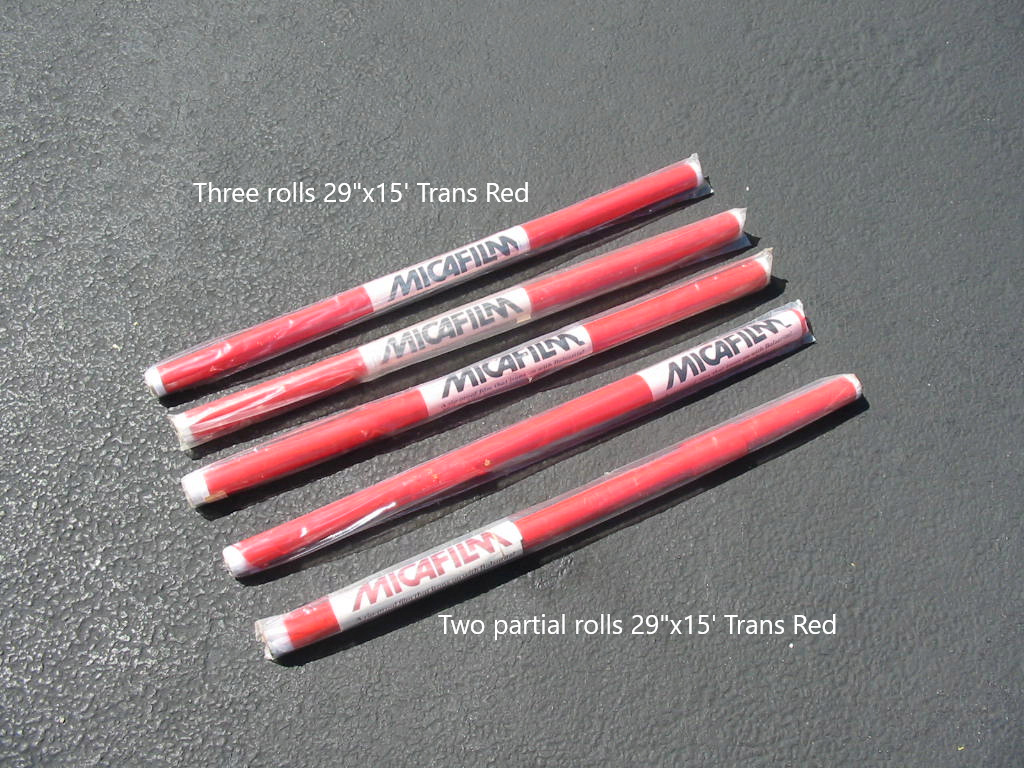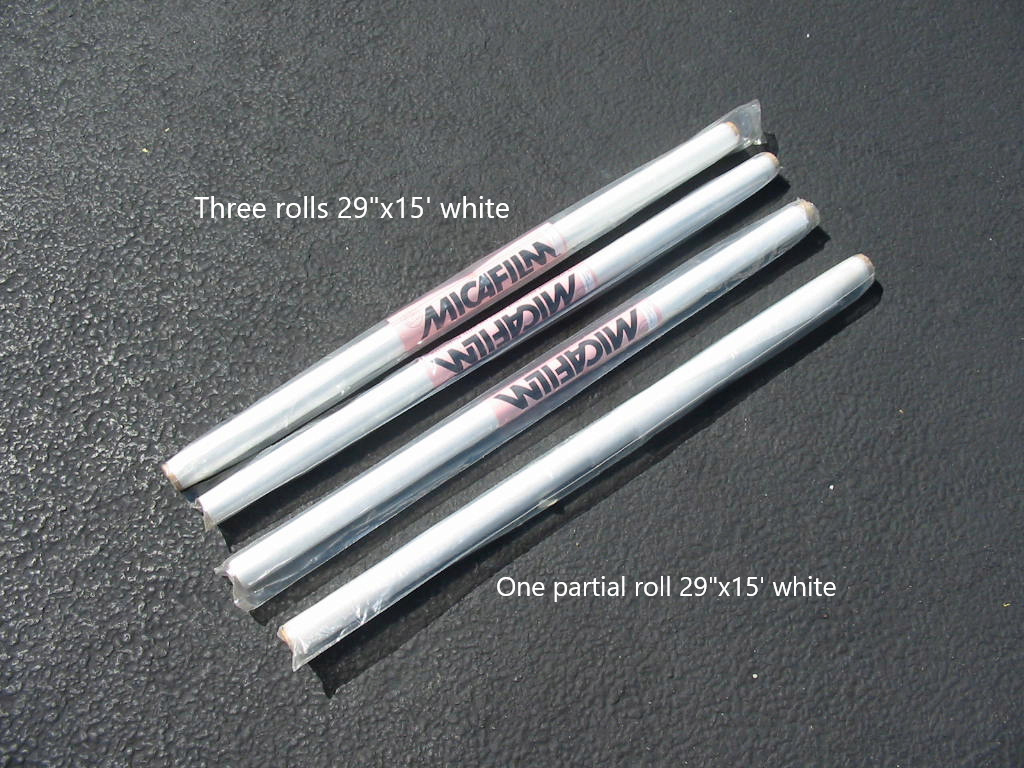 Or Fibafilm (from Solarfilm)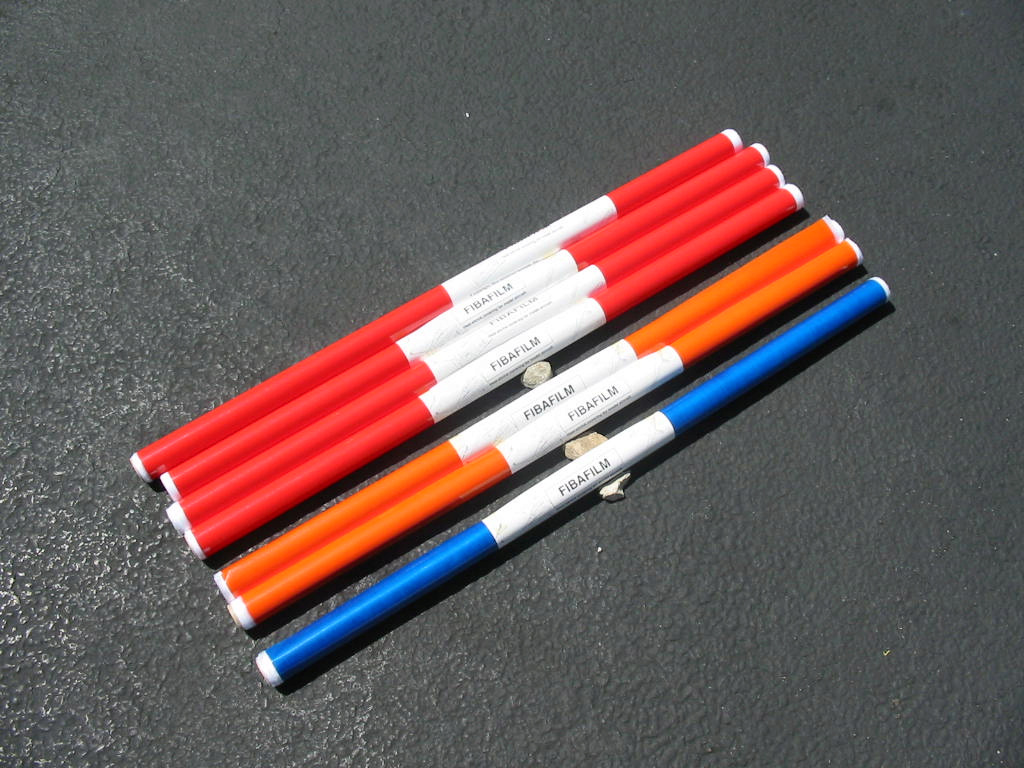 Just a small sample of what I have.
And not to forget the covering called "Airspan" which looks like tissue and slightly heavier too.
I have many packets of the Airspan in the rainbow of colors even in the Florescent colors as well.
Sorry, no photos of the supply of my Airspan
But here is a photo of my Firefly covered with the Airspan (which is acceptable for FAC - Flying Aces Club)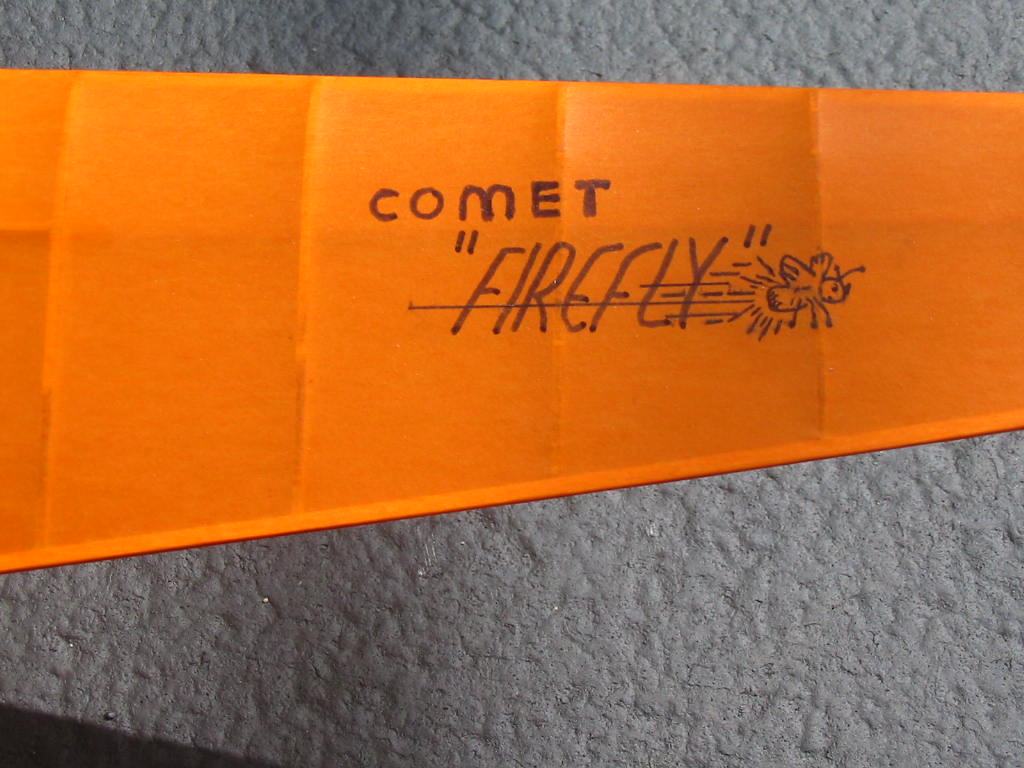 sosam117

Platinum Member





Posts

: 1157


Join date

: 2016-03-23


Location

: Suburb of Chicago, Illinois



Transparent monokote is significantly lighter than the opaque's. I'm also familiar with micafilm, fibafilm and airspan, but have not used them. For rubber models, I've used Japanese or Esaki tissue and clear dope.

I have experimented with exam table paper and found it to be somewhere between 00 and GM silkspan, but much closer to GM. It's dirt cheap, so much so that if I'm unhappy with the results, I'll just strip it off, toss it and go again. I've used doculam, both in 1.5 mil and 1.3 mil weights. It's also relatively inexpensive, but not lightweight -- similar to opaque monokote. I tried tissue over doculam, but my first results were not good -- maybe with some practice, it will get better.

I have not used polyspan, but have heard good things and Ken has had good results with his applications.

In response to an earlier topic looking for filler, one consideration is microspheres or microballoons -- they can be had in both glass and phenolic bases. The glass microballoons are white, becoming more clear when used. Phenolic micro is brown to tan in color. Glass micro is impervious to all chemicals; phenolic micro can get clumpy with long exposure to styrene (component in polyester or laminating resin). I don't know how they would react to the solvent in butyrate dope. Both are air float (ultralight) consistency, so a good respirator is needed until they are mixed.
Similar topics
---
Permissions in this forum:
You
cannot
reply to topics in this forum