Cox Engine of The Month
September-2021
crankbndr's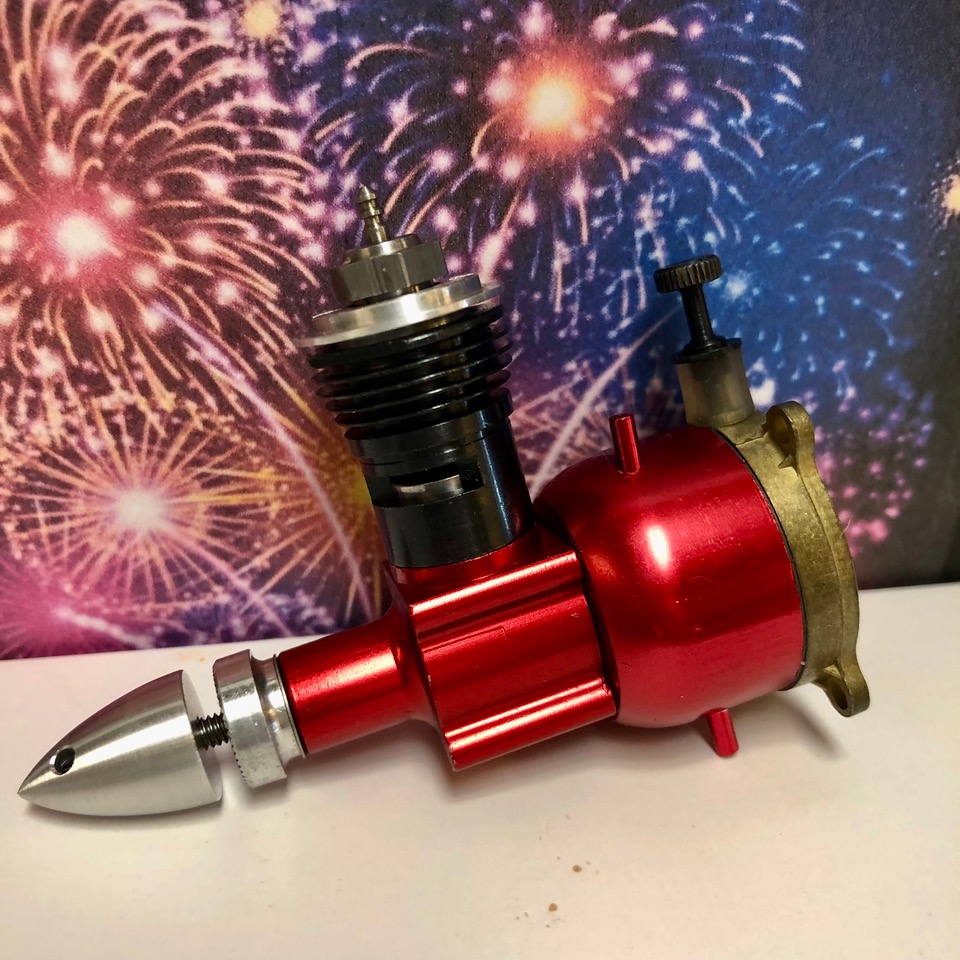 "Cherry Bomb" .051 engine
More info on this engine!
---

---
PAST WINNERS
Another offering is a Cox tan and camo green P-40 with a pretty good box. I was found in an unusual situation where it was with another one exactly like it from the same seller. Both were in the same condition, all sticky and gummy, wheels shot and engines stuck like we all find them, but the really unusual thing was they both had the antennae still in place! And I managed to go through them and clean them up and managed to not break them off either! I had previously sold the mate to thins one, and since I have one more hanging from the ceiling I'll sell this one to get it out of the way. The engine has been cleaned and gone through and turns over as it should. Tires were replaced like I usually do. The box is in great shape and sturdy. I think there is some paper work in the box also. Ask any questions you may have. I'm asking $125 plus actual shipping costs. I use Pirateship.com and can provide a quote to your zip code
  Thanks for looking,
 Dan McEntee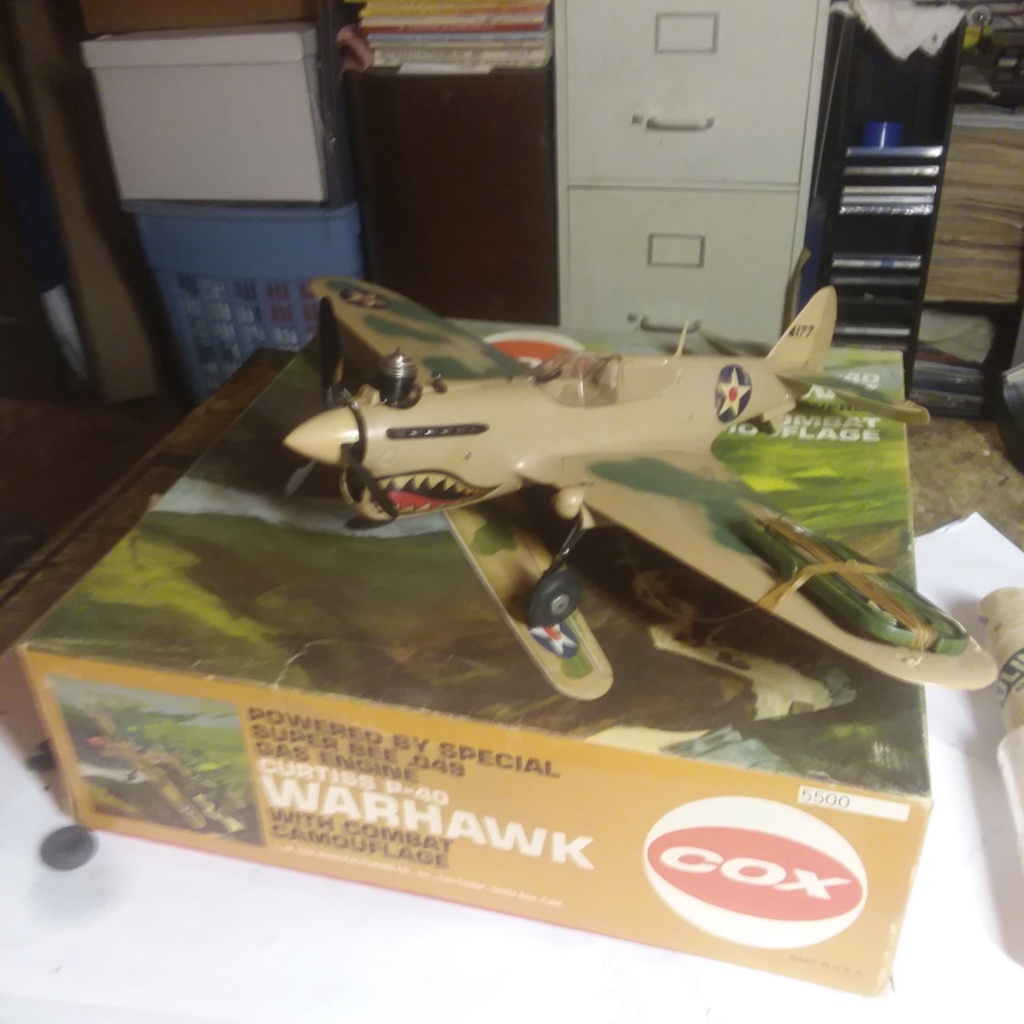 DanMc

Silver Member





Posts

: 99


Join date

: 2014-09-18



I always thought the Warhawk was such a great looking plane. I think those were the only American planes that made it into the sky to battle the attack on Peral Harbor. Great find you have there!

FlipStart

Gold Member





Posts

: 118


Join date

: 2018-09-05


Location

: Phoenix, Arizona



Cox had at least 3 or 4 different versions of the P-40 I think. I have one of the first issues that is brand new in box, never removed. I think it's all tan with the Flying Tigers Chinese AVG markings. Then there is this one that is tan with the spinach camo, and there was an all green version that I have some of. These are pretty common, but most have the antennae gone. I think most of those went the minute the child reached into the box to take the airplane out!
Thanks for checking it out!
Dan McEntee

DanMc

Silver Member





Posts

: 99


Join date

: 2014-09-18




KariFS

Diamond Member





Posts

: 1834


Join date

: 2014-10-10


Age

: 49



No, I think red works also. The box that those came in had some nice box art also and I think red is correct, I believe. P-40's have had tan, red and yellow spinners I think.
Type at you later,
Dan McEntee

DanMc

Silver Member





Posts

: 99


Join date

: 2014-09-18



@KariFS

wrote:Here's one more version, from the late '70s I think. Horseshoe engine, green plastic with tan camo pattern on wings and tail. Came to me without a spinner (and the gunsight and antenna) so I just slapped on a red spinner I had laying around. Supposed to be yellow I think?
I have this one with a yellow spindle.
Hey Dan you have nice planes to sell, why did you d'on't write you location you may live close to my home ?

latole

Bronze Member





Posts

: 51


Join date

: 2021-03-28


Location

: Quebec province



Good Morning!

    I didn't really notice all the little detail stuff about member profile and such. I just checked that out and updated things. I don't spend too much time on the computer and sometimes I think I spend TOO much time! It is a neat tool, and a good way to reach friends a like minded people. I'm in the St. Louis, Missouri, USA area. I don't know how many Cox enthusiasts there are in the area. I did meet one guy through one of the first adds that I posted that lives near me, and that was a pleasant surprise!!  Thanks for the location suggestion.
  Type at you later,
  Dan McEntee

DanMc

Silver Member





Posts

: 99


Join date

: 2014-09-18



Thank's for the answer Dan.

latole

Bronze Member





Posts

: 51


Join date

: 2021-03-28


Location

: Quebec province



---
Permissions in this forum:
You
cannot
reply to topics in this forum